Get your taste buds ready for a hearty, flavorful vegan black bean soup that is easy to make and packed with nutritious ingredients
I was trying to think of a more appealing name for this soup but the name is exactly what it is, a thick black bean soup that happens to be vegan and delicious. It is also a very easy recipe that is cheap to cook up for dinner any day of the week.
Cook Eat Delicious Rating: This soup is full of healthy goodness that tastes great. I blended half of the pot with an immersion blender which gave it a better consistency for soup but still had some chunks of vegetables and beans. My DH & I really enjoyed it and it is great with some garlic crusty bread!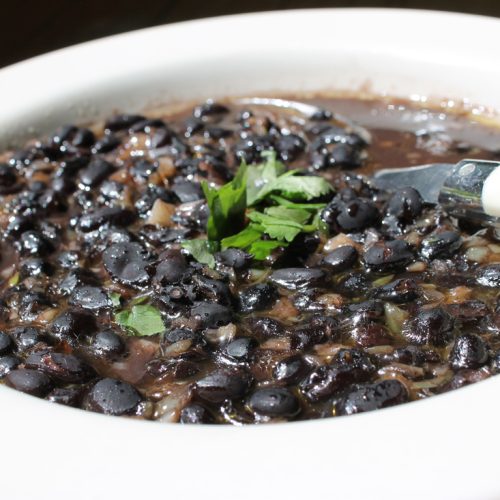 Thick Vegan Black Bean Soup
Are you looking for a delicious, vegan-friendly meal that can be prepared in no time? Look no further than this thick vegan black bean soup. It is hearty, flavorful, and easy to make, and it is packed with nutritious ingredients.
Ingredients
1

tbsp

olive oil

1

onion

chopped

2

carrots

sliced

4

cloves

garlic

minced

2

tbsp

chili powder

1

tbsp

cumin

1

tsp

pepper

4

cups

vegetable broth

4

cans

black beans

1

can whole

kernel corn

1

can crushed

Tomatoes
Instructions
Cook onion, carrots, and garlic in olive oil over medium heat for five minutes.

Add in chili powder, cumin, and pepper and stir for one minutes.

Stir in vegetable broth, 2 cans of beans, and corn.

Bring to boil.

Blend the remaining beans and tomatoes until smooth in blender.

Stir mixture into pot and turn to low heat.

Simmer for 15 minutes.
Notes
Creating a delicious and nutritious vegan chili is easier than you think! With the right ingredients and techniques, your chili can be savory, flavorful, and sure to please. The key to getting the best flavor is in the preparation of the vegetables, sautéing them with aromatic spices, and blending it all together for that perfect taste. Don't forget to add optional ingredients such as different types of peppers or beans to make your chili even better! Finally, finish off your chili with some garnishes to give it an extra boost of flavor!
Nutrition
Serving:
1
serving
Calories:
279
kcal
Carbohydrates:
48
g
Protein:
16
g
Fat:
4
g
Saturated Fat:
1
g
Polyunsaturated Fat:
1
g
Monounsaturated Fat:
2
g
Sodium:
689
mg
Potassium:
766
mg
Fiber:
17
g
Sugar:
3
g
Vitamin A:
4548
IU
Vitamin C:
3
mg
Calcium:
79
mg
Iron:
5
mg
Blend To Perfection
There's nothing like a good bowl of soup to warm you up on a cold day. And this vegan black bean soup is sure to please. It's easy to follow and full of flavor, thanks to the addition of hearty ingredients like black beans and bell peppers. With just a few simple steps, you can have a delicious and satisfying bowl of soup in no time at all.
Benefits of using these hearty ingredients in your soup are manifold. For one, they're high in protein – essential for filling you up and keeping you feeling energized throughout the day. They also contain fiber, which helps to keep your digestion moving along smoothly. And last but not least, they're rich in nutrients such as iron and vitamin C. All of these nutrients work together synergistically to give your body the nourishment it needs to function at its best.
To make this recipe as easy as possible, we recommend using a high powered blender or slow cooker. Both devices will help to break down the vegetables into smaller pieces, resulting in a more flavorful broth and larger chunks of vegetables that will easily absorb into the soup mixture. Be sure not to over blend or else you'll end up with an unpleasant texture akin to cream cheese – something that many people dislike about traditional soups. Finally, don't forget about tips for creating a creamy texture without adding dairy products – something that can be difficult without them! By following these simple tips, you can create an amazing vegan black bean soup that everyone will love!
Creating A Taste Explosion With Garnishes
When it comes to creating a delicious vegan soup, there are a few key ingredients that you need to include. Starting with the beans, make sure that you select a variety that is hearty yet flavorful. Black beans are a great choice for this recipe because they have a deep color and earthy flavor.
Once you've gathered all of your ingredients, it's time to start cooking. In order to create the most flavorful and satisfying soup possible, be sure to preheat your oven to 350 degrees Fahrenheit before starting. This will help to cook the beans evenly and ensure that they're flavorful and tender. Once they've been cooked, it's time to add in your favorite garnishes! Here are some ideas for toppings: diced tomatoes, fresh cilantro or parsley, sour cream or avocado, diced green onions or red onions, salsa or guacamole,and tortilla chips.
In order to bring out the nuances in the black beans, try adding different spices such as cumin or chili powder. Additionally, use contrasting flavors such as sweet and sour elements in order to create an explosion of taste in your mouth. For example, adding orange juice or lime juice can add a refreshing element while also providing sweetness and acidity together – two important flavors for this dish. Finally, be sure not overdo it with the garnishes – too much will take away from the delicate broth flavor of the soup.
By following these simple tips for creating delicious vegan black bean soup*, you'll be able to enjoy an unforgettable taste experience every time you make it!
FAQs about the Thick Vegan Black Bean Soup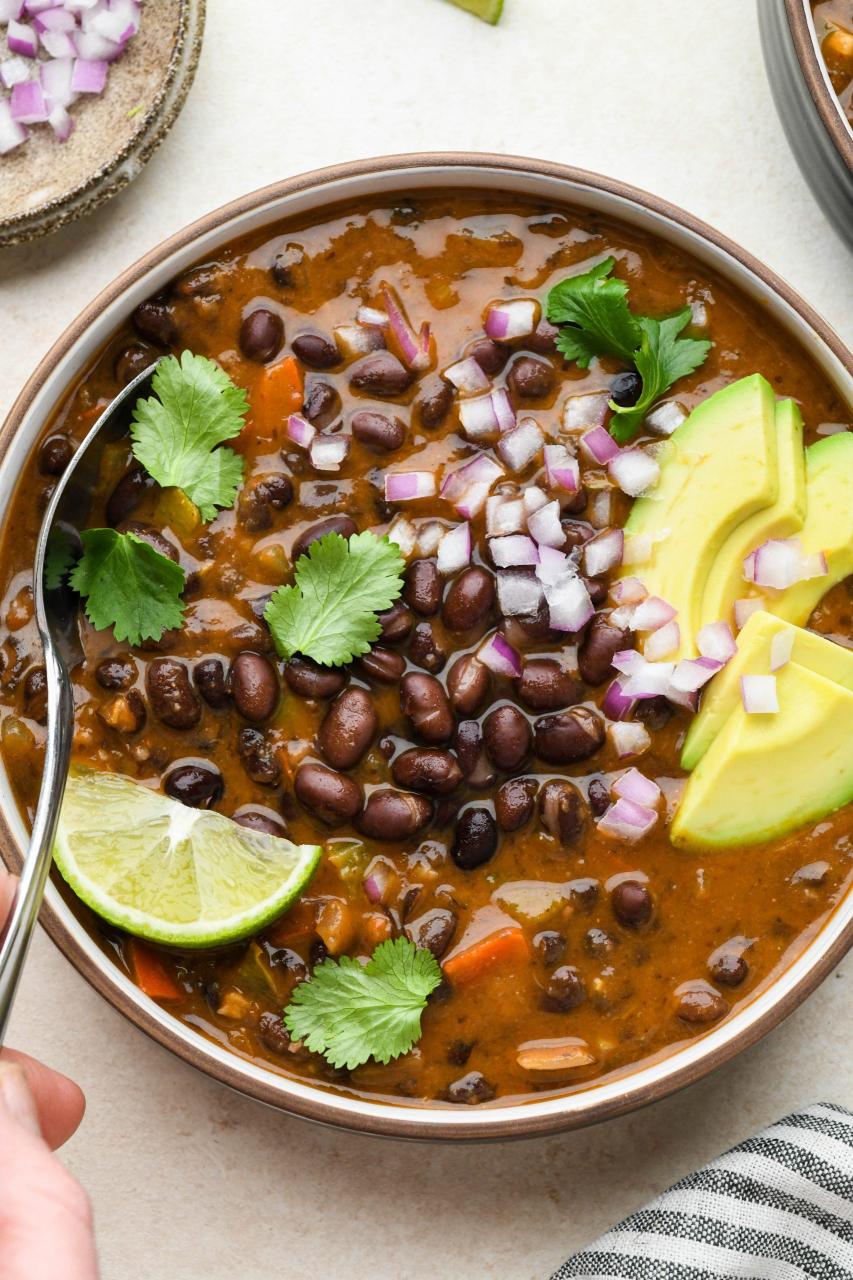 Here are a few frequently asked questions about our Thick Vegan Black Bean Soup:
Q: What makes this soup so thick and creamy?
A: The black beans and tomatoes create a thick, creamy base for this soup, and the addition of onions and spices give it tons of flavor.
Q: Is this soup spicy?
A: No, this soup is not spicy. However, you can always add a bit of hot sauce or chili flakes to taste if you'd like.
Q: Can I make this soup ahead of time?
A: Yes, this soup can be made ahead of time and stored in the fridge for up to a week.