Looking for a delicious and exotic recipe to try at your next party? Look no further than Samosa Pie. This healthy and delicious dish is sure to be a hit with your guests.
Potato Samosas are one of my favorite things at an Indian restaurant. I love the contrast of crunchy and soft, plus I don't mind if it gets some of my curry on it! I love to sop up all that extra curry sauce with a samosa. I wanted to cook up a meal of samosas, so I decided on a Samosa pie. It is a perfect one dish meal or great in a spread with other Indian dishes. It is also a great Vegetarian easy recipe.
Delicious Rating: The flavors are wonderful in this Samosa Pie. You can really choose to mix and match what vegetables you like. I did a combination of potatoes, green beans, peas, and carrots. Next time I will lessen the amount of green beans, it got to be a bit much after the first slice. I will also make a great curry or vindaloo sauce to go with it. Let me know how you enjoy this recipe!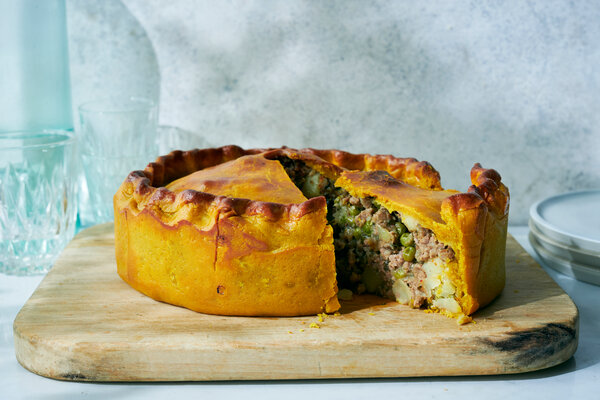 Samosa Pie
Samosa Pie is a delicious, exotic fusion recipe that is sure to be a hit at your next party. It's a great appetizer or main course that is healthy and delicious. In this blog post, we're going to show you how to make Samosa Pie. We'll explain the ingredients and how to put it all together. We'll also give you a recipe for the perfect samosa pie. So whether you're looking for an appetizer or a main course, give Samosa Pie a try. You won't be disappointed.
Ingredients
1½

cup

flour

⅓

cup

butter

softened

½

tsp

salt

¼

cup

cold water

3

potatoes

peeled and diced

16

ounces

green beans

trimmed and cut into ½ inch pieces

1

tbsp

olive oil

1

onion

finely chopped

1

carrot

chopped

1

tbsp

ginger

minced

2

tbsp

red curry paste

1

tsp

coriander

1

tsp

salt

1

tsp

cumin

1

tsp

cayenne

1½

cup

cooked chickpeas

1

cup

peas
Instructions
In a large bowl combine flour, butter, and salt.
Use a food processor if you want for the crust or buy a ready made one from the store!
With a fork or pastry blender, mix ingredients until they resemble coarse crumbs.

Add in water and work into a dough.

Flatten out into an 1-inch round disc and wrap with saran wrap. Refrigerate.

Steam potatoes for 10 minutes or until tender.

Steam green beans for 7 minutes or until tender.

Preheat oven to 400 degrees F.

Roll out the dough and place in a 9-inch pie pan.

Bake crust for 10-minutes and remove from oven.

Turn oven down to 350 degrees F.

Heat olive oil over high heat in a large pan.

Add in onion and carrot, cover and cook for 8 minutes.

Add in ginger, curry, coriander, salt, cumin, and cayenne.
Ginger, curry, coriander, cumin, cayenne…Simply delicious combination of flavors.
Combine all well.

Turn off heat and add in potatoes and chickpeas.

Mash to make a coarse mixture.

Stir in peas and green beans.

Fill pie crust with mixture and bake for 30-45 minutes or until crust is nicely browned.
Notes
If you're looking for a delicious and easy-to-make party food, look no further than samosa pie! This fusion recipe takes the traditional flavors of a samosa and puts them into a convenient and portable pie form. Plus, it's a healthier alternative to traditional deep-fried samosas. So what are you waiting for? Give this recipe a try at your next party or gathering!
Nutrition
Serving:
1
serving
Calories:
371
kcal
Carbohydrates:
55
g
Protein:
9
g
Fat:
14
g
Saturated Fat:
7
g
Polyunsaturated Fat:
1
g
Monounsaturated Fat:
5
g
Trans Fat:
0.4
g
Cholesterol:
27
mg
Sodium:
684
mg
Potassium:
784
mg
Fiber:
8
g
Sugar:
6
g
Vitamin A:
3653
IU
Vitamin C:
43
mg
Calcium:
76
mg
Iron:
4
mg
Tips for making Samosa Pie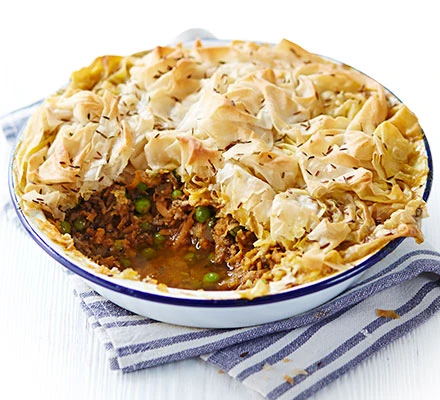 If you love samosas but don't want to go through the hassle of making them from scratch, then samosa pie is the perfect solution! Here are some tips for making the perfect samosa pie:
1. Start with a pre-made pie crust. You can either use a store-bought crust or make your own.
2. Fill the crust with a mixture of mashed potatoes, onions, peas, and spices.
3. Top the filling with a layer of pre-made puff pastry.
4. Bake the pie in a preheated oven until the crust is golden brown and the filling is hot and bubbly.
5. Serve with a dollop of chutney or yogurt on the side.
FAQs about the Samosa Pie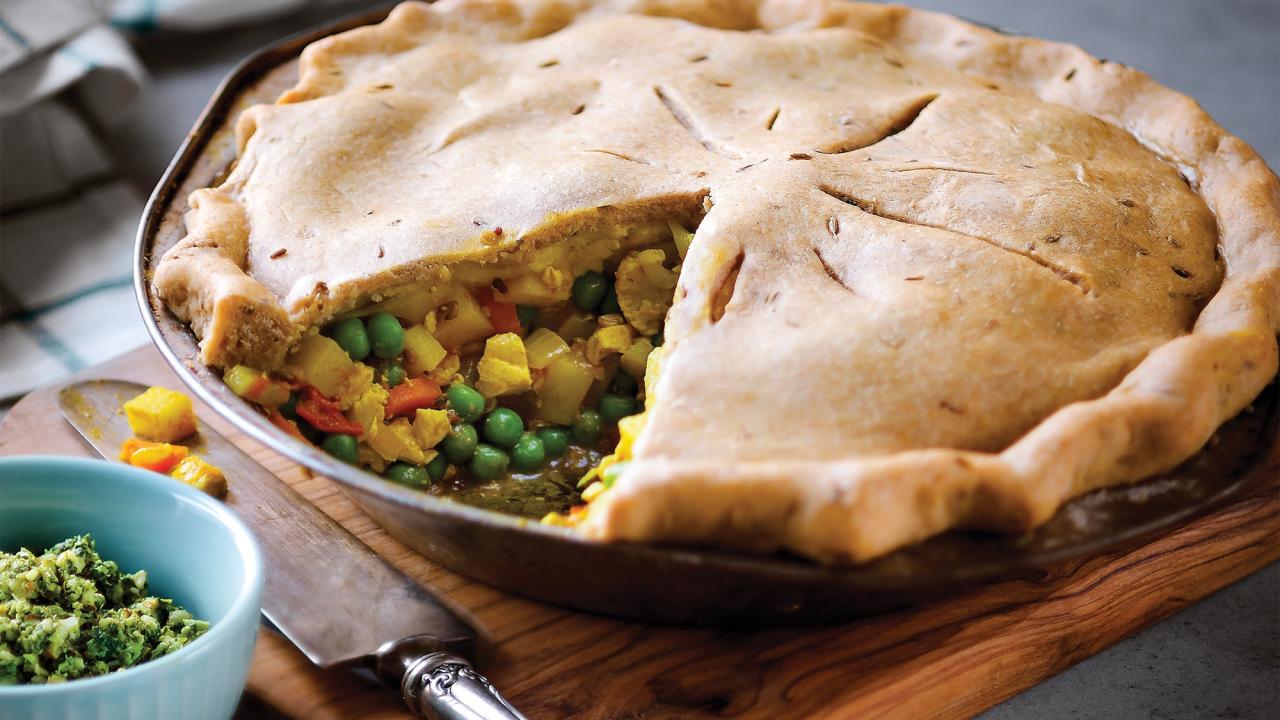 What is a Samosa Pie?
A Samosa Pie is a type of savory pie that is typically filled with a spiced potato and pea filling. The pie is then deep-fried or baked until it is crispy and golden brown.
What is the origin of the Samosa Pie?
The Samosa Pie is thought to have originated in the Indian subcontinent. It is thought that the pie was originally created as a way to use up leftover samosa fillings.
How do you eat a Samosa Pie?
There is no wrong way to eat a Samosa Pie! However, they are typically served with a chutney or dipping sauce on the side.
What are some common fillings for a Samosa Pie?
In addition to the traditional potato and pea filling, Samosa Pies can also be filled with meats, cheeses, or other vegetables.