Blueberry muffins are a classic breakfast treat that everyone loves. They are simple to make and always delicious, no matter how you prepare them. However, if you want to make sure your blueberry muffins are the absolute best they can be, then this blog post is for you. We will go over everything you need to know to make the perfect blueberry muffins, from the ingredients you will need to the tips and tricks that will help you get the most out of your recipe. We will also answer some of the most frequently asked questions about blueberry muffins and provide some serving ideas for a truly delicious breakfast. So, get ready to learn how to make the perfect blueberry muffin.
I love blueberry muffins. The best blueberry muffins I have ever had was at a hospital. No hospital in particular, just a hospital. You know how they have those little eateries in the hall stocked with soup, salad, coffee and pastries, and some weird dish that doesn't belong at the hospital like Mongolian beef…It is there that I have always found the best blueberry muffins; large & tightly wrapped in saran wrap, delicious! Alas, they don't have those eateries filling the halls at hospitals here in Mexico so I set out to bake some great muffins at home.
Cook Eat Delicious Rating: I think I will stick to the Hospital's blueberry muffins. These aren't bad, just not what I wanted. Very easy recipe to cook though. The muffins turned out too crumbly for me, falling apart at every second. The batter was thick but the blueberries all sunk to the bottom so there wasn't that blueberryness (yes, I know) in every bite. Next time I will try something different instead of repeating this one.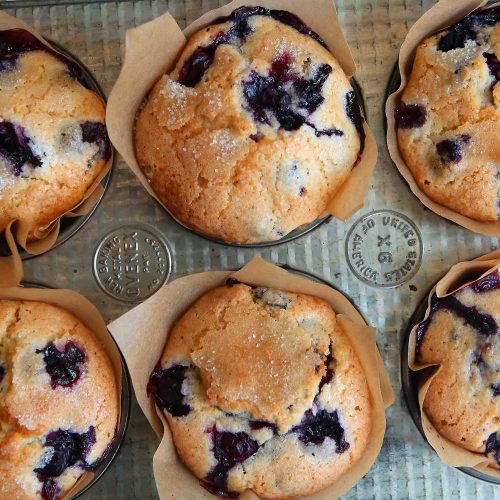 Blueberry Muffins
Make the perfect blueberry muffin every time with this easy-to-follow recipe, complete with tips, FAQs, and serving ideas - try it now!
Ingredients
1.5

sticks

butter

unsalted, at room temperature

1 1/2

cups

sugar

3

eggs

1.5

tsp

vanilla extract

1

cup

sour cream

1/4

cup

milk

2 1/2

cups

flour

2

tsp

baking powder

1/2

tsp

baking soda

1/2

tsp

salt

2

cups

blueberries
Instructions
Preheat the oven to 350 degrees F.

Line muffin pan & bread pan or grease & dust with flour.

Cream butter and sugar in a large bowl with mixer.

Add eggs one at a time.

While mixing on low add vanilla, sour cream, and milk.

In a separate bowl mix flour, baking powder, baking soda, and salt together.

Add flour mixture to butter mixture with mixer on low speed.

Do not over mix.

Fold in blueberries.

Add to pans and bake muffins 25-30 minutes and bread for an additional 30.
Notes
Making blueberry muffins is an enjoyable and simple process for all skill levels. Whether you are a novice or a professional baker, the steps outlined in this blog will help you create delicious and fluffy blueberry muffins with ease. By following the tips and tricks provided, you can make the perfect muffin every time! You can also experiment with different ingredients and add-ons to create your own unique recipe. So, try out this delicious blueberry muffin recipe today and enjoy its sweet, delectable flavor!
Nutrition
Serving:
12
muffins
Calories:
365
kcal
Carbohydrates:
50
g
Protein:
5
g
Fat:
17
g
Saturated Fat:
10
g
Polyunsaturated Fat:
1
g
Monounsaturated Fat:
4
g
Trans Fat:
0.5
g
Cholesterol:
83
mg
Sodium:
329
mg
Potassium:
98
mg
Fiber:
1
g
Sugar:
28
g
Vitamin A:
553
IU
Vitamin C:
3
mg
Calcium:
80
mg
Iron:
2
mg
Tips And Tricks For Perfect Blueberry Muffins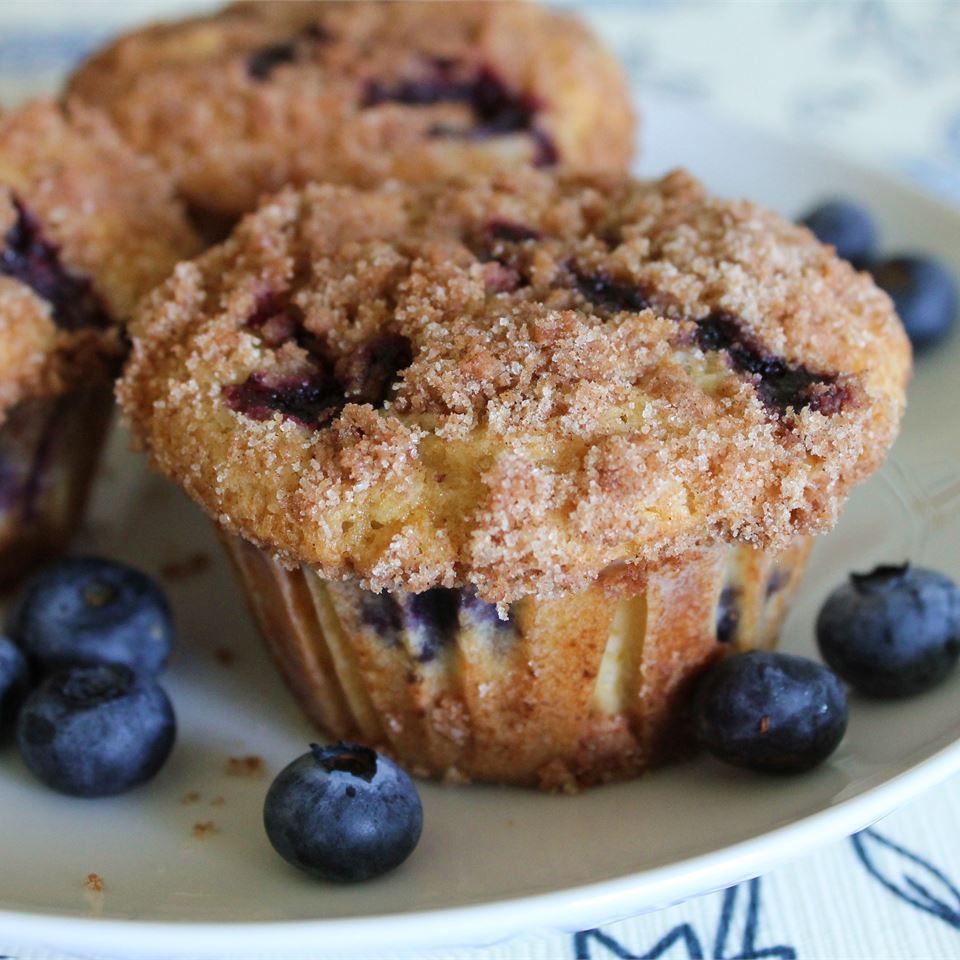 Are you looking for a delicious and nutritious breakfast option that you can make in just minutes? Then check out our recipe for blueberry muffins! These muffins are sweet and rich, perfect for breakfast or snack time. Plus, with a few simple tips, you'll be able to make them perfectly every time.
When choosing your blueberry variety, look for berries that are plump and firm. Avoid berries that are soft or mushy. In addition to the blueberry variety, you can also substitute other fruit in this recipe – such as strawberry or raspberry – with great results. Just be sure to adjust the amount of sugar accordingly.
When it comes to mixing and baking the muffins, be sure to use an electric mixer on medium-high speed if possible. This will help to ensure that the batter is mixed well and doesn't become lumpy later on. Likewise, make sure not to overmix the batter – otherwise, the muffins will be tough and dense. You'll also need about 3/4 cup of all-purpose flour per batch of muffins, so don't forget to add it when you mix everything together.
Once the muffins have been mixed together, it's time to get them into the oven! Grease or line a 12-cup muffin pan with paper liners before adding a spoonful of batter each time. Be sure not to overcrowd the pan – only fill it two-thirds full at most – and bake at 350 degrees Fahrenheit for 25 minutes or until golden brown and cooked through (test one muffin first). Allow them to cool briefly before serving warm; they're best eaten fresh from the oven! And last but not least: store your freshly made muffins in an airtight container in a cool place until ready to eat… they'll last up to three days this way!
FAQs On Delightful Blueberry Muffins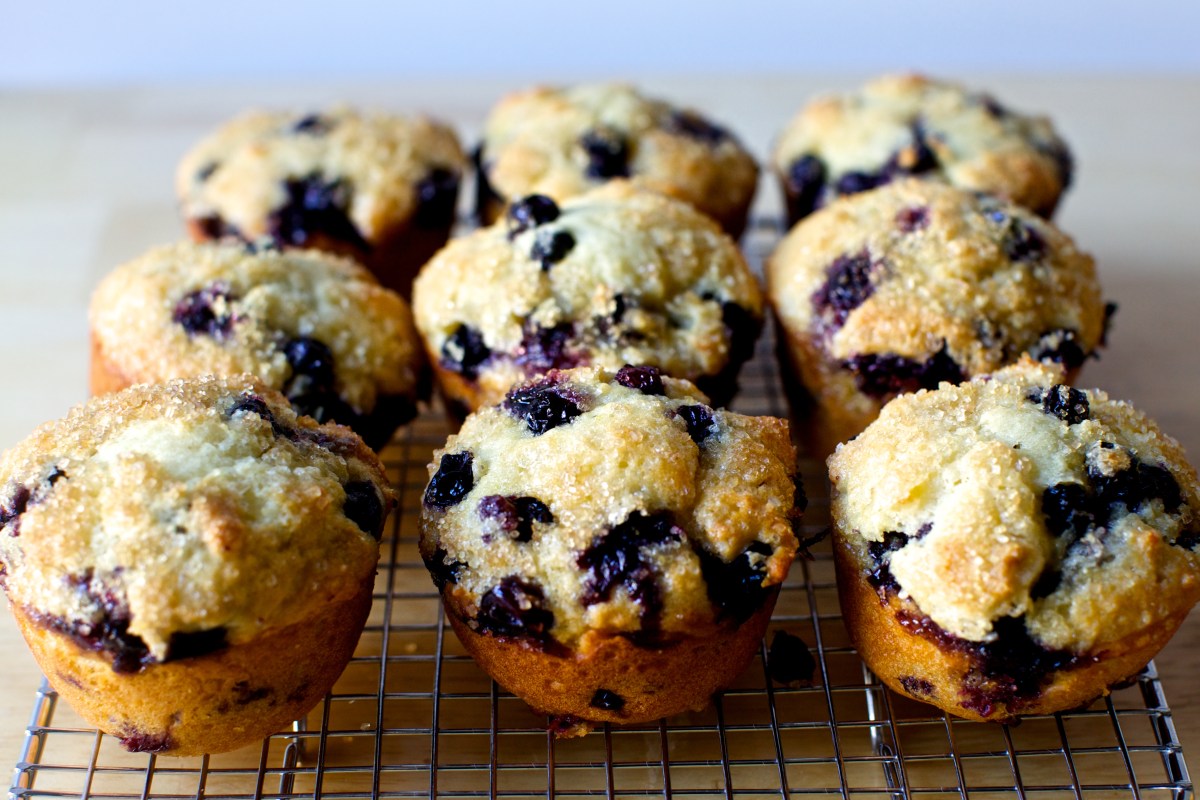 Looking for a delicious and nutritious breakfast option? Look no further than these blueberry muffins. Made with fresh and wholesome ingredients, these muffins are perfect for any time of the day. Plus, they're easy to make – just follow our FAQs below and you'll be baking up a batch in no time!
What kind of ingredients do I need to make blueberry muffins?
You'll need to start with a bowl full of fresh blueberries, along with sugar, butter, eggs, and all-purpose flour. Mix together well until everything is combined, then put the mixture into a bowl and set it aside.
How long do I need to bake the muffins?
The muffins will take about 18 minutes to cook through.
What type of container is best for storing muffins after baking?
Muffin tin is the best option for storing your freshly baked muffins – they will stay fresh and moist in the tin after baking. Alternatively, you can store them in an airtight container in the fridge for up to two days.
How can I avoid a dry, chewy muffin texture?
To avoid a dry and chewy texture in your muffins, be sure to mix together the wet and dry ingredients thoroughly before adding them to the pan. Also, try not to overbake your muffins – they should be cooked through but still slightly soft in the center when finished cooking.
Lastly, add flavor by topping off each individual muffin with fruit or whipped cream before serving!
Serving Ideas For Delicious Blueberry Muffins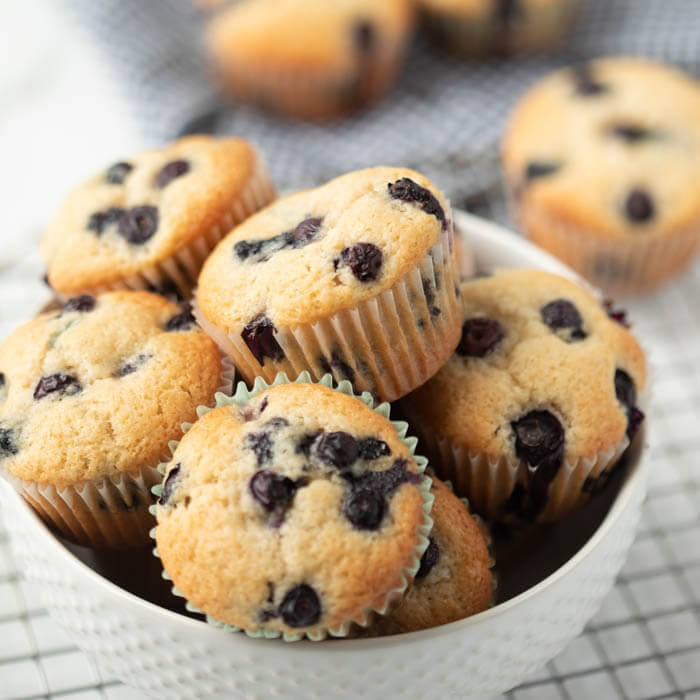 Are you in the mood for some delicious blueberry muffins? Well, here's a recipe that you're sure to love. These muffins are simple to make and are perfect for breakfast, as a snack, or as a dessert. Plus, they're versatile – you can serve them with cream cheese, butter, or jam as desired.
Begin by gathering all of the ingredients that you'll need. In addition to the usual suspects – flour, sugar, eggs, baking powder – add in some vanilla extract and blueberries. Sift together the dry ingredients and then fold in the wet ingredients until everything is mixed well. It's important to mix everything thoroughly before proceeding with the recipe instructions.
Once everything is mixed together correctly, it's time to preheat your oven to the specified temperature. Grease or line two baking tins with batter and then bake for 20 25 minutes until golden brown and fluffy. Let cool slightly before serving warm – muffins are best when fresh! Add a drizzle of honey or maple syrup as a finishing touch if desired. Enjoy your delicious blueberry muffins!