Learn the secret to making perfectly crispy baked French fries with our comprehensive blog post and take your fries game to the next level!
I can't resist good fries. The best french fries I have ever had were at Water World in Concord, Ca. The last time I was there may be over a decade ago! We used to get the garlic fries at one of the food stalls. You could smell them from the other side of the park and OMGoodness they were good. Hot with tons of minced garlic and infused garlic flavor. I swear they fried them in garlic oil. I always ordered more than one order since the lines were long and I didn't want to go and wait for more. Good times. Good food.
But when you have homemade french fries…well, all I can think of is food bliss. I love deep fried fries but when cooking a complete meal, I pop those potatoes in the oven for some delicious oven baked french fries, a little more healthy too. This is such an easy recipe that you will get addicted to!
Cook Eat Delicious Rating: Yummy! This recipe combines Oregano, Cayenne, and a lot of other spices for some flavorful eating. My DH couldn't stop eating them saying they were the best fries he ever had. Maybe he was hungry, maybe not because these were some good fries. I served them along side a vegan sloppy joe and slaw….yum!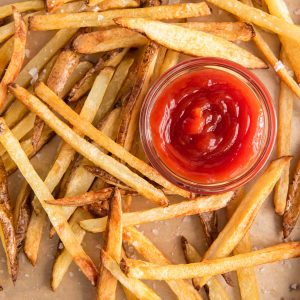 Crispy Baked French Fries
French fries are a classic comfort food that everyone loves. But if you want to make them perfectly crispy and delicious, you need to know the secret. In this blog post, we will share with you the secret to making perfectly crispy baked French fries
Ingredients
6

potatoes

peeled

2

tbsp

olive oil

1

tsp

paprika

1

tsp

garlic powder

1

tsp

onion powder

1

tsp

cumin

1

tsp

cayenne pepper

1

tsp

oregano

Kosher Salt
Instructions
Preheat oven to 375 degrees F.

Cut potato into wedges or sticks.

In a large bowl combine all ingredients together and coat potatoes well.

Place on a baking sheet and bake for 30 minutes.

Flip fries around on baking sheet and bake for an additional 30 or until nice and crispy.

Sprinkle with Kosher Salt and serve.
Notes
Baked French fries are a delicious and healthy snack option that can be easily prepared at home. With the right potatoes, marinade, oven temperature, and baking method, you can create the perfect golden-brown fries every time. Even better, they taste great without all of that extra grease! Now that you know all the tips and tricks to creating delicious baked French fries, it's time to try them out for yourself! So get cooking and enjoy some freshly-baked fries today!
Nutrition
Serving:
1
side
Calories:
212
kcal
Carbohydrates:
39
g
Protein:
5
g
Fat:
5
g
Saturated Fat:
1
g
Polyunsaturated Fat:
1
g
Monounsaturated Fat:
3
g
Sodium:
14
mg
Potassium:
930
mg
Fiber:
5
g
Sugar:
2
g
Vitamin A:
317
IU
Vitamin C:
42
mg
Calcium:
37
mg
Iron:
2
mg
Choosing The Right Potatoes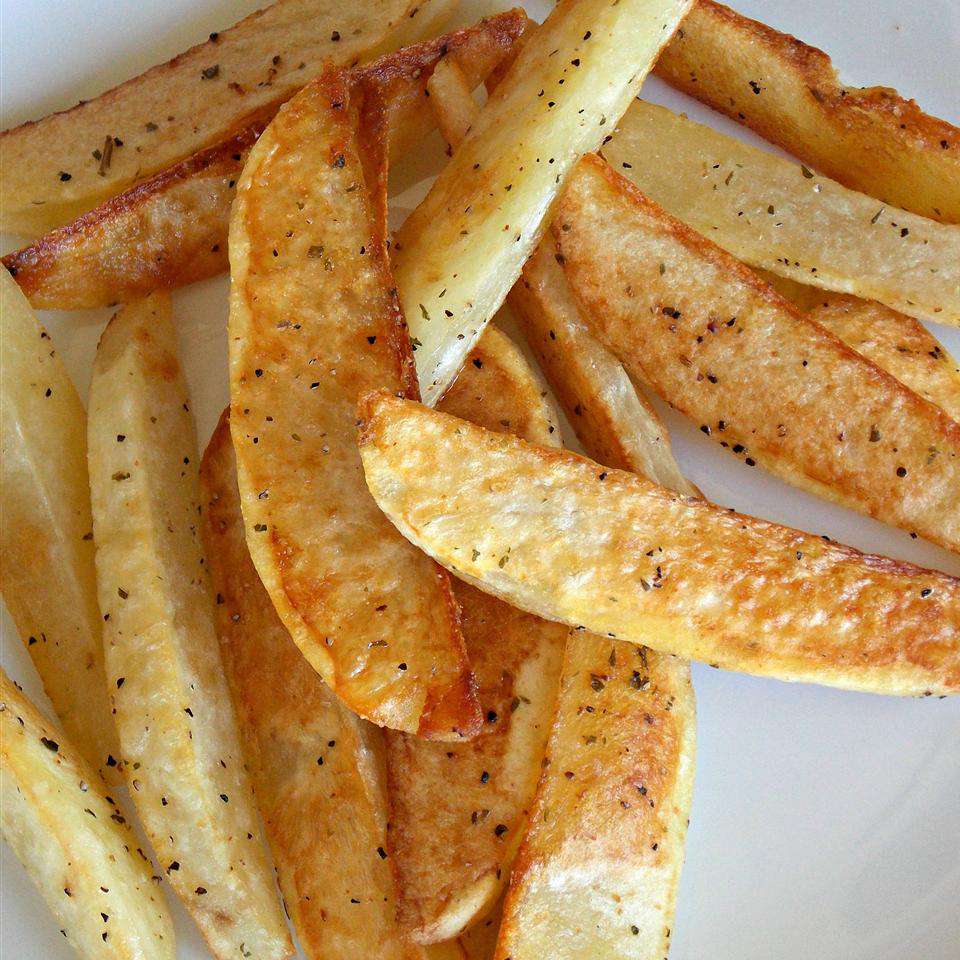 Making French fries is a simple task, but it can be a little tricky to get them right. There are a few key factors that you need to keep in mind when choosing your potatoes for the perfect fry. For example, different types of potatoes work best in different ways. Baking French fries requires high starch potatoes, while boiling or deep frying require potatoes with a higher moisture content. Additionally, different seasonings can be essential for enhancing the flavor of your french fries. Keep these tips in mind when making French fries and you'll be sure to get them perfectly crispy every time!
First, it's important to choose the right type of potato for the task at hand. For baking french fries, choose potatoes with a high starch content. This will give your fries an crispy texture and a delicious flavor profile. In contrast, boiling or deep frying french fry require potatoes with more moisture content – which means that waxy types of potatoes are not ideal. Try using Russets or Yams for this type of cooking instead!
Next up is selecting the right seasoning for your french fries. You'll want to select something that will enhance the natural flavors of your potato while also providing a bit of saltiness and sweetness. Some great options include paprika, garlic powder or onion powder – all of which can be easily added during cooking without overpowering the other flavors in your fryer oil or batter ingredients respectively.
Finally, it's important to keep French fries crispy after they've been baked or cooked however you like them! This involves paying attention to two key factors: moisture and oil content. Too much moisture will cause French fries to become soggy and greasy; on the other hand, too much oil will make them greasy and difficult to eat on their own (or even worse – burnt). Try using either dry spices (like garlic powder) or wet ingredients (like milk) as both methods help control how much moisture is absorbed by the potato during cooking.. However, don't overdo it – excessive seasoning can actually ruin those delicate french fry flavors!
With these tips in mind, you'll be able to make perfect French fries every time!
Baking The Crispy Baked French Fries Temperature, Time And Method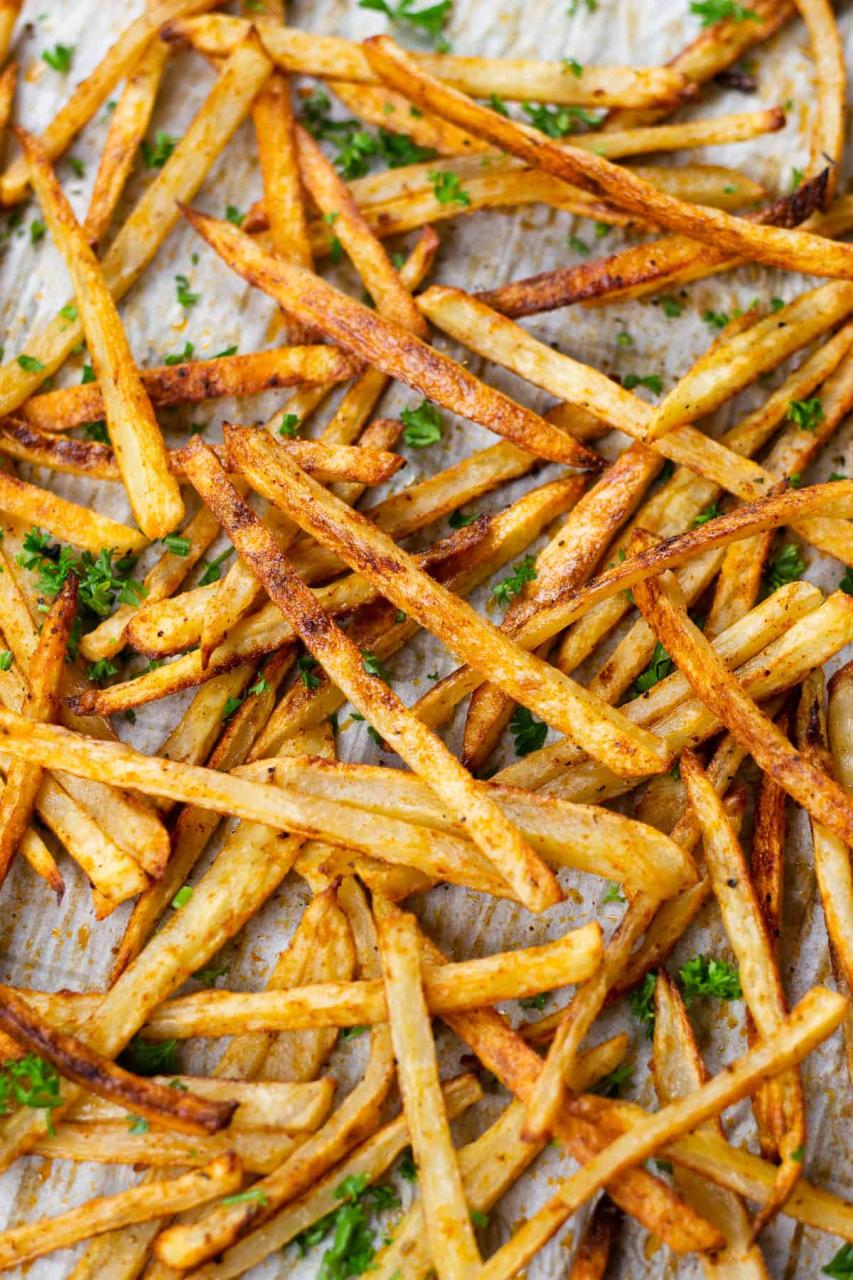 Believe it or not, making perfect Crispy Baked French Fries starts with getting the temperature right in the oven. Preheating your oven to the proper temperature is essential in order to get those crispy, golden fries. Follow our tips and you'll be well on your way to enjoying perfectly cooked fries every time.
First, preheat your oven to 425 degrees Fahrenheit before adding the potatoes. Make sure they are cut into desired size fries before tossing them into the oven; larger fries will take longer to bake than smaller ones. Be sure to alternate the direction that you toss them so that they cook evenly.
After tossing the potatoes into the oven, it's time for some soaking and rinsing. Fill a large bowl with cold water and set aside for 30 minutes. During this time, you can also prep your other ingredients by mixing together oil and seasonings according to your preference. Once 30 minutes have passed, drain and rinse the potatoes with cold water before patting them dry with a paper towel.
Now it's time for some cooking! Place a layer of fries onto a baking sheet (make sure they are spaced out so that they don't stick together) and cook for 25-30 minutes until golden brown and crispy on both sides. Don't forget – turn them over halfway through baking so that both sides get crispy! Finally, place finished french fries onto a hot skillet or griller for just a few minutes until they are heated through and charred on the outside.
The Secret Sauce To Perfect Crispy Baked French Fries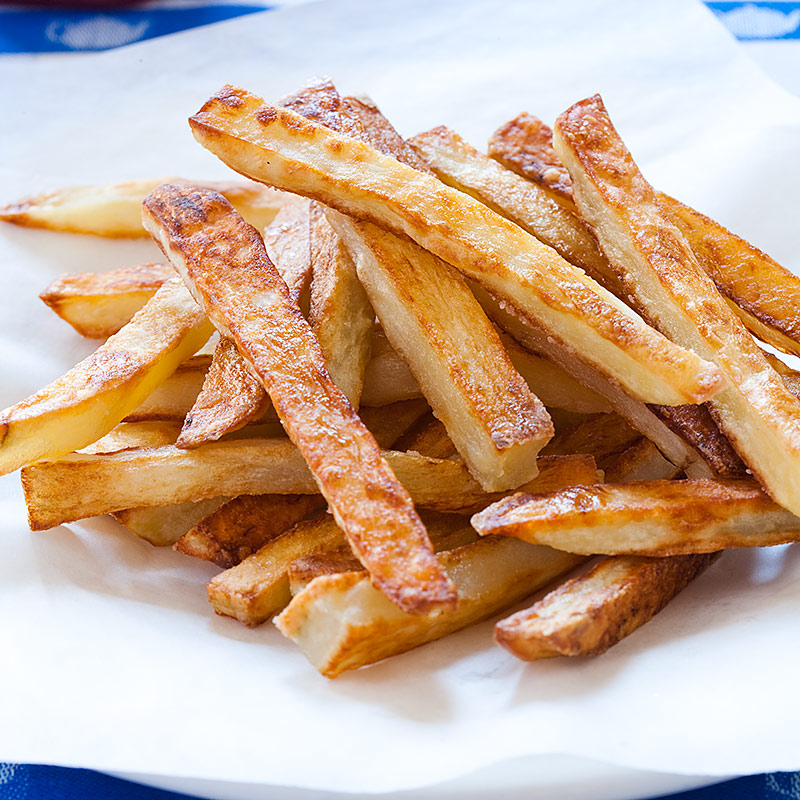 Making Perfect French Fries Starts Withpreheating The Pan Before You Bake Them. This Step Is Essential For Creating A Crispy Coating On Your Fries. In Addition To Preheating The Pan, You Also Need To Create A Slightly Crunchy Coating By Mixing Together Cornstarch And Flour. This Will Help To Create That Signature French Fry Flavor And Texture.
Next, It's Time To Cut Your Potatoes Into Small, Uniform Sticks. This Will Help Them To Cook Evenly And Produce Crispier Fries Overall. Finally, Before Baking Your Fries, Be Sure To Soak Them In Salted Water For About An Hour. This Will Help To Keep Them Fresh And Tasting Their Best During Baking.
Bake Your Fries At A Higher Temperature For Optimal Results. By Doing This, You'll Get Those Delicious Crispy French Fries That Everyone Love! Remember To Space Out Your Fries On The Baking Sheet So They Cook Evenly And Don't Stick Together – This Is Key For Getting Those Perfect Golden Brown Flakes All Over Your Fryer!
In Addition To Cooking In Oil, You Can Also Fry Your French Fries In Hot Oil Using A Deep-Fryer Or Propane Torch For Extra Crispiness And Flavor. Make Sure That You Use The Right Kind Of Oil – Something High In Fat – So That It Doesn't Go Rancid Or Taste Too Sweet Afterwards. Enjoy These Delicious Treats Guilt-Free!