Transform your split pea soup into a restaurant-quality dish with our secret ingredient and cooking tips
I love peas. I eat peas out of the can cold…super yummy to me! About eight years ago I had my first bowl of split pea soup in New York. It was the best thing I have ever had. Like seriously, one of the best meals of my life.  And then eight years pass and I never have it again. I forgot all about Split Pea Soup until out of the blue one day my DH tells me that he loves split pea soup. "Um, since when?" I wondered, seeing that we have been married for a while and split peas have never ever been brought up into food conversations. So I decided to take a stab at it and now split pea soup is a regular easy recipe that I make at home.
Cook Eat Delicious Rating: This soup is delicious. My DH loves it and so do I! It is thick and hearty but at the same time it is light, not heavy and weighing you down. I love the chunks of tomato soup and carrots. The split peas dissolve into the broth and cover each veggie in its greeness which tastes delicious. Since this is a vegan/vegetarian recipe, there is no salty ham that is often times found in a split pea soup. But believe me, you won't miss it at all. The bowl below speaks for it self!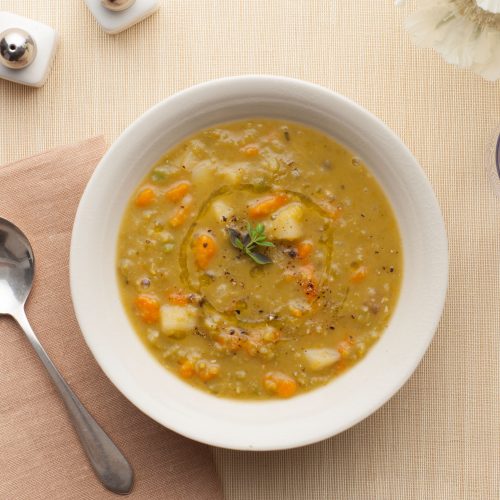 Split Pea Soup
Split pea soup is a classic comfort food that can be enjoyed in any season. But for the best-tasting split pea soup, you need to be armed with the right recipe and the secret to making it perfect.
Ingredients
1

tbsp

olive oil

1

onion

chopped

3

bay leaf

8

cloves

garlic

smashed

1

tsp

basil

1

tsp

oregano

1

tsp

black pepper

1

tsp

parsley

3

cups

dried split peas

8

cups

water

2

bouillon cubes

3

carrots

sliced

5

celery stalks

chopped

5

potatoes

diced

Salt to taste
Instructions
In a large heavy pot add in oil over medium heat.

Stir in onion, bay leaves, and garlic and cook for 2-3 minutes.

Stir in basil, oregano, pepper, and parsley.

Add in split peas, water, and bouillon cubes.

Bring to a boil for five minutes.

Reduce to a simmer and cook for 2 hour.

Add inn carrots, celery, and potatoes and cook for an additional 1 hour.

Season with salt to taste.
Notes
Split pea soup is a delicious and easy meal to make. With the right ingredients, proper preparation, and slow cooking, anyone can make a flavorful soup that will be sure to please. To complete the perfect bowl of split pea soup, don't forget to add garnishes like croutons or bacon bits for a flavorful kick. Serve with buttery toast or crusty bread for a hearty meal that everyone will love!
Nutrition
Serving:
1
bowl
Calories:
262
kcal
Carbohydrates:
49
g
Protein:
14
g
Fat:
2
g
Saturated Fat:
0.3
g
Polyunsaturated Fat:
0.4
g
Monounsaturated Fat:
1
g
Cholesterol:
0.03
mg
Sodium:
193
mg
Potassium:
939
mg
Fiber:
15
g
Sugar:
6
g
Vitamin A:
2637
IU
Vitamin C:
21
mg
Calcium:
58
mg
Iron:
3
mg
Slow Cooking For Perfection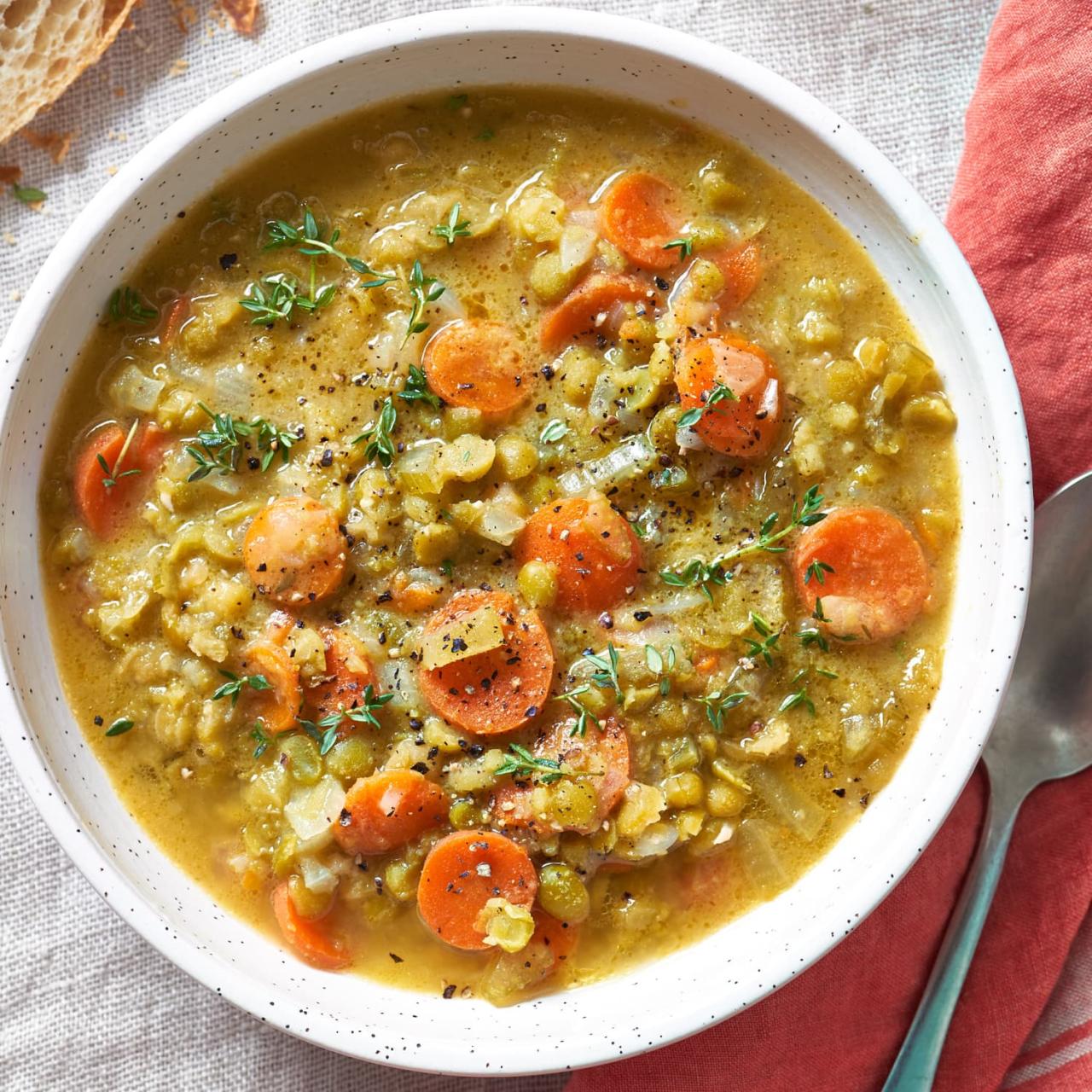 There's nothing like a hearty bowl of split pea soup – and the slow cooker is perfect for making it. Not only is slow cooking a great way to cook food, but it also enhances the flavor of recipes. In this section, we will outline the steps that you need to take in order to make the perfect split pea soup using a slow cooker or crockpot.
Before beginning, be sure to have all your ingredients ready and waiting for you in the slow cooker/crockpot. Start by adding about two cups of water into the crockpot and bringing it to a boil. Once boiling, add about two cups of white beans and let them simmer for about an hour or until they are tender.
You may also like: JAPANESE THICK VEGETARIAN CREAMY SOUP
Now it's time to add some flavor! To do this, add about one tablespoon of olive oil or butter (or both) into your crockpot along with two cloves minced garlic and one teaspoon dried thyme. Stir everything around until everything is well combined before adding in three cups of vegetable stock or broth. Be sure to season with salt and pepper as desired before serving up your soup hot and freshly packed with fresh chopped parsley if desired! For extra deliciousness, stir in one can (14 ounces) diced tomatoes during the last five minutes of cooking time.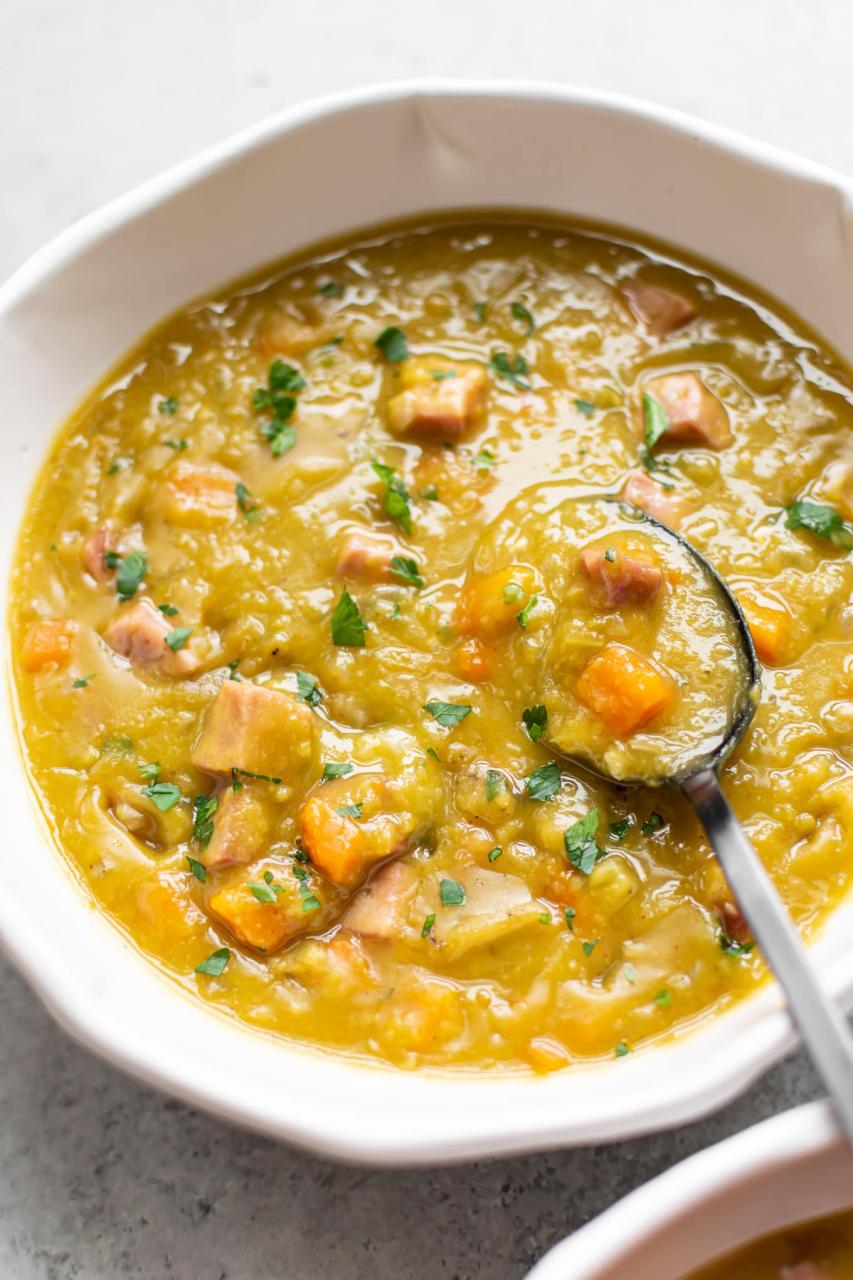 If you're looking for a faster way to make great split pea soup without sacrificing flavor, consider using a pre-made recipe instead of trying to create it from scratch. There are many amazing slow cooker/crock pot recipes available online that will give you delicious results every time – all without having to spend hours in the kitchen! Whether you're looking for something simple like lentil soup or something more complex like Moroccan chickpea curry, you'll be able to find what you're looking for on websites like The Kitchn or Cooking Light. And if you're feeling ambitious (or just want some ideas), take a look at our roundup of 25+ best Slow Cooker Recipes on LeanCookingUSA.com!
Finally, don't forget the finishing touches: sour cream (or Greek yogurt) and chopped parsley if desired. This simple combination can turn any dish into something special – perfect for topping off your delicious split pea soup! And don't forget – storing leftovers is easy when cooked using a slow cooker/crock pot: simply place everything into an airtight container and refrigerate overnight before serving up hot and fresh the next morning!
Garnishing Tips And Tricks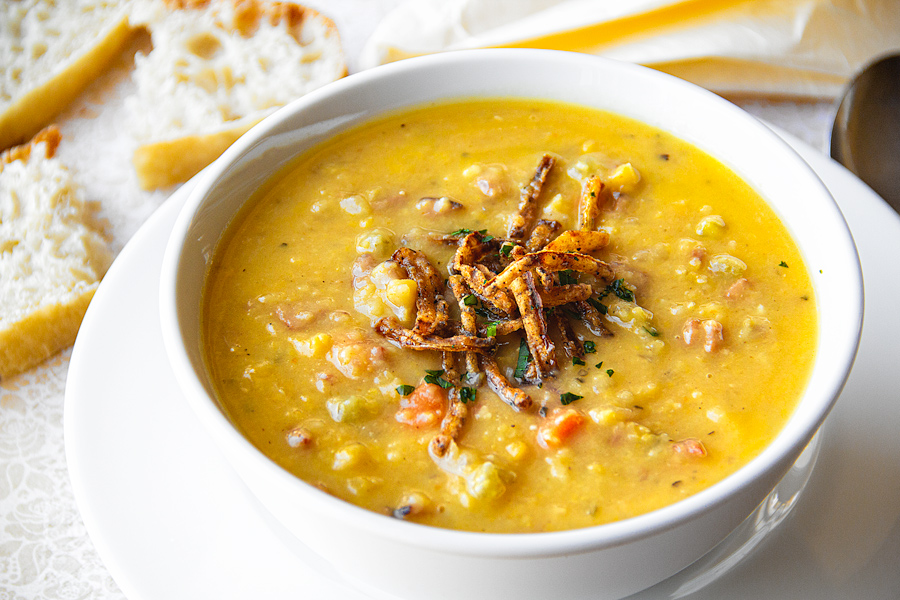 For Example, Yellow Split Peas Have A Milder Flavor That Is Great For Creamy Soups While Green Split Peas Are More Assertive And Can Add A Bit Of Bitterness To The Soup. Brownsplit Peas Are A Mix Of Both Colors And Offer The Best Of Both Worlds – They Are Hearty Enough To Stand Up To Strong Flavors But Also Have A Milder Flavor That Is Perfect For Soups With Less Complexity.
Once You've Selected Yoursplit Peas, It's Time To Add In Some Flavorful Herbs And Spices. One Popular Combination Is Celery Seed, Onion Powder, Garlic Powder, And Black Pepper. Another Great Option Is Bay Leaves, Thyme, Parsley Flakes Or Sage Buds, And Oregano. For Added Depth Of Flavor, You Can Also Add In High Quality Smoked Meats Such As Bacon Or Ham Hocks. Simply Cook These Meats Until They're Tender Before Adding Them To Your Soup Pot.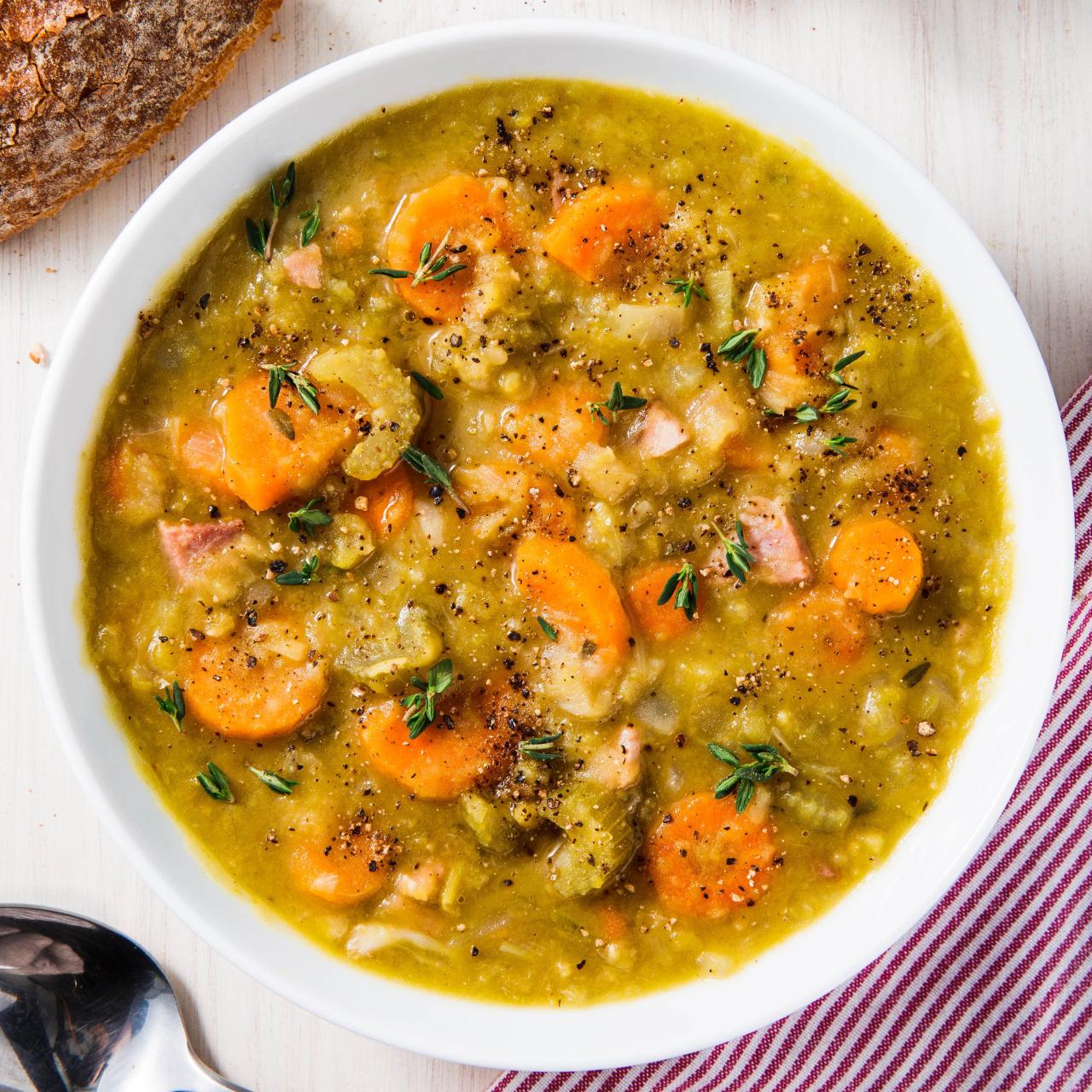 Once All The Ingredients Have Been Added Into Your Soup Pot, It's Time To Create A Smooth Paste Known As Purée. To Do This Properly You'll Need Either An Immersion Blender Or An Electric Hand Mixer Fitted With A Whisk Attachment. Begin By Cooking Your Vegetables Until They're Soft Before Blending Them Into The Paste Using Slow Speed So That They Don't End Up Becoming Lumpy Or Grainy. Be Careful Notto Overheat Or Boil Your Soup Too Much – This Will Destroy All The Delicate Flavors That You've Worked So Hard To Create!
Now It's Time To Prepare Your Garnishes By Finely Chopping Fresh Herbs Such As Parsley Or Chives And Adding Them In Small Amounts Just Before Serving. Finally, Citrus Like Oranges Or Lemons Can Be Juiced And Added At The Last Minute For Brightness And Additional Acidity In Contrast To Tropical Flavors Like Thai Cuisine. Experimenting With Different Combinations Of Ingredients Is Essential To Finding The Perfect Split Pea Soup For Yourself And Those Around You, By Carefully Selecting The Right Types Of Split Peas From A Comprehensive Selection Available At Your Local Grocery Store Or Farmers Market.
Serving Suggestions For Your Split Pea Soup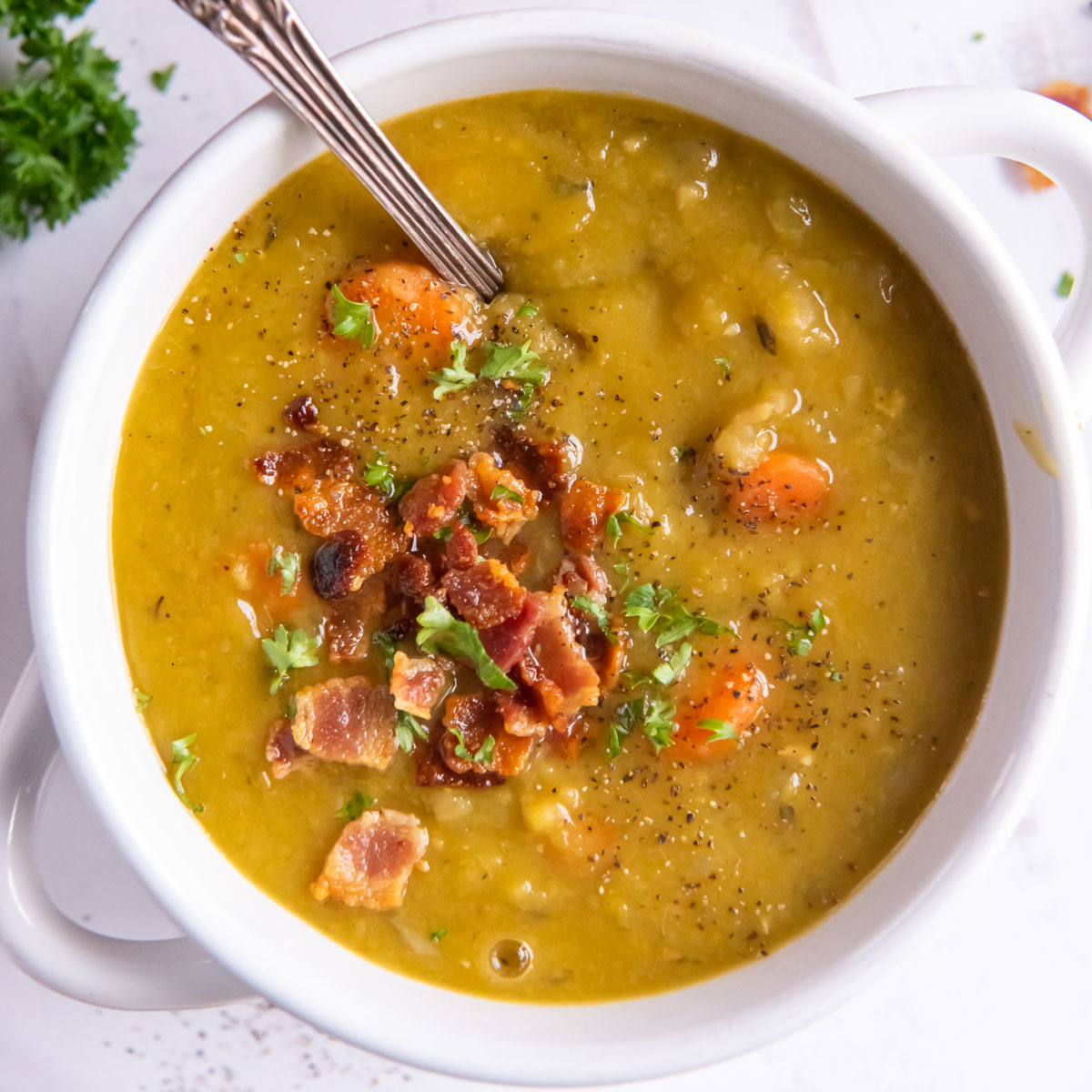 Before cooking your peas, it's important to properly soak them in order to reduce the chance of them becoming mushy. To do this, simply place the peas in a pot of water and let them sit overnight. Once they're soaked, drain and rinse them before cooking. In addition to soaking the peas, it's also important to roast all of your vegetables and herbs before adding them to the pot. This will help add intense flavor to your soup.
Once everything is cooked together, simmer your soup for the ideal amount of time – usually around an hour or so will do the trick. Be sure not to over cook your peas or they will become mushy and tasteless. Finally, add some salt and pepper to taste as well as any spices or herbs that you may want (such as thyme or rosemary). For a truly unique experience, experiment with different combinations of spices and herbs until you find something that you love!
To finish off your perfect bowl of split pea soup, serve it warm with some favorite bread crumbs or crackers, diced onion(s), or even crumbled sausage for added flavor. If desired, top with shredded cheese before serving for an extra boost of cheese heaven! And don't forget a dollop of sour cream on top for an extra zing!