Learn how to master the art of making a perfect pumpkin cheesecake with our step-by-step guide and helpful tips – try it today and impress your friends and family!
The last three months of the year always bring about a weird sense of urgency in me. If I don't get to a Cheesecake Factory to buy a slice of pumpkin cheesecake I feel that the year was a waste! This Year it wasn't happening so I took things into my own hands…I decided to bake my own Pumpkin Cheesecake.
Cook Eat Delicious Rating: Easy recipe to make as long as you follow the directions. Don't rush the softening of the cream cheese either. Unfortunately, I didn't care for it. The spices were overpowering the pumpkin and the crust had a 'wet' texture to it that I didn't like. My DH thought it was too sweet but a friend of mine who tried it went back for seconds so it really depends on your palate. I doubt I will ever make this cheesecake again. I will just have to make sure I get to the States next year sometime during October-December to get the Pumpkin Cheesecake I dream of…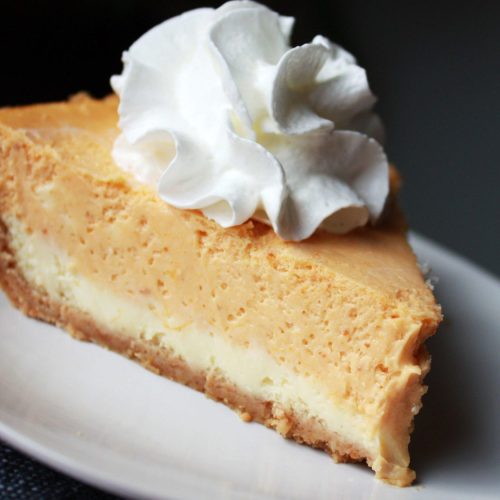 Pumpkin Cheesecake
If you're looking for the perfect way to impress your friends and family, look no further than pumpkin cheesecake! It's a delectable fall treat that's sure to be a hit. But mastering the art of making a perfect pumpkin cheesecake can be tricky.
Ingredients
Crust:
1¾

cups

graham cracker crumbs

3

tbsp

brown sugar

½

teaspoon

ground cinnamon

1

stick of melted butter
Filling:
3

8-ounce packages cream cheese, at room temperature

1

15-ounce can pureed pumpkin

3

eggs

¼

cup

sour cream

1½

cups

sugar

½

teaspoon

ground cinnamon

½

teaspoon

fresh ground nutmeg

½

teaspoon

ground cloves

2

tbsp

all-purpose flour

1

teaspoon

vanilla extract
Instructions
Preheat oven to 350 degrees F.

Prepare Crust: In medium bowl combine crumbs, sugar, and cinnamon.

Add melted butter and mix.

Press down flat into a 10-inch spring form pan and set aside.

Start filling by beating the cream cheese together until smooth.

Add pumpkin, eggs, sour cream, sugar, and the spices and mix together.

Add flour and vanilla and mix together until well combined.

Pour filling into the crust.

Bake for one hour.

Cool on wire rack for 15 more minutes.

Cover with plastic wrap and refrigerate for at least four hours before serving.
Nutrition
Serving:
1
slice
Calories:
222
kcal
Carbohydrates:
46
g
Protein:
4
g
Fat:
4
g
Saturated Fat:
1
g
Polyunsaturated Fat:
0.3
g
Monounsaturated Fat:
1
g
Trans Fat:
0.01
g
Cholesterol:
44
mg
Sodium:
102
mg
Potassium:
436
mg
Fiber:
1
g
Sugar:
34
g
Vitamin A:
9743
IU
Vitamin C:
10
mg
Calcium:
50
mg
Iron:
2
mg
Decorating Tips For Added Flair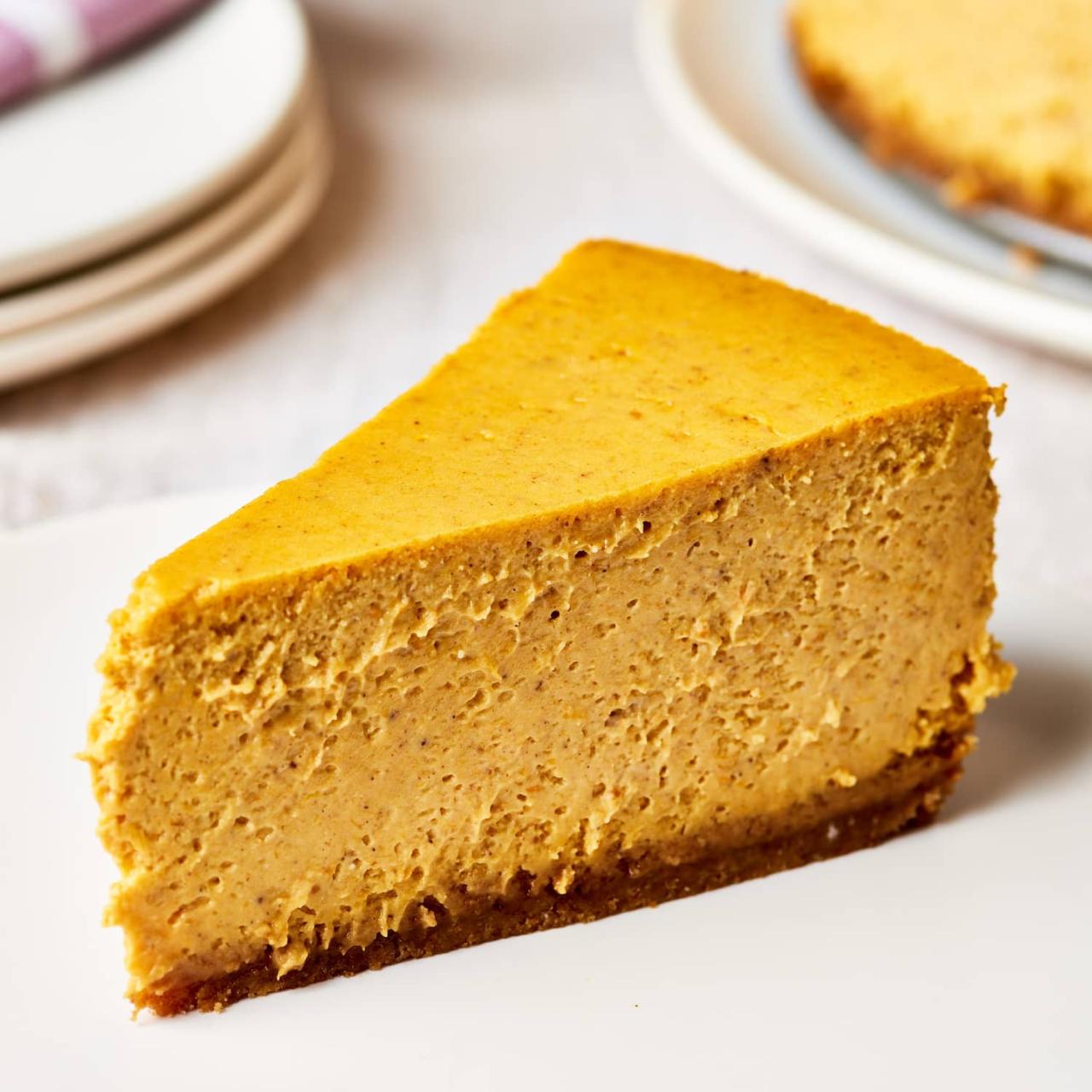 Since it's officially Fall, it's time to start thinking about all of the delicious pumpkin recipes that will be making their way into your kitchen. One of the most popular recipes this time of year is cheesecake, and mastering the art of pumpkin cheesecake is essential if you want to pull off a delicious dessert. Here are a few tips that will help you create a spectacular cheesecake.
First and foremost, make sure that you choose the right ingredient ratios when preparing your cheesecake. For example, too much sugar can result in a tough or dry cheesecake while not enough sugar can result in an under-flavored cheese cake. Preheat your oven to the correct temperature before beginning so that your cheesecake cooks evenly and doesn't become dry or crumbly. Be sure to use an electric mixer to achieve a smooth consistency for added flamboyance.
To add extra flavor and appeal to your cheesecake, consider using pumpkin puree as one of your ingredients. This unique ingredient will give your cake a delicious fall flavor without adding too much sweetness or astringency. In addition to adding flavor, pumpkin puree can also be used for decoration – swirls or marbles are great ways to add visual interest to your cake. Finally, design decorative toppings such as whipped cream or candied pecans for added visual appeal. By following these simple tips, you'll be able to create an amazing presentation-worthy pumpkin cheesecake that everyone will love!
Troubleshooting Dealing With Common Pumpkin Cheesecake Recipe's Problems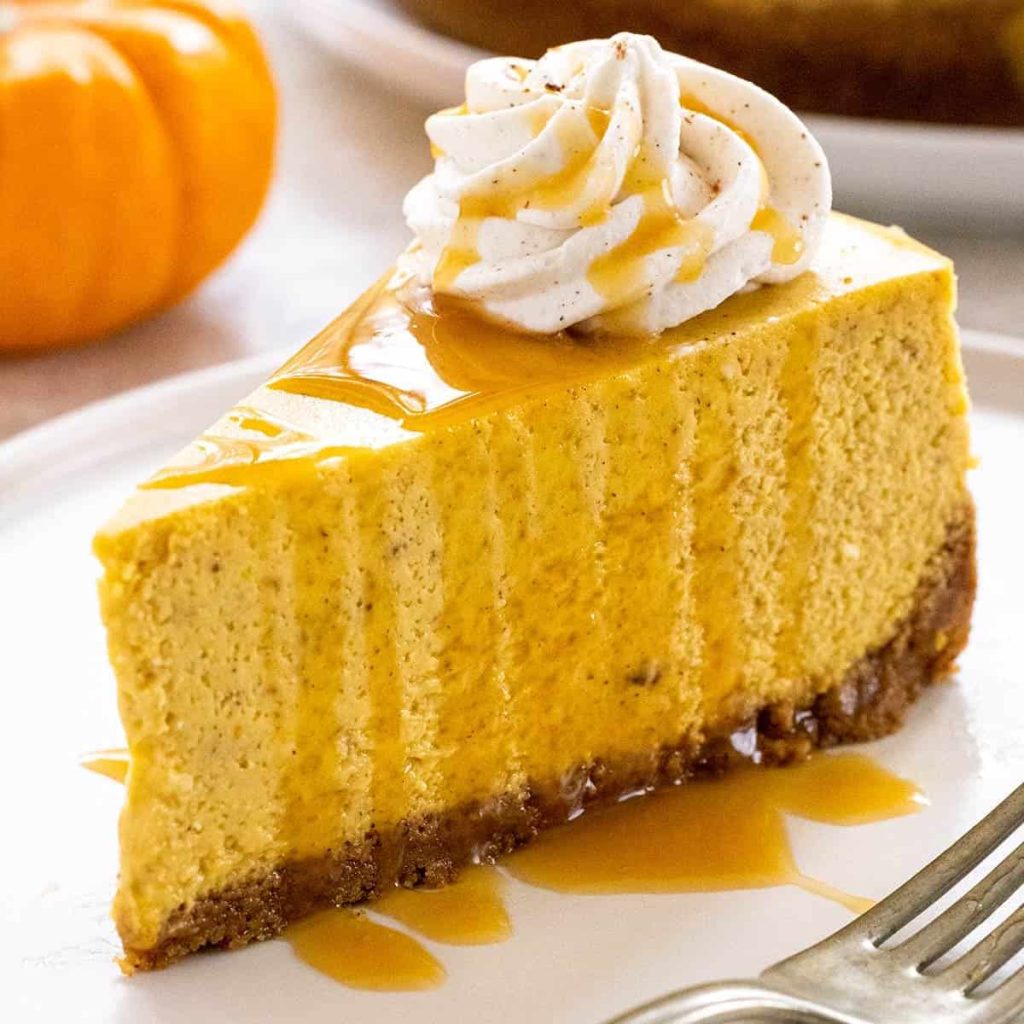 Pumpkin cheesecake is a dessert that is sure to tantalize your taste buds. It's a creamy and smooth combination of pumpkin and cheesecake that is sure to leave you wanting more. But, like anything else, there are some things that you need to know in order to make this dessert perfect. In this section, we will outline the steps that you need to take in order to master the art of pumpkin cheesecake baking.
First and foremost, it's important to use the right ingredients when baking this dessert. If you use an incorrect type of cheese or pumpkin, your cheesecake will not be as delicious or as successful as it could be. Make sure that you are using a quality cheese and a fresh pumpkin for the best results possible.
Another key step in baking a perfect pumpkin cheesecake is learning the basics of cheesecake baking. This includes understanding what makes a good cake – including ingredients like sugar, butter, eggs, etc. – and how these ingredients work together in order to create a delicious cake. Once you have learned the basics, it's time to start experimenting with different flavors and spices! There are endless possibilities for creating unique flavors in your pumpkin cheesecakes with just a bit of experimentation.
Finally, one of the most important aspects of making any type of cake is ensuring that your oven and skillets are of high quality. A poorly made oven or skillet can result in an uneven bake or terrible-tasting food overall. Make sure that you invest in quality tools so that your cakes come out perfectly every time!
Overall, mastering the art of preparing delicious pumpkin cheesecakes requires patience and practice – but with careful preparation and following these tips, anyone can succeed! Use these helpful online resources for additional advice on how best to execute certain techniques or troubleshoot common problems while cooking this delectable dessert masterpiece!