Spice up your dinner table with this classic Italian dish, Chicken Parmigiana – Click Here to learn how to make it!'
Who can resist pasta, meat, sauce, and cheese? I know I can't and that is why I love a good Chicken Parmigiana. There are many ways to make Chicken Parmigiana and some recipes call for the frying method. If I don't have to fry I won't. This is a baked recipe and works out great to cut some fat and I can also prepare a salad or the pasta while the chicken is baking. Which makes it an easy recipe for me and my kitchen!
CookEatDelicious Rating: Great dinner for any day of the week. It is simple enough for kids but loaded with flavor for adults. I used my Homemade Marinara Sauce recipe for this but you can use your favorite red pasta sauce too. Serve with a salad and bread for a complete meal.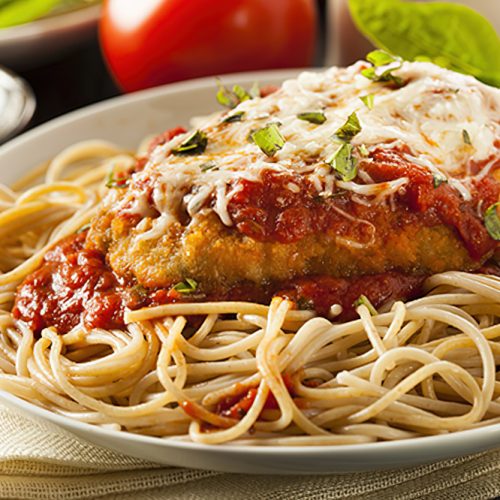 Chicken Parmigiana
Chicken Parmigiana is a classic Italian dish that is beloved by people all over the world. It is easy to make and incredibly delicious, so it is no wonder why so many people love it.
Ingredients
2

boneless chicken breasts

slightly flattened

1

egg

beaten

1

cup

bread crumbs

1

tsp

black pepper

1

tsp

salt

1

tsp

oregano

1

tsp

parsley

½

cup

Mozzarella cheese

grated

¼

cup

Parmesan cheese

grated
Instructions
Preheat oven to 350 degrees F

Lightly grease a medium baking sheet.

Pour egg into a small shallow bowl.

Combine breadcrumbs and seasoning in another shallow bowl.

Dip chicken into egg, then into the bread crumbs.

Place chicken on baking sheet and bake for 30 minutes.

Top with cheeses and bake until nice and melty on top.
Notes
Chicken Parmigiana is a classic Italian dish that has been a staple of Italian cuisine for centuries. It is easy to make, delicious, and packed with flavor. Not only is it an excellent main course meal, but it can also be used as an appetizer or side dish. With the right ingredients and tools on hand, anyone can make this tasty Italian dish in their own kitchen.
Nutrition
Serving:
2
servings
Calories:
577
kcal
Carbohydrates:
41
g
Protein:
44
g
Fat:
25
g
Saturated Fat:
10
g
Polyunsaturated Fat:
4
g
Monounsaturated Fat:
8
g
Trans Fat:
0.1
g
Cholesterol:
185
mg
Sodium:
2037
mg
Potassium:
444
mg
Fiber:
3
g
Sugar:
4
g
Vitamin A:
526
IU
Vitamin C:
0.1
mg
Calcium:
434
mg
Iron:
5
mg
Ingredients And Tools Needed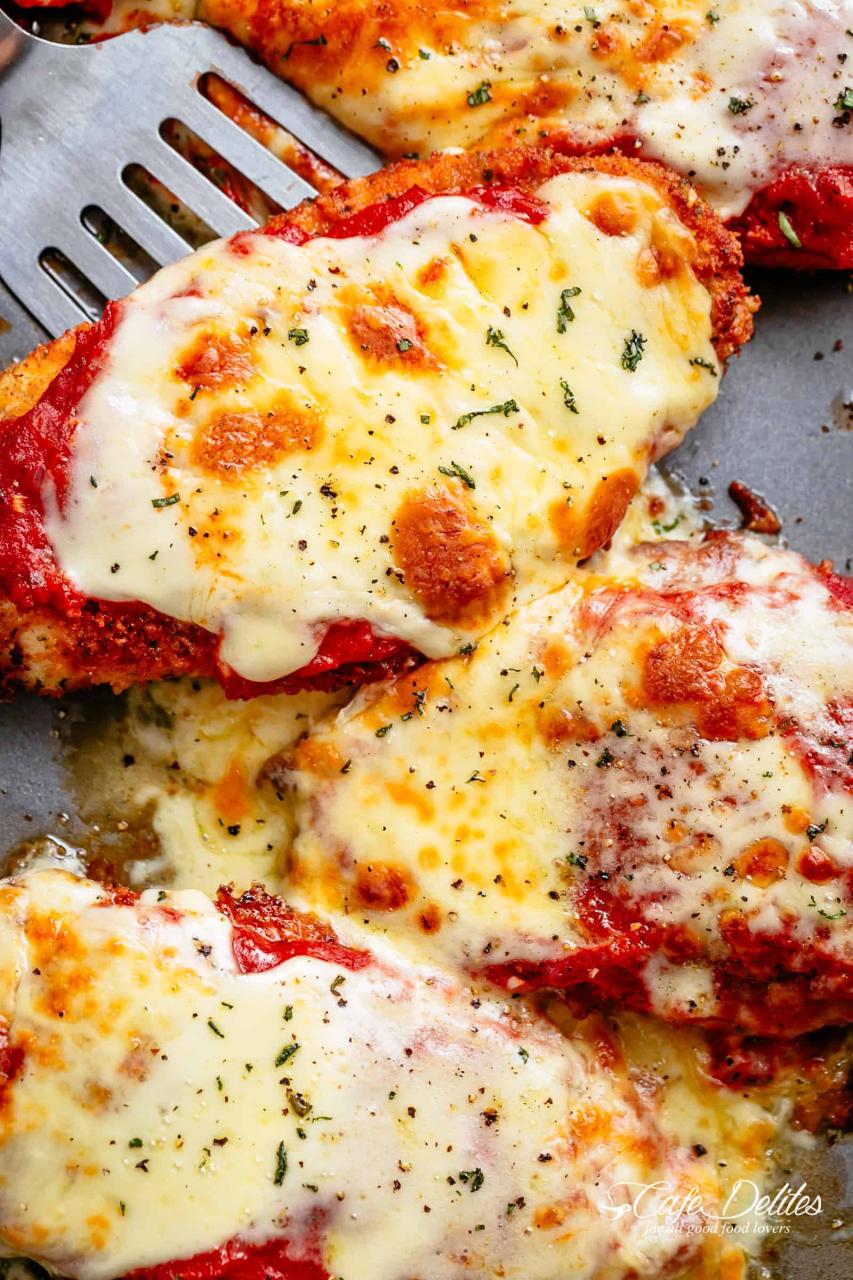 If you're looking for a delicious and classic chicken Parmigiana recipe, look no further! This dish is easy to make, and it comes together quickly in the kitchen. All you need are a few key ingredients and some kitchen tools. Let's take a look at each of those items in detail.
First, what kind of chicken should you use? A whole chicken will work best for this dish, as it will be breaded and then baked in the oven. If you don't have access to a whole chicken, you can use any type of bird that is fit for cooking – such as a turkey or even poultry cutlets.
Second, how do you bread the chicken? The easiest way is to coat it in flour, then salt and pepper. You can also use cracker crumbs or bread crumbs if that's what you have on hand. Finally, heat some oil or butter in a skillet over medium-high heat and cook the chicken until golden brown all over.
Now let's talk about the sauce – what goes inside it? The tomato sauce for this dish is simple – just diced tomatoes with garlic and herbs added. If you'd like to make your own tomato sauce instead of using store-bought sauce, that's completely fine too!
Toppings for this dish include mozzarella cheese, Parmesan cheese (or another hard cheese), Italian seasoning mix, fresh eggs (optional), and fresh basil leaves (optional). You can serve this dish straight from the oven with no sides whatsoever OR you can serve it alongside some simple sides like steamed vegetables or pasta.
Finally, there are a few tips that we want to share with you when baking this Classic Chicken Parmigiana recipe: Preheat your oven to 350 degrees Fahrenheit before beginning;grease an 8×8 inch baking pan;sprinkle 1/2 cup of flour into the pan;mix well;add 2 cups of milk;bring mixture to boil;remove from heat;pour mixture into pan;cover with aluminum foil.;Bake at 350 degrees Fahrenheit for 30 minutes.;Remove from oven.;Allow casserole to cool slightly before cutting into squares or rectangles.. Enjoy!
Tips And Variations To The Recipe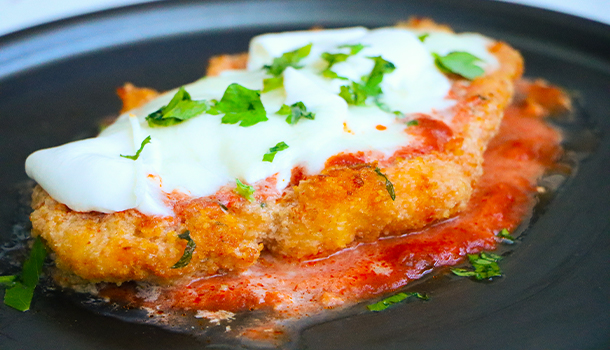 Chicken parmigiana is a classic Italian dish that everyone will love. It's easy to make, and there are many variations that you can try to make it your own. Below, we'll outline the steps necessary to create this delicious meal.
First, you'll need some key ingredients: chicken breasts, Parmesan cheese, eggs, and breadcrumbs. Then, follow our step by step instructions on how to create the dish – it's really easy! Once you've mastered the basics of chicken parmigiana, feel free to experiment with different variations. For example, try adding mushrooms or spinach to the topping mix for an extra layer of flavor. Or top your chicken with roasted tomatoes instead of Parmesan cheese for a more summery dish.
Finally, serve up a well rounded meal by pairing it with some delicious side dishes. Our favorites include roasted Brussels sprouts and oven roasted potatoes in addition to traditional pasta sides like macaroni and cheese or spaghetti squash alfredo. And don't forget dessert! Try our recipe for Classic Tiramisu or our decadent Caramelized Onion Cake for a sweet ending to an amazing Italian meal!
Serving Ideas For Chicken Parmigiana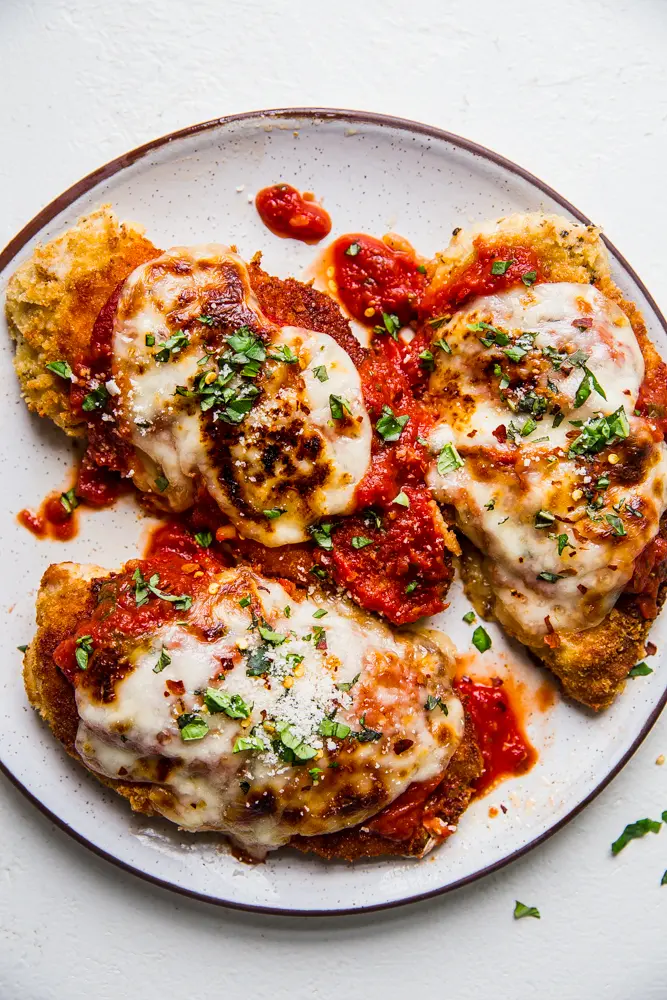 Chicken Parmigiana is a classic Italian dish that everyone will love. Whether you're cooking it for yourself or serving it to guests, following our step-by-step guide will result in delicious chicken parmigiana.
Before starting, it's important to buy the right chicken. You'll need boneless, skinless chicken breasts that are around 1/2 inch thick. You can also use thighs or drumsticks if they are thinner than breast meat. Once you have the chicken, it's time to get started on making the dish!
To make Chicken Parmigiana, start by heating a large skillet over medium heat. Add about two tablespoons of olive oil and then add the chicken breasts and cook for about four minutes per side until they are browned and cooked through. Once the chicken is cooked, remove from the skillet and set aside on a plate.
Next, add two tablespoons of olive oil to the same skillet and then add onions, garlic cloves, and crushed red pepper flakes (or your desired amount of heat). Cook for about five minutes until onions are translucent but not browned. Add tomato sauce (or your desired amount of tomato sauce) and bring mixture to a boil before reducing heat and simmering for about fifteen minutes.
After fifteen minutes have passed, return the chicken breasts to the skillet along with salt and pepper to taste. Cook for an additional five minutes before transferring everything onto a serving platter or serving bowl and topping with shredded mozzarella cheese or grated Pecorino Romano cheese (if desired). Serve immediately with side dishes such as Italian bread crumbs or marinara sauce as desired!