Satisfy your sweet tooth with the best banana muffin recipe, complete with helpful tips, serving ideas, and answers to your FAQs
Breakfast is my lazy meal. I don't feel like cooking anything in the morning and I am most likely running out the door anyways, so who has time for stacks of pancakes, bacon, eggs, fruit salad, and all that good stuff that I would love to eat instead of a handful of grapes? The only solution I have found are muffins. Fresh muffins, baked up on a Sunday afternoon, ready for the week. Just pop one of the mellow muffins into the microwave for a good 10 seconds and bam! You have a warm ready to go breakfast, with the handful of grapes. The easiest muffin recipe I know is for Banana Muffins. One bowl and a spatula is all you need to prepare the batter and then bake in a muffin tin. Just wait until some overly ripe bananas fall into your lap and you are good to go. Overly ripe bananas are best to use over unripe, or ripe bananas because the banana flavor is much more pronounced and the mushy gushy banana lends to a moister muffin. (Moister is a weird word if you keep saying it over & over)
Cook Eat Delicious Rating: Yummy yummy in my tummy. Moist, doesn't fall apart on you, filling breakfast, and just delicious. I love how you can individually wrap them in saran or foil and freeze them. Pop them out and let the muffin come to room temp in about 5 minutes and heat up in the microwave. They taste like they came fresh out of the oven. Easy recipe, perfect for breakfast.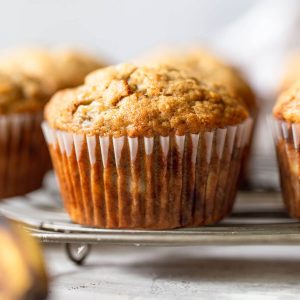 Banana Muffins
This blog post is all about making the best banana muffins. Whether you're a beginner baker or a seasoned pro, this recipe is sure to please. We'll start by giving you a list of ingredients, then provide easy-to-follow instructions for making the perfect banana muffin. We'll also share some top tips for making delicious banana muffins, as well as answer some frequently asked questions. Finally, we'll provide some serving ideas for your homemade banana muffins, and the best banana muffin recipe - guaranteed! So, let's get baking!
Ingredients
4

ripe

bananas

½

cup

1 stick melted butter

1

egg

¾

cup

white sugar

1

tsp

vanilla

1

tsp

cinnamon

½

tsp

nutmeg

½

tsp

salt

1

tsp

baking soda

1

tsp

baking powder

1½

cup

flour
Instructions
Preheat oven to 350 degrees F.

Line muffin pan with liners or spray a light coating of oil.

Mash bananas in a large mixing bowl.

Mix in butter, egg, sugar, vanilla, cinnamon, and nutmeg until well incorporated.

Slowly fold in salt, baking soday & powder, and flour until just combined.

Evenly distribute in muffin pan.

Bake for 25-30 minutes and remove from pan and let rest on wire rack.

Serve warm or save for another day.
Notes
At the end of the day, banana muffins are one of the most delicious and versatile treats you can make. Whether you're looking for a quick breakfast option or a sweet dessert, banana muffins are an easy and tasty way to satisfy your cravings. With these ingredients, tips, recipes, and serving ideas in hand, you'll be sure to make an incredibly tasty batch of banana muffins in no time! So get baking today and enjoy all the delicious goodness that homemade banana muffins bring!
Nutrition
Serving:
1
serving
Calories:
180
kcal
Carbohydrates:
25
g
Protein:
2
g
Fat:
8
g
Saturated Fat:
5
g
Polyunsaturated Fat:
0.4
g
Monounsaturated Fat:
2
g
Trans Fat:
0.3
g
Cholesterol:
34
mg
Sodium:
290
mg
Potassium:
27
mg
Fiber:
1
g
Sugar:
13
g
Vitamin A:
257
IU
Vitamin C:
0.04
mg
Calcium:
28
mg
Iron:
1
mg
Top Tips For Making Delicious Banana Muffins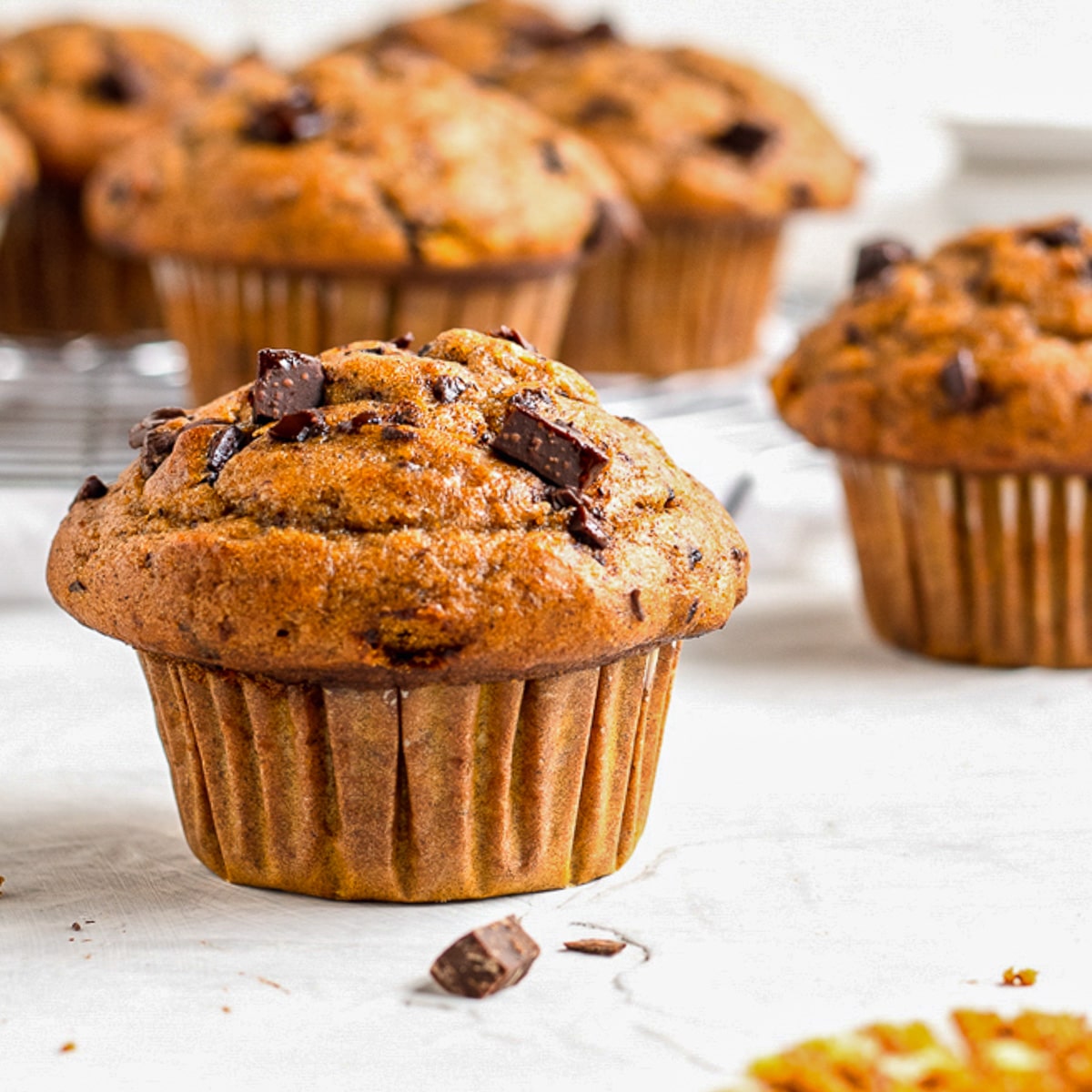 First and foremost, make sure to preheat your oven to the appropriate temperature before starting. This will ensure that your muffins cook evenly and quickly. Next, sift together your dry ingredients such as flour, baking powder, and salt. Be sure to mix them well before adding them to the wet ingredients – mashed bananas and cream mixture. Mix until just combined before spooning the batter into your prepared muffin tins.
Bake for the recommended time and enjoy! Our testers found that these banana muffins were delicious both plain and topped with a sprinkle of nutmeg or cinnamon – your choice! You could also try substituting other fruits such as blueberries or cranberries for applesauce if you prefer a different flavor profile. And last but not least – top off each muffin with a sprinkle of sugar before baking for an extra crunchy finish. Enjoy these scrumptious treats guilt free – they're also low in calories!
Frequently Asked Questions On Banana Muffins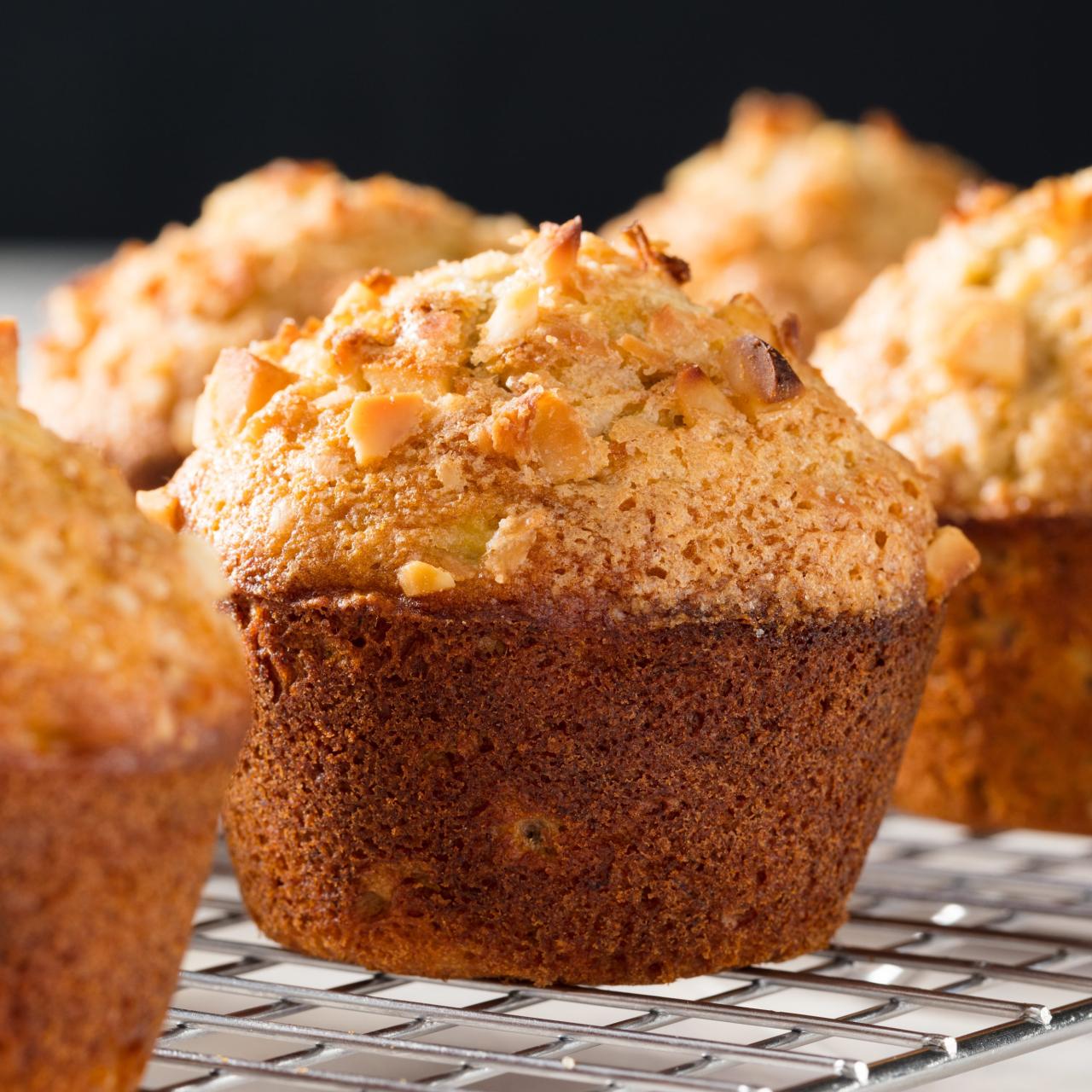 1. How long will banana muffins stay fresh?
Banana muffins will stay fresh for up to three days when stored in an airtight container at room temperature.
2. Can I freeze banana muffins?
Yes, you can freeze banana muffins. Wrap each muffin tightly in plastic wrap and store in a freezer-safe container for up to three months.
3. What is the best way to reheat banana muffins?
To reheat banana muffins, place them on a baking sheet and warm in a preheated oven at 350 degrees Fahrenheit for about 10 minutes.
4. How can I make banana muffins more moist?
There are a few things you can do to make banana muffins more moist. First, make sure you are using ripe bananas. Secondly, add an extra egg to the recipe. Finally, substitute oil for butter in the recipe.
Serving Ideas For Your Homemade Banana Muffins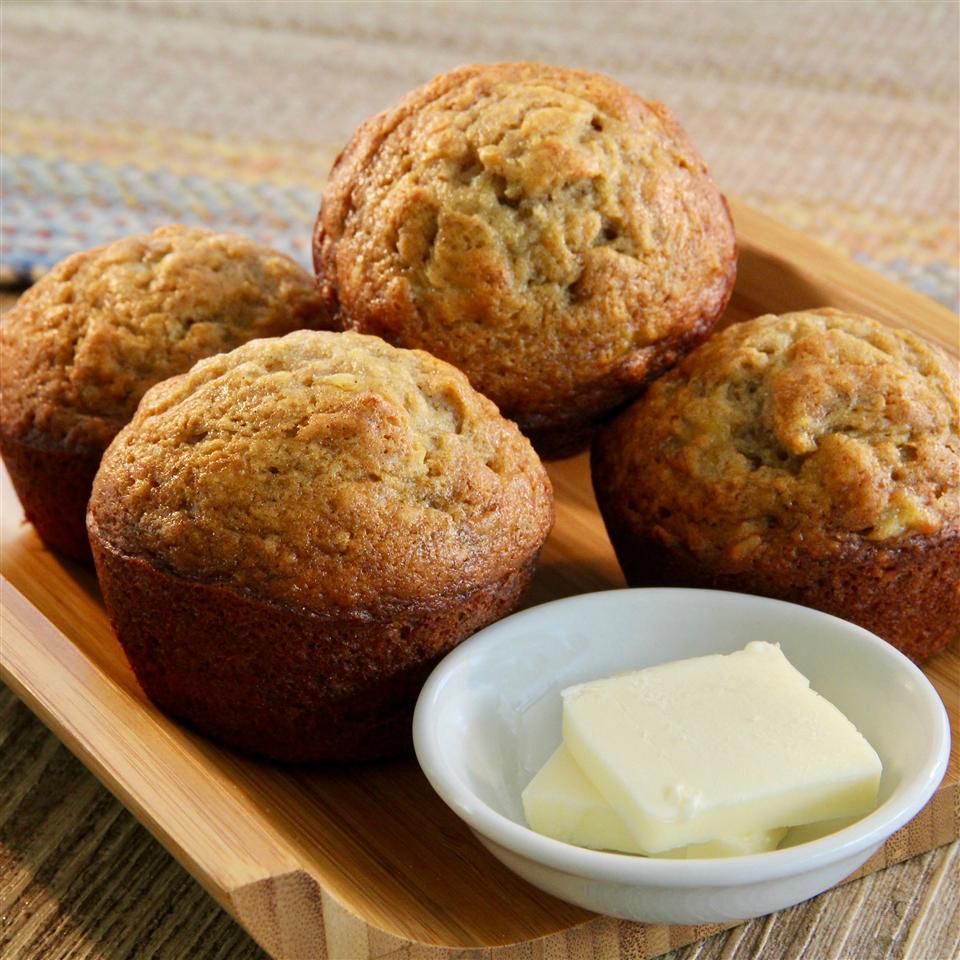 Banana muffins are a delicious and versatile snack that can be enjoyed at any time of the day. In this section, we'll outline some of the best serving ideas for your homemade banana muffins.
Start by using organic and natural ingredients whenever possible. This will help to reduce your environmental impact and ensure that you're eating healthy food. Banana muffins are especially delicious when made with ripe bananas, which give them a sweet flavor and a creamy texture. Be sure to mix the wet and dry ingredients separately before combining them to avoid clumps.
Next, grease the muffin tins or use paper muffin cups for easy removal. These little touches can make all the difference in terms of how easy it is to enjoy your banana muffins on-the-go. Finally, bake at the right temperature and for the right time in order to get perfect results every time. For optimal results, bake the banana muffins for about 20 minutes at 375 degrees Fahrenheit or 18 degrees Celsius, or until they're golden brown and slightly firm to the touch. Try adding nuts, chocolate chips or other treats to give them a special twist! Once they're finished baking, let them cool slightly before serving warm or cold with honey or Greek yogurt for a delicious snack package that you can take anywhere!