Dungeness Crab, butter, Pasta… what more could you ask for?  Right now, I could ask for nothing more! This crab pasta recipe is so simple and yet so delicious. It truly shows my appreciation for the Dungeness Crab. The depth of the flavor should shine on its own. Typing this is making my mouth water. So so sooo delicious! I used leftover spaghetti noodles, melted butter and lump crab…easy and delicious recipe right?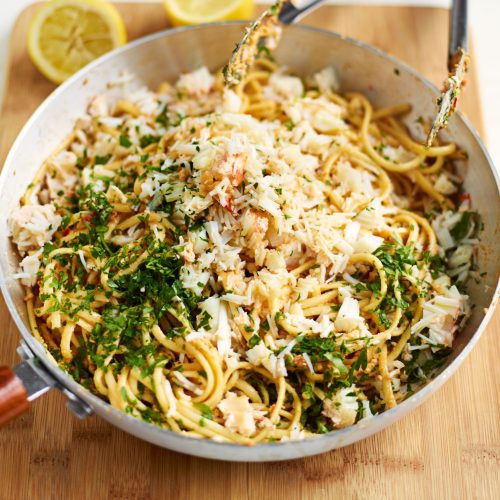 Crab Pasta
Crab Pasta is a delicious and easy to make Italian dish. Check out our six different recipes for the perfect meal any time of the year!
Ingredients
Leftover pasta noodles

1-2

cups

of lump crabmeat

4

tbsp

of butter.

Salt & Pepper to taste.
Instructions
Melt butter in a saucepan and add in pasta and heat thoroughly.

Fold in crab and season to taste.

Serve immediately. Delicious!
Notes
If you love crab and pasta, then you'll definitely want to try one of these six delicious crab pasta recipes! And why not try all six? They're all so different and each one is sure to satisfy your craving for something delicious. So go ahead and give them a try. I guarantee you won't be disappointed!
Nutrition
Serving:
1
serving
Calories:
271
kcal
Carbohydrates:
0.01
g
Protein:
16
g
Fat:
23
g
Saturated Fat:
14
g
Polyunsaturated Fat:
1
g
Monounsaturated Fat:
6
g
Trans Fat:
1
g
Cholesterol:
95
mg
Sodium:
882
mg
Potassium:
178
mg
Sugar:
0.01
g
Vitamin A:
720
IU
Vitamin C:
6
mg
Calcium:
45
mg
Iron:
1
mg
Other Crab Pasta recipes
1. Crab Pasta With Spicy Tomato Sauce
Crab Pasta is a classic Italian dish that is perfect for a weeknight meal. It's easy to make and it takes just a few minutes to prepare, so it's great for busy families or people who don't have a lot of time. Plus, the spicy tomato sauce makes it extra delicious. Below, we'll outline the steps you need to take in order to make this delicious pasta dish.
First, start by heating up your oven to 400 degrees Fahrenheit. Then, prepare the tomato sauce by mixing together diced tomatoes, garlic cloves, salt, and pepper. Next, add in some heavy cream and simmer until thickened.
Now it's time to cook the crab pasta! Cook the pasta according to package directions until tender yet firm. Drain any excess water and then mix in the cooked crab meat along with the tomato sauce. Finally, serve immediately and enjoy!
2. Crab Pasta With Lemon And Basil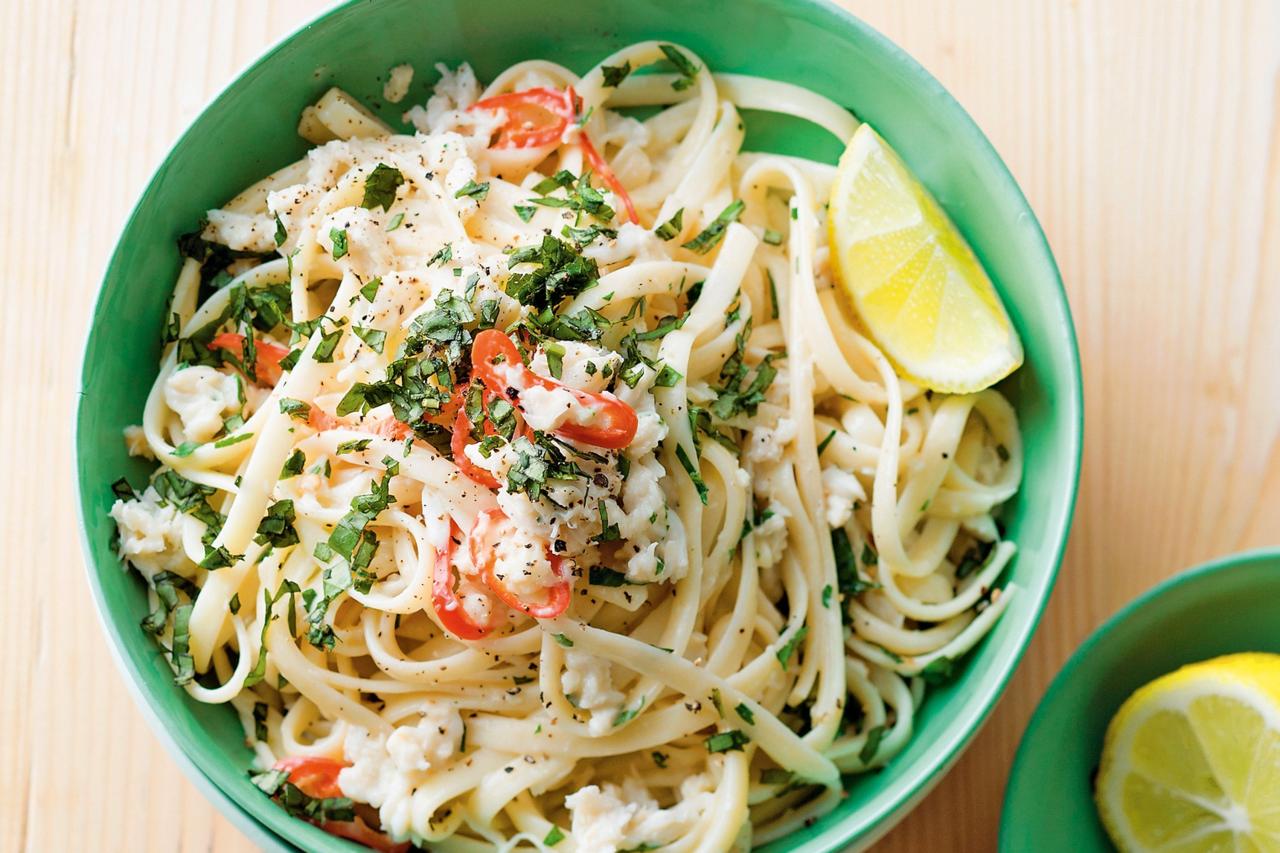 Crab pasta is a delicious and easy dish to make. There are many variations of crab pasta available, so whether you're looking for a simple and straightforward recipe or something with a bit more flavor, we've got you covered. In this article, we'll be sharing our favorite Crab Pasta recipes.
First up is our favorite Crab Pasta recipe with Lemon and Basil. This dish is easy to prepare, and it features the delicious flavors of lemon and basil. You'll love the creamy texture of the crab pasta combined with the tartness of the lemon juice.
If you're looking for something a little spicier, then our Spicy Crab Pasta with Tomato Sauce is perfect for you. This recipe features tomato sauce as your base ingredient, which gives it a hearty flavor that will tantalize your taste buds. The spice level can be adjusted to your liking – just be sure to use caution if you want things on the fiery side!
For something heartier and more filling, try our Crab Pasta with Spinach and Artichokes. This dish is packed full of healthy vegetables that will give your palate a nutritious meal. Plus, the creamy cheese sauce makes it irresistible – no one will be able to resist!
If you're in the mood for something light but nutritious, try our Crab Pasta with Roasted Red Peppers and Feta. This recipe features roasted red peppers as well as feta cheese – both of which add zingy flavors to this delectable pasta dish. And last but not least is our Sun- Dried Tomatoes and Goat Cheese version of crab pasta – perfect for those warm summer days when everything tastes good!
3. Crab Pasta With Roasted Red Peppers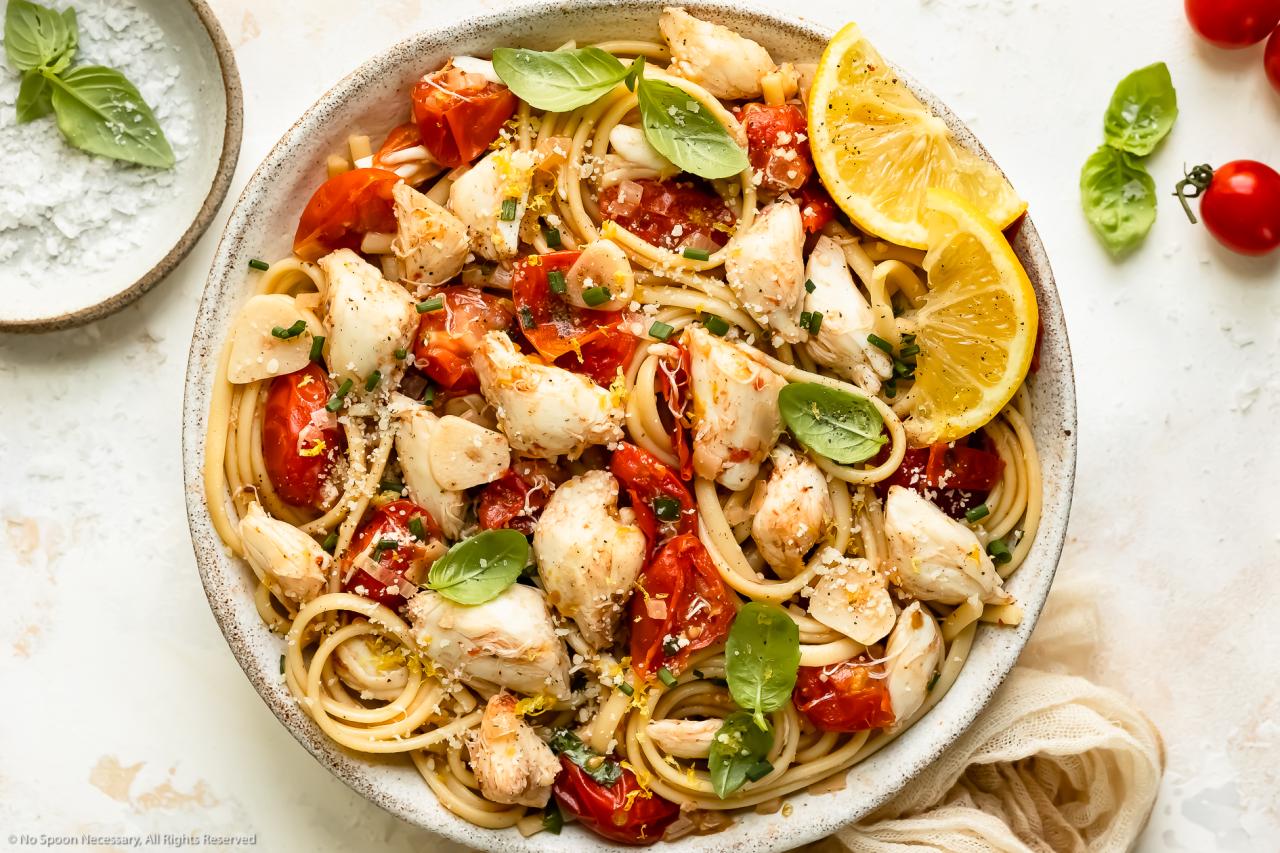 Craving some seafood pasta? This crab pasta recipe is perfect for you! It's quick and easy to make, and the roasted red peppers give it a lovely color and added sweetness. Not to mention, the leftovers are just as good as the original dish! This recipe is perfect for busy weeknights when you don't have time to spend cooking. All you need is a few simple ingredients and your oven.
To begin, preheat your oven to 375 degrees Fahrenheit (190 degrees Celsius). Then, cook your pasta according to package instructions – al dente is fine. Once the pasta has finished cooking, drain it and transfer it to a large bowl. Toss it with olive oil before setting it aside.
Now let's get started on our delicious crab pasta dish! In a small skillet over medium heat, cook garlic until fragrant. Add canned tomatoes (with their juice), tomato paste, sugar, basil, salt, and black pepper – all of which will be mixed into our sauce later on. Let this mixture simmer for 10 minutes while we prepare the rest of our dish.
Next we'll add in red peppers – these will give our Crab Pasta Recipe that beautiful color and added sweetness that we love so much! Once everything is cooked through (about 10 minutes), we'll pour the sauce over the pasta and stir in those beautiful roasted red peppers. Finally, we'll transfer everything to a greased baking dish and bake for 20 minutes until everything is hot and bubbly. Serve warm with Parmesan cheese on top for an extra delicious touch!
4. Crab Pasta With Asparagus And Cherry Tomatoes
There's nothing like a good seafood pasta dish, and this Crab Pasta with Asparagus and Cherry Tomatoes is sure to please. This recipe is quick and easy to make, perfect for a weeknight meal or an easy entertaining option. Plus, it can be made ahead of time so that you're always prepared for a crowd.
This recipe is also gluten free, dairy free, and Paleo friendly, making it perfect for anyone looking to indulge in some healthy seafood without any guilt. The ingredients are simple enough that you can whip them together quickly – no complicated skimming or boiling required. And the flavor is delicious – the crab takes the dish from ordinary to extraordinary in no time at all!
5. Crab Pasta With Arugula And Goat Cheese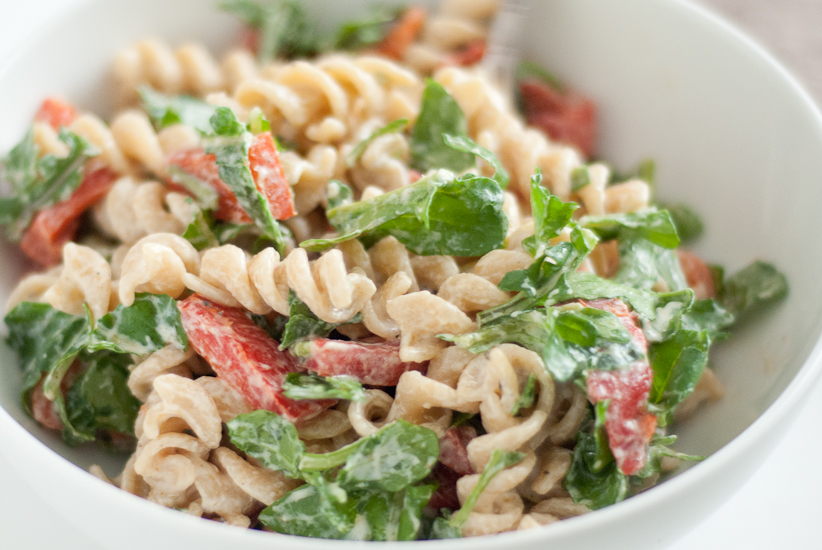 This Crab Pasta Recipe is a delicious and filling dish that will have your taste buds dancing. It's easy to make, and all you need is a few simple ingredients. Start by boiling water in a large pot and adding pasta. Cook the pasta until it's al dente, then drain it in a colander.
In a large skillet, heat olive oil over medium-high heat. Add garlic and sauté for 1 minute. Then stir in crabmeat and cook for 2 minutes. Finally, add cherry tomatoes and arugula to the skillet and cook for 2 minutes more. Goat cheese will be added later, so wait until this step is finished before serving the pasta.
Toss the cooked pasta with the sauce before serving up hot!
6. Crab Pasta With Sun-Dried Tomatoes And Spinach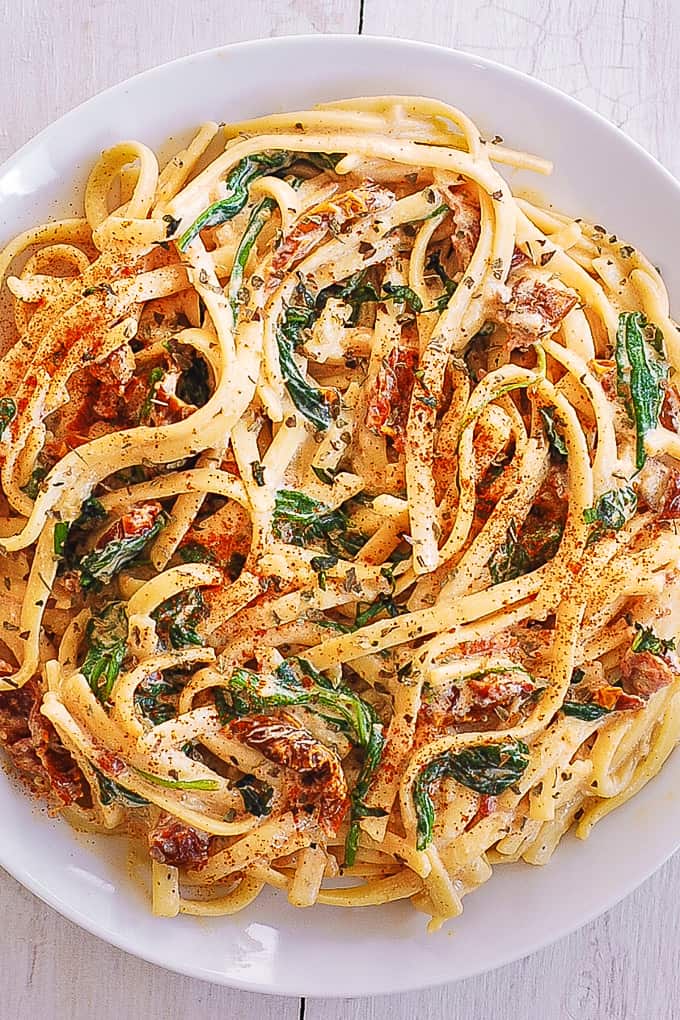 Craving some pasta with your crab? This Crab Pasta Recipe is sure to satisfy. It's easy to make and packed with flavor, perfect for any night of the week.
First, drain the can of crab meat in a colander. Save the juice for later. You'll need about 1/4 cup of it.
In a large pot, heat olive oil over medium heat. Add onion and garlic and sauté for about 5 minutes until softened. Add red pepper flakes, oregano, thyme, and flour and stir to combine. Slowly add in chicken broth while stirring constantly until a thick sauce forms.
Add crab meat, sun- dried tomatoes, spinach leaves (stems removed), and reserved juice from the can to the pot and stir to combine well. Bring mixture to a simmer before removing from heat and allowing it to cool slightly while you prepare the pasta noodles according to package instructions. Once noodles are cooked through (about 10 minutes), drain them in a colander set over fresh water before adding them back into the pot with cream and Parmesan cheese on top. Season with salt and pepper as desired before serving garnished with chopped parsley.