Anything stuffed is a plus in my home. Anything cheesy is a plus in my home. Anything crispy is a plus in my home…you get the point. Chicken breasts stuffed with ham & cheese and baked to crisp perfection, well, it is delicious. I like to use this dish when I have a lot of leftovers. The ham was thick slices from a honey ham I recently baked. There is always some sort of cheese in the fridge and chicken in the freezer. This was perfect served with a side of rice and spinach but anything you have on hand will do.
Delicious Rating: I remember the first time I stuffed & rolled a flank steak it felt so intimidating to me to do such a large feat! It turned out great and there wasn't really anything to it. Likewise, don't be intimidated when cooking up a recipe that is not in your usual cooking repertoire. You will find that this is a delicious easy recipe where you can combine different meats or cheeses to stuff your chicken with creating a new dinner dish! Let me know what you try!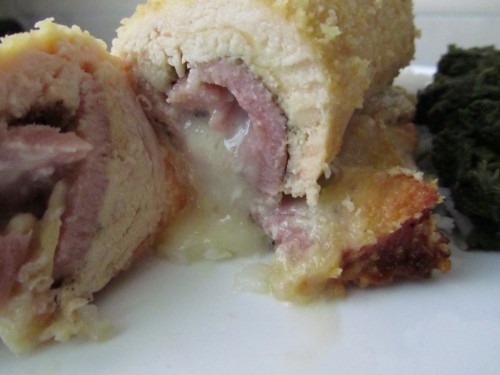 Stuffed Chicken Breast
Get tips on how to cook stuffed chicken breasts with this recipe, including what ingredients you'll need and what to serve it with.
Ingredients
4

boneless

skinless Chicken breasts

4

thick slices of ham

4

slices

Swiss cheese

4

slices

monterey jack cheese

2

cups

breadcrumbs

1

egg

scrambled

Salt & Pepper
Instructions
Preheat oven to 400 degrees F.

Coat a baking sheet with cooking spray.

Flatten chicken breasts to ½ inch with a meat tenderizer.

Season with salt and pepper.

Place swiss, ham, monterey jack on top and roll.

Place one or two toothpicks to seal sides.

Roll sealed chicken in egg then dredge in breadcrumbs.

Place on baking sheet and repeat for all chicken breasts.

Bake 20 minutes or until internal temperature reaches 170 degrees F.

Remove toothpicks.

Serve hot.
Notes
Now that you know how to cook a stuffed chicken breast, why not try it for yourself? This dish is sure to impress your family and friends. And, it's a healthy option too. So, what are you waiting for? Give it a try!
Nutrition
Serving:
1
serving
Calories:
726
kcal
Carbohydrates:
39
g
Protein:
74
g
Fat:
28
g
Saturated Fat:
12
g
Polyunsaturated Fat:
3
g
Monounsaturated Fat:
9
g
Trans Fat:
0.03
g
Cholesterol:
244
mg
Sodium:
1205
mg
Potassium:
1072
mg
Fiber:
2
g
Sugar:
4
g
Vitamin A:
484
IU
Vitamin C:
3
mg
Calcium:
478
mg
Iron:
4
mg
Tips for cooking stuffed chicken breasts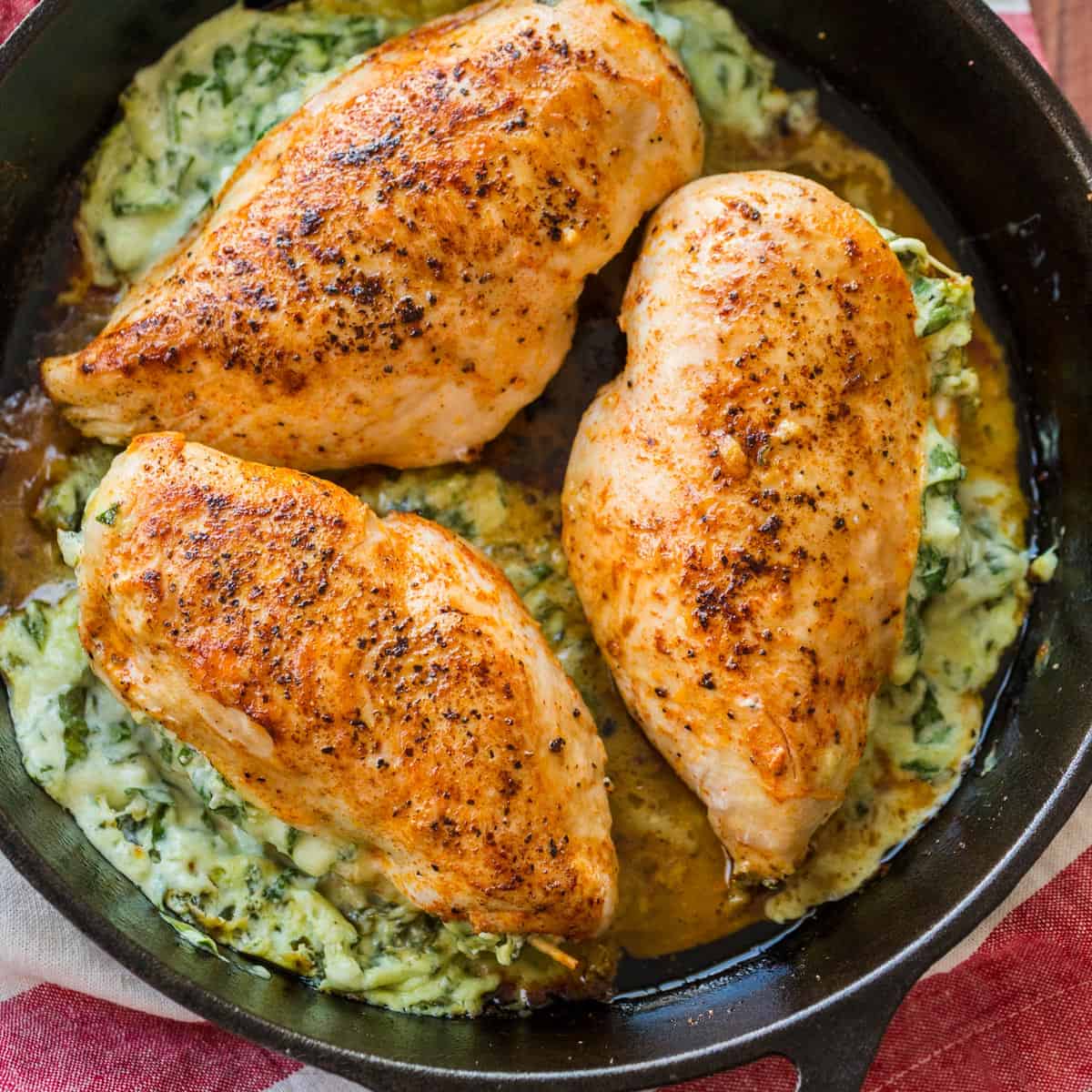 Stuffed chicken breasts are a delicious and easy way to impress your guests. Here are a few tips to ensure that your dish is a success:
– Choose chicken breasts that are of similar size so that they cook evenly.
– If you are using a recipe that calls for raw chicken, be sure to cook the stuffing separately before adding it to the chicken. This will ensure that the chicken is cooked through and the stuffing is not raw.
– When stuffing the chicken breasts, be careful not to overstuff them. The stuffing should be loose and not packed tightly into the chicken.
– Bake the chicken in a preheated oven until the chicken is cooked through and the stuffing is golden brown.
– Let the chicken rest for a few minutes before cutting into it. This will allow the juices to redistribute and make for a juicier and more flavorful dish.
How stuffed chicken breasts are usually served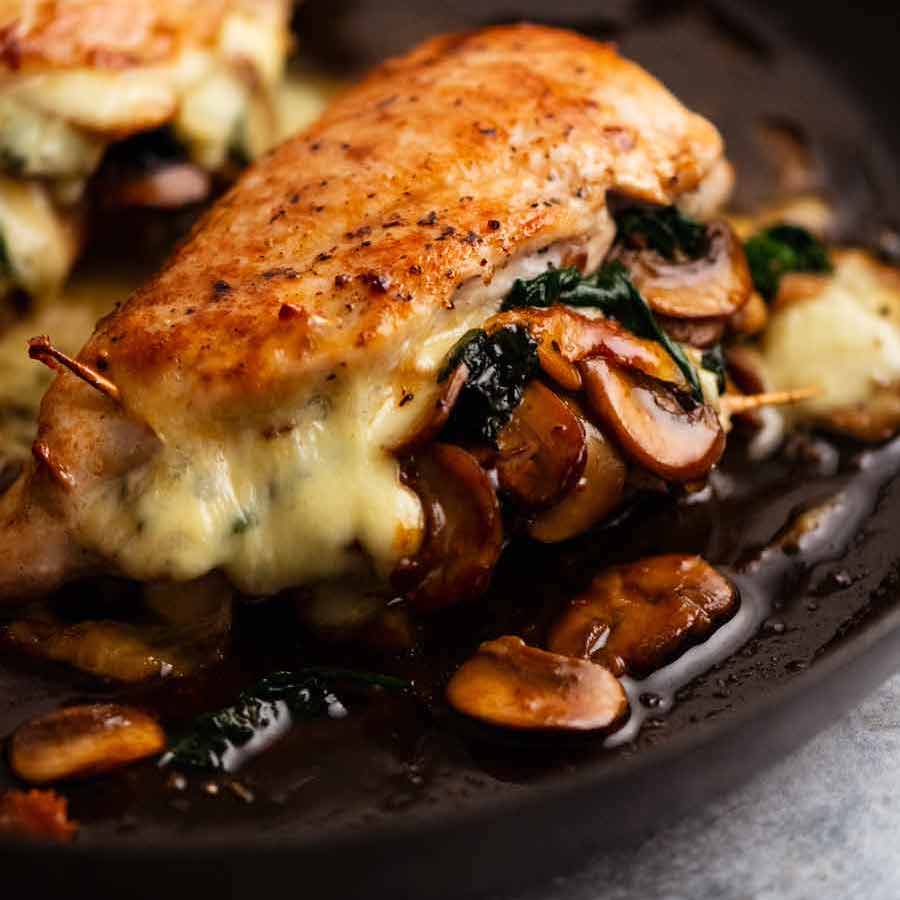 Stuffed chicken breast is usually served with a variety of side dishes. The most common side dish is mashed potatoes, but other popular choices include roasted vegetables, rice, or macaroni and cheese. Stuffing is usually made with a variety of different herbs and spices, and chicken breasts are often topped with a sauce or gravy.