When I think of Comfort Food I think of Macaroni & Cheese. The warm ooey-gooey-ness of it all makes me always go back for seconds and thirds! There are a variety of ways to make Macaroni and Cheese. The recipes can vary depending on where you are from, taste preferences, and how your mother makes it. For me, I think California really has a wide range of Mac & Cheese. I love anything with cheese and unfortunately my mother didn't cook this for us growing up. So, with my creative cooking juices flowing, this Classic Cheesy Mac & Cheese recipe was made.
Delicious Rating: Yummy Yummy Time! If you really love a creamy and cheesy macaroni then this recipe is for you. If you don't want baked Mac & Cheese you don't have to bake it at all. You can cook the noodles while the sauce is being prepared and once tossed together, serve. I ate a lot right out of the pan. It is a perfect side dish or stand alone. This is by far one of the most delicious Mac and Cheese recipes I have ever cooked! Please make this easy recipe and let me know what you think!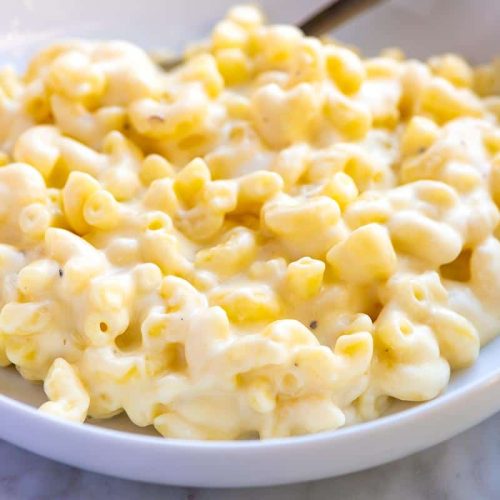 Cheesy Mac And Cheese
Looking for an easy and delicious cheesy mac and cheese recipe? Look no further! This blog post gives you all the details you need to make a classic and cheesy dish.
Ingredients
8

ounces

elbow macaroni

5

tbsp

butter

4

tbsp

flour

1

cup

milk

1

cup

heavy cream

1

tsp

salt

2

tsp

ground pepper

3

cups

cheddar cheese

shredded

½

cup

breadcrumbs
Instructions
Preheat oven to 400 degrees F.

Pour in milk and cream while whisking.
The heavy cream really gives the cheese sauce a nice thickness to stick to the pasta.
Bring mixture to a boil and boil for 2 minutes, stirring constantly.

Reduce heat to low and continue to stir for 10 minutes.

Take mixture off heat.

Add macaroni noodles to cheese sauce and coat well.
Look at how it just coats it so well. When baked, the macaroni and cheese is still super cheesy and melty, the best type!
Place in a lightly buttered baking dish and sprinkle with breadcrumbs.

Bake 25 minutes or until top is golden.
Notes
The perfect side dish for a turkey or ham dinner.
Nutrition
Serving:
4
side dishes
Calories:
1004
kcal
Carbohydrates:
65
g
Protein:
34
g
Fat:
68
g
Saturated Fat:
40
g
Polyunsaturated Fat:
3
g
Monounsaturated Fat:
16
g
Trans Fat:
1
g
Cholesterol:
197
mg
Sodium:
1390
mg
Potassium:
392
mg
Fiber:
3
g
Sugar:
7
g
Vitamin A:
2265
IU
Vitamin C:
0.4
mg
Calcium:
760
mg
Iron:
2
mg
Variations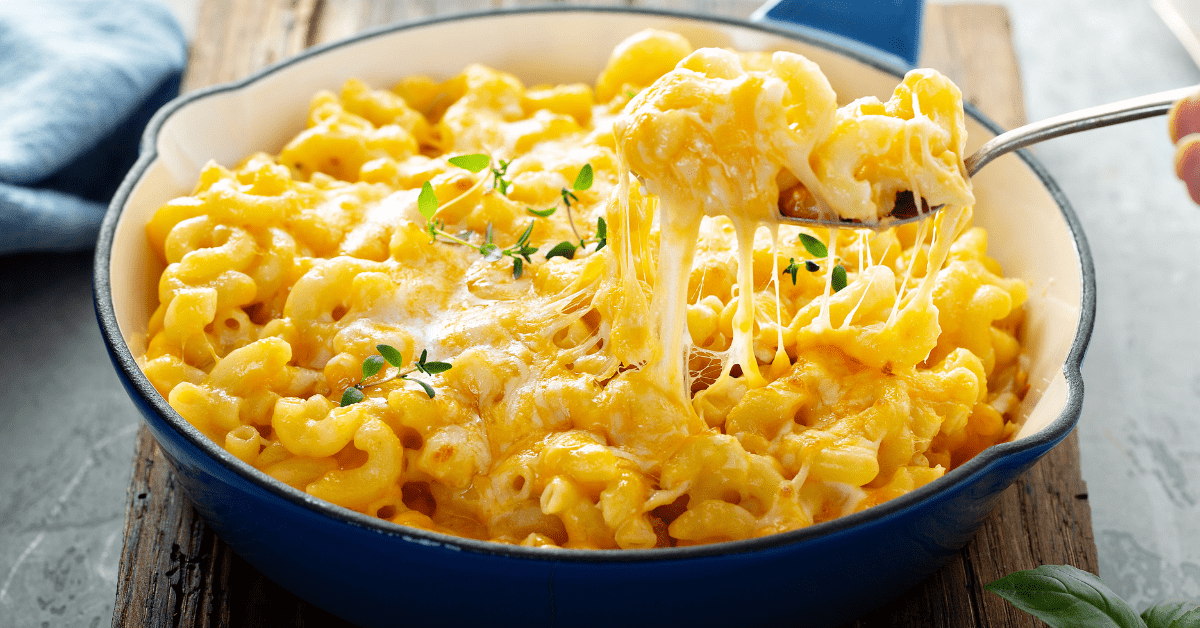 There's nothing like a classic cheesy mac and cheese dish, and that's why we've put together a list of five different variations that will sure to please. Each dish is delicious in its own way, so there's sure to be one that you'll love.
First up is our Sharp Cheddar and Gruyere Mac and Cheese. This version features sharp cheddar cheese mixed into the creamy sauce, making it rich and delicious. It's perfect for those who love their mac and cheese with a little bit of bite.
Next is our Smoked Gouda and Bacon Mac and Cheese. This dish is perfect for those who enjoy savory flavors, as the bacon lends a nice smokiness to the sauce. The combination of the two cheeses makes this recipe incredibly cheesy and flavorful.
Finally, we have our Chipotle Peppers Mac and Cheese. This version contains chipotle peppers in lieu of traditional chili powder, which gives it a unique flavor profile that you won't be able to resist. The heat from the peppers pairs perfectly with the richness of the cheese to create an unforgettable dish.
Third on our list is our Mac and Cheese with Chipotle Peppers. In addition to being spiced up with chipotle peppers, this recipe features melted mozzarella cheese for extra creaminess and flavor. You won't be able to resist how amazing this dish tastes – it's sure to become one of your favorites!
Fourth on our list is our Macaroni & Cheese with Pesto Sauce. Pesto has become increasingly popular over recent years, so it makes sense that it would show up in many different versions of mac & cheese dishes around town! Our version features pesto as an ingredient instead of traditional flour or milk base sauces, giving it a unique taste that you won't be able to forget anytime soon.. Lastly is our Lobster Mac & Cheese Recipe – if you love seafood then you need to try this out! The lobster adds an incredible depth of flavor which pair perfectly with the creamy sauce created by the macaroni & cheese pasta itself.. Who knew such simple ingredients could create such complex dishes? There really isn't anything like a good classic cheesy mac & cheese meal!
Classic Cheesy Mac And Cheese Nutrition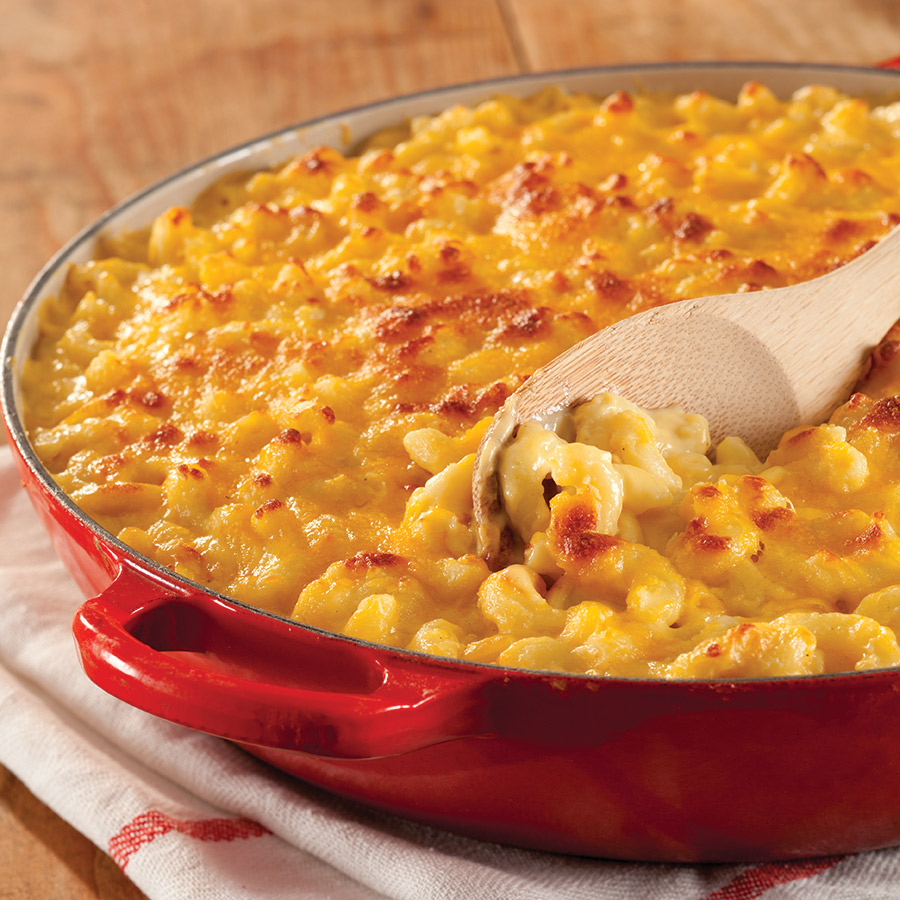 Mac and cheese is a classic dish that is enjoyed by many. It's easy to make, and it contains a variety of nutrients that can help to nourish your body. In this section, we will outline the ingredients and steps involved in making the perfect classic cheesy mac and cheese.
The first step is to gather your ingredients. You will need: elbow macaroni, heavy cream, milk, butter, salt, pepper, cheddar cheese, Parmesan cheese. Once you have all of your ingredients ready, you will need to begin preparation by boiling the macaroni noodles in salted water for about eight minutes. Drain the noodles and set them aside.
Next, heat up the milk in a saucepan until it begins to simmer. Add the butter and let it melt before stirring in the salt and pepper. Pour the milk mixture over the cooked macaroni noodles and stir well to combine. Stir in the cheddar cheese and Parmesan cheese until everything is fully melted together.
Now it's time for calories! Each serving of this classic cheesy mac and cheeses contains about 350 calories with 23 grams of fat (10 grams of saturated fat), 45 milligrams of cholesterol, 720 milligrams of sodium (27% DV), 46 grams of carbohydrates (5% DV), 7 grams of protein (18% DV). Enjoy your delicious dish!
Classic Cheesy Mac And Cheese FAQs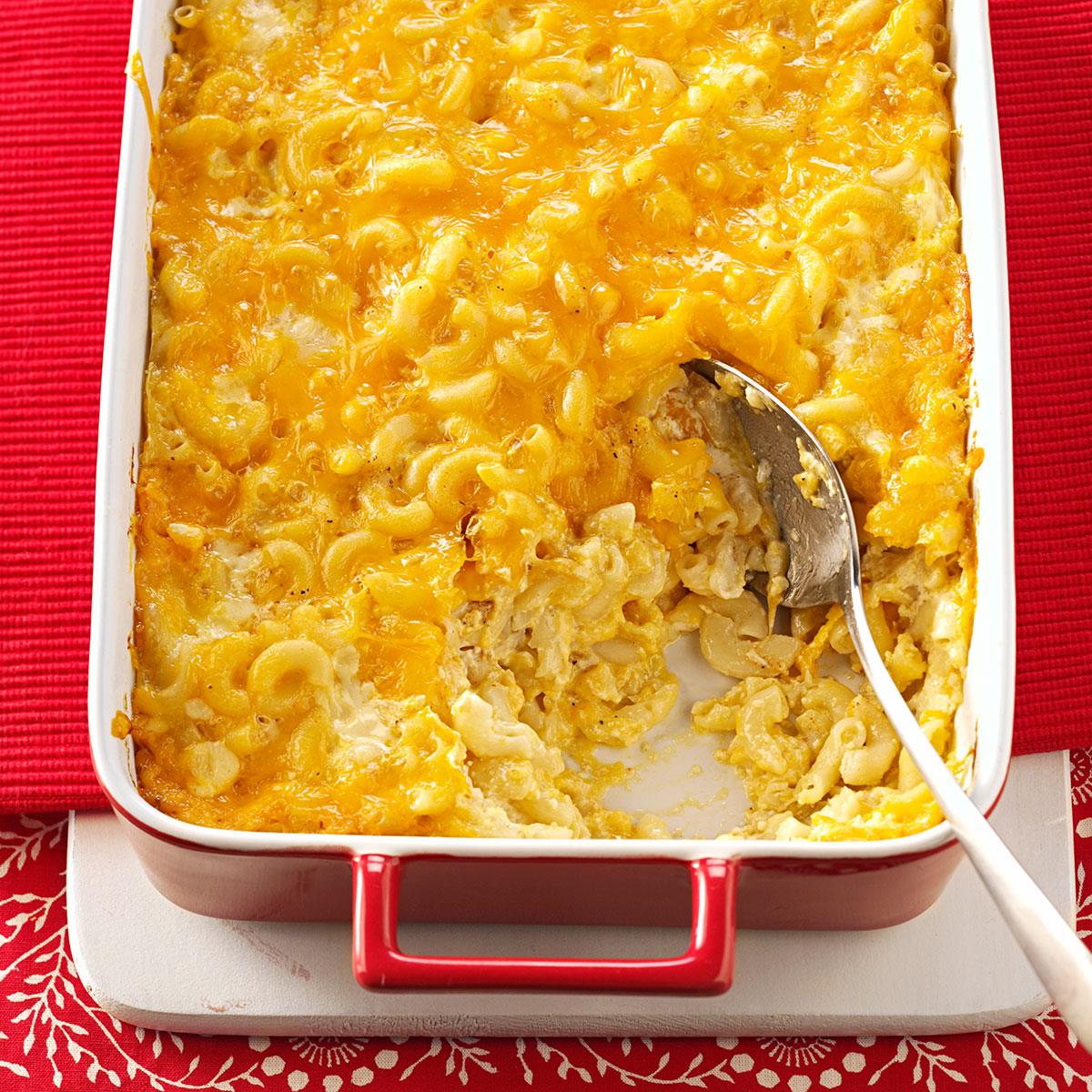 Are you in the mood for cheesy mac and cheese? Well, this dish is easy to make at home and it's sure to be a hit with your family or guests. In this section, we'll outline the steps that you need to take in order to make your own cheese sauce.
First, you will need to gather all of your ingredients. This includes the cheddar cheese, milk, salt, and pepper. Next, heat the milk and cheddar cheese together until melted. Once melted, add salt and pepper to taste and stir until combined.
Next, cook the pasta according to package instructions. Once cooked through, drain the pasta and return it to the pot or saucepan with the cheese sauce. Stir until everything is mixed together well. Serve immediately or store in an airtight container for later use.
This classic cheesy mac and cheese is delicious whether made vegan or not – so don't miss out! You can also experiment with different types of cheese sauce – like garlic or red pepper – for a unique flavor experience every time you make this dish. And don't forget about freezing – this dish will stay fresh in a freezer for up to four weeks.