Let's get this out of the way first. There is not a huge difference between Dressing & Stuffing, really it is just how you cook it. Dressing dresses the bird. It is baked in its own dish and dressing goes on the platter around the Turkey or is served in its own serving dish. Stuffing on the other hand stuffs the bird. It goes into the raw bird's cavity and is baked inside of the bird. Yeah? Okay.
I have only ever made Cornbread Dressing. Same recipe each time with nothing too fancy. It is my tried and true recipe and is delicious. This time around I made a different type of dressing. It incorporates french bread, apples, and sage. Yummy! I love sage and the sweetness of the apple is so good on the palate. It is completely different than my Cornbread Dressing but in its own way good.
Delicious Rating: There are a couple of tweaks I will make to this easy recipe the next time I decide to cook it up. The flavor is incredible so the seasoning is on point. I would cut the bread up to even smaller pieces, maybe the size of croutons or smaller. The one major thing I didn't like is that it isn't as 'together' as Cornbread Dressing is. I like everything together on the fork, not falling apart at every chance. So I think that by making the bread smaller and using a couple of eggs as binders it will fix that! I'll update it when I cook this sausage and apple dressing or stuffing recipe again.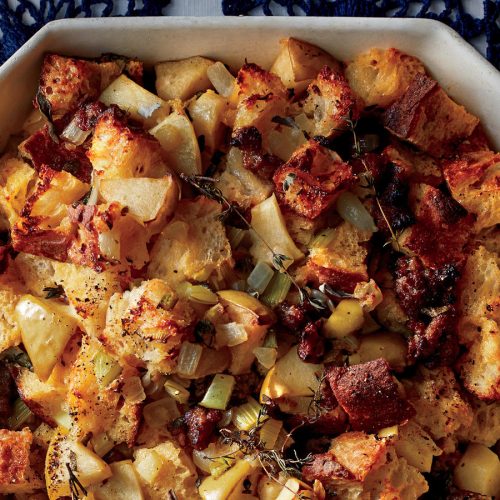 Sausage & Apple Dressing or Stuffing
Sausage and apple dressing is a delicious and easy-to-make holiday dish. It is a perfect blend of savory and sweet, and can be made ahead of time. This dish can be served as a side or main course, and is sure to please everyone at the table.
Ingredients
1

lb

sausage

6

green onions

chopped

5

celery stalks

chopped

1

green apple

cored and chopped

5

cups

of french bread

diced

3

tsp

of dried sage

2

tsp

of dried rosemary

1

tsp

of dried thyme

⅓

cup

of fresh parsley

minced

1

cup

of chicken broth

4

tbsp

butter

melted
Instructions
Preheat oven to 350 degrees F.

Cook sausage and onions over medium heat until sausage is cooked thoroughly.
I usually eat more dressing than I do any other side dish. I cooked the sausage until just about done since it will finish in the over and I didn't want it to be overcooked, burnt, or rubbery.
Add in celery, sage, rosemary, and thyme, cooking for an additional 2 minutes.

In a large bowl place bread pieces and pour sausage mixture over the bread.

Mix in apple and parsley.

Pour in broth and butter and combine all well.

Bake for 20-25 minutes.
Notes
Sausage and apple dressing or stuffing is a traditional dish made with sausage, apples, bread crumbs, and herbs. It is usually cooked in a baking dish or casserole, and can be served as a side dish or main course. This dish is a great way to use up leftover bread and sausage, and is perfect for a holiday meal or family gathering.
Nutrition
Serving:
8
side dishes
Calories:
644
kcal
Carbohydrates:
74
g
Protein:
25
g
Fat:
28
g
Saturated Fat:
10
g
Polyunsaturated Fat:
5
g
Monounsaturated Fat:
9
g
Trans Fat:
0.4
g
Cholesterol:
56
mg
Sodium:
1109
mg
Potassium:
410
mg
Fiber:
7
g
Sugar:
11
g
Vitamin A:
334
IU
Vitamin C:
4
mg
Calcium:
205
mg
Iron:
6
mg
FAQS
How to serve sausage and apple dressing or stuffing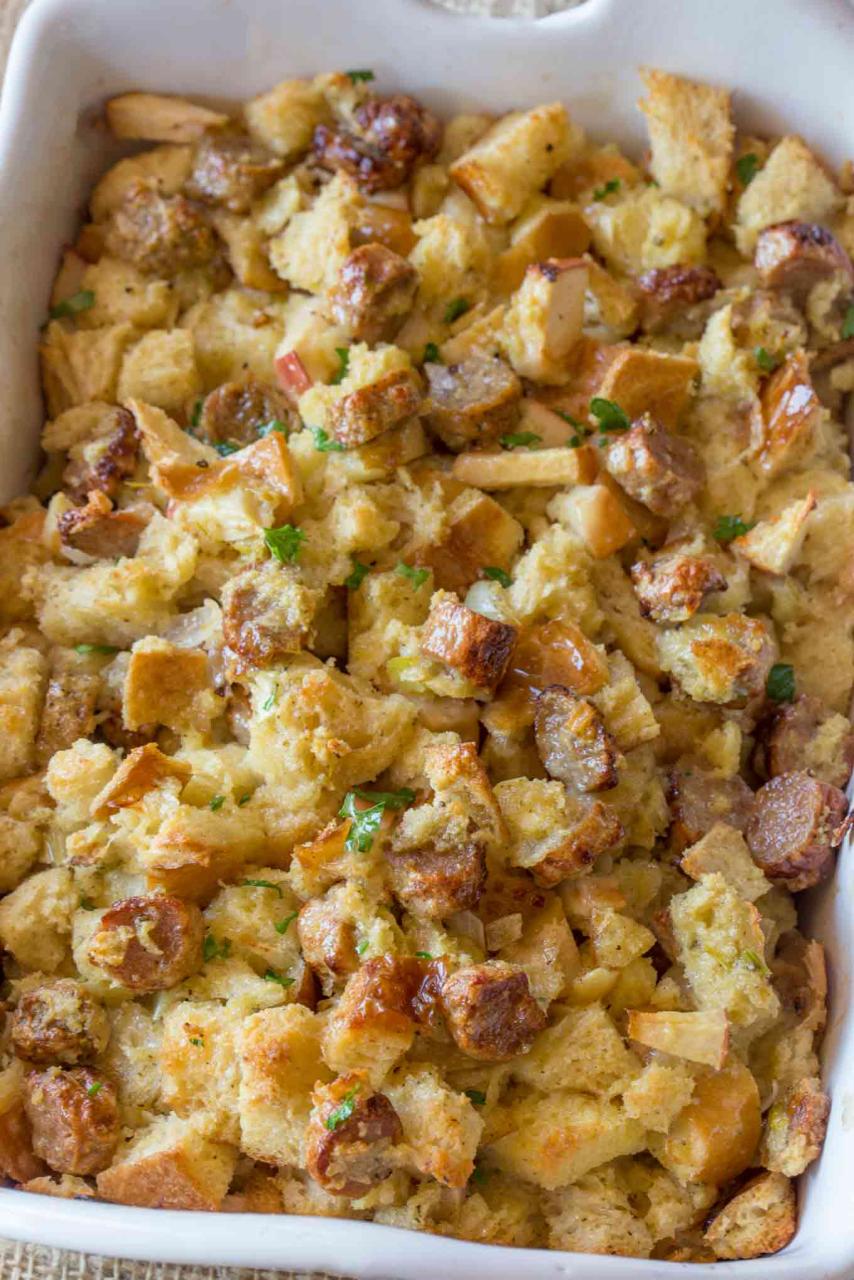 To serve sausage and apple dressing or stuffing
first remove it from the oven and let it cool for a few minutes.
Then, using a spoon or spatula, transfer it to a serving dish.
If you like, you can garnish with fresh parsley or sage leaves.
Serve warm or at room temperature. Enjoy!
How to store sausage and apple dressing or stuffing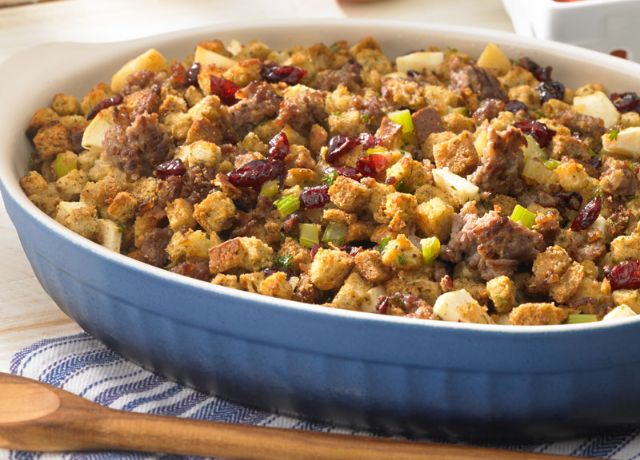 To store your sausage and apple dressing or stuffing, simply place it in an airtight container and store it in the fridge. It will keep for up to four days. When you're ready to serve, simply reheat it in the oven or microwave. Enjoy!
Tips for making sausage and apple dressing or stuffing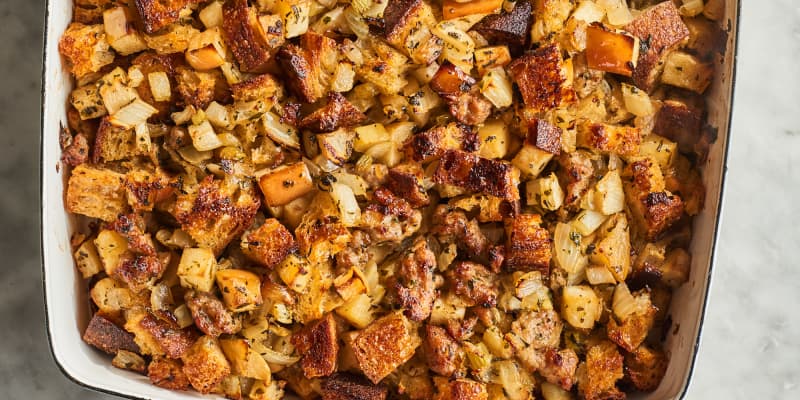 When it comes to making sausage and apple dressing or stuffing, there are a few things to keep in mind.
First, make sure to cook the sausage in advance. This will help to ensure that it is cooked all the way through and that the flavors have had a chance to meld.
Secondly, be sure to dice the apples into small pieces so that they will cook evenly and not overpower the other flavors in the dish.
Finally, don't be afraid to experiment with different types of sausage.
There are many delicious options out there, so find one that you think will complement the other flavors in your dressing or stuffing. With these tips in mind, you'll be sure to create a dish that everyone will love.