Finally, a chocolate chip cookie you can eat the next day and not have to worry about it being hard as a rock! These cookies stayed amazingly chewy and great for dunking in some milk. I graciously took the recipe from Alton Brown. Seriously, the best chocolate chip cookies I have ever had.
Delicious Rating: Beginner skills needed for making these cookies. This is an easy recipe that you can make over and over. They turn out very good and reheat in the microwave wonderfully for a warm cookie in the evening! I will definitely make these again.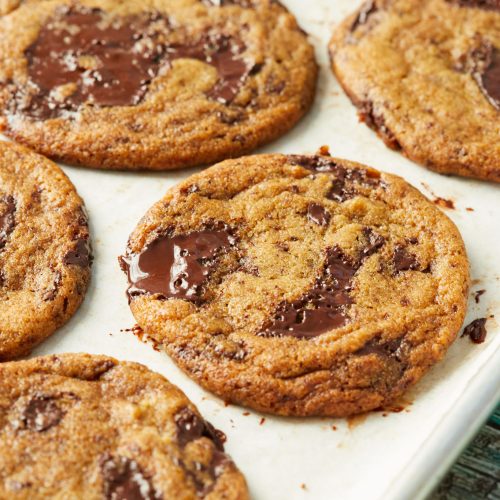 Chewy Chocolate Chip Cookies
Chocolate chip cookies are one of the most popular cookies around, and for good reason. They're delicious, easy to make, and most importantly, very versatile. In this blog post, we're going to show you how to make the best chocolate chip cookies possible
Ingredients
2

sticks unsalted butter

2¼

cups

bread flour

1

teaspoon

kosher salt

1

teaspoon

baking soda

¼

cup

sugar

1¼

cups

brown sugar

1

egg

1

egg yolk

2

tablespoons

milk

1½

teaspoons

vanilla extract

2

cups

semisweet chocolate chips
Instructions
Gather up all your ingredients and preheat oven to 375 degrees F.

Melt butter in saucepan over low heat.

Combine flour, salt, and baking soda in a bowl.

In a large bowl, pour melted butter and add the sugars.

Cream the butter with a mixer on medium speed.

Add the egg, yolk, milk, and vanilla and fully mix it together.

Slowly incorporate the flour mixture, adding a bit at a time and mixing it until combined and then repeat a couple of more times.

Add the chocolate chips and stir them in.

Wrap the dough and chill for at least one hour.

Using an ice cream scooper, scoop out dough onto a parchment paper lined baking sheet-6 per sheet.

Bake for 14 minutes or until golden brown.

Allow to cool if you haven't already eaten all of them...
Nutrition
Serving:
1
serving
Calories:
188
kcal
Carbohydrates:
30
g
Protein:
3
g
Fat:
6
g
Saturated Fat:
4
g
Polyunsaturated Fat:
0.3
g
Monounsaturated Fat:
2
g
Trans Fat:
0.02
g
Cholesterol:
16
mg
Sodium:
151
mg
Potassium:
118
mg
Fiber:
1
g
Sugar:
19
g
Vitamin A:
33
IU
Calcium:
24
mg
Iron:
1
mg
The store sells this New Zealand butter that tastes delicious. The pack is two American sticks of butter forged together!
Since we used melted the butter the dough isn't as thick as a regular cookie dough.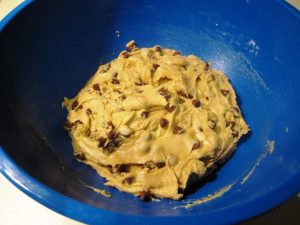 '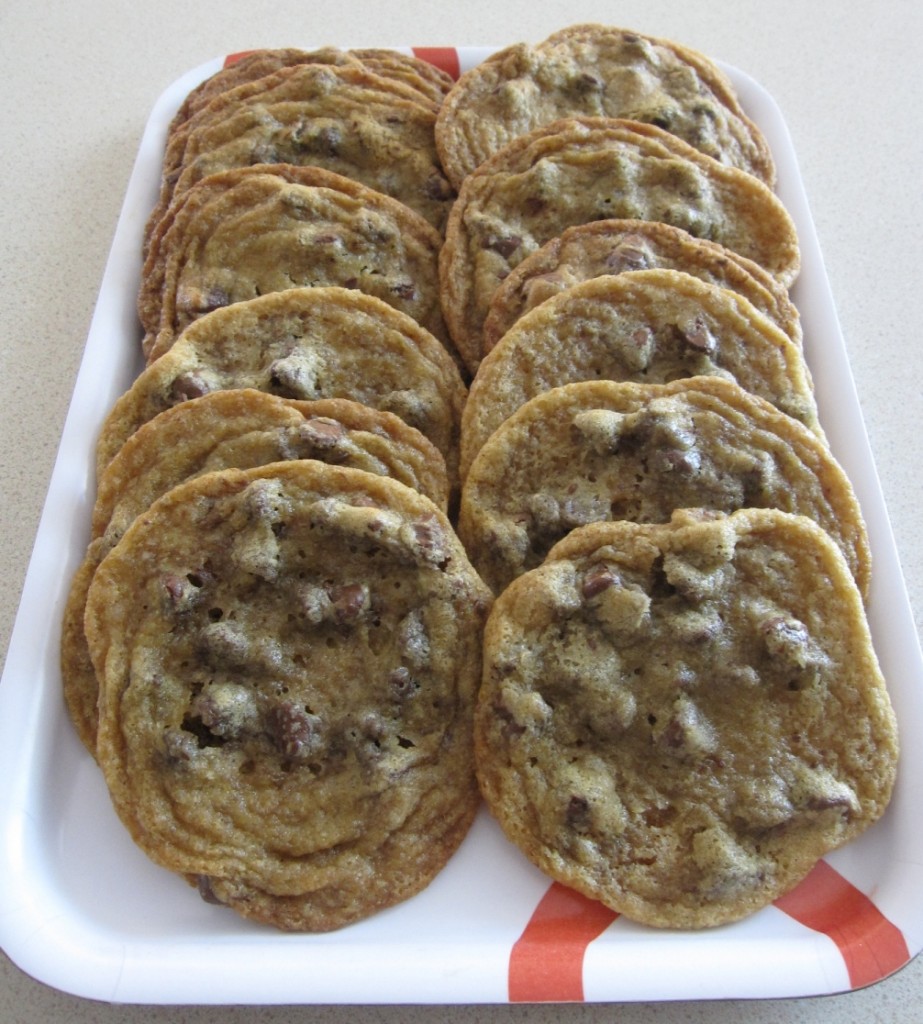 They weren't the prettiest cookies but definitely very tasty! I used milk chocolate chips and they still turned out great. Enjoy warm out of the oven with milk or reheat for a few seconds in the microwave the next day!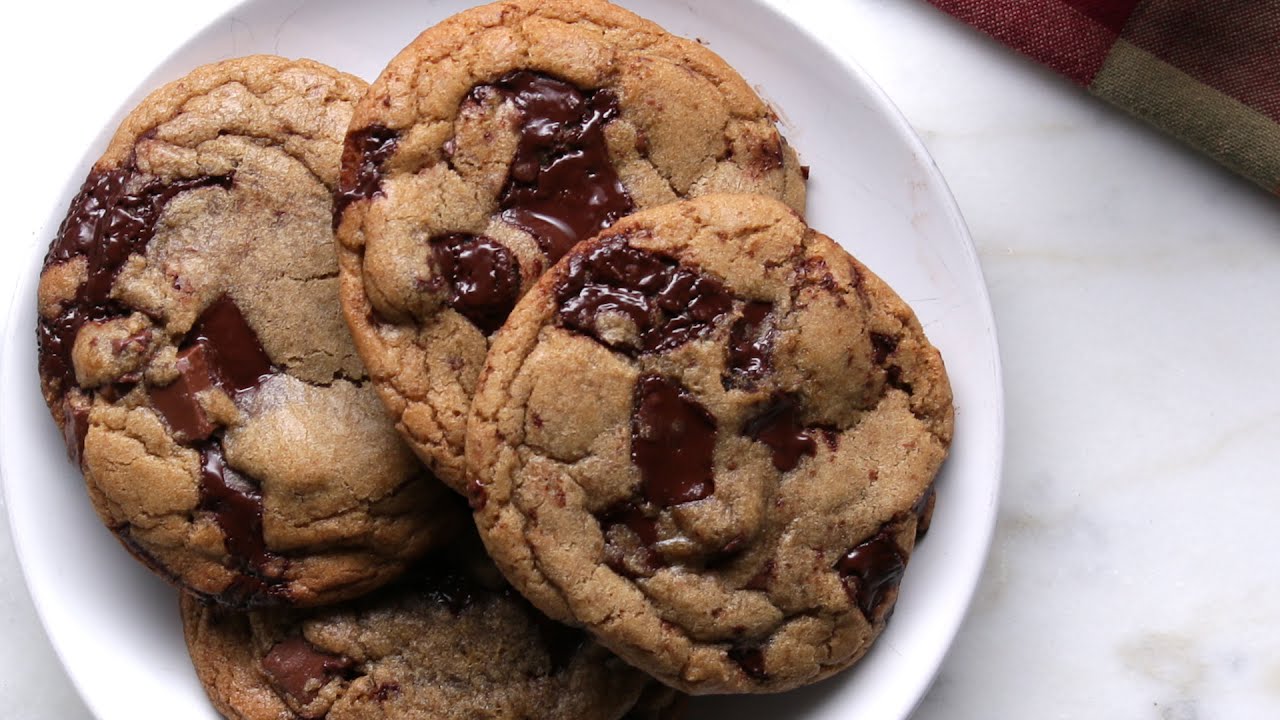 Chewy Chocolate Chip Cookies Baking Tips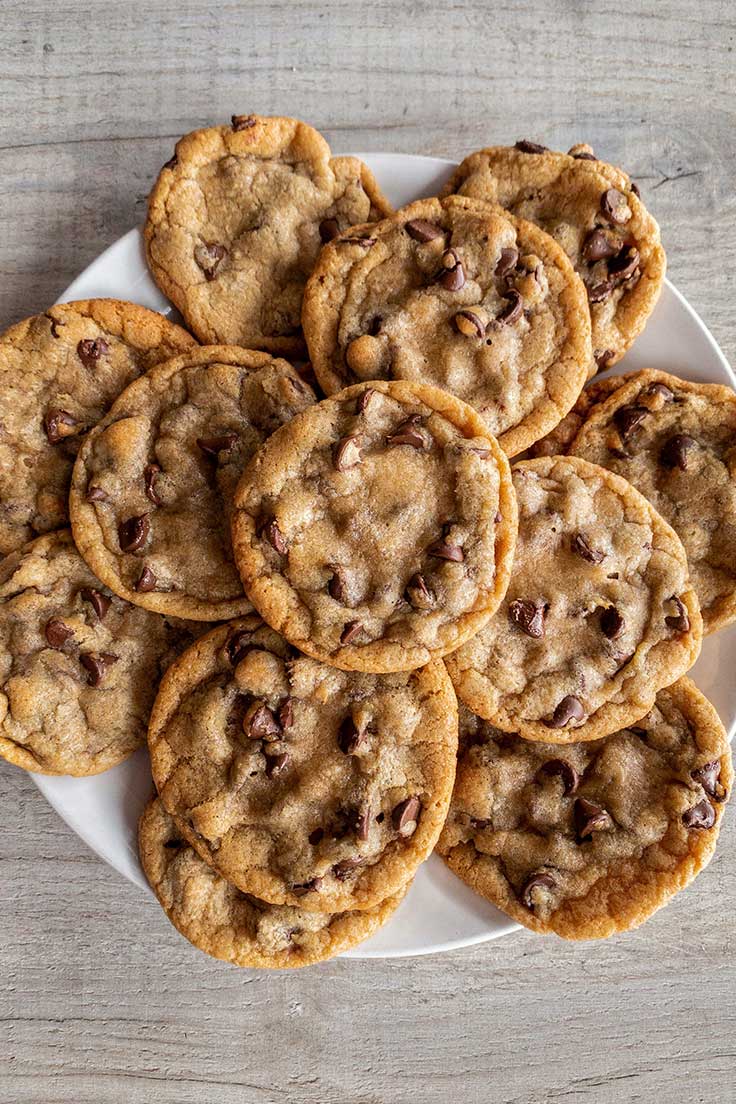 Baking is a delicious and fun hobby that can be enjoyed by everyone. Whether you're a beginner or an experienced baker, following these tips will help you make delicious cookies that everyone will love.
First, preheat the oven to 375 degrees Fahrenheit (190 degrees Celsius). This will help to ensure that your cookies bake evenly and quickly.
Next, line a baking sheet with parchment paper before mixing together the butter, brown sugar, and white sugar. Be sure to use a mixer in order to achieve a smooth dough.
Once the mixture is smooth, add in the eggs one at a time. Then stir in the vanilla extract. Finally, sift together the flour, baking soda, and salt before adding it gradually to the wet ingredients. Stir in chocolate chips until well blended – you want them to be distributed throughout the dough but not so much that they become clumps.
Drop dough by rounded tablespoons onto prepared baking sheet– about two inches apart should do the trick! Bake for 9-11 minutes or until golden brown on top. Allow cookies cool on baking sheet for 5 minutes before transferring them to wire rack to cool completely.
Storage Tips
It's that time of year again – time to make Chewy Chocolate Chip Cookies! But before you get started, it's important to know a few tips on how to store the cookies so they'll last as long as possible. Below, we'll outline the best ways to store your cookies and keep them fresh for weeks on end.
First and foremost, make sure that you store your cookies in an airtight container at room temperature. They will stay fresh this way for up to one week. If you need them to last longer, you can also freeze the cookie dough balls before baking. Just be sure to let them thaw out before baking – they will cook a little bit longer this way.
Finally, when it comes down to it – sometimes things go wrong when baking cookies. Even if everything looks and smells perfect in the oven, sometimes they won't turn out right because of something that was missed during preparation or cooking. That's where freezing comes in handy – if one batch of cookies doesn't turn out right, just freeze the remaining dough balls and try them again later with no trouble at all!
Chewy Chocolate Chip Cookies's FAQ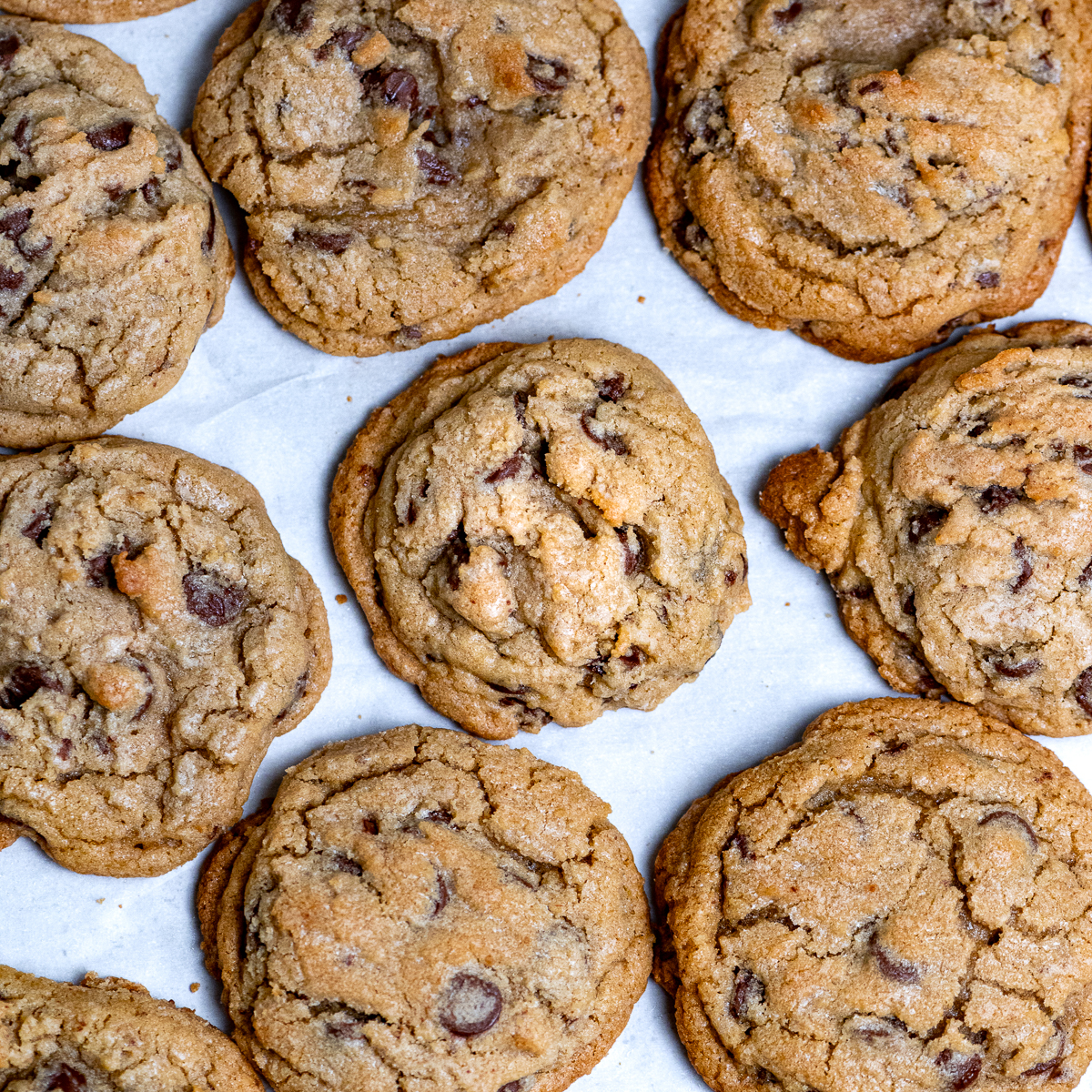 Are you looking for a delicious and easy Chewy Chocolate Chip Cookies recipe? Look no further! These cookies are perfect for any occasion – whether you're baking for a quick snack or planning an elaborate dessert. In this section, we'll answer some of the most common questions about these cookies.
Do chocolate chips need to be refrigerated?
No, chocolate chips do not need to be refrigerated. You can store them in an airtight container at room temperature, and they will last for several weeks this way.
Can I use a different type of sugar?
Yes, you can use a different type of sugar if you'd like. However, it may affect the flavor and texture of the cookies. Be sure to experiment until you find a sugar that suits your taste buds!
What is the best way to store cookies?
The best way to store cookies is in an airtight container at room temperature. This will help them stay fresh and tasting their best.