You can't have barbecue without Potato Salad. I love just a basic creamy potato salad, nothing fancy. Every now and then I do change it up to give Classic Potato Salad a nice twist. This recipe is a twist on Classic Potato Salad. I usually add Blue Cheese (totally delicious) but omitted this time around for the sake of my DH. If you do decide to add Blue Cheese do so according to your tastes and fold in at the end of the recipe. The cheese goes perfect with the bacon, adding such a rich flavor to the potato salad!
Delicious Rating: This is a potato salad is an easy recipe for the beginner, no crazy steps or culinary processes. It is by far my favorite potato salad recipe, seriously delicious. I make it anytime there is a BBQ and baked beans. I just love how the baked bean sauce touches the potato salad…yummy combination!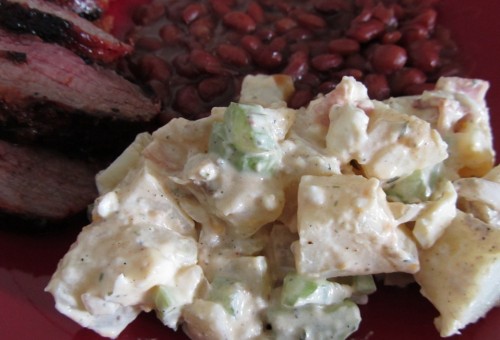 Potato Salad
If you love potato salad, you're going to love this new classic recipe. This recipe is easy to follow and features ingredients that are sure to please. The recipe includes boiled potatoes, mayonnaise, celery, green onion, and salt. Enjoy!
Ingredients
4

lbs

of potatoes

skinned and cooked until tender, chopped

10

strips of bacon

cut into little pieces

1

large red onion

finely diced

¼

cup

white wine vinegar

¼

cup

of olive oil

2

tbsp

sugar

4

hard-boiled eggs

chopped

2

stalks of celery

diced

1

cup

sour cream

½

cup

mayonnaise

Salt & Pepper to taste
Instructions
In a large bowl combine onion, with vinegar, olive oil, and sugar.
Combining the onion and sugar and vinegar and letting them sit really infuses the depth of the potato salad. The sharpness of the vinegar is cut but still is able to give off a great flavor.
Let sit for 10 minutes.

Add in celery, bacon and potatoes.

Fold in sour cream, mayonnaise, and eggs.

Salt & pepper to taste.
I always will make ahead the day before to have it super chilled and set to serve.
Chill for 1 hour minimum.
Notes
Making your own salad dressing is not only easy, but it also allows you to control the quality and ingredients of your dressing. By following the simple steps above, you can make a delicious and healthy salad dressing that will complement any salad.
Nutrition
Serving:
4
servings
Calories:
1117
kcal
Carbohydrates:
92
g
Protein:
24
g
Fat:
73
g
Saturated Fat:
20
g
Polyunsaturated Fat:
19
g
Monounsaturated Fat:
29
g
Trans Fat:
0.1
g
Cholesterol:
268
mg
Sodium:
653
mg
Potassium:
2210
mg
Fiber:
10
g
Sugar:
13
g
Vitamin A:
675
IU
Vitamin C:
92
mg
Calcium:
151
mg
Iron:
5
mg
Potato Salad Serving Suggestions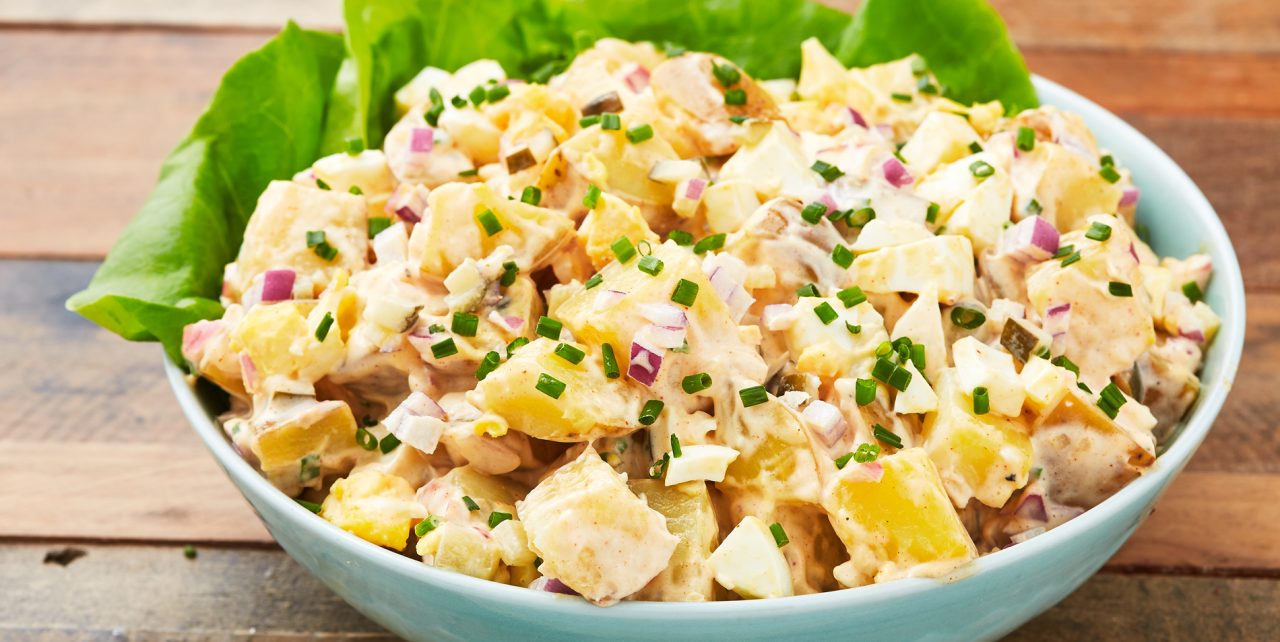 Summer is a great time to enjoy all the fresh vegetables that are available. One of our favorites is potato salad. This simple and easy dish can be made with just a few ingredients, and it's perfect for summertime gatherings. Here are some serving suggestions for this delicious and refreshing salad:.
Serve the potato salad as a side dish, either cold or at room temperature. It will keep in the fridge for up to four days, so it's perfect for quick lunches or dinners. You can also make it into a meal by adding grilled chicken or shrimp to the mix. Just be sure to adjust the spices to fit your taste preferences – this recipe is versatile!
Finally, make sure that you use fresh ingredients whenever possible. Canned vegetables or frozen vegetables will not give this salad the same flavor and texture as fresh ingredients will. If you must use frozen vegetables, try using diced potatoes instead of mashed potatoes so that they retain their shape and hold their color. And last but not least – don't forget the mayonnaise! Homemade mayonnaise is always best, but store-bought versions work well too if you don't have time to make it yourself.