Do perfect Garlic mashed potatoes exist? Many times I had thought that they were here, in my kitchen, ready to be eaten, only to find that they were less than worthy to be called perfect.
Plus, there are so many types of mashed potatoes, everyone has different preferences. Skin on, w/out skin, chunky or smooth, garlic or creamy. I am sure there are a lot more types. For me, I love a smooth creamy mashed potato. You can throw some garlic in there if you'd like.
This easy recipe is as good as Garlic Mashed Potatoes get. It is the perfect accompaniment to any dish and really tastes delicious!
Delicious Rating: Home cooks can master a great mashed potato recipe, so this is for you! The garlic flavor is not too strong nor too mild but just enough so as not to overwhelm the meal. This is definitely my go to Mashed Potato Recipe. Please share your recipe with me if you have found the 'Perfect Mashed Potato Recipe'!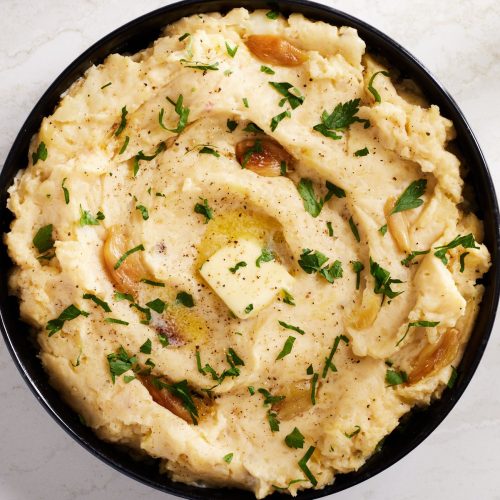 Garlic Mashed Potatoes
Garlic mashed potatoes are a classic side dish that can be enjoyed by virtually everyone. They are simple to make and can be made in a variety of ways, depending on your preferences. In this blog post, we are going to provide you with a recipe for garlic mashed potatoes that you can use at home. We will outline the ingredients needed as well as the instructions for how to make them. After reading this post, you will be able to create a delicious garlic mashed potatoes recipe that you can enjoy at home.
Ingredients
4

pounds

yukon gold potatoes

quartered

8

garlic cloves

smashed

1

tsp

salt

4

tbsp

butter

2

tbsp

olive oil

1

cups

warm milk

Salt & Pepper to taste
Instructions
Boil a large pot of water.

Add first 3 ingredients and cook over medium heat for 18 minutes or until potatoes are fork-tender.

Drain all and return to pot; cooking for 2 minutes to get all the moisture out.

Peel the potatoes and put through a potato ricer over a serving dish.
I used a potato ricer but you can do the regular mashing way. I like potato ricers and these days they are made to be more easier to assemble, use, and clean.
Add butter, olive oil, and warm milk to potatoes and whisk to a smooth consistency.

Season with Salt & Pepper and serve immediately.
Notes
Perfect side dish in a Ham dinner.
Nutrition
Serving:
4
sides
Calories:
557
kcal
Carbohydrates:
84
g
Protein:
12
g
Fat:
21
g
Saturated Fat:
9
g
Polyunsaturated Fat:
1
g
Monounsaturated Fat:
8
g
Trans Fat:
0.5
g
Cholesterol:
37
mg
Sodium:
723
mg
Potassium:
2029
mg
Fiber:
10
g
Sugar:
7
g
Vitamin A:
458
IU
Vitamin C:
91
mg
Calcium:
144
mg
Iron:
4
mg
Garlic Mashed Potatoes Variations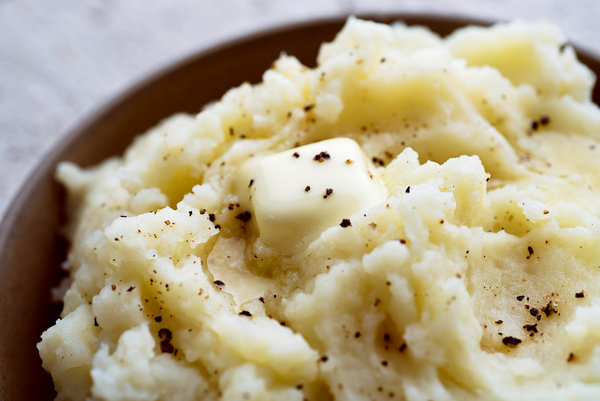 Garlic mashed potatoes are a beloved dish that is loved by everyone. They are simple to make and incredibly versatile, making them a great choice for any meal. In this section, we will outline the different variations of garlic mashed potatoes, as well as provide tips on how to make them and what makes them so unique.
First and foremost, garlic mashed potatoes are made by mixing boiled potatoes with chopped garlic cloves and some butter or cream. There are many different ways to make these potatoes – some people like them smooth while others like them with bits of potato. Additionally, you can add different flavors such as salt, pepper, or herbs to the mix. Why is garlic mashed potato so popular? Well, because they are simple to make yet extremely flavorful and unique. They are a great way to enjoy all the delicious flavors that garlic has to offer without having to overpower other ingredients in your dish.
There are several ways to serve garlic mashed potatoes – you can enjoy them alone as a side dish or you can use them as the base for other dishes such as casseroles or soups. Additionally, you can enjoy these delicious potatoes in many different ways – for example, you can eat them straight from the pot or use them in recipes such as quiches or omelets. No matter what your favorite way is to enjoy garlic mashed potatoes, we hope that this blog post has helped you learn how easy it is to make these delicious dishes!
Garlic Mashed Potatoes Nutrition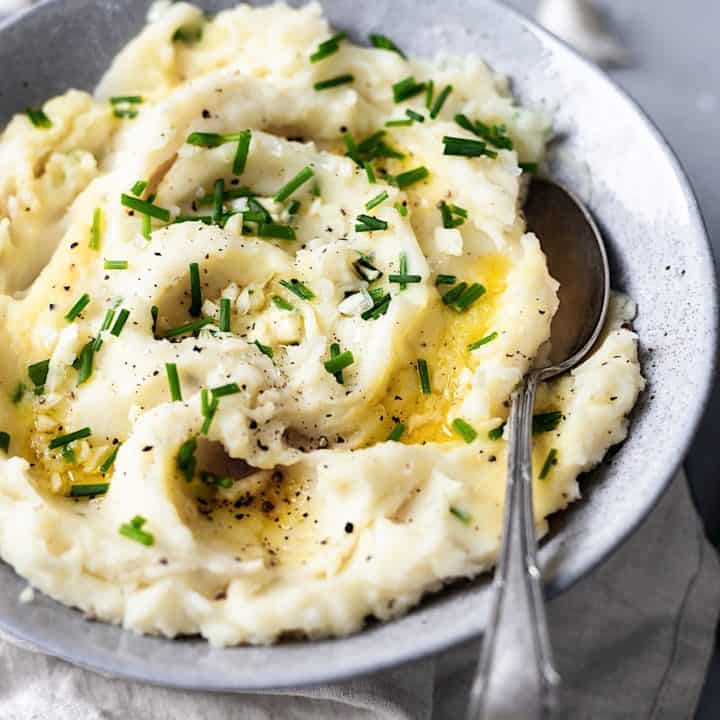 This garlic mashed potatoes recipe is a great way to enjoy some delicious potatoes with some added health benefits. Potatoes are a good source of nutrients like potassium and fiber, while garlic is a good source of antioxidants and has been shown to have some health benefits. In addition, butter is a great source of healthy fats and salt is necessary for the body to function properly. Black pepper has a wide variety of health benefits, including helping to reduce inflammation and fighting against heart disease. Finally, milk is a good source of protein and calcium which can help keep you feeling full after eating these mashed potatoes. So give this recipe a try next time you're craving some delicious potatoes!