Chili is definitely a comfort food. It is thick, warm, spicy, flavorful, and served in a bowl! You can top it with cheesy goodness, creamy sour cream, and crunchy chips for texture (frito pie). Sorry if this offends you but meat in a runny chili sauce is not considered chili! No way! Chili has to be thick enough for your spoon to stand in it. Beans are a must in chili and meat is optional.
Ever since I bought my crock-pot years ago, Chili has been a home regular. It is so easy to make and delicious to eat. I cook mine for up to 8 hours while I am gone all day. It is so inviting to come home to the smell of chili, yum! I freeze half for another night when I don't feel like cooking.
Delicious Rating: Crock-pot cooking is really one step cooking. Add all the ingredients to the pot and turn on. Nothing to this easy recipe. Add more veggies if you would like or less and add meat. I usual do a vegetarian version with no meat. My chili recipe is actually Vegan but turns vegetarian when you add cheese and sour cream for topping which is really up to you. This Homemade Vegetarian Chili recipe never fails to be delicious. The heat is always just right and the flavors meld so well. Drop a comment and let me know what you think of it.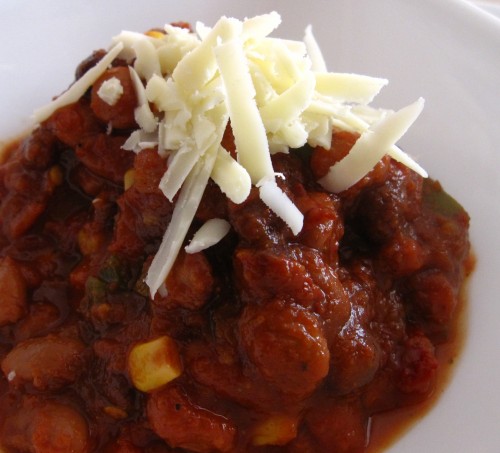 Thick Homemade Vegetarian Chili
This Thick Homemade Vegetarian Chili is the perfect comfort food for a cold winter night. It's hearty and filling, without being too heavy. The best part is that it's easy to make, and can be easily customized to your liking. Add in your favorite vegetables, beans, and spices, and you'll have a delicious chili that everyone will love.CopySaveCreate more outputs
Ingredients
12

ounces

vegetable broth

3

tsp

chili powder

1

tsp

salt

2

tsp

cayenne pepper

1

tsp

oregano

1

tsp

cumin

1

tsp

black pepper

1

green pepper

diced

2

red pepper

diced

2

serrano chili peppers

minced

5

cloves

of garlic

crushed

10

dashes of hot sauce

2

cups

of corn kernels

drained

12

ounce

can of tomato paste

2 28

ounce

cans of crushed Italian tomatoes

24

ounces

cooked red kidney beans

rinsed & drained

24

ounces

cooked pinto beans

rinsed & drained
Instructions
In your slow cooker or crock-pot, add in all ingredients and combine well.

Cover and cook on low for 6-8 hours or High for 2-4 hours.

Garnish with cheese, sour cream, avocado, and/or fresh cilantro.
Notes
Serve as an entree and add in some fritos or chips.
Nutrition
Serving:
1
serving
Calories:
19
kcal
Carbohydrates:
4
g
Protein:
1
g
Fat:
0.4
g
Saturated Fat:
0.1
g
Polyunsaturated Fat:
0.2
g
Monounsaturated Fat:
0.1
g
Sodium:
476
mg
Potassium:
129
mg
Fiber:
2
g
Sugar:
2
g
Vitamin A:
1530
IU
Vitamin C:
51
mg
Calcium:
15
mg
Iron:
1
mg
The Benefits of Eating Thick Homemade Vegetarian Chili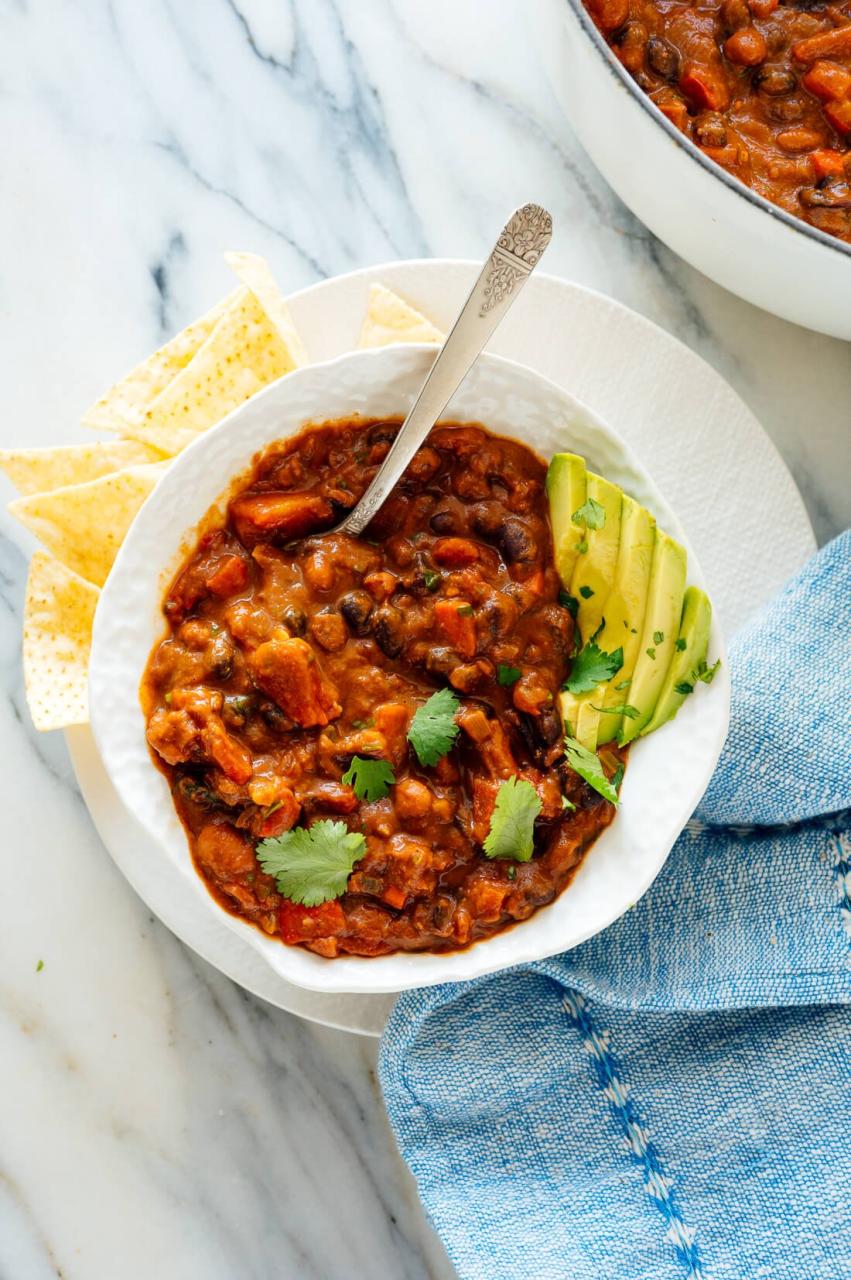 Vegetarian chili is not only delicious, but it's also packed with nutrients that can help you stay healthy. Thick, homemade vegetarian chili is a great source of protein, fiber, vitamins, and minerals. It can also help you regulate your blood sugar levels and boost your metabolism. Plus, eating a hearty bowl of chili can help you feel fuller longer, so you're less likely to snack on unhealthy foods later in the day
For one, it is a hearty and filling meal that will leave you feeling satisfied.
Additionally, it is packed with nutrients and antioxidants, making it a healthy option for lunch or dinner.
Chili also has a long shelf life, so you can make a big batch and enjoy it for several days.
Plus, it's a great way to use up leftover vegetables.
So next time you're looking for a delicious and nutritious meal, give thick homemade vegetarian chili a try!
Top Tips for Making the Perfect Thick Homemade Vegetarian Chili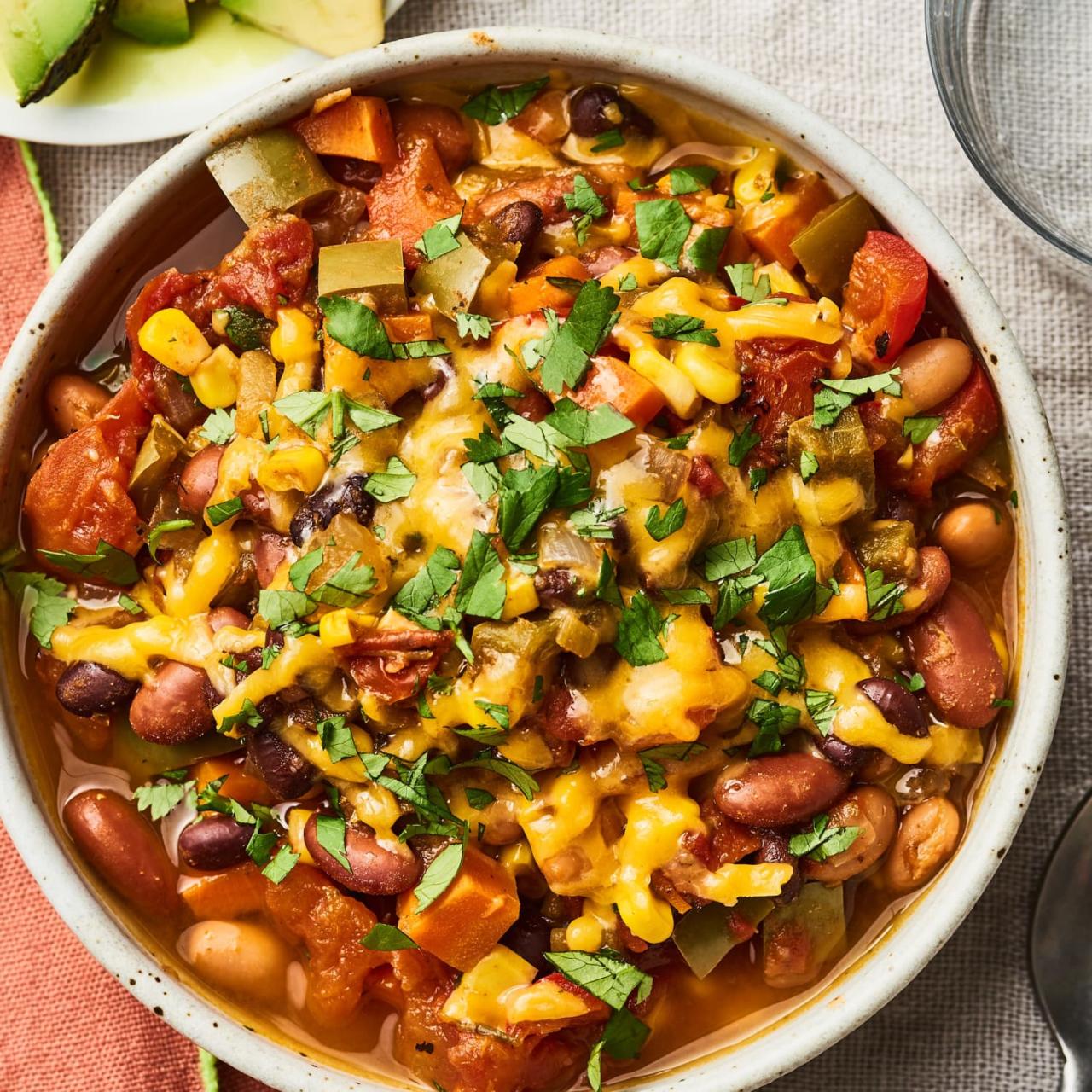 Thick, hearty, and packed with flavor, chili is the perfect comfort food for chilly nights. And while there are many delicious store-bought options, nothing beats a homemade chili. Luckily, making your own vegetarian chili is easy to do, and with our top tips, you can create a dish that is sure to please.
First, choose your vegetables. While you can use any combination of vegetables you like, we recommend using a mix of diced tomatoes, onions, peppers, and beans. This combination will provide a perfect balance of sweetness, acidity, and texture.
Next, it's time to add the spices. When it comes to chili, there are no hard and fast rules. However, we recommend using a mix of chili powder, cumin, smoked paprika, and garlic powder. This combination will give your chili a deep, rich flavor.
Finally, don't forget the toppings! While chili is delicious on its own, toppings like shredded cheese, sour cream, and green onions take it to the next level. So, be sure to add a few of your favorites before digging in.
With these tips in mind, you can easily make a thick, hearty, and flavorful vegetarian chili that is sure to please. So, don't be afraid to get creative, and enjoy!