Yummy Yummy Time! Pig…Ham…a delicious meat, especially when you add a sweet glaze to it! Because Ham is the star of a 'Ham Dinner' you need to make sure the taste is flavorful. I love to score the ham and clove it and make sure that it will be nice and crisp on the outside while seriously moist on the inside. Don't overcook it!
Serve up a great ham like this with Garlic Mashed Potatoes, Cheesy Macaroni & Cheese, Sausage & Apple Dressing, and don't forget the cranberry sauce!
Delicious Rating: This ham turns out juicy and succulent. I love the glaze, it isn't super sweet but just enough to where you need another piece! I kept a little extra in a small bowl to dip my ham in! Yes, I am horrible. Please give me your favorite Ham glaze easy recipes so I can try them out!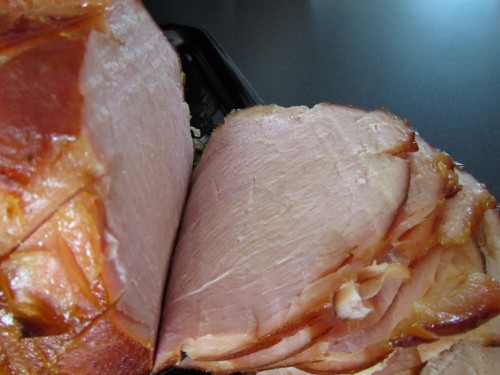 Sweet Glazed Ham
Glazed ham is a classic holiday dinner that is sure to please. In this blog post, we're going to show you how to make a sweet glazed ham recipe that is sure to impress.
Ingredients
8-10

lb

cooked ham

scored and cloved

1

cup

honey

½

stick

butter

½

cup

brown sugar

1

cup

apple juice

3

tbsp

cornstarch
Instructions
Pour ½ cup of honey over ham and pour apple juice into roasting pan.

Bake at 325 degrees F. for 1.5 hours.

Transfer pan juices to a saucepan and whisk in cornstarch.

Bring to a boil and stir for 1-minute.

Add butter, honey, and brown sugar.
This is a real bone in ham. Please do not buy the fake hams, please! I know they are a bit cheaper but the taste is much more horrible and the texture is just down right wrong. Please save up to buy a real ham, please!
Glaze over ham and serve.
Notes
Now that you know how to make a delicious and easy glazed ham, there's no excuse not to try it out for your next holiday dinner! Invite your friends and family over and enjoy a beautiful, home-cooked meal together.
Nutrition
Serving:
10
servings
Calories:
747
kcal
Carbohydrates:
44
g
Protein:
69
g
Fat:
32
g
Saturated Fat:
9
g
Polyunsaturated Fat:
3
g
Monounsaturated Fat:
12
g
Trans Fat:
0.2
g
Cholesterol:
277
mg
Sodium:
4233
mg
Potassium:
1078
mg
Fiber:
0.1
g
Sugar:
41
g
Vitamin A:
141
IU
Vitamin C:
85
mg
Calcium:
36
mg
Iron:
3
mg
Baking The Ham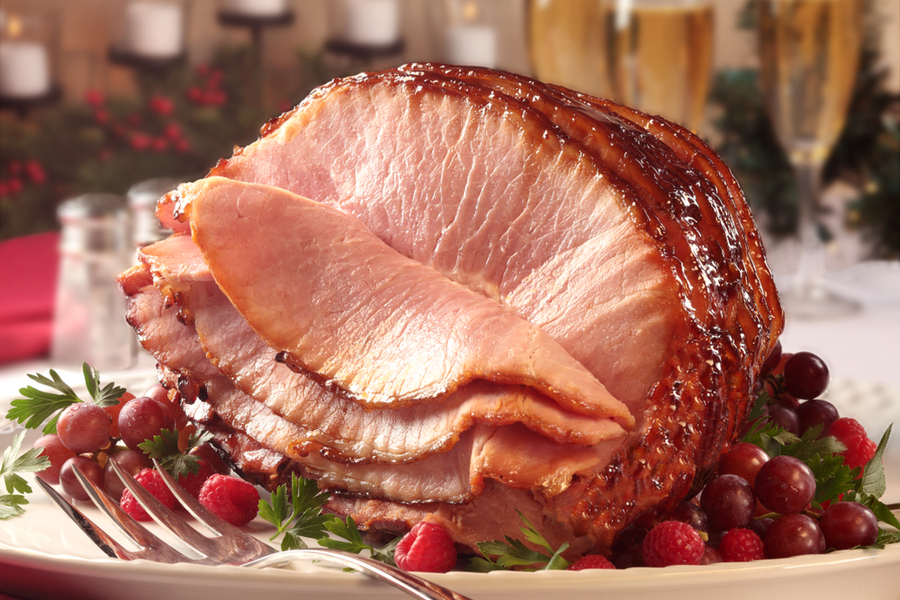 Baking a ham is a great way to celebrate the holidays or any special occasion. This Sweet Glazed Ham recipe is easy to follow, and it will give your holiday meal a delicious boost.
First, marinate the ham overnight in a mixture of pineapple juice, papaya juice, honey, and soy sauce. This will help to tenderize the meat and add flavor. Preheat oven to 350 degrees F (175 degrees C).
Next, place the ham in a baking dish and pour the marinade over top. Bake for 3 to 4 hours, basting every 30 minutes with the marinade. Be sure to turn the ham over once during cooking so that both sides get coated with the delicious glaze.
After 3 or 4 hours of baking, it's time to prepare the glaze. Combine brown sugar, cornstarch, ground ginger, water and pineapple juice concentrate together in a small bowl and cook over low heat until thickened. Pour this glaze over top of the ham when it comes out of the oven – be sure not to let it drizzle down into your oven! Finally, let your ham rest for 10 minutes before slicing into perfect holiday-worthy pieces.
Serving Suggestions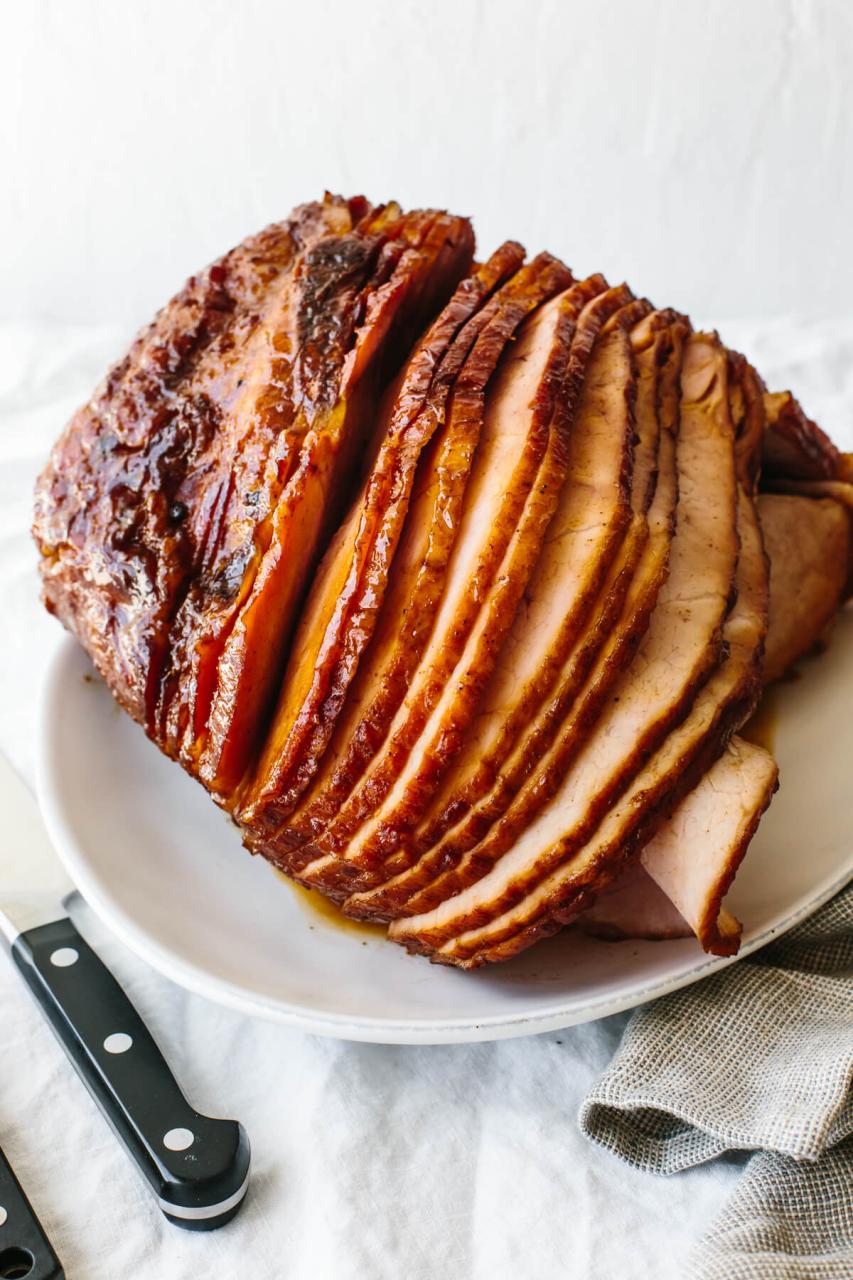 There's no wrong way to enjoy a delicious sweet glazed ham – it's perfect for any meal or occasion! Below, we have compiled a list of some of the best ways to enjoy this delicious dish.
If you're looking for an easy and impressive party dish, try serving your sweet glazed ham thinly sliced and served on a charcuterie board. This is a great way to show off your culinary skills and impress your guests. Alternatively, if you're looking for something more simple and low-key, try serving it carved with fruit chutney as the perfect accompaniment.
For breakfast, try using your sweet glazed ham as the protein in a Hash – this is an easy and hearty meal that will keep you full all morning long. Alternatively, if you're craving something more savory, try slicing it thinly and serving it on a charcuterie board with cheese or other meats. Finally, don't forget about summer parties – dessert isn't complete without some delicious sweet glazed ham!