When I was watching one of the many season of Top Chef I started getting curious about Polenta. It seemed that every chef on the show would cook with it in one challenge or another. I just assumed I would never find Polenta here in Mexico but sure enough there it was at the grocery store. It is exciting to cook with a new ingredient, something you may never have even eaten before. I felt like I was on a Top Chef quickfire challenge and I had to think of something fast! This Polenta Recipe came to mind…but not as fast as those chefs think up delicious easy recipes.
Delicious Rating: If you are not using quick cooking polenta make sure you continue to whisk and whisk hard! If you are not a cilantro fan than this recipe may not be for you. It is geared up with cilantro and some spiciness from the peppers in the salsa. I have to say that it was good and different. I really didn't know what to expect. My DH enjoyed it and asked for me to make it again one day. I will for him but not for myself. It just didn't do anything for my palate. Let me know what you think in the comment section!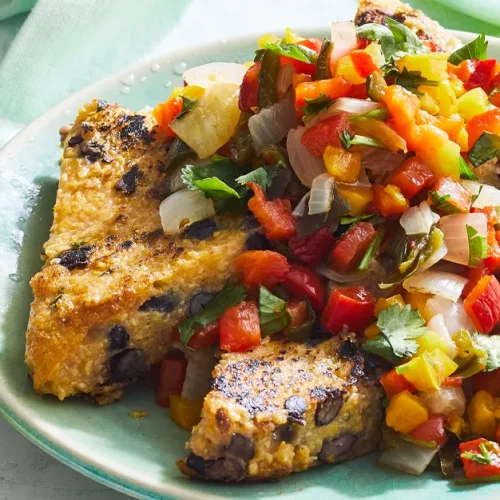 Cilantro Polenta and Bean Salsa
Looking for a delicious and healthy dish to serve at your next party? Look no further than this Cilantro Polenta and Bean Salsa recipe! This dish is made with fresh ingredients and is perfect for any occasion.
Ingredients
1

cup

polenta

quick cooking is fine

⅓

cup

fresh cilantro

finely chopped

3

tbsp

olive oil

8

green onions

chopped

2

cups

red beans

drained & rinsed

3

large ripe tomatoes

seeded & chopped

2

jalepeno peppers

minced

1

garlic clove

minced

2

tbsp

lime juice

Salt & Pepper to taste
Instructions
In a large saucepan boil 3½ cups of water.

Reduce heat to low and add in 1 tsp salt and whisk in polenta.
An easy way to power up any polenta is by adding fresh herbs. I want to try a basil rosemary polenta stuffed in a tomato…yum!
If using quick cooking polenta add in 2 tbsp of cilantro and 1 tbsp of olive oil.

Pour polenta in 8×8 baking dish that has been lightly oiled and refrigerate for 30 minutes.
The salsa is delicious, easy and has a light taste about it. If you don't want this as the base for the beans, use your favorite salsa recipe.
In a large bowl combine tomatoes, jalepenos, 4 green onions, garlic, lime juice, and the remaining cilantro (1/4 cup).

Combine and add salt & pepper to taste. Refrigerate.

Preheat oven to 375 degrees F. and cut polenta into 4 squares.
This is perfect to serve to your friends with gluten allergies. It is a complete meal with a side salad and meat or bread.
Place on a lightly oiled baking sheet and brush tops with 1 tbsp of olive oil.

Bake for 30-minutes or until lightly browned.

Heat remaining tablespoon of olive oil over medium heat in a pan.

Add in last of green onions, beans, and salsa.

Simmer mixture over low heat and season with salt & pepper to taste.

Top bean salsa over hot polenta and serve.
Notes
This recipe is perfect for a summertime meal. The cilantro-flavored polenta is full of flavor and the bean salsa is a delicious and healthy topping. The best part is that it's all cooked in one pan, so cleanup is a breeze. Give it a try tonight!
Nutrition
Serving:
4
servings
Calories:
382
kcal
Carbohydrates:
59
g
Protein:
13
g
Fat:
12
g
Saturated Fat:
2
g
Polyunsaturated Fat:
2
g
Monounsaturated Fat:
8
g
Sodium:
12
mg
Potassium:
732
mg
Fiber:
9
g
Sugar:
4
g
Vitamin A:
1262
IU
Vitamin C:
29
mg
Calcium:
56
mg
Iron:
4
mg
To Serve Cilantro Polenta and Bean Salsa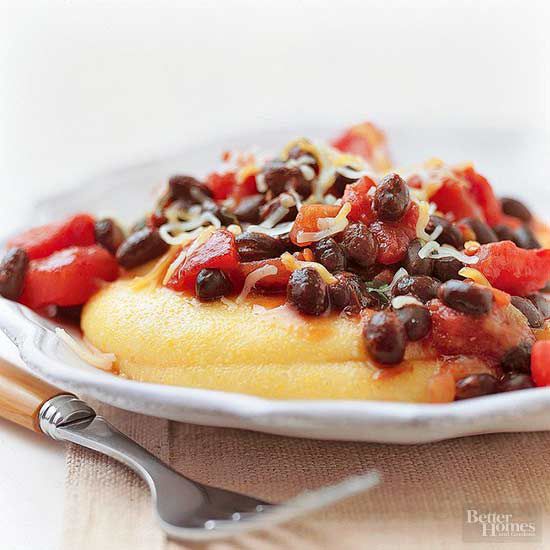 Cilantro Polenta and Bean Salsa is a dish that is sure to please. Made with cilantro polenta, beans, salsa, and olive tapenade, this dish is a delicious and flavorful way to enjoy some vegetables. Cilantro polenta is a type of polenta that is flavored with cilantro – an herb that has a slightly spicy flavor. The beans in the salsa add some protein and fiber to the dish, while the olive tapenade provides a delicious depth of flavor.
This dish can be served as a side dish or main course. It's perfect for any occasion – whether you're looking for something simple and easy to prepare or something that will add some flair to your meal. Plus, roasted pepper coulis adds an extra layer of flavor that makes this dish truly unique. If you're looking for something special and unique to serve at your next dinner party, give this recipe a try!
Cilantro Polenta and Bean Salsa Nutritional Information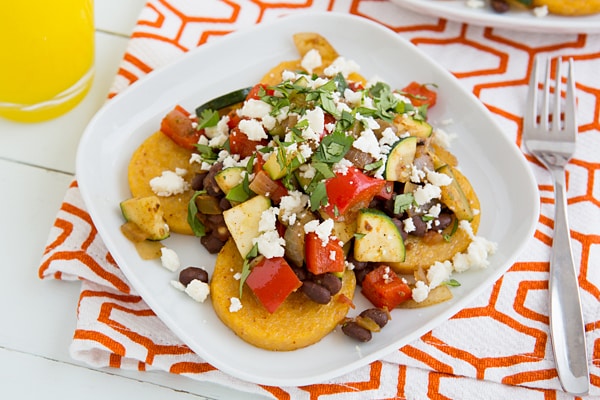 Looking for a delicious, nutritious dish to serve as a side or main course? Look no further than cilantro polenta and bean salsa. This dish is packed with fiber and protein, and low in calories. It's also easy to make, so you can whip it up in a short amount of time. Plus, it can be made ahead of time and reheated or frozen for future meals. Whether you're cooking for one or serving it as a main course at a party, cilantro polenta and bean salsa is sure to please everyone in the family.
Below, we have included nutritional information for this dish so that you know exactly what you're eating. Additionally, we have included tips on how to make this dish even better. So be sure to give this recipe a try – you won't regret it!