I don't like pasta salad. I never put it on my plate at the BBQ party or in a buffet line. I mean whose to know what the creamy sauce is really made up of…old warm mayo always comes to my mind! When I had my Vegan Barbecue I was really having a difficult time wrapping my head around the idea of tofu-potato salad. But then it occurred to me to make a tofu-pasta salad. I mean, I never know what the sauce of a pasta salad is made of anyways.
Delicious Rating: This pasta was an easy delicious recipe to cook up and tastes great! I really liked the spice from the cayenne pepper, it wasn't dominate but you could definitely feel the kick! This is the perfect Vegan BBQ Side dish and is a keeper in my home!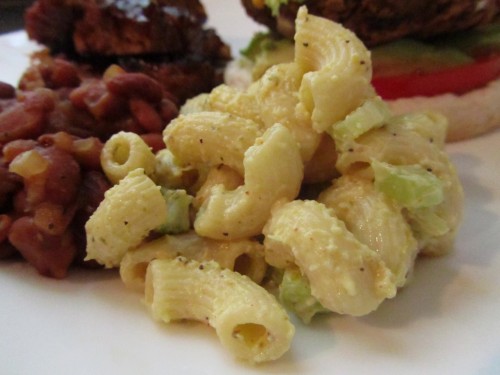 Vegan Pasta Salad
If you're looking for an easy pasta salad recipe that's vegan-friendly, then you're in luck! This recipe is easy to follow and will leave you with a delicious and hearty pasta salad that you can enjoy either as a meal on its own or as a side dish.
Ingredients
8

ounces

elbow macaroni

1

cup

celery

finely chopped

½

cup

soft silken tofu

drained

⅓

cup

soy milk

¼

onion

minced

¼

cup

sweet relish

1

tbsp

lemon juice

2

tsp

mustard

1

tsp

salt

Cayenne pepper to taste
Instructions
Cook pasta as package directs.

Rinse with cold water and drain.

Place in large serving bowl.

In blender, blend tofu and soy milk until well combined.
Silken tofu works best for sauces as it is easily broken down and forms a 'silky' smooth texture. If you use a firm block of tofu, it may not all be blended down smooth.
Blend in onion, relish, lemon juice, mustard, salt, and cayenne.

Add sauce to pasta and coat all evenly.

Mix in celery.

Refrigerate for at least 2 hours.

Serve cold.
Notes
You now know how to make a vegan version of the popular dish, General Tso's chicken. This dish is not only delicious, but it is also healthy and cruelty-free. So next time you're in the mood for some Chinese food, try making this recipe at home. You won't be disappointed!
Nutrition
Serving:
1
serving
Calories:
248
kcal
Carbohydrates:
50
g
Protein:
8
g
Fat:
1
g
Saturated Fat:
0.2
g
Polyunsaturated Fat:
1
g
Monounsaturated Fat:
0.3
g
Sodium:
767
mg
Potassium:
241
mg
Fiber:
3
g
Sugar:
7
g
Vitamin A:
379
IU
Vitamin C:
4
mg
Calcium:
54
mg
Iron:
1
mg
The ingredients and spices needed to make vegan pasta salad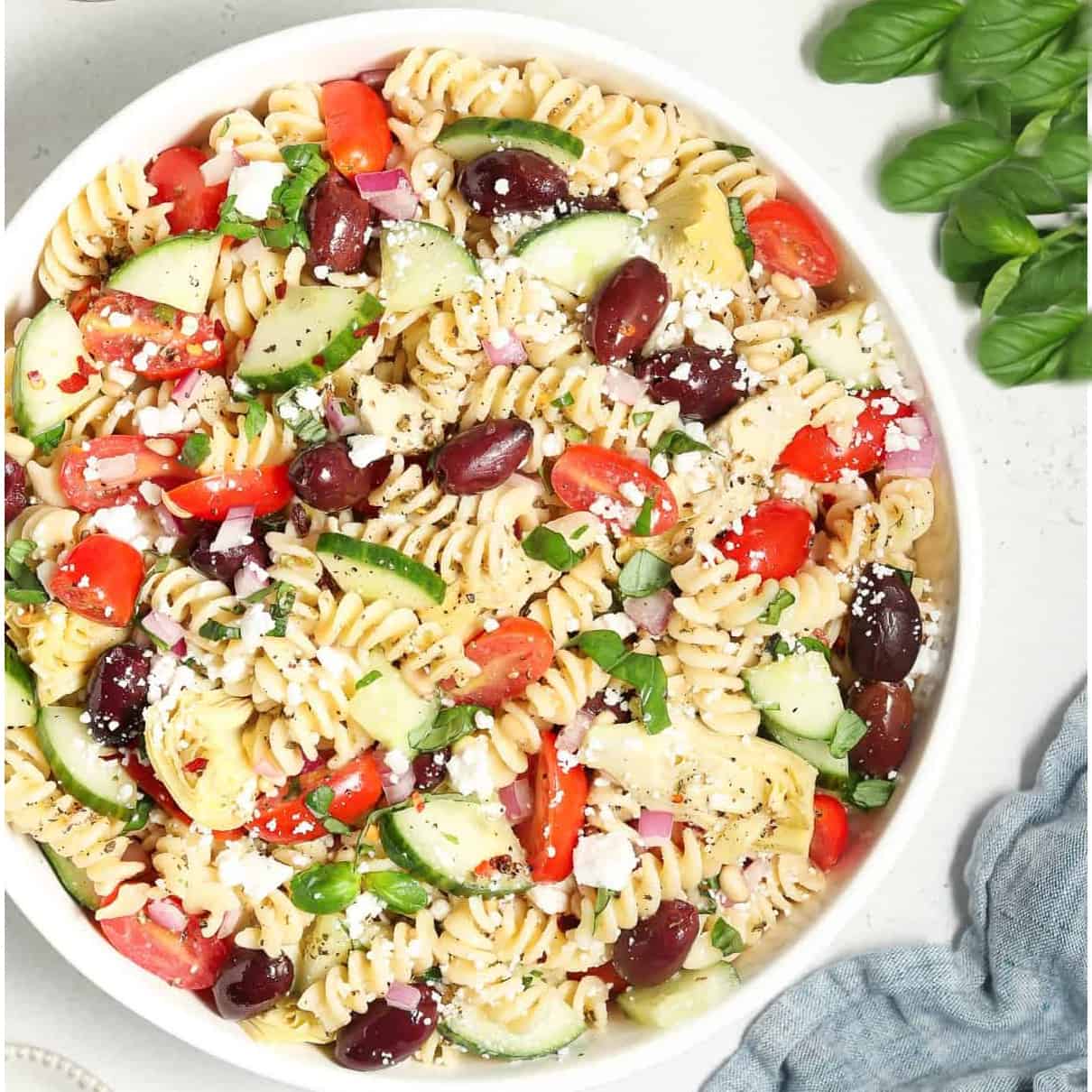 Vegan pasta salad is a refreshing and light dish that is perfect for summertime. It is packed with healthy ingredients and is very easy to make. The ingredients you will need for this salad are: pasta, tomatoes, cucumbers, olives, basil, and a vegan salad dressing. The spices you will need to make this dish are: salt, pepper, and garlic powder.
How to serve vegan pasta salad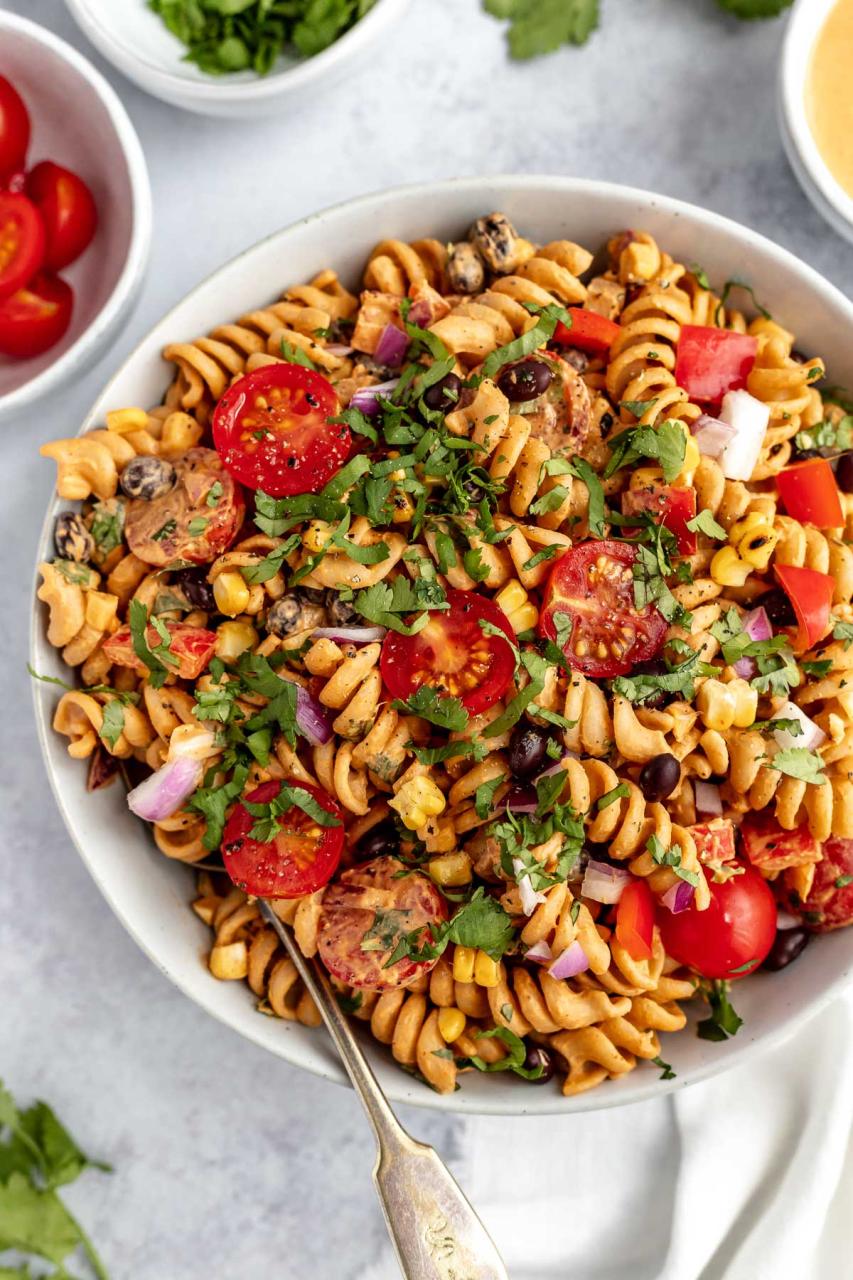 To serve vegan pasta salad, start by boiling the pasta in salted water according to package directions.
Drain the pasta and rinse with cold water.
Then, in a large bowl, mix together the pasta, vegan mayonnaise, diced celery, diced red pepper, and chopped parsley
Season to taste with salt and pepper. Serve chilled or at room temperature.
Tips for making vegan pasta salad even better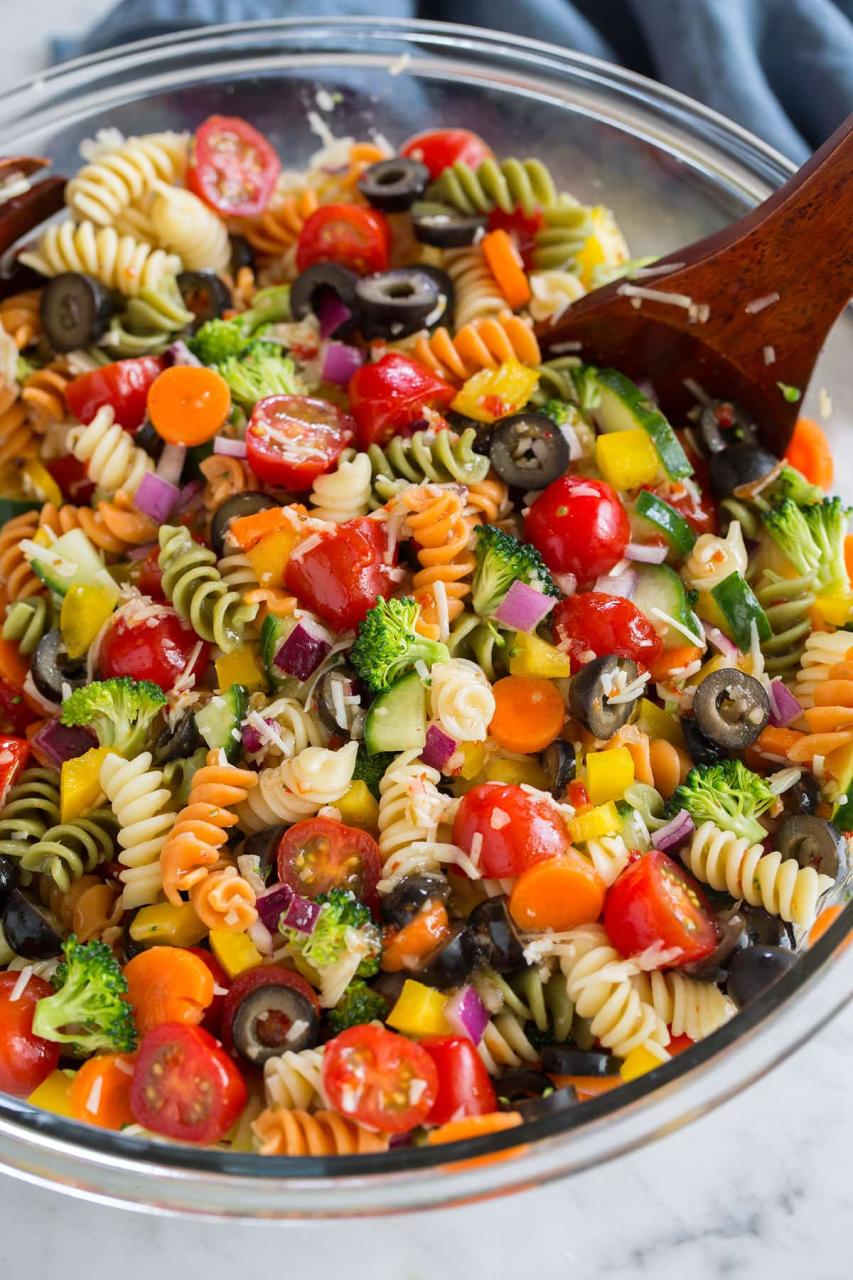 If you're looking for a delicious and easy vegan pasta salad recipe, you've come to the right place! This dish is packed with flavor and can be made in just a few simple steps. Here are a few tips to make your vegan pasta salad even better:
1. Use your favorite pasta. Whether you prefer penne, fusilli, or something else entirely, the pasta you choose will be the foundation of your salad. Be sure to cook it al dente according to the package directions.
2. Add plenty of veggies. This is a great way to sneak in some extra nutrients. Tomatoes, cucumbers, peppers, and onions are all great options.
3. Use a flavorful dressing. A simple vinaigrette or Italian dressing will do the trick. Be sure to taste and adjust the seasoning as necessary.
4. Add some protein. Tofu, tempeh, or chickpeas would all be great additions.
5. Gently mix everything together and enjoy!