Be honest. You like spam. The saltiness. The crispy pan fried edges. The mystery of what you are actually eating. Admit it. You like spam.
I like spam musubi. Fried super crispy and served with rice. Oooh…a spam musubi. Yummy! But most of all, I love some Spam Fried Rice. I love to make this when I am just hanging out on the couch watching tv. It is the perfect 'hanging out' food. If you are afraid to eat spam, try this recipe first. Trust me, you will like spam.
Delicious Rating: Maybe I am being bias towards my good friend spam but I think this is the best fried rice recipe ever! It is seriously delicious and an easy recipe to cook. Use some day old rice for the perfect consistency. I add extra eggs because I think you never really get enough egg in fried rice from a restaurant. My sauce is a little more sweet than others but change up the amount of ingredients in the sauce according to your taste. And please…please tell me if you like spam!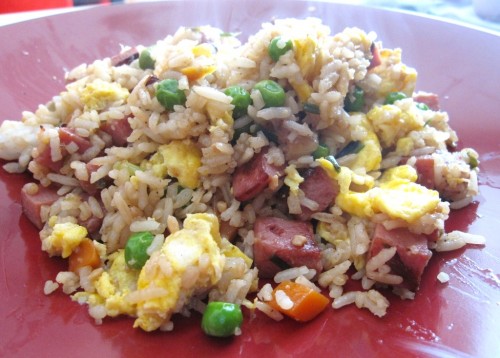 Spam Fried Rice
Fried rice is one of the most popular dishes in the world, and for good reason. It's easy to make, it's tasty, and it's packed with nutrients. In this blog post, we're going to teach you how to make spam fried rice, a recipe that is sure to please.
Ingredients
1

cup

soy sauce

7

tbsp

sugar

5

garlic cloves

minced

2

tbsp

oyster sauce

3

tbsp

sesame oil

6

eggs

scrambled

4

cups

rice

cooked and cooled

1

can spam

diced

1

cup

green onion

chopped

12

ounces

frozen peas and carrots

thawed
Instructions
In one bowl combine soy sauce, sugar, garlic, oyster sauce, and 1 tbsp sesame oil. Set aside.

Heat 1 tbsp of sesame oil in wok over medium-high heat.
This recipe calls for 6 eggs which some may think is a bit too much. But I love egg in fried rice, there is never enough of it either! So, my recipe my amount of eggs! Okay, that sounded mean, I didn't mean to mean to sound mean. Add in the 6 eggs for the perfect ratio or leave some out if you are not that egg in fried rice lover!
Add in eggs and cook just until done.

Place on a plate and set aside.

Heat remaining sesame oil in wok and cook onion and spam until spam is nice and crisp.
Hello Spam. The crisp edges will give your fried rice just what it needs to be perfect!
Add in peas and carrots and cook until heated through.
I started eating this out of the wok, that good. Of course, my DH had to yell at me to 'just get a plate'. I did, a rather large plate!If you like some sweetness in the rice add in some diced pineapple, will give a great new side to it!
Add in sauce to wok and boil until it reduces to a glaze.

Gently fold in rice and egg until all warmed and heated through.

Serve warm.
Notes
Fried rice is a delicious, versatile dish that can be made with a variety of ingredients. It is a great way to use up leftover rice and vegetables. Fried rice is also relatively healthy, as it is low in fat and calories.
Nutrition
Serving:
1
serving
Calories:
664
kcal
Carbohydrates:
118
g
Protein:
19
g
Fat:
12
g
Saturated Fat:
3
g
Polyunsaturated Fat:
4
g
Monounsaturated Fat:
5
g
Trans Fat:
0.02
g
Cholesterol:
164
mg
Sodium:
2396
mg
Potassium:
344
mg
Fiber:
2
g
Sugar:
15
g
Vitamin A:
404
IU
Vitamin C:
4
mg
Calcium:
85
mg
Iron:
3
mg
What Is Spam?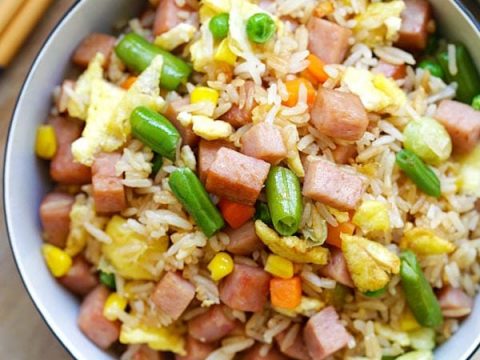 Are you looking for a quick and easy way to use up leftover Spam? Well, look no further than this spam fried rice recipe. This dish is simple to make and requires just a few ingredients. In fact, it's a great way to use up that last bit of Spam – which is always a bonus!
Spam is a canned meat product made from pork and ham. It was first introduced in 1937 by the Hormel Foods Corporation. Spam is high in sodium and fat, and has been criticized for its unhealthiness. Despite this, Spam is popular in many countries, especially in Hawaii and the Philippines. This recipe for spam fried rice is a quick and easy way to use up leftover Spam.
Spam is also versatile – it can be used in a variety of dishes including stir-fries, omelets, pasta dishes, or even as an ingredient in soup or chili. When you're cooking with Spam, make sure to adjust the recipe accordingly so that it's still healthy but flavorful!
Health Benefits Of Fried Rice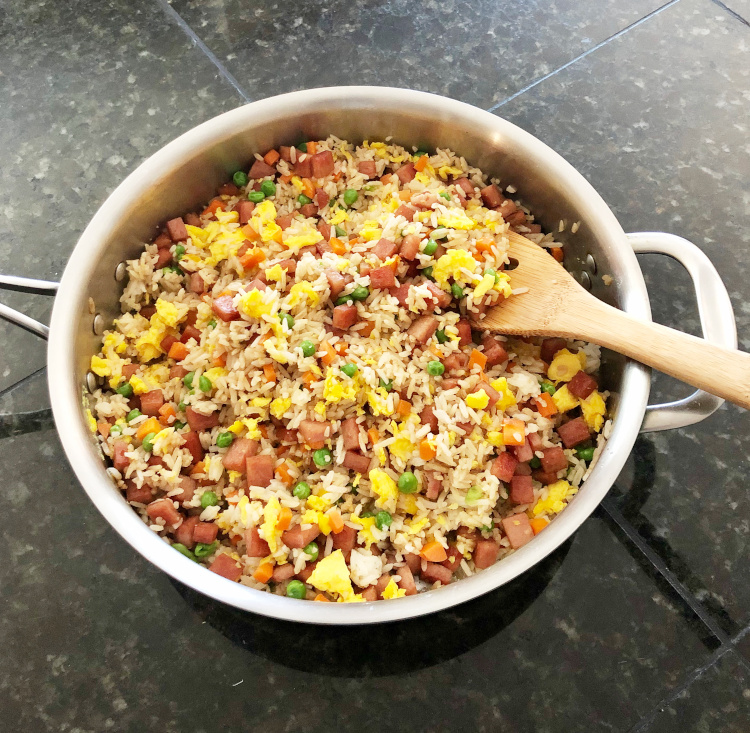 If you're looking for a quick and easy meal that's also healthy, look no further than spam fried rice. This dish is made from cooked spam, eggs, and rice, and it's a popular choice among people on a budget. Not only is spam fried rice a cheap and easy meal to make, but it's also a good source of protein and vitamins. In addition to being healthy, spam fried rice is also convenient – it can be made in minutes using just a few ingredients.
Spam is a popular source of protein because it's low in calories and high in the essential amino acids that your body needs. Plus, spam is an affordable food option that most people can find at their local grocery store. Eggs are another great source of protein – they're high in cholesterol but provide all the essential amino acids your body needs. Finally, rice is an important component of any fried rice recipe – it absorbs the flavors of the other ingredients and provides texture and body to the final dish.
If you're looking for an easy and healthy meal that you can make on short notice, try spam fried rice!
Cooking Tips for Perfect Spam Fried Rice
Alright, my culinary comrades, let's get our aprons on and talk about turning that humble can of Spam into a Mandarin Style Fried Rice masterpiece. We've already established that day-old rice is the secret weapon for that ideal texture. But did you know that chilling your rice in the fridge can also help separate the grains? This means each grain will be perfectly coated with flavor and not clump together.
Now, about that Spam – oh, beloved Spam! When you're cutting it up, think about how the size will affect the texture. Those bite-sized pieces aren't just cute; they're the perfect size to ensure that with each forkful, you get a harmonious blend of crispy Spam, fluffy rice, and whatever other goodies you decide to throw in there.
Speaking of goodies, let's not forget the aromatics. Garlic, onion, and ginger are the holy trinity that will infuse your Spam Fried Rice with an irresistible aroma. Make sure to mince them finely and fry them until they're just golden – this is where the magic starts, and you don't want to miss out by having them burn.
And what about the soy sauce, you ask? My tip: add it around the edges of the pan so it sizzles and reduces slightly before mixing it through the rice. This little trick gives a more intense flavor that's evenly distributed.
Don't forget the peas! They're not just there for a pop of color; they add a sweet burst that complements the salty Spam beautifully. And if you're feeling adventurous, why not throw in some pineapple chunks? The sweetness and acidity can cut through the richness and make your taste buds do a happy dance.
Lastly, let's talk heat. A high flame is crucial for that authentic 'wok hei' – the breath of the wok. It gives that slight char and depth of flavor that takeout dreams are made of. Just keep everything moving in the pan to avoid any casualties of burning.
There you have it, folks – a few extra pearls of wisdom to ensure your Spam Fried Rice isn't just good, but great. Now go forth and fry with confidence, knowing that you're armed with the secrets to a dish that'll have everyone asking for seconds!
FAQs About Spam Fried Rice
Q: Can I add other proteins along with Spam? A: Of course! While Spam is the star of the show, feel free to mix in some diced chicken, shrimp, or tofu for added variety and protein. Just remember to cook them properly before adding them to the rice.
Q: How can I make my Spam Fried Rice spicier? A: If you're looking to add some heat, consider dicing up a fresh chili or adding a spoonful of chili flakes when you're frying up your aromatics. Alternatively, a splash of hot sauce or a dollop of chili paste can be mixed in at the end for that extra kick.
Q: What are some common mistakes to avoid when making Spam Fried Rice? A: One common mistake is using rice that's too wet or fresh, which can lead to a gummy texture. Another is overcrowding the pan, which prevents the ingredients from frying properly and can result in steaming instead. Also, be careful not to overcook the Spam; it should be golden and crispy, not hard and dry.
Q: Can I make Spam Fried Rice ahead of time? A: Yes, you can! It reheats well in a pan over medium heat. Just add a little water or broth to keep it from drying out. However, for the best flavor and texture, it's recommended to eat it fresh.
Q: Are there any garnishes that go particularly well with Spam Fried Rice? A: Garnishes can really elevate your dish. Try sliced green onions, cilantro, or a sprinkle of furikake (a Japanese seasoning) for an extra layer of flavor. A wedge of lime on the side can also add a refreshing zing.
Q: How do I know when my Spam Fried Rice is done? A: Your fried rice is done when the rice is heated through, the Spam is crispy, and the veggies are tender but still vibrant. Everything should be well combined, and if you've added soy sauce or other seasonings, they should be evenly distributed, giving the rice a uniform color.
Remember, the beauty of Spam Fried Rice lies in its versatility and simplicity. Don't be afraid to experiment with different ingredients and find the combination that makes your taste buds sing. Happy cooking!
 Serving Suggestions for Spam Fried Rice
When it comes to serving up this iconic dish, the possibilities are as endless as they are delicious. A perfectly fried sunny-side-up egg is a classic addition that not only adds a rich creaminess but also an aesthetic flair with its bright yolk center stage atop the rice. But why stop there?
For an extra layer of flavor and texture, consider adding some crispy fried shallots or garlic. These little golden bits add a delightful crunch and a punch of umami that can turn your dish from great to extraordinary.
If you're a fan of fresh herbs, a handful of chopped cilantro or Thai basil can introduce a fresh, aromatic element that cuts through the richness of the Spam. It's like a little herbaceous fireworks show for your palate.
Now, let's talk pickles. A side of tangy pickled vegetables, such as cucumbers or radishes, can provide a refreshing contrast to the savory notes of the fried rice. Their acidity and crunch are the perfect counterbalance to the soft, warm rice and Spam.
For those who enjoy a bit of DIY, why not serve your Spam Fried Rice with a variety of toppings on the side? Guests can customize their plate with options like crushed peanuts for nuttiness, diced avocado for creaminess, or even some pineapple chunks for a sweet, tropical twist.
And let's not forget about the sauce! While sriracha is a go-to for many, consider offering a small dish of hoisin sauce or a sweet and sour sauce for dipping or drizzling. Each sauce can offer a new dimension to your dish, allowing you to tailor each bite to your mood.
Lastly, presentation is key. Serve your Spam Fried Rice on a warm plate or in a traditional stone bowl to keep it hot. Garnish with a lime wedge for a pop of color and an optional squeeze of brightness.
With these serving suggestions, your Spam Fried Rice won't just be a meal; it'll be an experience. So gather your friends, set the table, and get ready to dig into a dish that's as fun to eat as it is to make. Bon appétit!