Be honest. You like spam. The saltiness. The crispy pan fried edges. The mystery of what you are actually eating. Admit it. You like spam.
I like spam. Fried super crispy and served with rice. Oooh…a spam musubi. Yummy! But most of all, I love some Spam Fried Rice. I love to make this when I am just hanging out on the couch watching tv. It is the perfect 'hanging out' food. If you are afraid to eat spam, try this recipe first. Trust me, you will like spam.
Delicious Rating: Maybe I am being bias towards my good friend spam but I think this is the best fried rice recipe ever! It is seriously delicious and an easy recipe to cook. Use some day old rice for the perfect consistency. I add extra eggs because I think you never really get enough egg in fried rice from a restaurant. My sauce is a little more sweet than others but change up the amount of ingredients in the sauce according to your taste. And please…please tell me if you like spam!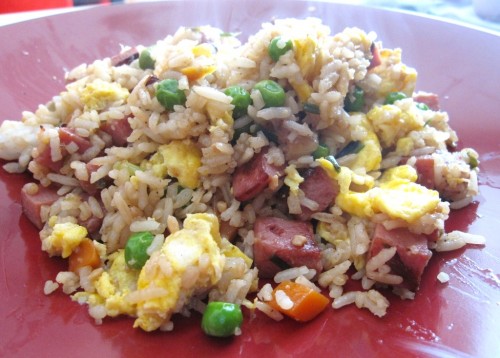 Spam Fried Rice
Fried rice is one of the most popular dishes in the world, and for good reason. It's easy to make, it's tasty, and it's packed with nutrients. In this blog post, we're going to teach you how to make spam fried rice, a recipe that is sure to please.
Ingredients
1

cup

soy sauce

7

tbsp

sugar

5

garlic cloves

minced

2

tbsp

oyster sauce

3

tbsp

sesame oil

6

eggs

scrambled

4

cups

rice

cooked and cooled

1

can spam

diced

1

cup

green onion

chopped

12

ounces

frozen peas and carrots

thawed
Instructions
In one bowl combine soy sauce, sugar, garlic, oyster sauce, and 1 tbsp sesame oil. Set aside.

Heat 1 tbsp of sesame oil in wok over medium-high heat.
This recipe calls for 6 eggs which some may think is a bit too much. But I love egg in fried rice, there is never enough of it either! So, my recipe my amount of eggs! Okay, that sounded mean, I didn't mean to mean to sound mean. Add in the 6 eggs for the perfect ratio or leave some out if you are not that egg in fried rice lover!
Add in eggs and cook just until done.

Place on a plate and set aside.

Heat remaining sesame oil in wok and cook onion and spam until spam is nice and crisp.
Hello Spam. The crisp edges will give your fried rice just what it needs to be perfect!
Add in peas and carrots and cook until heated through.
I started eating this out of the wok, that good. Of course, my DH had to yell at me to 'just get a plate'. I did, a rather large plate!If you like some sweetness in the rice add in some diced pineapple, will give a great new side to it!
Add in sauce to wok and boil until it reduces to a glaze.

Gently fold in rice and egg until all warmed and heated through.

Serve warm.
Notes
Fried rice is a delicious, versatile dish that can be made with a variety of ingredients. It is a great way to use up leftover rice and vegetables. Fried rice is also relatively healthy, as it is low in fat and calories.
Nutrition
Serving:
1
serving
Calories:
664
kcal
Carbohydrates:
118
g
Protein:
19
g
Fat:
12
g
Saturated Fat:
3
g
Polyunsaturated Fat:
4
g
Monounsaturated Fat:
5
g
Trans Fat:
0.02
g
Cholesterol:
164
mg
Sodium:
2396
mg
Potassium:
344
mg
Fiber:
2
g
Sugar:
15
g
Vitamin A:
404
IU
Vitamin C:
4
mg
Calcium:
85
mg
Iron:
3
mg
What Is Spam?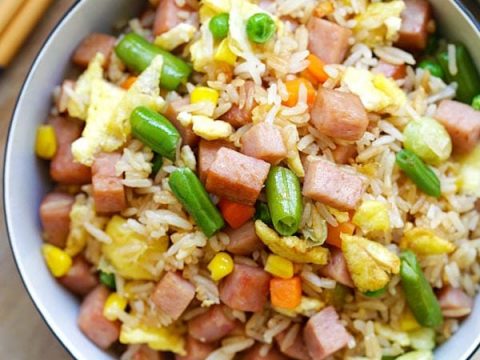 Are you looking for a quick and easy way to use up leftover Spam? Well, look no further than this spam fried rice recipe. This dish is simple to make and requires just a few ingredients. In fact, it's a great way to use up that last bit of Spam – which is always a bonus!
Spam is a canned meat product made from pork and ham. It was first introduced in 1937 by the Hormel Foods Corporation. Spam is high in sodium and fat, and has been criticized for its unhealthiness. Despite this, Spam is popular in many countries, especially in Hawaii and the Philippines. This recipe for spam fried rice is a quick and easy way to use up leftover Spam.
Spam is also versatile – it can be used in a variety of dishes including stir-fries, omelets, pasta dishes, or even as an ingredient in soup or chili. When you're cooking with Spam, make sure to adjust the recipe accordingly so that it's still healthy but flavorful!
Health Benefits Of Fried Rice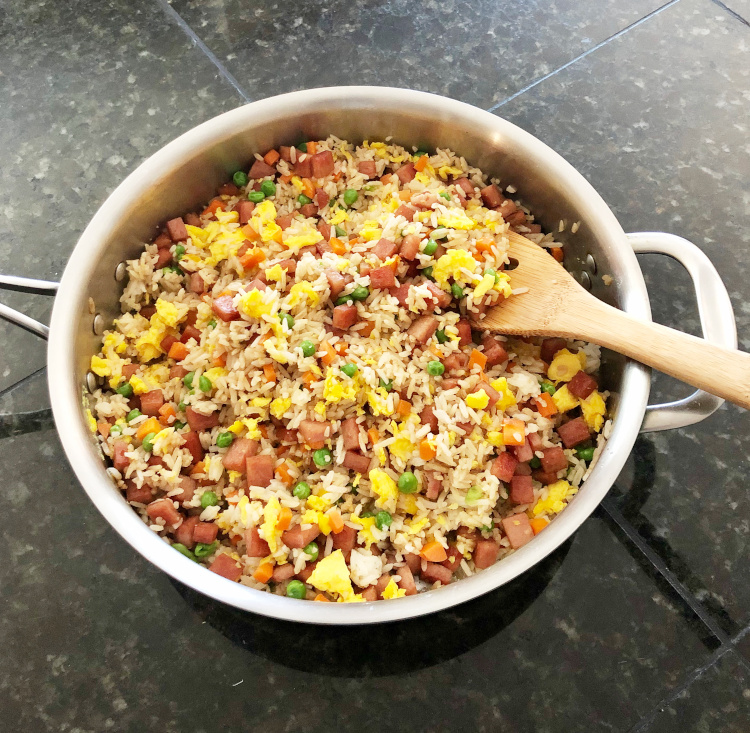 If you're looking for a quick and easy meal that's also healthy, look no further than spam fried rice. This dish is made from cooked spam, eggs, and rice, and it's a popular choice among people on a budget. Not only is spam fried rice a cheap and easy meal to make, but it's also a good source of protein and vitamins. In addition to being healthy, spam fried rice is also convenient – it can be made in minutes using just a few ingredients.
Spam is a popular source of protein because it's low in calories and high in the essential amino acids that your body needs. Plus, spam is an affordable food option that most people can find at their local grocery store. Eggs are another great source of protein – they're high in cholesterol but provide all the essential amino acids your body needs. Finally, rice is an important component of any fried rice recipe – it absorbs the flavors of the other ingredients and provides texture and body to the final dish.
If you're looking for an easy and healthy meal that you can make on short notice, try spam fried rice!