Potatoes are a perfect Side Dish to any main entree. They are so versatile and combine with so many different flavors, there is no end to potato recipes! This easy recipe calls for the salty depth of black olives and richness of sun-dried tomatoes. Add in some fresh rosemary and Oh My! You have got something delicious on your hands! This recipe is great for a vegan menu, vegetarian menu, or even a gluten-free menu!
Delicious Rating: These are super easy to make. I was able to cook this up with all ingredients being on hand at home. My DH said these were the best potatoes he ever had. I heated up the leftovers and we had them with breakfast the next day. The potatoes have a nice outer crispiness and super softness inside. Please let me know what you think of this Potatoes with Olives and Sun-Dried Tomatoes recipe!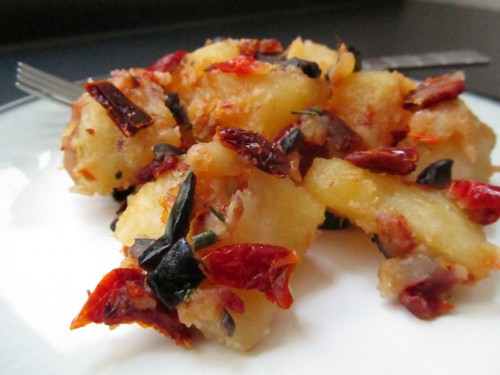 Potatoes with Olives and Sun-Dried Tomatoes
These potatoes are the perfect side dish for any meal. They are roasted to perfection and then topped with olives and sun-dried tomatoes. The combination of these flavors is simply amazing. These potatoes are sure to please everyone at the table.
Ingredients
1½

lb

small red potatoes

2

tbsp

olive oil

2

shallots

minced

2

tsp

fresh rosemary

chopped

1

tsp

salt

2

tbsp

lemon juice

½

cup

black olives

roughly chopped

½

cup

oil-packed sun-dried tomatoes

chopped
Instructions
Boil potatoes until tender.
I love recipes with shallots. Their flavor is just amazing and the aroma they give off is almost hypnotizing.
Drain and cut into quarters.

Set aside in a bowl.

In a large pan, heat olive oil over medium heat.

Add shallots, cover and cook for 5 minutes.

Add potatoes and add in rosemary and salt.
Brown the potatoes and even give them a crispy edge which tastes delicious in this side dish.
Cook for 7 minutes or until nicely browned.

Add in lemon juice, olives, and sun-dried tomatoes and gently combine.
Nutrition
Serving:
4
sides
Calories:
245
kcal
Carbohydrates:
34
g
Protein:
4
g
Fat:
12
g
Saturated Fat:
2
g
Polyunsaturated Fat:
1
g
Monounsaturated Fat:
8
g
Sodium:
914
mg
Potassium:
1046
mg
Fiber:
5
g
Sugar:
3
g
Vitamin A:
257
IU
Vitamin C:
33
mg
Calcium:
38
mg
Iron:
2
mg
Recipe tips for making this potato and olive dish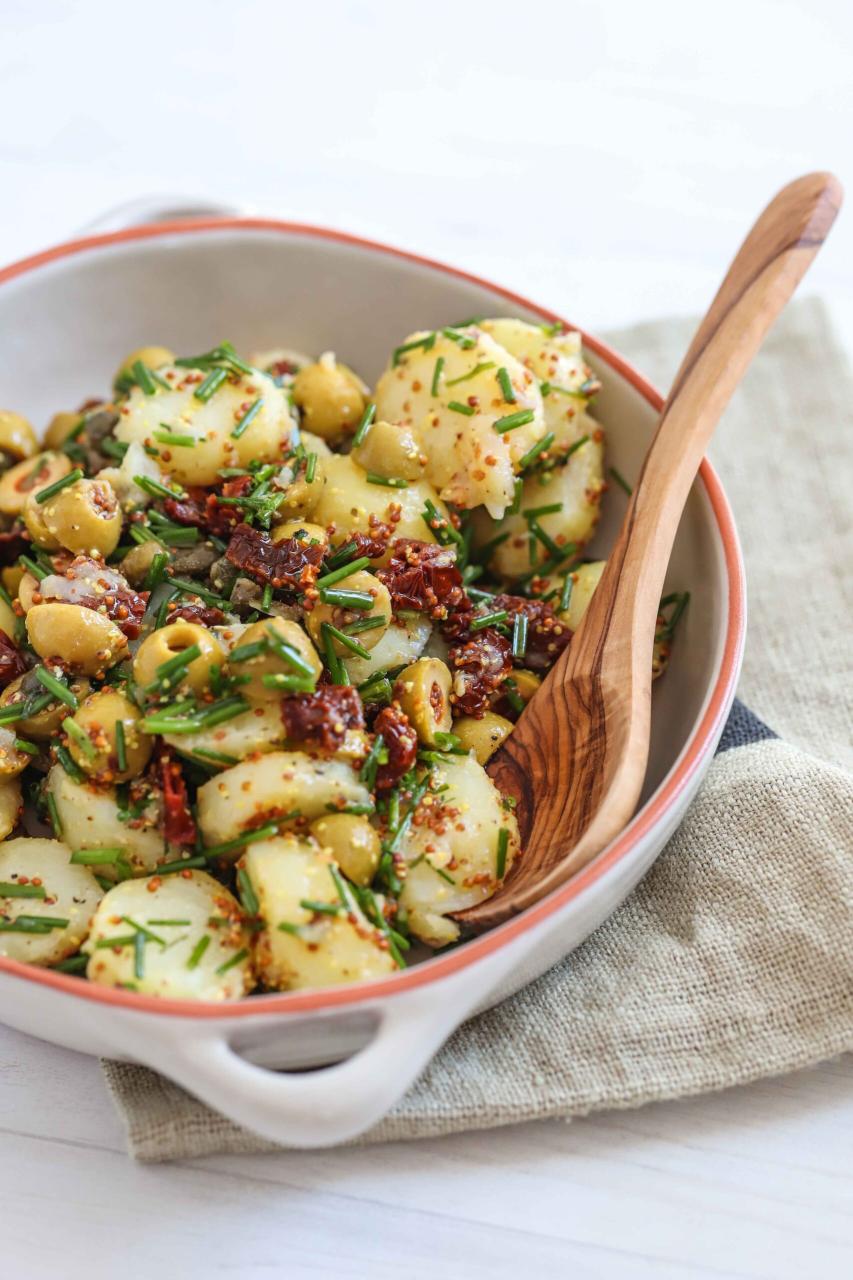 This potato and olive dish is a delicious and easy way to get your daily dose of healthy fats and vitamins! Here are some tips to make sure your dish turns out perfectly:
– First, make sure to choose firm, starchy potatoes for this dish. They'll hold up better to the cooking process and won't turn into mush.
– Next, be sure to properly pit and slice your olives. This will help them cook evenly and prevent them from becoming too chewy.
– Finally, don't be afraid to experiment with different seasonings! This dish is delicious with a variety of herbs and spices, so feel free to play around until you find your perfect flavor combination.
Variations and tips for preparing potatoes and olives in different ways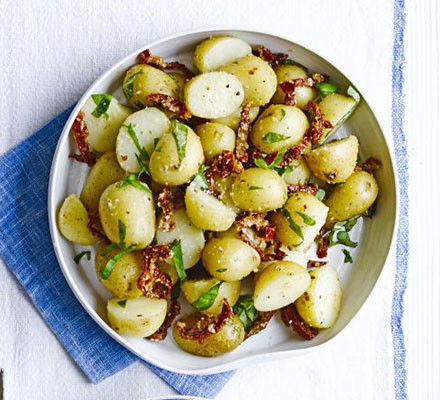 There are many ways to prepare potatoes and olives. One way is to fry them. Another way is to bake them. Yet another way is to boil them.
Fried potatoes and olives are a popular snack food. They can be served as an appetizer or a side dish. To fry potatoes and olives, heat oil in a frying pan over medium heat. Add the potatoes and olives and fry for 5-7 minutes, or until golden brown.
Baked potatoes and olives are a healthy alternative to fried potatoes and olives. They can be baked in the oven or in a microwave. To bake potatoes and olives, preheat the oven to 400 degrees Fahrenheit. Line a baking sheet with foil and spray with cooking spray. Place the potatoes and olives on the baking sheet and bake for 20-30 minutes, or until golden brown.
Boiled potatoes and olives are another option for preparing these foods. Boiled potatoes and olives can be served as a side dish or a main dish. To boil potatoes and olives, place them in a pot of boiling water and cook for 10-15 minutes. Drain the potatoes and olives and serve.
FAQs about this potato and olive dish answered by experts in the field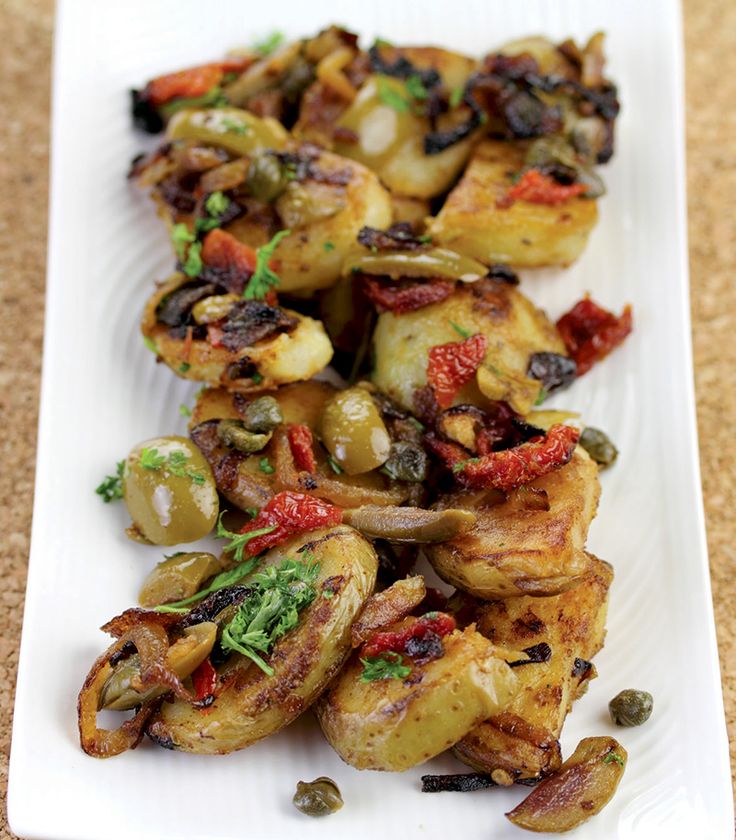 If you're looking for a delicious and healthy potato and olive dish, look no further than this recipe. Our experts have answered some of the most frequently asked questions about this dish to help you make the perfect meal.
Q: What kind of potatoes are best to use in this dish?
A: We recommend using Yukon Gold or Russet potatoes for this recipe. They have a nice, fluffy texture that pairs well with the olives and other ingredients.
Q: Can I use other types of olives in this dish?
A: Yes, you can use any type of olive that you like. We prefer to use Kalamata olives because they have a rich, salty flavor that really complements the potatoes.
Q: How long should I cook the potatoes for?
A: The potatoes should be cooked until they are tender but not mushy. We recommend cooking them for about 15 minutes.
Q: Can I make this dish ahead of time?
A: Yes, you can make this dish ahead of time and reheat it when you're ready to eat. We recommend reheating it in the oven for best results.