I think that I could live off of pizza, warm out of the oven or next day out of the fridge. Growing up, pizza was a weekend staple with a rented movie from Blockbuster. Good times, good times. Now, I am making Homemade Pizzas and ordering a movie right off of the TV. How times change!
I love making homemade personal pizzas. You can mix and match really anything you want and customize if for any diet. If you are a vegan, vegetarian, or super carnivore these pizzas are perfect and half the price tag. I loaded mine up with fresh tomatoes, basil, artichoke hearts, bell pepper, onions, and olives! Seriously Delicious. My DH loves anchovies and really went to town on his pizza.
Delicious Rating: Don't overwork the dough on this one or you may end up with a tough cookie. I love this dough! It was so workable and smooth. Add some Italian seasoning to the dough for more flavor in the pizza if you'd like. Almost all the ingredients for the dough are in your pantry; so if you have a lot of veggies to use up this is your go-to recipe. Any combination will be delicious so it really doesn't matter what you put on top, just add what you like. This is a perfect easy recipe for a night at home, when you have friends over, or for children.
What is pizza and how is it made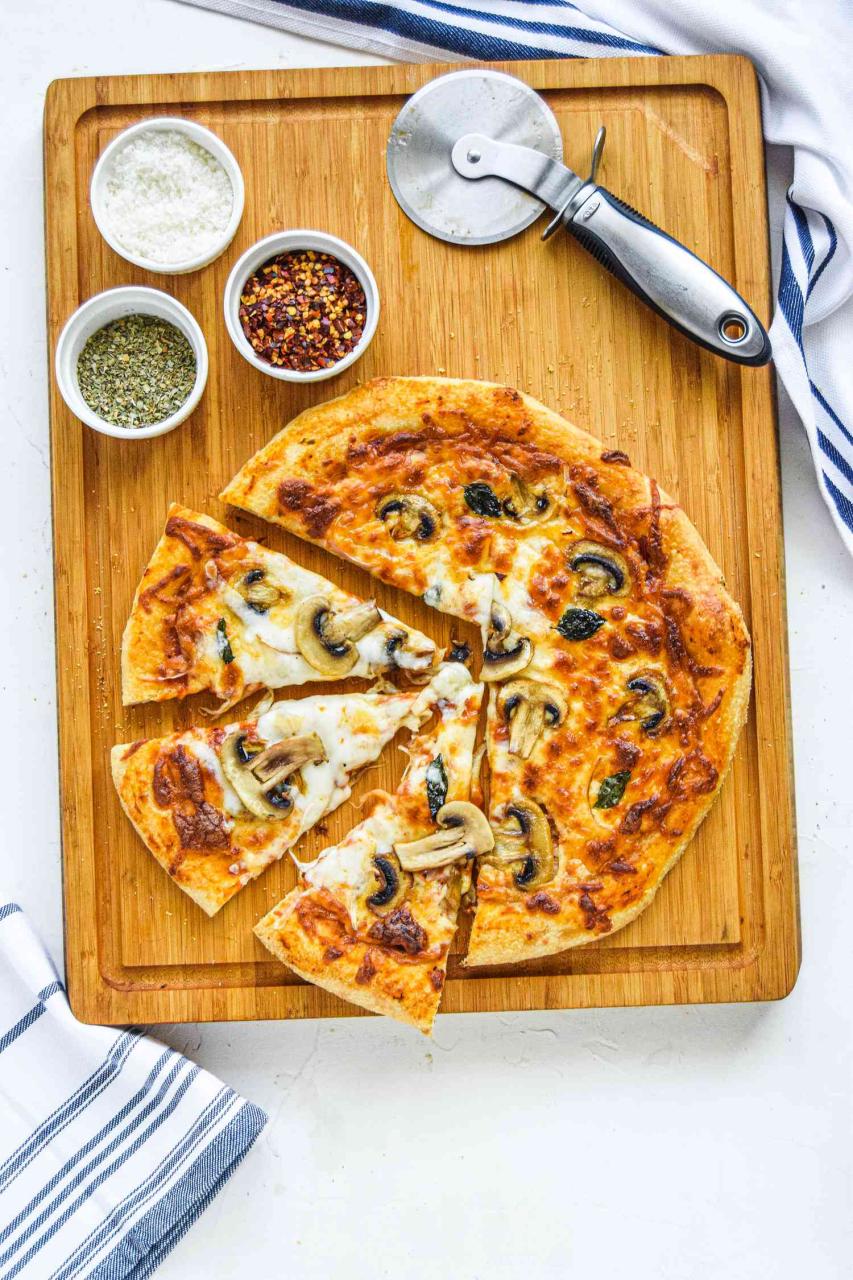 Pizza is a savory dish that typically consists of a doughy crust, tomato sauce, cheese, and various toppings. The history of pizza dates back to antiquity, and the dish has since become a popular food item in many parts of the world.
Pizza dough is typically made from flour, water, yeast, and salt. The dough is then kneaded and left to rise before being shaped into a thin crust. Once the crust is prepared, it is then topped with tomato sauce, cheese, and other desired toppings. The pizza is then baked in a hot oven until the cheese is melted and bubbly.
Pizza is a versatile dish that can be enjoyed in a variety of ways. Whether you prefer your pizza with a thin crust or a thick crust, loaded with toppings or simply topped with cheese, there is a pizza out there for everyone to enjoy.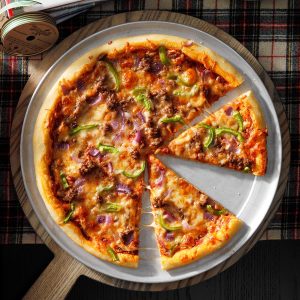 Homemade Pizza
Perfect for a meal with kids or fancied up with the hubby. Serve with a side salad if you prefer.
Ingredients
Basic Pizza Dough:
2

cups

flour

2.5

tsp

quick-rise yeast

1

tsp

salt

2

tsp

olive oil

½

cup

yellow cornmeal
Pizza toppings:
8

tbsp

Marinara Sauce

Jarred Spaghetti or pizza sauce

1

cup

mozzarella

1

tbsp

olive oil

Olives

sliced

Red Onion

sliced

Sun dried Tomatoes

Fresh basil

Green Bell pepper

sliced

Artichoke Hearts

Pineapple

chopped
Instructions
In a large bowl, combine flour, yeast, and salt.

Stir in ¾ cups of warm water and oil until dough forms a ball.

Turn out on a floured surface and knead for 5-minutes.

Shape dough into 4 balls and place on a cookie sheet that has been sprinkled with corn meal.
This dough is so good and perfect. It is also vegan which is great! You can make ahead and freeze right before one of the rising times if you want for future pizza making dates.
Cover with saran wrap and let rest 15-minutes.

Pat each ball out into a 6-inch round.

Heat olive oil in pan over medium heat.

Add onion, bell pepper and cook until tender or to your liking.

Add 2 tbsp of sauce to pizza round leaving a ½ inch rim.

Pinch and press edge up to form a high rim.

Add ¼ cup cheese and toppings as desired.

Repeat for next 3 pizzas.
You can keep all 4 balls together to make one large pizza or 2 balls for two mediums. But I like the personal size to mix and match my ingredients on each one.
Let pizzas rest for 15-minutes.

Preheat oven to 425 degrees F.
I bought some pizza sauce in a jar and it was pretty normal but I know I could cook up one and it would be even better than the jarred stuff. Next time.
Bake on bottom rack 20-30 minutes or until crust is browned.
Notes
And that's it! Enjoy your delicious homemade pizza!
Nutrition
Serving:
1
pizza
Calories:
444
kcal
Carbohydrates:
64
g
Protein:
15
g
Fat:
14
g
Saturated Fat:
5
g
Polyunsaturated Fat:
2
g
Monounsaturated Fat:
6
g
Cholesterol:
22
mg
Sodium:
901
mg
Potassium:
241
mg
Fiber:
4
g
Sugar:
2
g
Vitamin A:
319
IU
Vitamin C:
2
mg
Calcium:
157
mg
Iron:
4
mg
The different types of ingredients that can be used to make pizza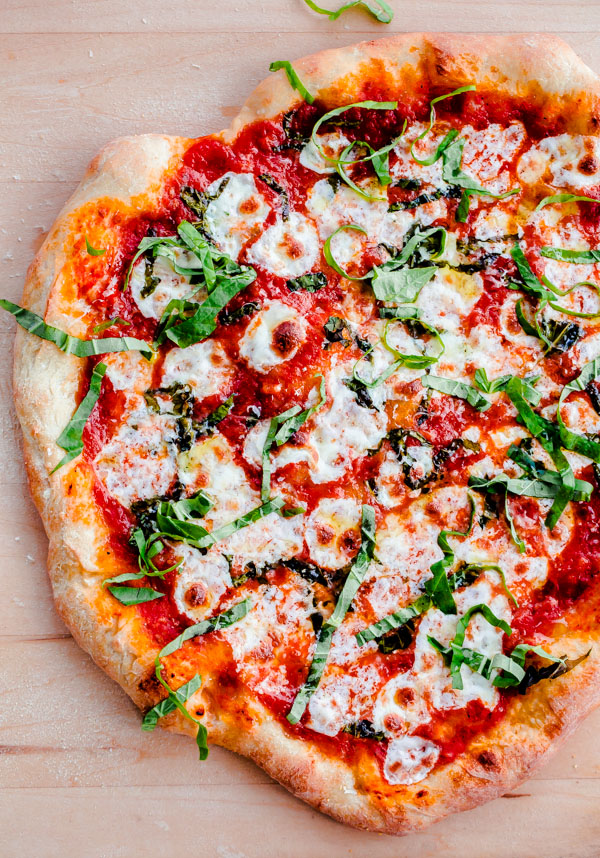 There are a variety of different ingredients that can be used to make pizza. The most common ingredients include cheese, tomato sauce, and dough. However, there are many other ingredients that can be used to create a delicious pizza.
Some other popular ingredients include pepperoni, sausage, mushrooms, onions, and peppers. There are endless possibilities when it comes to creating a unique and tasty pizza. The best part about pizza is that it can be customized to suit anyone's individual taste.
Tips for making perfect pizza every time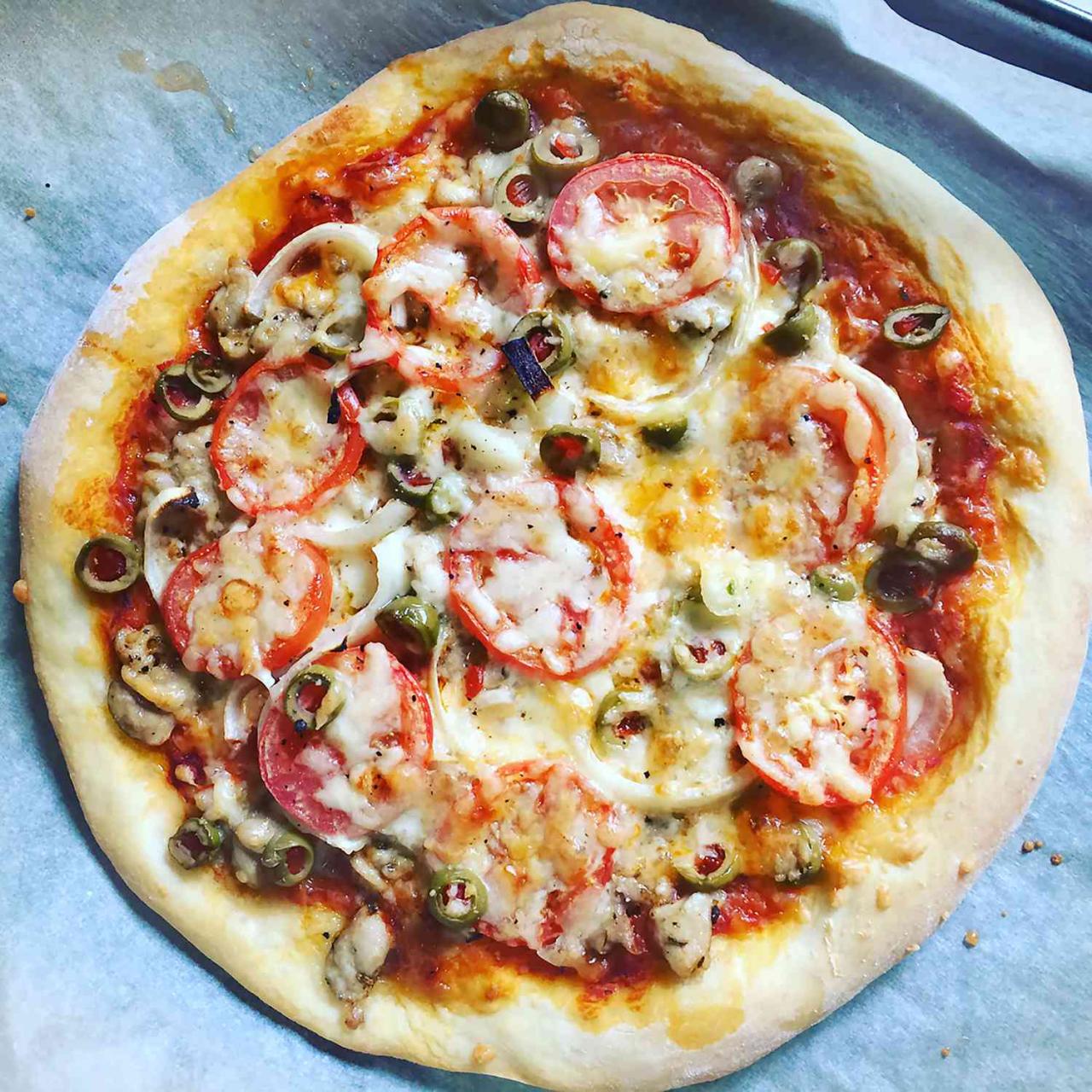 There's nothing quite like a slice of pizza fresh out of the oven. Whether you're a fan of classic cheese or pepperoni, or you like to get creative with your toppings, there's no denying that pizza is one of the most popular foods around. If you're looking to perfect your pizza-making skills, here are a few tips to keep in mind:
1. Use quality ingredients. This is key to making a delicious pizza. Make sure to use fresh, high-quality cheese, meats, and veggies.
2. Don't overdo it on the toppings. A little bit goes a long way when it comes to toppings. Too many toppings can make your pizza soggy and difficult to eat.
3. Preheat your oven. This will help ensure that your pizza cooks evenly.
4. Use a pizza stone. A pizza stone will help give your pizza a crispy, authentic crust.
5. Don't forget the sauce. A good tomato sauce is essential to a delicious pizza.
By following these tips, you'll be well on your way to making the perfect pizza every time. So go ahead and give it a try!