After I saw the movie Ratatouille, I imagined that one day I myself would cook up the French dish in my own kitchen. Well the day has arrived and gone and the Ratatouille was interesting…but good! Most Ratatouille recipes are baked, however I chose to pan cook all my veggies…I was hungry and couldn't wait! You can really mix and match vegetables until you get the combination you prefer. I didn't have the traditional eggplant so I substituted with portabella mushrooms and the taste was delicious but of course everything wasn't as beautifully colored as most Ratatouille recipes. I served this vegetable melody over rice that was cooked with turmeric, to add a flavor to the rice and a nice color to the dish! What is also great about this Ratatouille recipe is that it is vegetarian & vegan! Yay for Vegan Recipes!
Delicious Rating: Fresh herbs liven this dish up. As I said above that you can really mix and match the vegetables you like with seasonings you may prefer. I found it to be rather delicious and an easy recipe to make. Next time I will try baking it and find an eggplant to go with the rest of the dish. This can be served for lunch or dinner and the leftovers are just as yummy as the day before! Send me your favorite Ratatouille Recipe so we can compare!
What Is Ratatouille?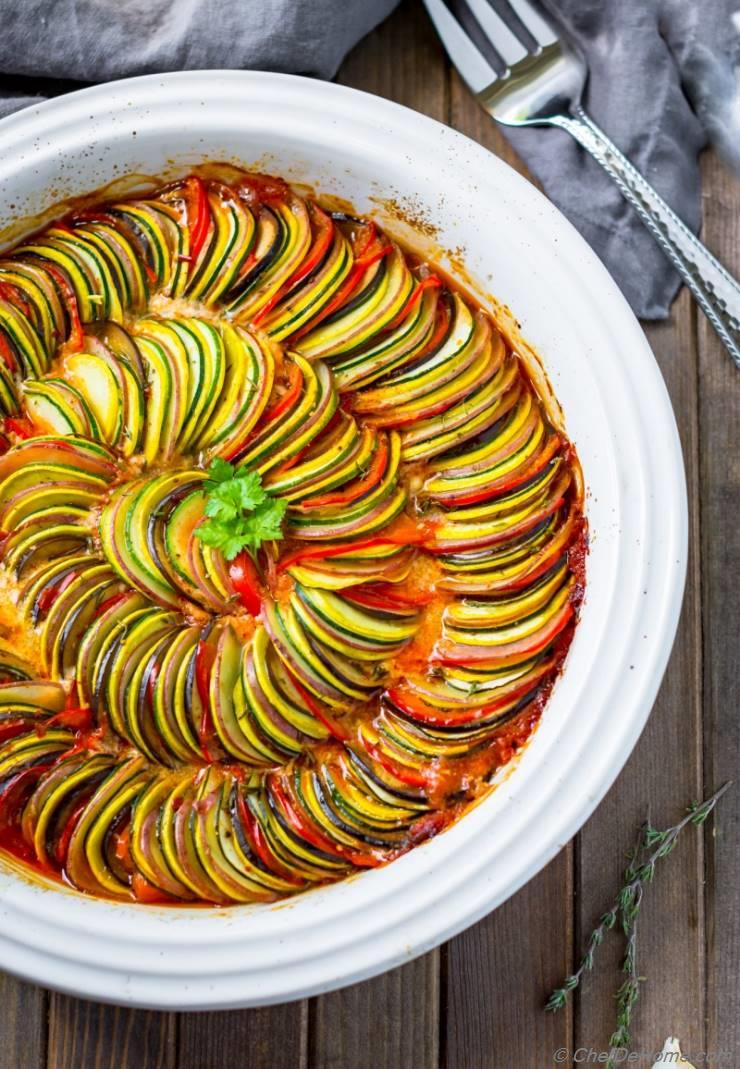 Ratatouille is a delicious and healthy dish that originated in the town of Nice, France. It's typically made with eggplant, zucchini, tomatoes, onions, and peppers and can be served as a side dish or as a main course. This recipe is vegan and gluten- free, making it a great option for anyone looking for a delicious and nutritious meal.
Ratatouille is a versatile dish that can be enjoyed by everyone. It's full of flavor and can be eaten as a side dish or as part of a main meal. This recipe is typically made with eggplant, zucchini, tomatoes, onions, and peppers which gives it plenty of variety. Whether you're looking for something healthy to eat or you just want to try something new, ratatouille is the perfect choice!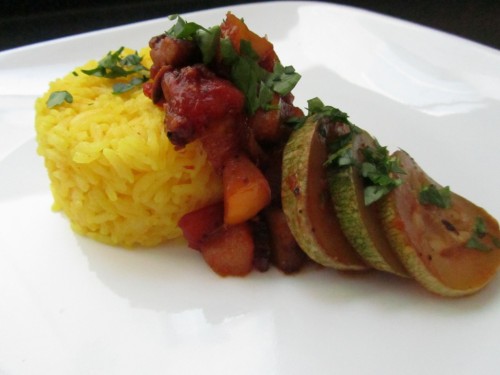 Vegan Ratatouille
Ratatouille is a classic French dish made from layers of vegetables, spices, and sauce. It is a delicious and healthy dish that can be enjoyed by vegetarians and meat-eaters alike. In this blog post, we are going to share a vegan ratatouille recipe that is sure to please. The ingredients for this dish are simple, and the instructions are easy to follow. So, whether you are a beginner or a seasoned chef, this ratatouille recipe is sure to please. We hope you enjoy it!
Ingredients
2

tbsp

olive oil

1

yellow onion

diced

1

yellow bell pepper

diced

2

summer squash

sliced into ½ inch thick rounds

4

large peeled & chopped tomatoes

2

cups

of mushrooms of choice

2

garlic cloves

minced

1

tsp

thyme

1

tbsp

fresh parsley

Salt & Pepper to taste
Instructions
Add onion and cover for 5-minutes.

Add bell pepper, garlic, salt and pepper, and combine.

Cook covered for 10-minutes.

Stir in squash, tomatoes, mushrooms, and thyme.

Cook for until vegetables are tender, about 20-minutes.

Sprinkle with parsley and serve hot with rice.
Notes
Ratatouille is a delicious and healthy dish that can be made with a variety of different vegetables. It is easy to make and can be served with many different sides. Be creative with your ingredients and get creative with your ratatouille dish!
Nutrition
Serving:
1
serving
Calories:
100
kcal
Carbohydrates:
8
g
Protein:
2
g
Fat:
7
g
Saturated Fat:
1
g
Polyunsaturated Fat:
1
g
Monounsaturated Fat:
5
g
Sodium:
5
mg
Potassium:
375
mg
Fiber:
2
g
Sugar:
3
g
Vitamin A:
364
IU
Vitamin C:
76
mg
Calcium:
30
mg
Iron:
1
mg
Substitutions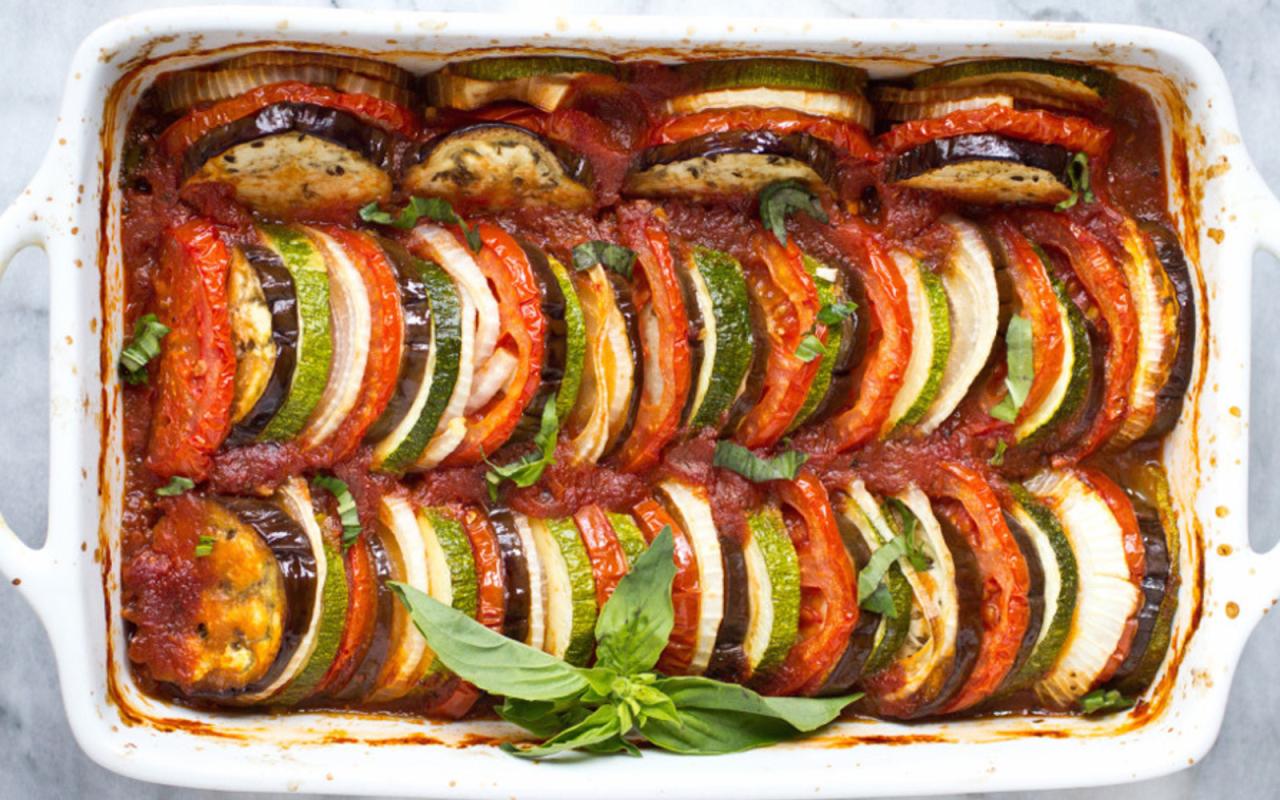 Ratatouille is one of the most popular dishes in France, and for good reason. It's a delicious mix of vegetables, and it's great to enjoy during the summertime. If you're looking to make ratatouille vegan, you're in luck! This recipe is very flexible, so feel free to make substitutions as you see fit.
For example, if you can't find one of the vegetables listed in the recipe, feel free to use another type of vegetable in its place. Or, if you want to add more flavor to your ratatouille, feel free to experiment with different herbs and spices. Ratatouille is a great dish for any time of year, so there's no reason not to enjoy it vegan-style too!