If you're looking for an easy and delicious way to celebrate St. Patrick's Day, try barbecued seitan ribs! These ribs are made with seitan, a wheat protein that is often used in vegan and vegetarian cuisine. The seitan is then barbecued until it's crispy and savory. In this recipe, we'll show you how to make the ribs and BBQ sauce, as well as provide a few variations that you can try. So if you're looking for a delicious and easy St. Patrick's Day meal, give these ribs a try!
Finger licking good Barbecue Ribs! Oh, and these are Vegan Ribs! Who would've thought, right?! I have been curious about Seitan and wondered what it tastes like really. I didn't think I would be able to find any in my town here in Mexico but I gave it a shot and yes! Vital Wheat Gluten (Seitan) is available at a little health food store not too far away. So first things first, we have to barbecue this stuff up. I mean you can throw anything on a charcoal grill and it will taste good.
Cooking these up require some baking time and then a little grilling time. The anticipation was killing me. As soon as they were off the grill I took a piece of the corner rib and popped it in my mouth. Haw…Hawhaa…HOT! I basically burned my mouth insides pretty bad! Don't do that ladies and gentlemen, wait for the food to cool.
Delicious Rating: So how do they taste? Like rib meat! Believe it not, I am serious. Rib meat without the bone. The second time I made these for a BBQ with some friends. One thought that they were actually ribs and I had taken the bones out! I think grilling them over charcoal really infuses that deep BBQ taste. Plus, the sauce was super delicious so nobody was thinking that it wasn't real meat. So I like seitan ribs! I am excited to cook more with this vital wheat gluten and share my delicious (hopefully) easy recipes with you!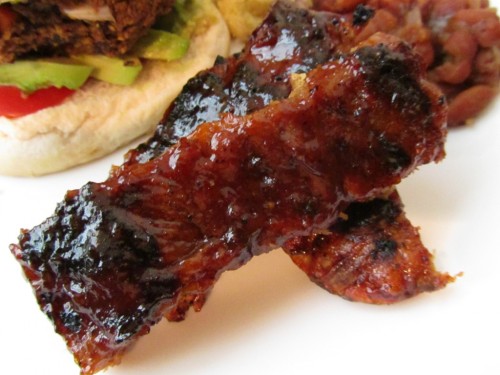 Barbecued Seitan Ribs and BBQ Sauce
Try something different this St. Patrick's Day with barbecued seitan ribs! This easy and delicious recipe will be a hit with everyone.
Ingredients
1

cup

vital wheat gluten

2

tsp

smoked chipotle powder

2

tbsp

lemon pepper

2

tsp

onion powder

2

tsp

garlic powder

1

cup

water

2

tbsp

tahini

2

tbsp

soy sauce
BBQ Sauce:
2

cups

ketchup

1

cup

water

½

cup

apple cider vinegar

5

tbsp

brown sugar

5

tbsp

white sugar

1

tbsp

black pepper

1

tbsp

onion powder

1

tbsp

wet mustard

1

tsp

dry mustard

1

tbsp

lemon juice

1

tbsp

Vegan Worcestershire sauce
Instructions
Start with Barbecue sauce.

Combine all ingredients in a saucepan.

Bring to a boil and reduce heat to simmer.

Cook for an hour stirring frequently.

Preheat oven to 350 degrees F.

Lightly oil an 8×8 baking dish.

Combine the dry ingredients, first 5, together in a large bowl.
If you let the liquids and wheat gluten sit together for too long it will become an unstretchable dough, so work fast once combined.
In a small bowl combine water, tahini, and soy sauce.

Add wet to dry ingredients once just combined start to knead the dough lightly until all is well combined.

Put dough into baking dish and flatten it out to evenly fit in pan.

Cut into 8 strips and then down the middle to form 16 'ribs'.
When I cut the seitan into strips, It could see that the consistency was so similar to meat. Pretty amazing.
Remove 'ribs' from the oven and gently re-cut the strips so that they will pull apart easily after being grilled.

Generously brush with BBQ sauce.

Place 'ribs' BBQ sauce side down on the grill.
They smell so good cooking over charcoal. Plus the grill marks give that flavor of bbq'd meat that you can't get off of any gas grill.
Brush remaining side with BBQ sauce.

Grill each side until it is nicely browned or charred, based on your preference.

Serve immediately.
Notes
This recipe is perfect for your next summer BBQ. The ribs are tender and full of flavor, and the BBQ sauce is the perfect finishing touch. Give this recipe a try and let us know how you liked it in the comments below. Happy grilling!
Nutrition
Serving:
1
rib
Calories:
108
kcal
Carbohydrates:
19
g
Protein:
7
g
Fat:
1
g
Saturated Fat:
0.2
g
Polyunsaturated Fat:
1
g
Monounsaturated Fat:
0.4
g
Sodium:
405
mg
Potassium:
144
mg
Fiber:
1
g
Sugar:
14
g
Vitamin A:
161
IU
Vitamin C:
2
mg
Calcium:
31
mg
Iron:
1
mg
Barbecued Seitan Ribs and BBQ Sauce Notes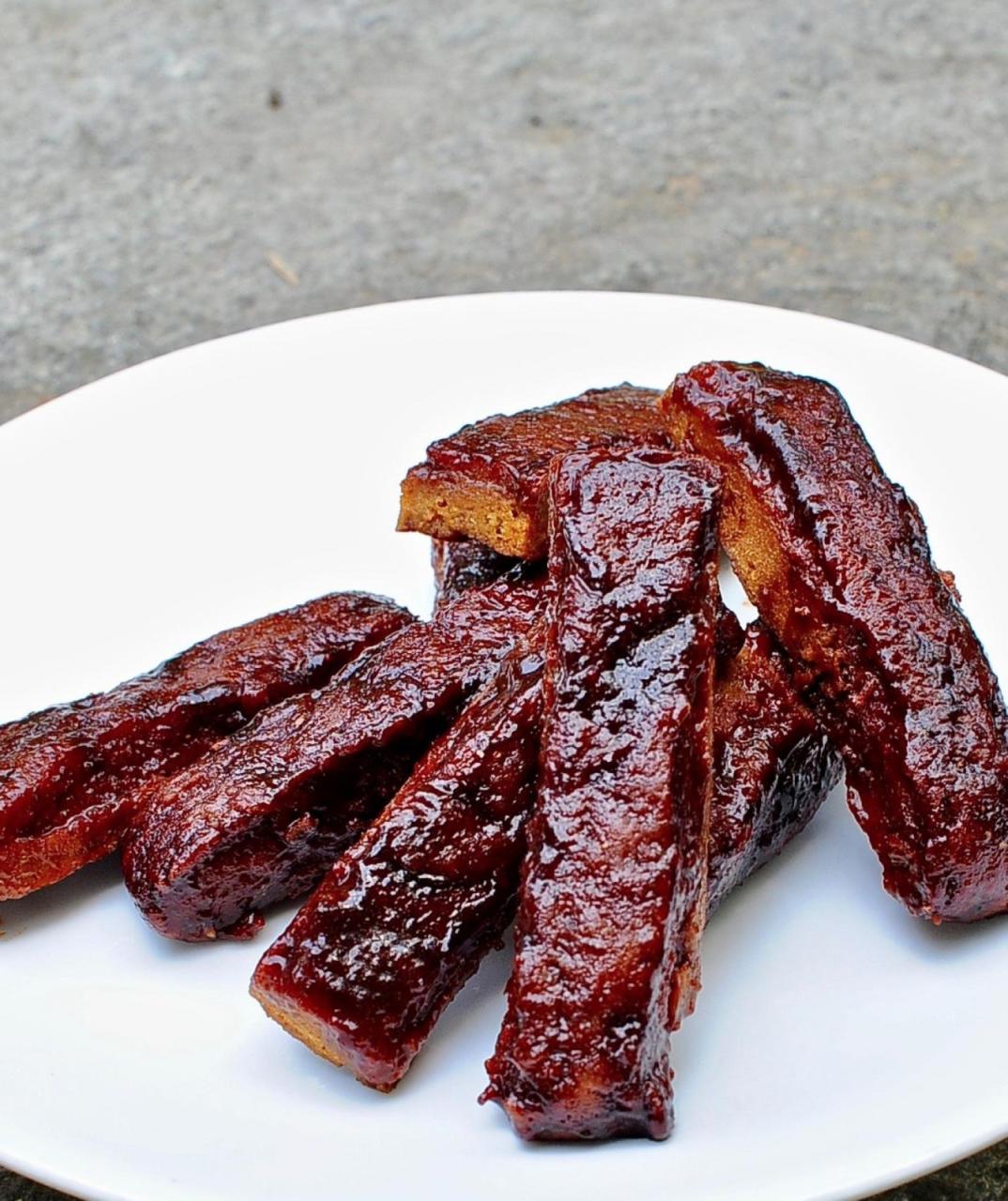 If you're looking for a delicious and easy vegan option for your next barbecue, try barbecuing seitan ribs. These ribs are made from wheat gluten, which has a meat-like texture and flavor. They can be baked or barbecued, and they're perfect for any vegan who loves meat-free foods.
To make these ribs, you will need: seitan, vegetable broth, onion powder, garlic powder, salt, pepper, olive oil or vegan butter (for the pan), blackstrap molasses (for the bbq sauce), and whatever other spices you want to add (such as cumin). Once you have all of your ingredients assembled and ready to go, start by heating up your oil or butter in a large skillet over medium-high heat. Once hot, add the seitan ribs and cook for about five minutes per side until they are golden brown and cooked through.
Once the seitan ribs are cooked through, it's time to make the bbq sauce. In a small bowl or measuring cup, whisk together the blackstrap molasses and desired spices until well combined. Pour this mixture over the cooked seitan ribs and enjoy! The bbq sauce can be stored in an fridge for up to 2 weeks before serving. Whether you're having this meal at home or enjoying it at a party – barbecued seitan ribs are sure to please!
Variations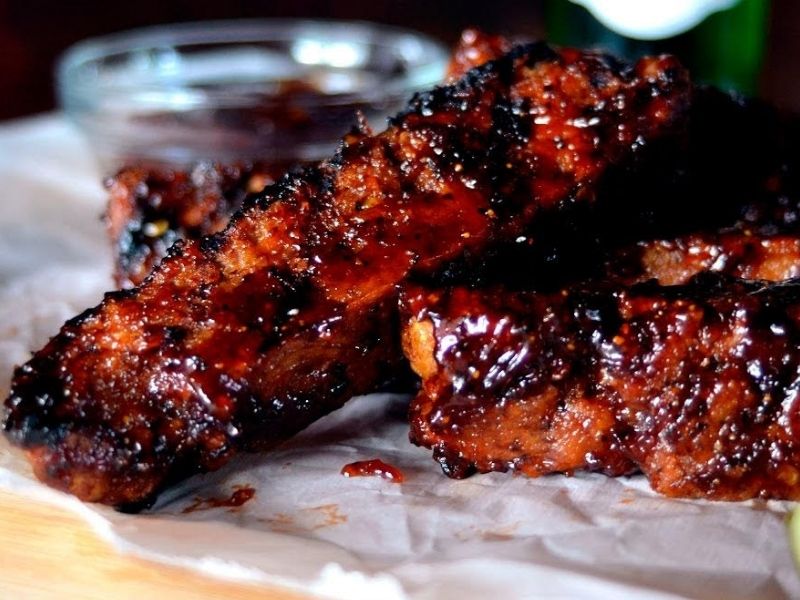 There's nothing like a good barbecued rib, and with a little preparation, you can have them on the table in no time. Seitan ribs are a delicious vegan alternative to traditional meat ribs, and they're easy to make. In this section, we'll outline the steps that you need to take in order to create delicious seitan ribs that will impress your friends and family.
First, you'll need some wheat gluten – either purchased or made at home. Seitan is made from wheat gluten, so it's a great option for those seeking high-protein vegan meals without all of the fat. Once you have your wheat gluten ready, it's time to start cooking. For these seitan ribs, we recommend baking them in the oven at 375 degrees Fahrenheit for about 30 minutes or grilling them over medium-high heat for about 20 minutes until they're crispy and browned all over.
Once they're cooked, it's time to assemble your dish. We recommend serving them with BBQ sauce (made from maple syrup, garlic powder, onion powder and liquid smoke), smoked paprika, black pepper and vegan Worcestershire sauce. You can also enjoy them with some steamed vegetables on the side for an extra nutritional boost. Whether you make these seitan ribs for dinner tonight or store them in the fridge for later on in the week – everyone will love them!