Lentil soup is a warming, hearty soup that is perfect for cold winter days. And, if you're looking for a hearty, spicy soup that will warm you up from the inside out, look no further than this hot and spicy lentil soup recipe. In this recipe, you'll use lentil soup as the base, and then add in some fiery spices to make it truly hot and spicy. Not only will you enjoy this soup for its delicious flavor, but you'll also be able to enjoy it for its health benefits. Lentil soup is a great source of fiber, protein, and vitamins, making it a healthy and nutritious meal. So, if you're looking for a hearty and warming soup that will fill you up and make you feel good, give this hot and spicy lentil soup recipe a try.
There has been a lot of changes to my diet and eating habits over the last few month. More fruits & veggies, less junk & processed food, portion control…you know, those sort of things. But I also have been trying to utilize food I have already at home to create a delicious meal. I succeeded with the Hot & Spicy Lentil Soup. I love soup and my DH loves soup as well. Something about eating hot soup in hot weather really is refreshing. This delicious dish of mine is being shared in my 2nd (yes, I am going to count) food blog event! "My Legume Love Affair" is organized by The Well-Seasoned Cook and hosted this month by Kannada Cuisine. How exciting!
Delicious Rating: This easy recipe meal anyone can cook, from beginner to top chef. The spices will fill your home with such a wonderfully delicious aroma that you will want to cook it again. Some of the spices are Indian based but the soup didn't really taste Indian at all. Reduce the Cayenne Pepper and cut out the serranos for a more mild but flavorful soup.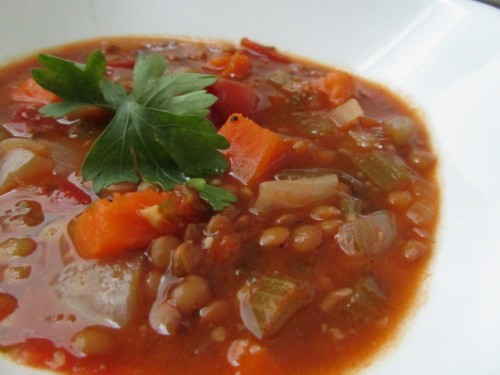 Hot and Spicy Lentil Soup
Try this delicious and hearty hot and spicy lentil soup recipe that is perfect for cold winter days
Ingredients
2

cups

brown lentils

picked over & rinsed

2

tbsp

olive oil

1

onion

chopped

10

stalks of celery

chopped

1

sweet potato

diced

1

carrot

diced

3

garlic cloves

minced

3

tsp

ginger

fresh, minced

3

serrano chilies

minced

2 14.5

oz

cans of tomatoes

I had canned cherry tomatoes on hand

2

tsp

cumin

2

tsp

coriander

4

tsp

cayenne pepper

9

cups

vegetable stock

½

cup

fresh cilantro

finely chopped

Salt & Pepper to taste
Instructions
In a large pot, heat oil over medium heat.

Add onion, celery, sweet potato, carrot, and garlic to pot; cover and cook for 10-minutes.
This is what I call a 'Pantry & Fridge' recipe. All the ingredients are most likely in your pantry and fridge right now, which makes this an easy go to recipe.
Add tomatoes, ginger, cumin, coriander, serranos, and cayenne.

Combine well.

Stir in Lentils and vegetable stock and bring to a boil.
The cherry tomatoes where perfect for this soup. They were spoon sized  and not overly large with a lot of skin like some tomatoes…(I won't say anyone's name!)
Reduce heat to low, cover and simmer for 40 minutes.

Stir in Cilantro and Salt & Pepper to taste.

Cover and cook for another 15-minutes.

Serve hot.
Notes
In conclusion, making your own snacks is a great way to save money and control what goes into your food. With a little planning and some creativity, you can easily whip up some delicious and healthy snacks at home. So next time you get a craving, try reaching for something homemade instead of store-bought. Your body—and your wallet—will thank you!
Nutrition
Serving:
1
bowl
Calories:
257
kcal
Carbohydrates:
42
g
Protein:
13
g
Fat:
4
g
Saturated Fat:
1
g
Polyunsaturated Fat:
1
g
Monounsaturated Fat:
3
g
Sodium:
1088
mg
Potassium:
666
mg
Fiber:
17
g
Sugar:
6
g
Vitamin A:
6397
IU
Vitamin C:
7
mg
Calcium:
56
mg
Iron:
4
mg
Serving Suggestions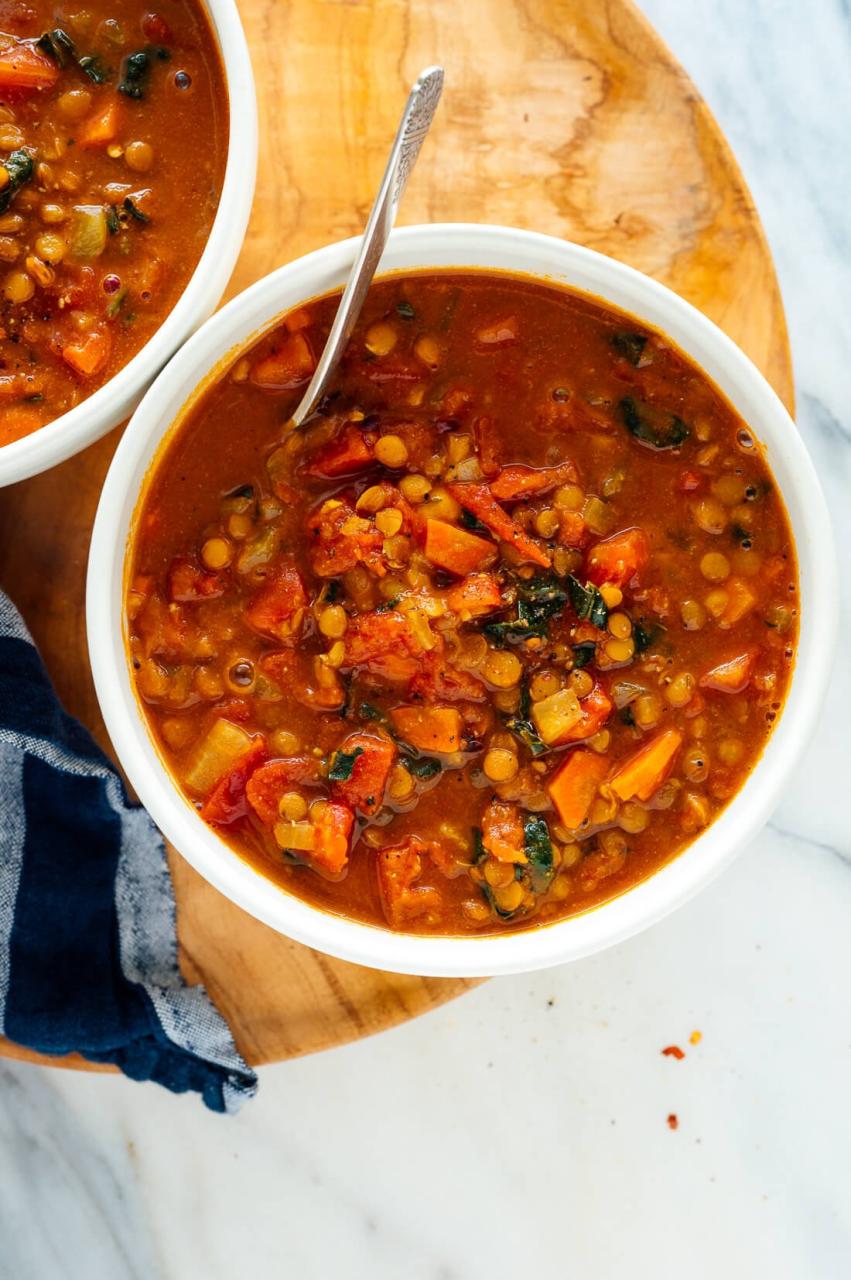 Looking for a delicious and hearty soup recipe? Look no further than this Hot and Spicy Lentil Soup recipe. This soup is perfect for chilly days or winter weather, and it can be served in a variety of ways to suit your taste. Here are some serving suggestions to get you started:.
– Enjoy the soup straight from the pot, topped with a sprinkle of cilantro and lemon juice if desired.
– Try the soup as part of a bowl lunch with some cooked quinoa or brown rice on the side.
– For something extra special, serve the soup with crispy tortilla chips as an appetizer.
Variations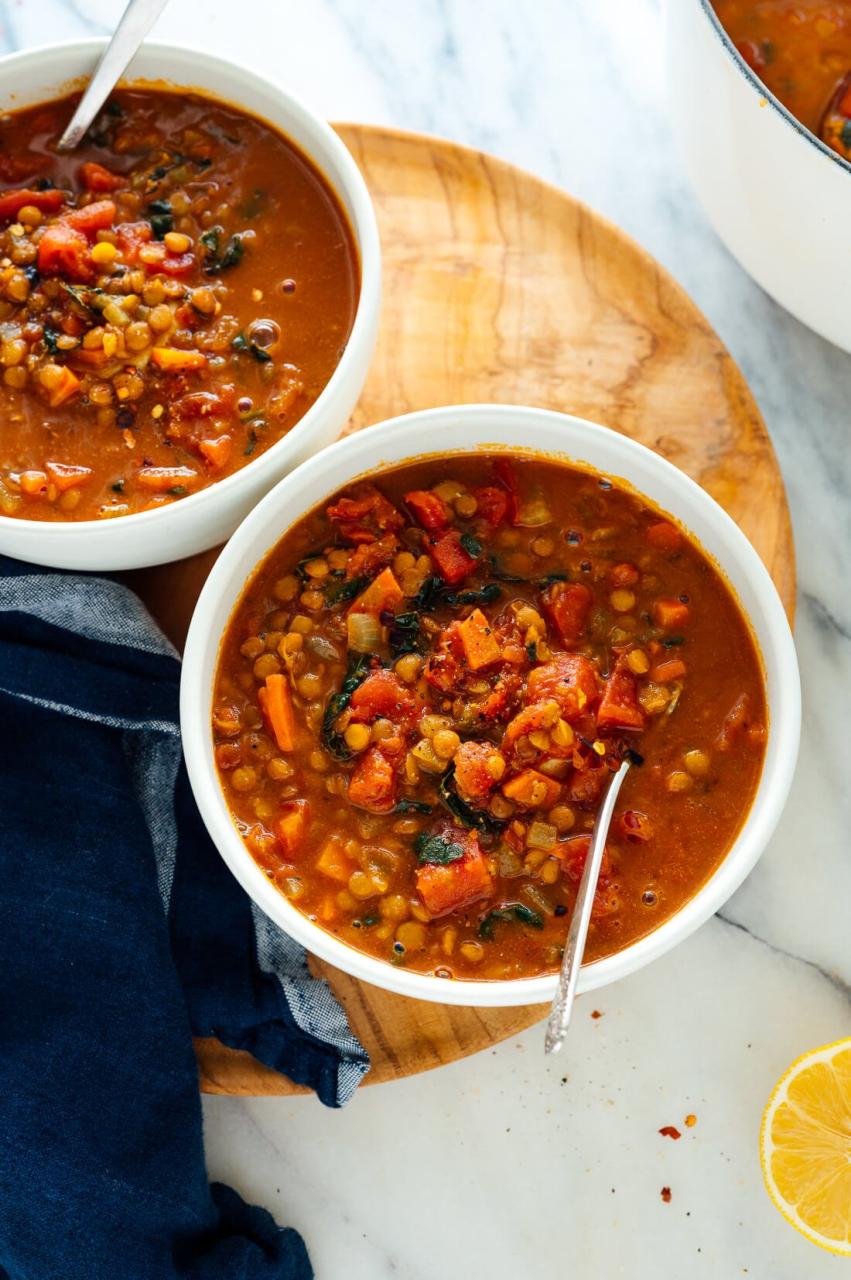 Are you looking for a delicious and spicy soup recipe? Look no further than our Spicy Lentil Soup recipe! This soup is perfect for a cold winter day or for any time of the year. It's easy to make, and it can be made in a variety of ways to suit your needs.
Our first variation is made with sausage. If you're not vegetarian, adding sausage will give you a delicious and hearty broth. Our second variation is vegetarian, and it doesn't include any sausage at all. Both variations are delicious and will warm you up from the inside out. The soup can also be made in a Crock Pot if you want to save time on your busy schedule.
If you're looking for an amazing lentil soup recipe that will leave you feeling satisfied, our Spicy Lentil Soup recipe is the perfect option! Give it a try today and see just how good it can be!