Soups are the quintessential staple in food history. They are cheap and easy to cook up. Comforting on a cold day and perfect to start a multiple course meal. My DH loves soup. Whether hot or cold, smooth or chunky, he always tends to give me a standing ovation for the ones I cook! I always try to cook soup on one of my busy days during the week. They are just so easy and you can always double the batch and freeze for another time. Pureed soups are rich and creamy (without the cream) so combining flavors that go together are a must. Tomato & Basil are fraternal twins, so different but they ultimately are a perfect pair.
This is also a great healthy Tomato Basil Soup . It is full of veggies and all of their great benefits, plus it is Vegan & Vegetarian! If you make this a night or two before, you can put into a thermos or microwaveable container and take to work!
Delicious Rating: This easy recipe for soup can be made by a beginner…I hope. The steps are so easy: chop, boil, blend, boil! What could go wrong? If you are a true tomato & basil lover than this soup is for you. I think I would add cream or some sort of dairy to it next time for a different flavor but that is my own personal preference. My DH enjoyed it and said it was better than all those canned soups he grew up eating! I served this Tomato Basil soup with some french bread but would also go great with a grilled cheese sandwich!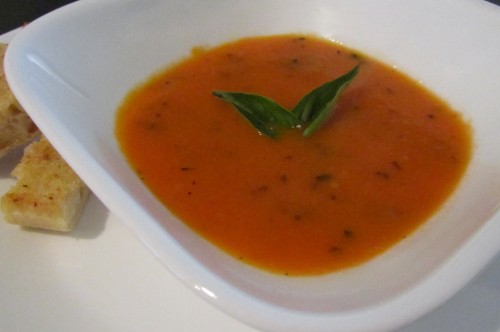 Tomato Basil Soup
Looking for a delicious and comforting soup recipe? Look no further than Tomato Basil Soup! This soup is perfect for a cold winter day, and it's easy to make. Just follow the simple instructions below, and you'll be enjoying a delicious bowl of soup in no time.
Ingredients
4

large ripe tomatoes

½

cup

of fresh basil

chopped

2

tbsp

vegetable oil

1

onion

chopped

1

carrot

shredded

1

tsp

sugar

2

cups

vegetable broth

1

tsp

salt
Instructions
Cut each tomato in half and squeeze out seeds.

Chop up tomatoes.

In a saucepan, heat oil over medium heat.

Add onion and carrot and cook until tender.

Add tomato and sugar and bring to boil.

Cover and reduce heat and let simmer for 15-minutes.

Pour half of tomato mixture in blender and blend on low until smooth.

Pour into a large bowl and repeat with second half.

Return all to saucepan and stir in chopped basil, broth, and salt; heat over medium heat for 5 minutes.

Serve hot or cold.
Notes
This delicious tomato basil soup recipe is the perfect way to enjoy the taste of summer all year round. With just a few simple ingredients, you can have a hearty and healthy soup that is sure to please the whole family. Give this recipe a try today and be sure to let us know how it turned out in the comments below.
Nutrition
Serving:
1
bowl
Calories:
109
kcal
Carbohydrates:
11
g
Protein:
2
g
Fat:
7
g
Saturated Fat:
1
g
Polyunsaturated Fat:
4
g
Monounsaturated Fat:
2
g
Trans Fat:
0.04
g
Sodium:
1069
mg
Potassium:
381
mg
Fiber:
2
g
Sugar:
7
g
Vitamin A:
3823
IU
Vitamin C:
20
mg
Calcium:
24
mg
Iron:
0.4
mg
Tips for making the perfect tomato basil soup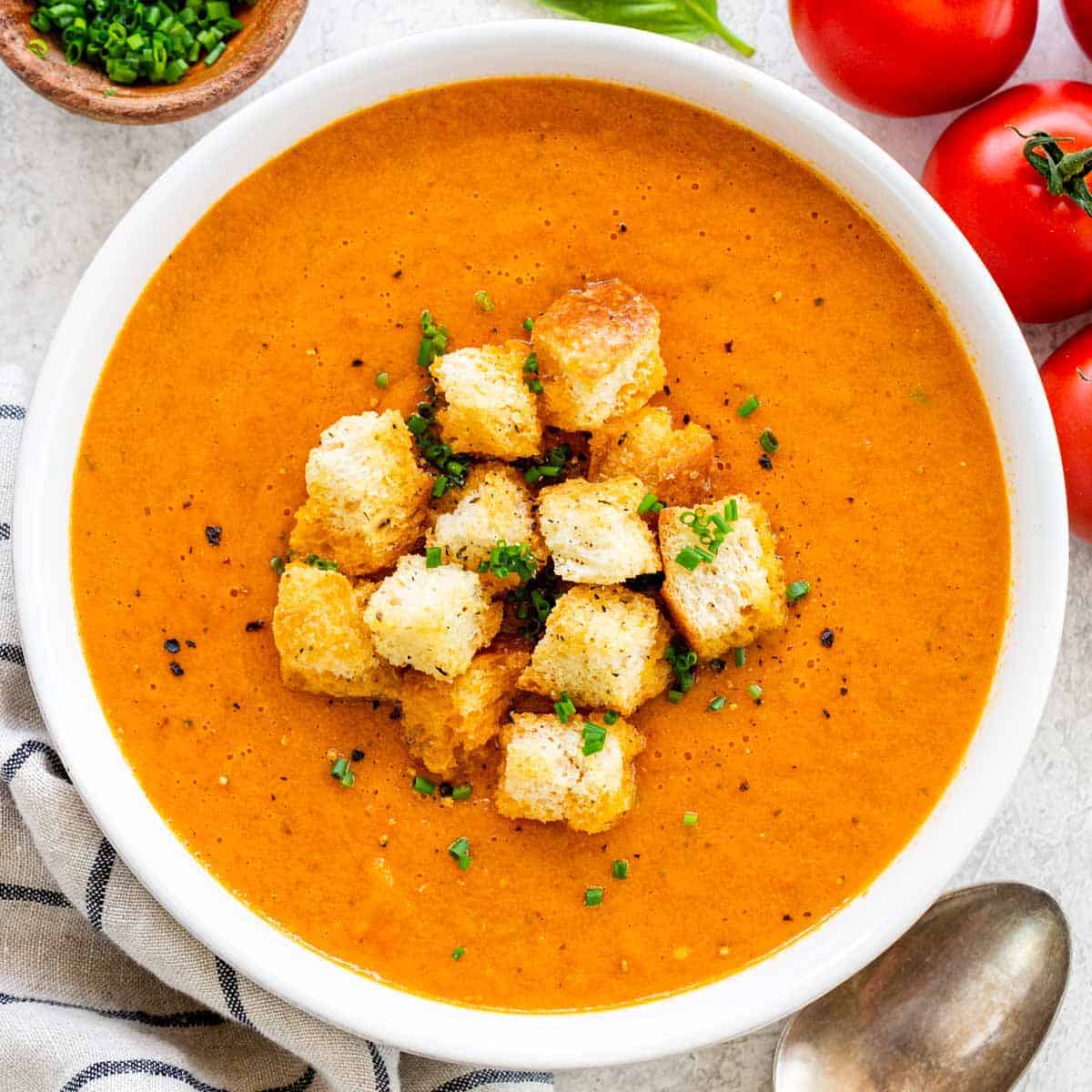 The perfect tomato basil soup is all about balance. You want to start with a good quality tomato soup base and then add in fresh basil leaves to taste. The key is to not overdo it with the basil – a little goes a long way. Once you have the perfect soup base, you can then add in any other desired toppings, such as croutons, shredded cheese, or a dollop of sour cream. Enjoy!
There are a few key things to keep in mind when making the perfect tomato basil soup.
First, be sure to use fresh tomatoes and basil – this will make all the difference in the flavor of the soup.
Second, be sure to simmer the soup long enough to allow the flavors to meld together – at least 30 minutes.
Finally, don't be afraid to add a bit of cream or cheese to the soup – this will give it a rich and creamy texture that is absolutely delicious.
Storage and Leftovers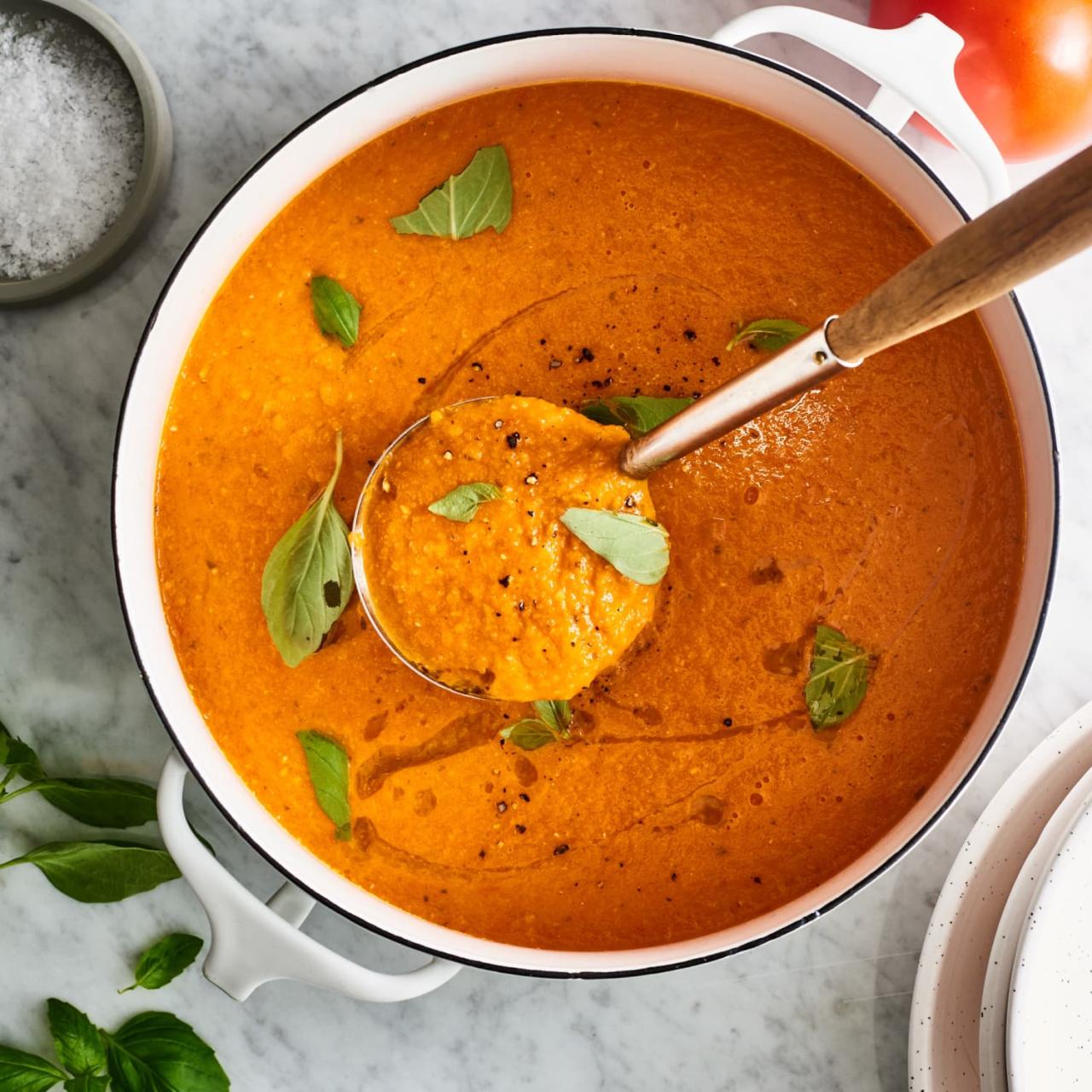 How to freeze tomato basil soup for later
If you're looking for a delicious and easy way to enjoy tomato soup all winter long, freezing it is the way to go! Here's how to freeze tomato basil soup for later:
1. Make a batch of tomato soup using your favorite recipe, or try this one.
2. Let the soup cool completely.
3. Pour the soup into freezer-safe containers, leaving about an inch of headspace at the top.
4. Seal the containers tightly and label them with the date.
5. Place the containers in the freezer.
6. When you're ready to enjoy the soup, thaw it in the fridge overnight and reheat on the stovetop. Add a fresh basil leaf or two for garnish, and enjoy!
How to reheat tomato basil soup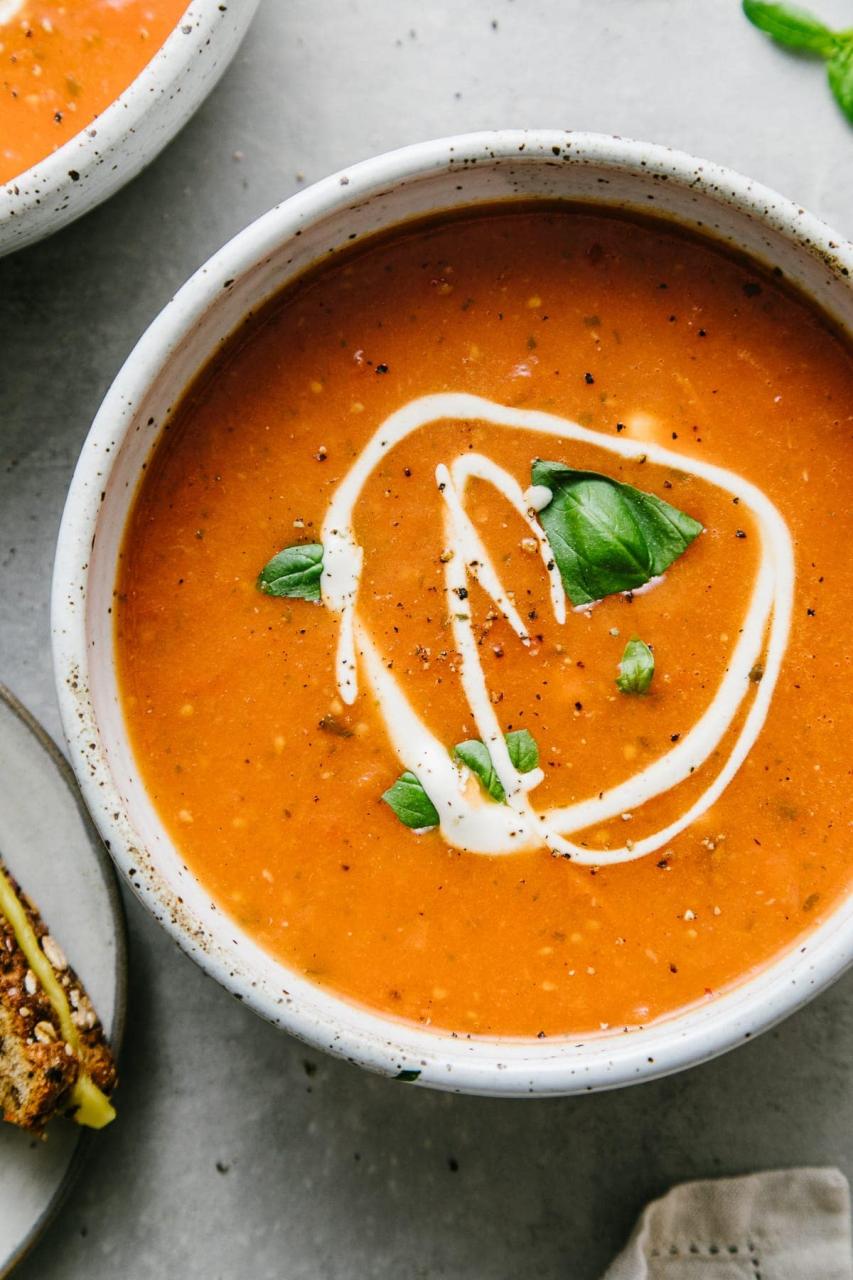 There are a few different ways that you can reheat your tomato basil soup. One way is to put it back on the stove over low heat and stirring occasionally until it is heated all the way through. Another way is to put it in a microwave-safe container and reheat it in the microwave for 1-2 minutes. You can also reheat it in a crockpot on low heat for about an hour.
What to serve tomato basil soup with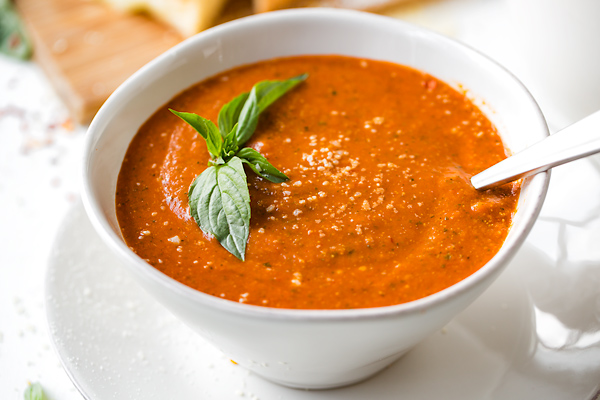 When it comes to tomato soup, there are endless possibilities for what to serve it with.
Depending on your preference, you could go the classic route and pair it with a grilled cheese sandwich.
Or, if you're looking for something a little lighter, you could serve it with a side of crusty bread.
If you're feeling adventurous, you could even try serving it with a grilled chicken sandwich.
No matter what you choose to serve it with, tomato soup is always a delicious and satisfying meal.
Nutrition facts for tomato basil soup
Tomato basil soup is a delicious and nutritious option for a quick and easy meal. This soup is packed with vitamins and minerals, as well as fiber and protein. Tomato basil soup is also low in calories and fat, making it a healthy option for those watching their weight. This soup can be enjoyed on its own or with a side of bread or crackers.
Tomatoes are an excellent source of vitamins A and C, as well as lycopene, an antioxidant that has been linked to several health benefits. Basil is also a nutrient-rich herb, containing vitamins A, C, and K, as well as iron and calcium. When combined, these ingredients create a soup that is not only delicious, but also good for you.
So, the next time you're looking for a quick and healthy meal, give tomato basil soup a try. You'll be glad you did!