When we were living in Mexico, one of the biggest things DH and I have missed from Cali is Sushi. Fresh seafood sushi. Spicy Tuna Rolls. California Rolls. Shrimp Tempura Rolls. Dragon Rolls. Rainbow Rolls. And the list goes on. For awhile we were back in the states often enough to get a sushi fix that would last a couple of months. But then we had this dry spell for basically 9 months! 9 months of no Sushi, who could live?! We decided to just buckle down and prepare some homemade sushi.
CookEatDelicious Rating: Sushi is a lot of work and takes a lot of time. Because I like walking in a sushi joint, ordering, and eating very soon, I didn't enjoy the whole process of Sushi making. But we didn't really have a choice. Everything was Delicious. We prepared spicy tuna, crab mix, shrimp tempura, and sashimi for a variety of rolls. My DH makes up some California Rolls a lot now, since those are the easiest to prepare. As for the rest of the rolls, I think I will wait until I am stateside again! But again, these Sushi Recipes are easy, delicious and great. So if you like to prepare Homemade Sushi, try out one of the following recipes.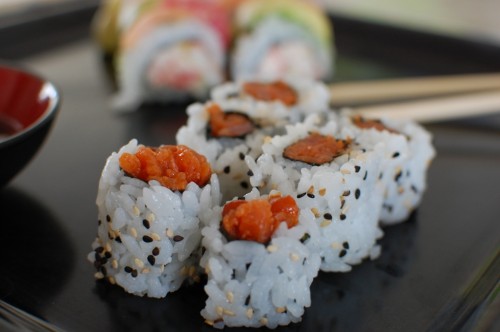 Homemade Sushi Rolls
If you're a fan of sushi, you know it can be expensive to get a meal delivered. In this blog post, we'll show you how to make your own sushi at home, starting with sushi rice. This is the foundation of all sushi and a simple process with just a few ingredients
Ingredients
Rice:
4

cups

of prepared Sushi Rice

½

cup

Rice Vinegar

¼

cup

White Sugar

1

tbsp

Vegetable Oil

½

tsp

Salt
Spicy Tuna:
Tuna Fillet

thinly diced

Sriracha Sauce or other hot Asian Chili Sauce

to taste
Crab Mix:
4

imitation Crab Sticks

2

tbsp

Mayonnaise

Shrimp Tempura: 8 large Shrimp or Prawns

Tempura Mix

Oil for frying
Sashimi:
Tuna Fillet

thinly sliced

Salmon Fillet

thinly sliced
Other:
Cucumber

skinned, seeded, julieened lengthwise

Avocado

sliced

Wasabi powder

Pickled Ginger slices

Soy Sauce

Toasted Sesame Seeds

4-8

Nori Sheets
Instructions
Prepare Sushi Rice according to package.

Once done, place in a large bowl.

In a saucepan, combine Rice Vinegar, sugar, oil, and salt.

Bring to a boil and mix until sugar is dissolved.

Pour mixture over rice and combine all evenly.

Allow rice to cool.

Mix water into wasabi powder, teaspoons at a time.

Thinly dice tuna fillet and add in Sriracha sauce until spicy level is reached.

Refrigerate Spicy Tuna mix.

Break up Crab sticks in a medium bowl.

Add mayo and mix well. Refrigerate crab mix.

Thinly slice tuna and salmon fillets for sashimi. Refrigerate immediately.

Prepare tempura mix according to box directions.

Fry shrimp and let drain on paper towels.

Place your sushi roller in a ziploc bag.

Cut Nori sheets in half.

Place the smooth side of the Nori down and add cooled rice to opposite side.

Sprinkle with toasted sesame seeds.

Place spicy tuna in a row by the edge.

Roll the nori using the sushi roller.

Be firm but gentle, don't squeeze.

Using a sharp knife, slice roll in half and then in three pieces each.

Start another roll with half a nori sheet, spread with rice, sprinkled with sesame seeds.

Add in Crab mix and a cucumber slice.

Place in a couple of Shrimp Tempura, roll and serve.

Prepare another Shrimp Tempura roll and place sashimi and avocado on top.

Wrap with a piece of saran in between the roller and roll.

Serve Sushi with wasabi, ginger, and soy sauce.
Notes
Sushi is a delicious and healthy Japanese dish that is perfect for any occasion. It is easy to make at home with the right ingredients and a little bit of know-how. With a little practice, anyone can make sushi that is just as good as what you would find in a restaurant.
Nutrition
Serving:
1
roll
Calories:
151
kcal
Carbohydrates:
25
g
Protein:
2
g
Fat:
5
g
Saturated Fat:
1
g
Polyunsaturated Fat:
3
g
Monounsaturated Fat:
1
g
Trans Fat:
0.02
g
Cholesterol:
1
mg
Sodium:
173
mg
Potassium:
14
mg
Fiber:
1
g
Sugar:
6
g
Vitamin A:
67
IU
Vitamin C:
0.5
mg
Calcium:
4
mg
Iron:
0.2
mg
5 Tips for making your homemade Sushi Rolls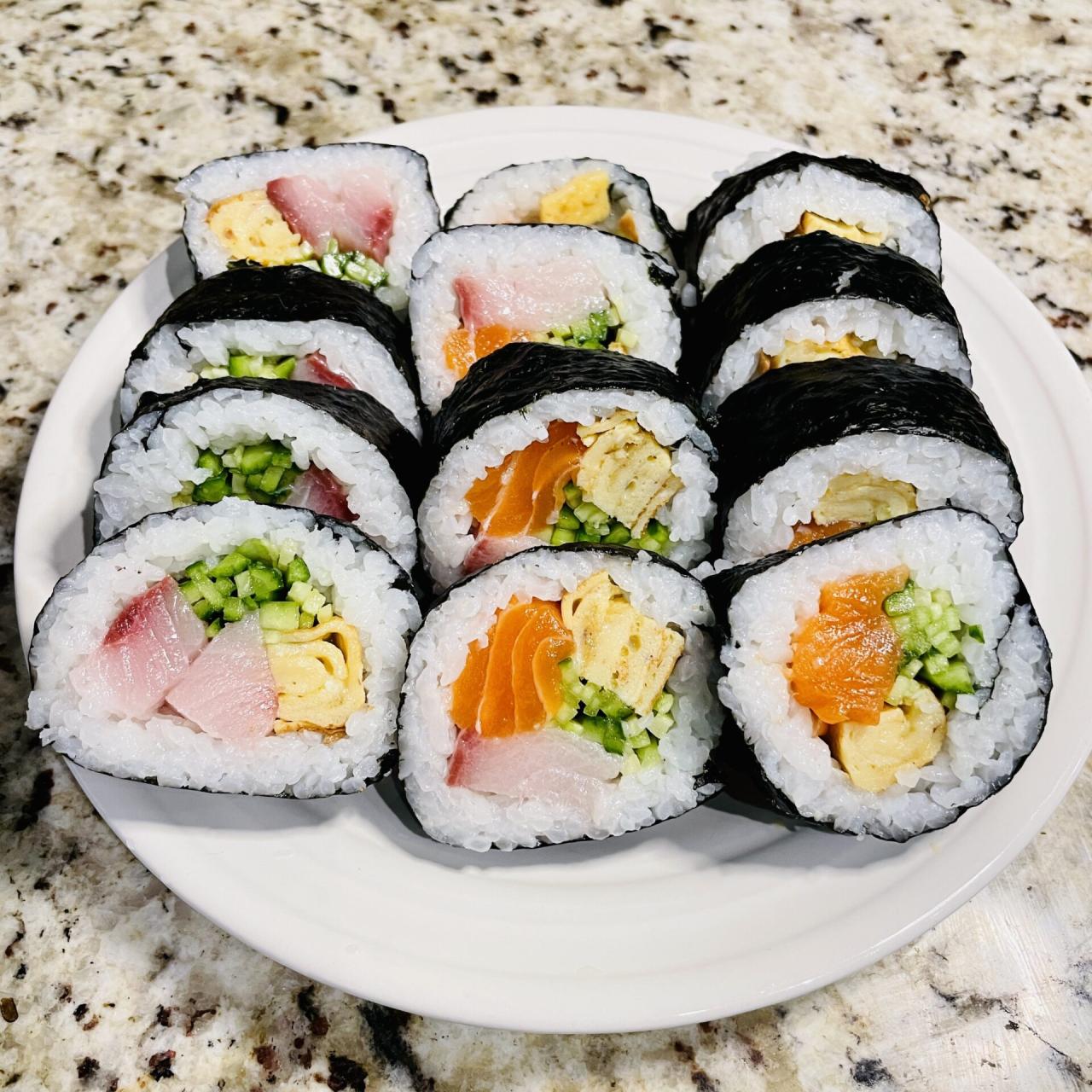 1. Sushi Rice
Sushi is one of the world's favorite foods, and for good reason. It's delicious, it's easy to make, and it can be enjoyed in many different ways. If you're interested in learning how to make sushi at home, we've got you covered. In this section, we'll outline the steps that you need to take in order to make sushi rice correctly.
To start off, you'll first need to gather all of your ingredients. These include sushi rice, water, vinegar, sugar, and salt. Next, prepare your rice cooker by pouring 1 cup of rice into it and filling it up with water up to the level indicated on the cooker. Stir the rice around so that all of the grains are evenly wetted before setting the timer for 10 minutes. After 10 minutes have passed, turn off the cooker and let the rice sit for another five minutes before fluffing it with a fork.
Now it's time to cook your sushi rice! Add 1 1/2 cups of water into your rice cooker and set it back on its cooking cycle. Once the cycle has started (it should beeping), add your sushi vinegar mixture and stir well until everything is combined. Be sure not to over-stir or else you will end up with mushy sushi Rice! Once everything is mixed together nicely, switch off the machine and let your sushi rice cool slightly before using it in any recipes!
2. Sushi Vinegar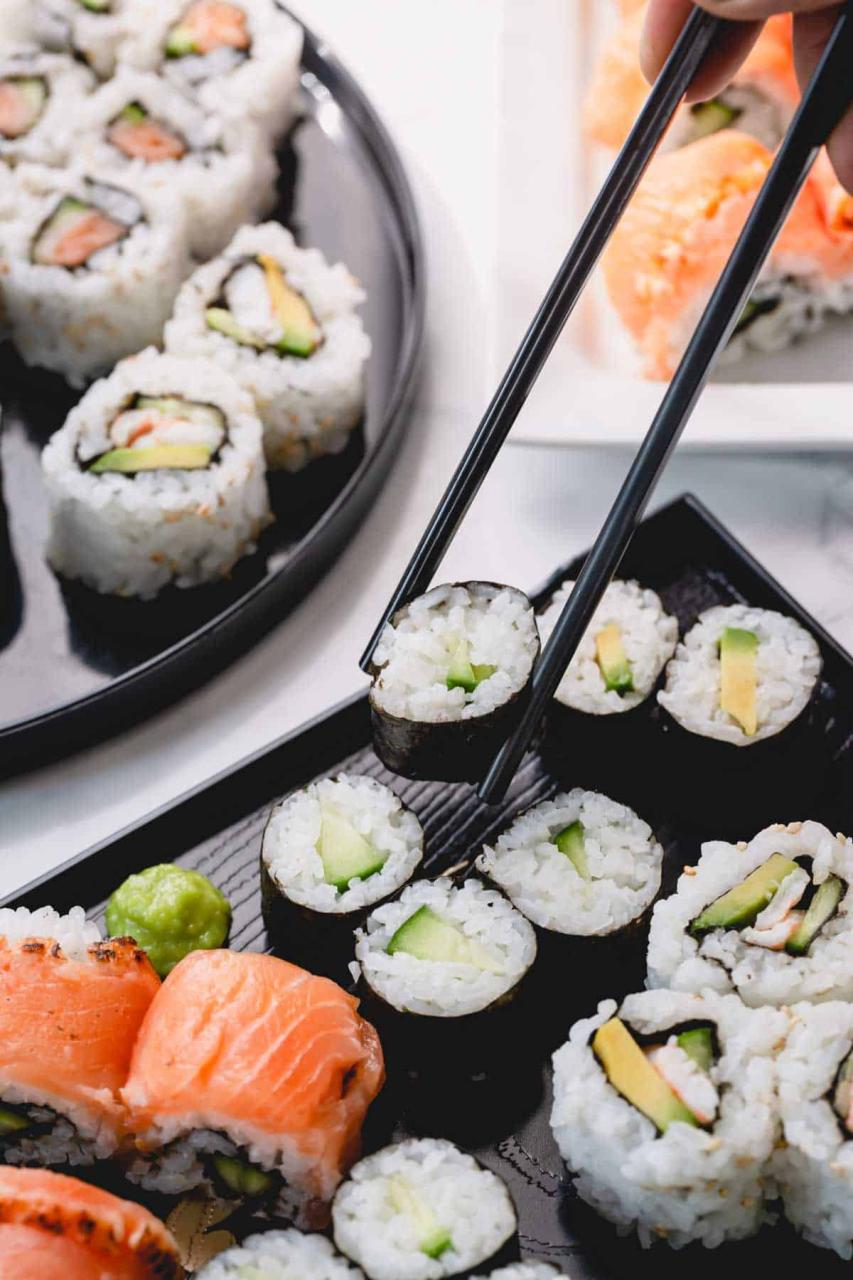 There's no need to go out to a sushi restaurant when you can easily make your own at home. Sushi vinegar is a simple and easy ingredient that can add an amazing flavor to your sushi rolls. Not only is sushi vinegar a great way to save money, but it's also a great way to impress your friends and family. By getting them involved in the kitchen, you'll be teaching them some valuable kitchen skills and having fun at the same time.
Sushi making is also a great way to get your whole family involved in the kitchen. By teaching them about how sushi is made, they'll be able to create delicious rolls of their very own in no time. Plus, by involving them in the process, they'll be more likely to eat healthy foods – something that's important for everyone! Sushi making is also a great way for couples or friends to bond over food – something that's never too late in life!
Lastly, let's talk about showmanship. Making perfect sushi rolls isn't just about knowing how to make them; it's about having the skill and confidence to put on a show for your friends and family. With sushi vinegar at your fingertips, there's nothing stopping you from putting on an amazing show for all of those who are lucky enough to attend!
3. Nori Seaweed Sheets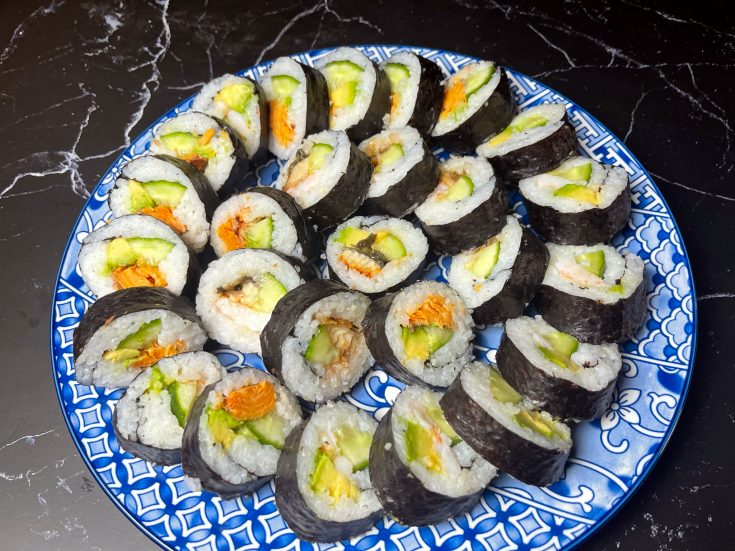 If you're looking for a delicious and healthy alternative to your traditional culinary options, look no further than sushi. Made from rice, seaweed, and other ingredients, sushi is a great way to pack in some nutrients and flavor. Not only is it hearty and filling, but it's also low in calories and cholesterol-free. In this section, we'll outline the steps that you need to take in order to create your own sushi at home.
First of all, you'll need some nori seaweed sheets. These sheets can be found in most Asian markets or online and are an essential ingredient in sushi. Nori seaweed sheets are easy to hold onto – even when wet – so they're perfect for beginners who are new to making sushi. Once you have your nori seaweed sheets, all you need is rice and other seafood ingredients to create your own delicious dish. Try out different combinations until you find something that suits your taste buds!
Sushi is a great way to get creative with your culinary options and explore new flavors without ever having to leave the comfort of your home kitchen. With the right ingredients and a bit of practice, creating your own sushi at home is easy peasy!
4. Fillings Of Your Choice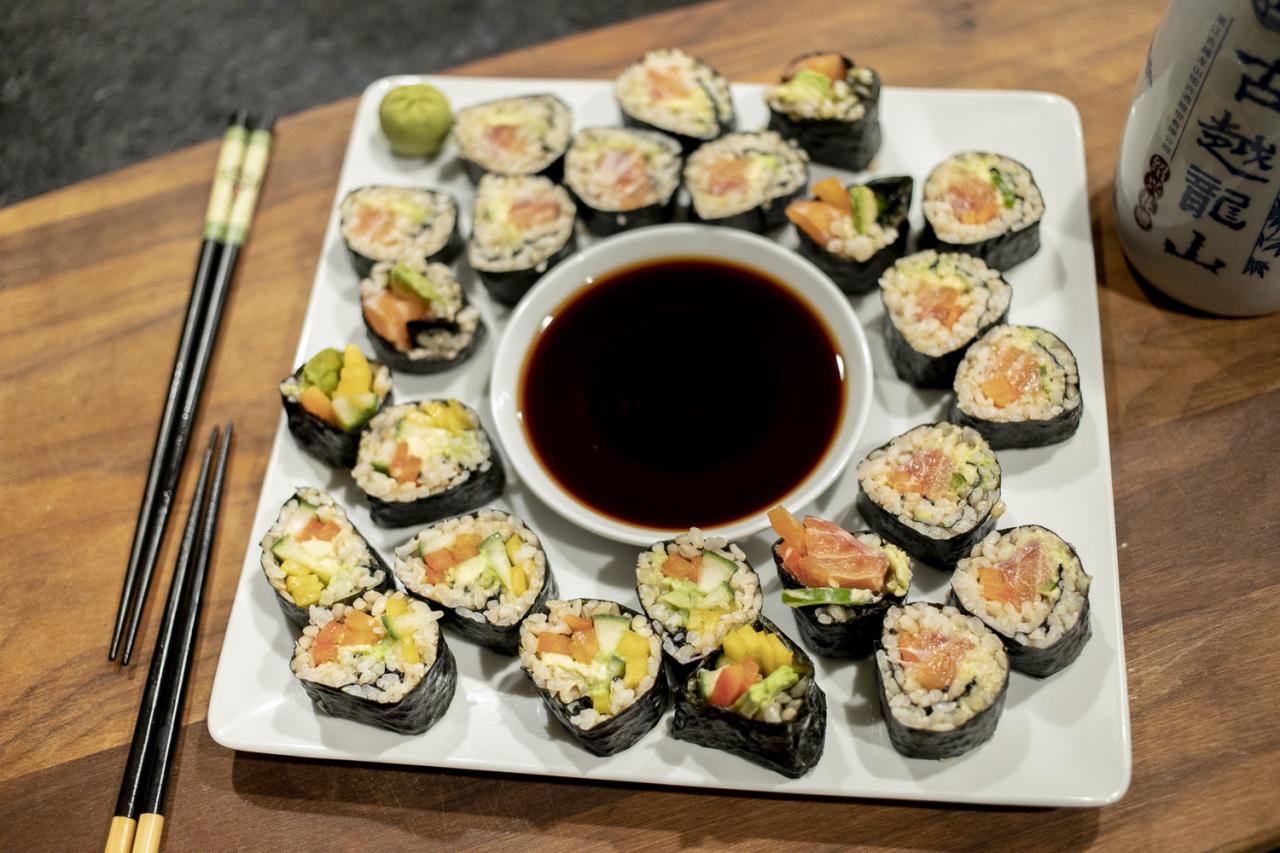 Are you looking for a fun and easy way to make sushi at home? Sushi rice, nori seaweed sheets, fillings of your choice (raw fish, cooked shrimp, cucumber, avocado, etc.), wasabi, soy sauce, and pickled ginger are all you need! In this section, we'll show you how to create your own sushi at home using these simple ingredients.
First thing's first: make sushi rice. Sushi rice is a short-grain rice that is traditionally used for sushi. It's quick and easy to make – just follow the instructions that come with your rice cooker. Once the rice is cooked and cooled down, it's time to prepare the other ingredients.
Nori seaweed sheets are dried seaweed sheets that are used to wrap sushi. They're available in most grocery stores and can be easily found near the sushi rolls or nigiri section. To prepare them for use in sushi rolls or nigiri bowls, simply wet them with water before placing them on a clean surface. Then place your fillings of choice on top of the wet Nori seaweed sheet and roll it up like a jellyroll.
Once everything is prepared, it's time to assemble your sushi bowl or roll! Start by placing a piece of nori seaweed sheet on the bottom of your bowl or roll (this will act as a liner). Next add a layer of sushi rice followed by your desired filling(s). Be sure to include plenty of wasabi paste and soy sauce before rolling up the edges of the Nori seaweed sheet together with chopsticks. Serve immediately!
5. Sushi Mat
Sushi is a delicious and popular Japanese dish that can be enjoyed at home. However, making sushi at home can be a bit tricky, especially if you're new to the art. That's where the sushi mat comes in!
The sushi mat is a key tool in making sushi at home. It is used to shape the sushi rice and nori sheets. Additionally, it can be used to place fillings on the rice and Nori sheets and then rolled up into a perfect sushi roll. Finally, use a sushi rolling machine to create your perfect roll!
Once you have mastered the art of making sushi at home, it's time to try out some of your favorite recipes. Try out our recipe for tuna rolls or our easy salmon rolls. With these recipes in hand, you'll be able to make delicious and healthy sushi right at home!