Looking for an easy and healthy tofu stir fry recipe? Check out our blog post for five delicious recipes that are perfect for any occasion!
I love a good stir-fry. Add in some fried tofu and OMGoodness, I am in paradise! This recipe is great with leftover vegetables and almost all the ingredients for the sauce are on hand in your pantry. Homemade Tofu Stir-fry is so much healthier and way more delicious than any restaurant could serve you. Plus, this is a Vegan & Vegetarian dish! Yay! But if you are not into that you can add as much meat to this recipe as you would like.
CookEatDelicious Rating: This meal has a few steps that can get a bit scary for a beginner cook (frying tofu, oh my!) but don't fret, the whole meal is done in about 20 minutes. A Quick and Easy recipe right? It is the perfect lunch in my house when I am craving rice and a little spice.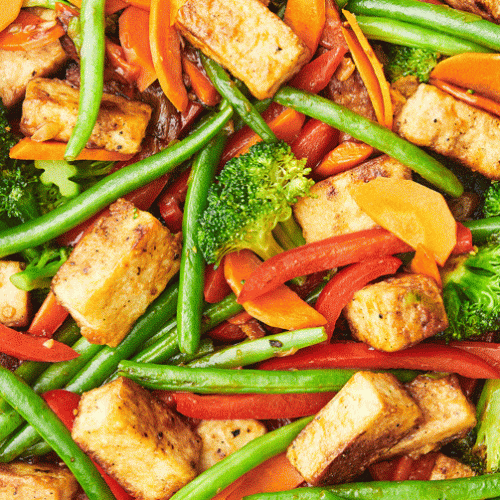 Tofu Stir Fry
Tofu is a versatile and healthy protein that can be used in a variety of dishes. In this blog post, we're going to share easy and healthy stir-fry tofu recipes that are perfect for any occasion.
Ingredients
3

cups

Broccoli florets

2

Carrots

julienned

1

pack of extra-firm Tofu

drained and pressed, Diced

⅓

cup

Cornstarch

Oil for frying

3

Green Onions

chopped

2

Garlic cloves

minced

1

tsp

Ginger

minced

1

cup

Vegetable stock

⅓

cup

Soy Sauce

2

tbsp

Brown Sugar

2

tbsp

Mirin

2

tbsp

white Vinegar

1

tbsp

Ketchup

1

tsp

Sesame Oil

2

tsp

Asian chili hot sauce

1

tbsp

cornstarch

2

tbsp

water

Steamed Rice
Instructions
Steam broccoli and carrots until just tender.

Take diced tofu and sprinkle with cornstarch and gently coat.
If you read this blog enough then you know I love fried tofu! I usually just pan fry the tofu in a little bit of oil and sprinkle with some pepper…total yum. This recipe requires that you coat the tofu with some cornstarch which gave it  it a nice crispy coating. Totally delicious. I almost ate all of it until I remembered I was cooking a full meal!
In a large pan, add a thin layer of oil over medium heat.

Fry tofu evenly on all sides until golden brown.

Remove with a slotted spoon and set aside.

In the same pan, add 1 tbsp of oil over medium heat.

Stir in green onions, garlic, and ginger and cook for 2 minutes.

Mix in vegetable stock, soy sauce, sugar, mirin, vinegar, ketchup, sesame oil, and hot sauce.
This sauce is so good. I can't really describe how good. But I know that if you cook this recipe you will be like, "Yeah, this sauce is so good!"
Place the 1 tbsp of cornstarch in the 2 tbsp of water and combine and mix into the pan.

Add in broccoli, carrots, and tofu and coat all evenly with sauce.

Stir-fry for 5 minutes.

Serve hot with rice.
Notes
If you're looking for an easy and delicious way to add more tofu to your diet, then look no further than these five stir-fried tofu recipes. Whether you're in the mood for something simple and hearty or something a little more exotic, there's a recipe here that will suit your needs. And best of all, each one can be on the table in 30 minutes or less. So what are you waiting for? Give them a try!
Nutrition
Serving:
1
serving
Calories:
208
kcal
Carbohydrates:
34
g
Protein:
12
g
Fat:
3
g
Saturated Fat:
1
g
Polyunsaturated Fat:
2
g
Monounsaturated Fat:
1
g
Sodium:
1525
mg
Potassium:
559
mg
Fiber:
3
g
Sugar:
13
g
Vitamin A:
5755
IU
Vitamin C:
65
mg
Calcium:
92
mg
Iron:
3
mg
Other Stir-fry Tofu Recipes
Sautéed Tofu With Broccoli And Cashews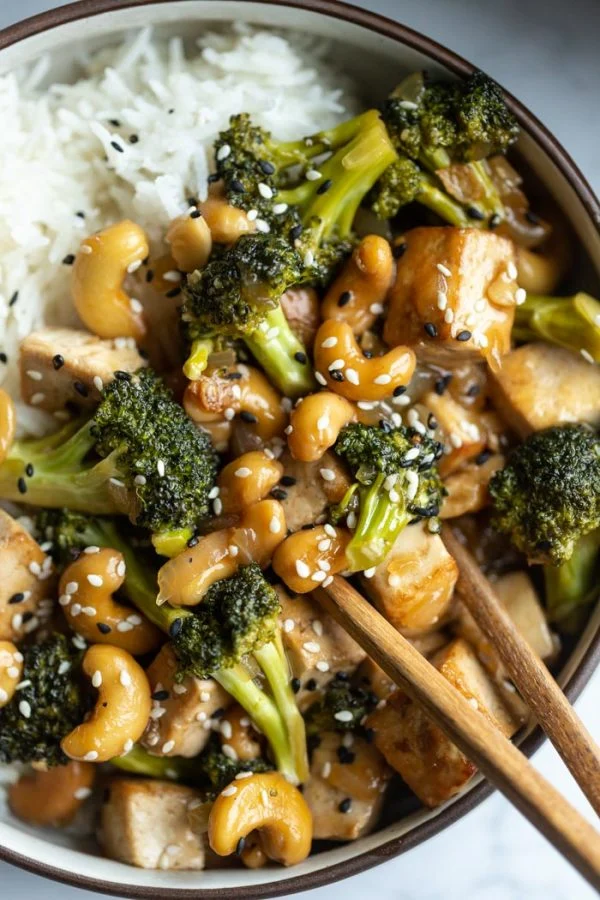 When it comes to healthy eating, tofu is a fantastic option. Not only is tofu a great source of protein, it is also low in calories and fat. Tofu can be used in a variety of dishes, making it versatile and perfect for any occasion. This recipe features sautéed tofu with broccoli and cashews – two flavors that complement each other perfectly.
To make this dish, you will need: soy sauce, garlic, vegetable oil, broccoli florets, cashews, rice vinegar, and honey. In a large skillet or wok over medium-high heat, add the soy sauce and garlic. Once these ingredients have been added, add the vegetable oil and let it heat up until it's hot. Then add the broccoli florets and cashews to the pan and cook for about three minutes or until the broccoli is tender.
Next stir in rice vinegar and honey to taste. Cook for another minute or two until everything is heated through. Serve the stir-fry over steamed rice or on top of some quinoa salad for an extra layer of nutrition and flavor!
Stir-Fried Tofu With Bok Choy And Shiitake Mushrooms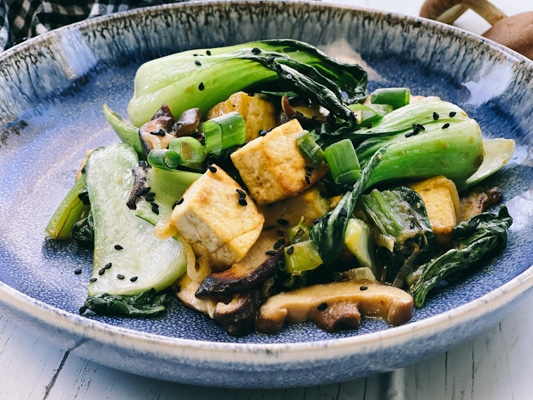 Are you looking for a delicious and healthy stir-fry dish that can be served as a main course or side dish? Look no further than our recipe for tofu bok choy shiitake mushrooms. This dish is easy to make and can be enjoyed by anyone. It's a great way to enjoy tofu, bok choy, and shiitake mushrooms in one delicious dish.
Bok choy is a nutrient-rich leafy green that is high in vitamins A, C, and K as well as minerals like potassium and magnesium. Shiitake mushrooms are a great source of antioxidants, which are important for keeping your body healthy. They also contain trace amounts of selenium, which has been shown to help prevent cancer. Together, these ingredients make for an amazing stir-fry dish that will leave you feeling satisfied.
This recipe is easy to follow – all you need are some basic ingredients like tofu, bok choy, shiitake mushrooms, garlic cloves, soy sauce (or tamari), and rice vinegar. Simply mix all the ingredients together in a pan or wok and cook until everything is cooked through. Serve hot with rice on the side for an authentic Asian meal experience!
Tofu And Vegetable Stir-Fry With Rice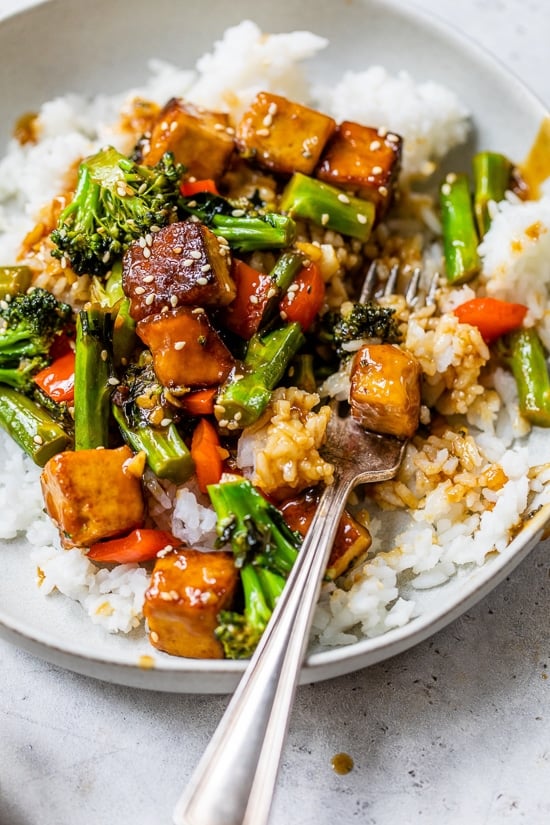 Tofu is a versatile, healthy protein that can be used in many different dishes. In this recipe, we'll be using it to create a delicious and easy stir-fry. This dish is perfect for any occasion and can be served as a main course or side dish. Additionally, this tofu and vegetable stir-fry is vegan, gluten- free, and dairy- free – making it perfect for anyone looking for a nutritious meal.
Begin by heating up your cooking oil in a skillet over medium heat. Once hot, add your tofu cubes and cook until browned on all sides. Then add your vegetables and continue to cook until everything is tenderized. Finally, add some rice to the skillet and mix everything together until the rice is cooked through. Serve warm or cold – enjoy!
Thai Basil Stir-Fry With Tofu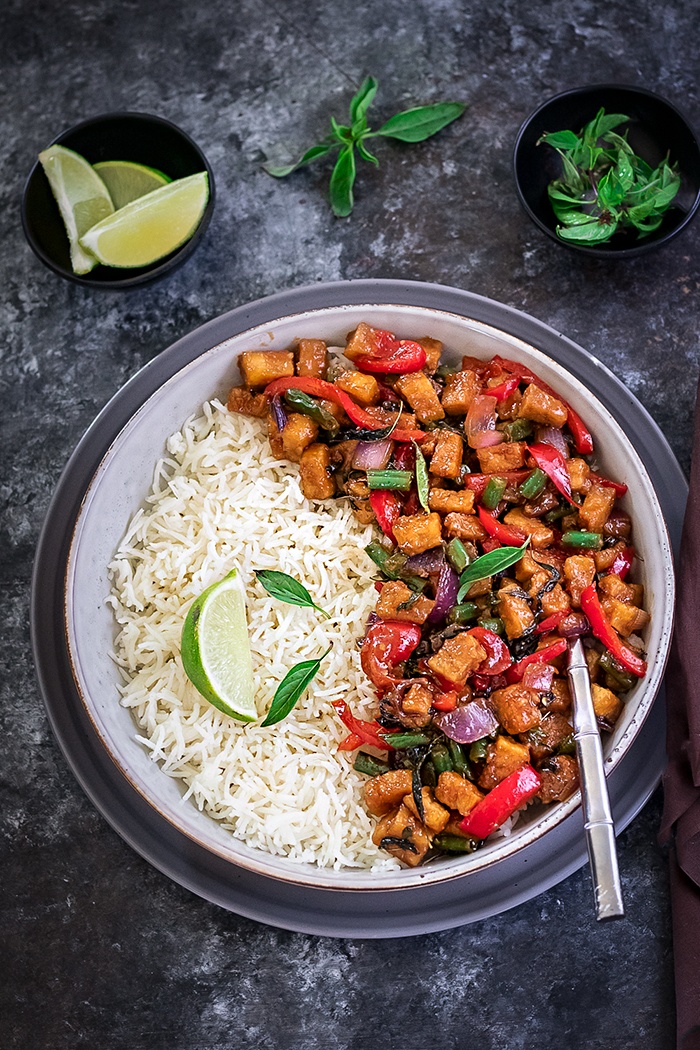 Looking for a quick and easy stir-fry recipe that features authentic Thai flavors? Look no further than this thai basil tofu stir-fry. This dish is packed with flavor and can be enjoyed as a main course or as a side dish.
To make this dish, you'll need some authentic Thai ingredients like soy sauce, vegetable oil, garlic, and ginger. Additionally, you'll need firm tofu – something that is often unavailable in most supermarkets. But don't worry; this tofu is still delicious and will not taste like rubber.
Next, start by cooking the bell peppers and red pepper flakes in a small skillet over medium heat until they are soft. Once they are cooked, add them to the prepared pan with the tofu and thai basil. Cook everything until the tofu is heated through and the thai basil has wilted down. Finally, add soy sauce to taste before serving hot with some lime juice on top for extra flavor. Enjoy!
Easy Stir-Fried Tofu With Vegetables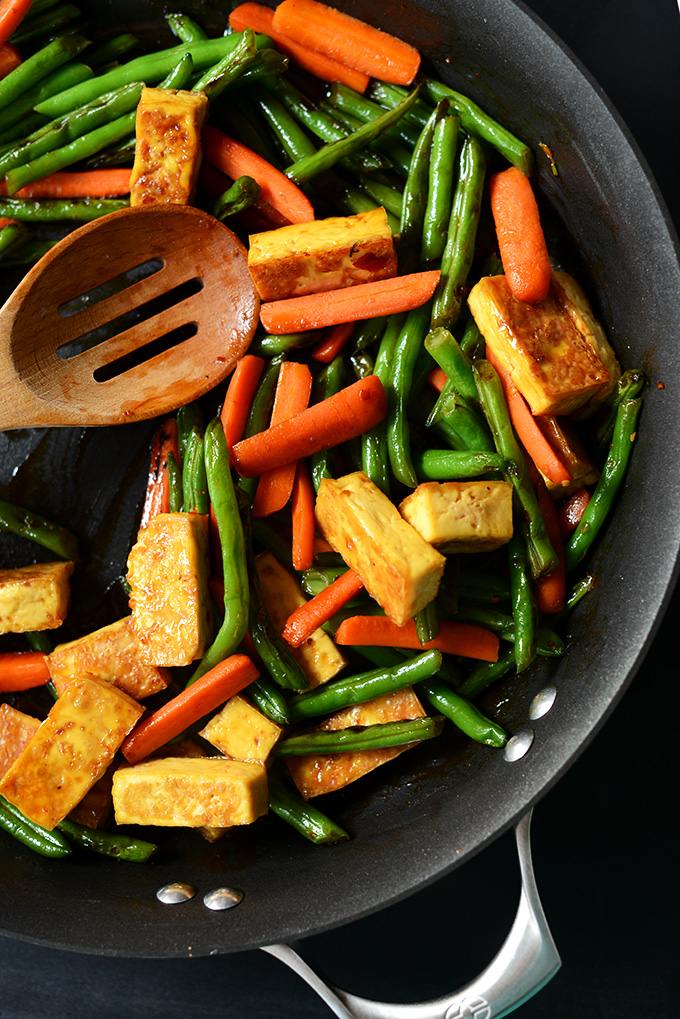 Stir- frying is a quick and easy way to cook food, and it's a great way to cook tofu. In this simple recipe, you'll learn how to make stir- fried tofu with vegetables in just minutes. Tofu is a great source of protein, and this dish is also vegan and gluten- free – perfect for any meal. Vegetables add color, flavor, and nutrients to the dish – making it an easy and healthy meal that can be enjoyed any time of the day. With this recipe, you'll have everything you need to create a delicious stir- fried tofu dish!