Tired of the same old side dishes? Don't despair, Parsley Potatoes are here! Okay, that was corny but I couldn't resist. I cooked meatloaf the other day and didn't feel like making mashed potatoes or my typical meatloaf sides. The store had these cute little red potatoes so I bought a bag and some fresh parsley. This is an easy recipe with simple ingredients that never fails to disappoint.
CookEatDelicious Rating: Cook up these bad boys with a hearty meat dish for a nice complete meal. They are buttered but you can use olive oil instead if you want. My DH said these were the best potatoes I have ever made…they were good but I think he was very hungry!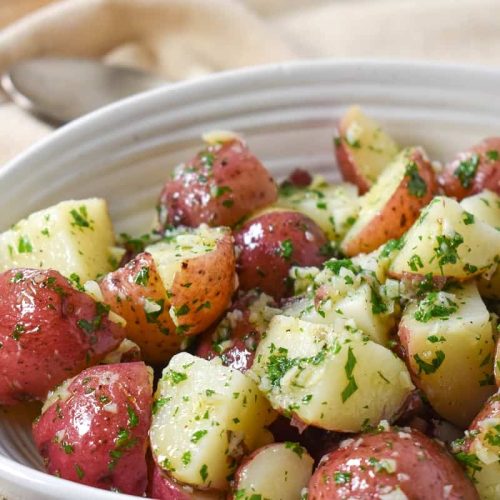 Parsley Potatoes
Parsley potatoes are a delicious side dish that you will love. In this post, we are going to walk you through the steps necessary to make these potatoes. We will also give you pro tips and frequently asked questions so that you can make the perfect parsley potatoes every time. Finally, we will recommend some delicious pairings for these delicious potatoes. So, whether you are looking for a new side dish or want to make a special meal, parsley potatoes are the perfect choice. Let us show you how easy it is to make these potatoes.
Ingredients
12

small Red Potatoes

⅓

cup

fresh Parsley

½

stick Butter

1

Garlic clove

minced

Salt & Pepper to taste
Instructions
Clean potatoes and cut off any unsightly parts.

Add to pot and cover with water.

Bring to boil and cook until firm but a fork can still pierce through.

Drain.

Slice each potato in half.

Add parsley, butter, garlic, and potatoes into a saucepan over medium heat and combine all well.

Cover and cook for 10 minutes, stirring occasionally.

Salt & Pepper to taste.
Notes
Now that you know how to make a perfect old fashioned, it's time to put your skills to the test. Gather your supplies, follow the steps, and enjoy your delicious drink. Be sure to experiment with different types of whiskey and bitters to find your perfect combination. Cheers!
Nutrition
Serving:
4
servings
Calories:
451
kcal
Carbohydrates:
102
g
Protein:
12
g
Fat:
1
g
Saturated Fat:
0.3
g
Polyunsaturated Fat:
0.4
g
Monounsaturated Fat:
0.1
g
Trans Fat:
0.02
g
Sodium:
119
mg
Potassium:
2938
mg
Fiber:
11
g
Sugar:
8
g
Vitamin A:
466
IU
Vitamin C:
62
mg
Calcium:
72
mg
Iron:
5
mg
Pro Tips

Are you in the mood for some potatoes? Well, this recipe is for you! Parsley potatoes are a delicious and easy side dish that can be enjoyed with a variety of meats or as a standalone dish. This recipe is easy to follow and can be made in under an hour. Let's get started!
To make this dish, start by boiling your potatoes until they are soft. Then, roast them in the oven until they're crispy and golden brown. Once they're done, add in some chopped parsley and garlic to give the potatoes a flavorful boost. Serve these delicious potatoes with your choice of meat or as a standalone side dish – they'll be sure to impress!
Frequently Asked Questions about the Parsley Potatoes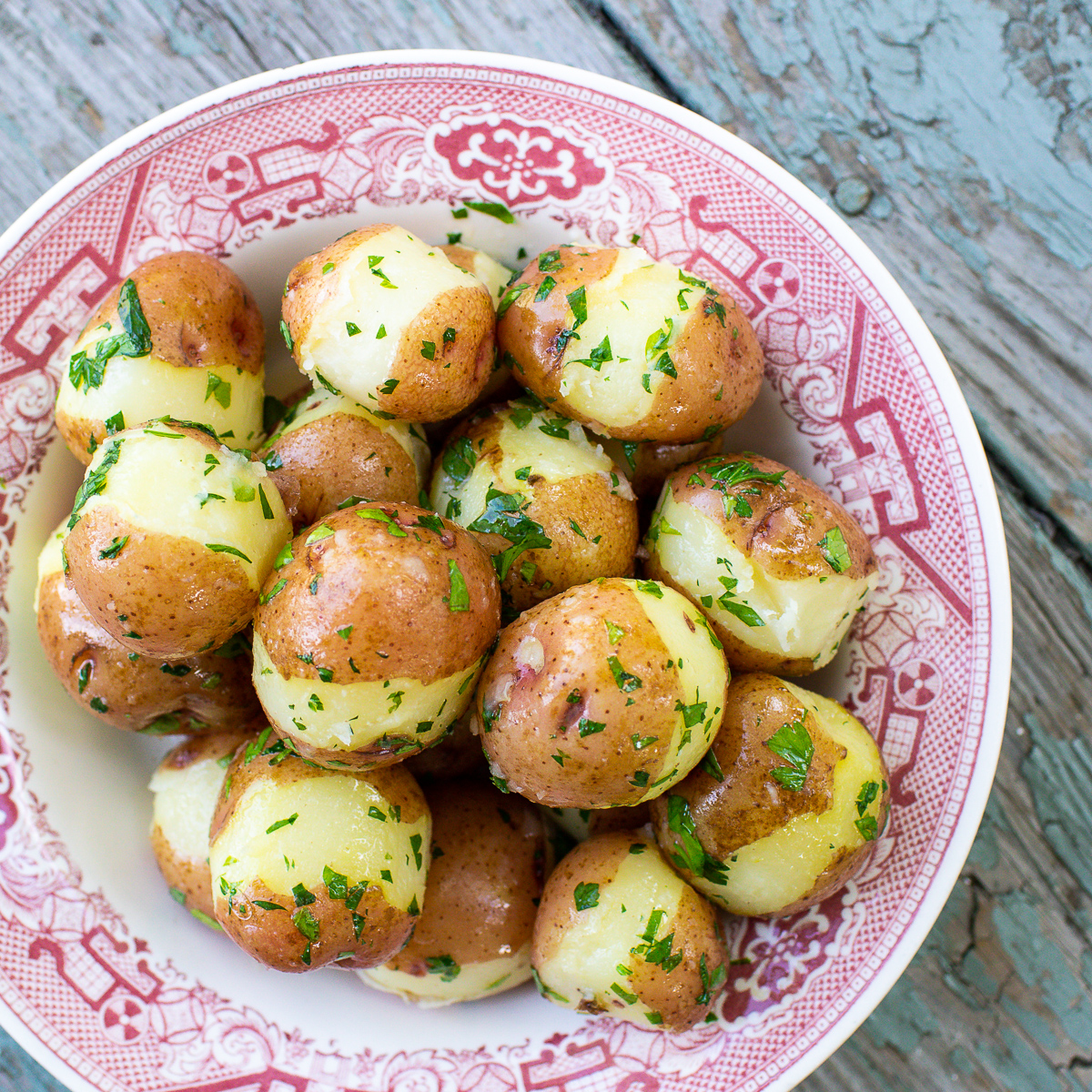 There's nothing like a good side dish to round out your meal, and Parsley Potatoes are no exception. This recipe is easy to make, and it can be enjoyed by everyone in the family. Frequently Asked Questions about this dish include questions about making it healthier, substitutions for parsley, reheating instructions, and whether or not it is freezer-friendly. Below we will answer each of these questions in detail.
Is there anything I can do to make this dish healthier? You could try using different vegetables in place of the potatoes or adding some healthy fats such as olive oil or avocado to help boost the dish's flavor.
What other vegetables can I use in this recipe? You could also try using carrots, celery, sweet potatoes, or butternut squash in place of the potatoes.
What if I don't have any parsley? No problem! You can still make this dish without parsley by substituting fresh herbs such as tarragon or thyme for the parsley.
Can I make this dish ahead of time? Yes! This recipe can be made ahead of time and then reheated when you're ready to serve it. Simply preheat your oven to 400 degrees Fahrenheit before placing the cooked potatoes onto a baking sheet and covering them with foil. Then bake for 25 minutes until heated through.
How long will this dish keep? This dish will typically last 3-4 days stored in an airtight container in the fridge. If you would like to store it longer than that, you can freeze it for up to 2 monthsthawed overnight in the fridge prior to serving.
Lastly, if you would like to prepare this dish on-the-go there are several methods that you can use: microwaveable containers (just wrap them well with plastic wrap), boiling water (place them into a pot of boiling water and cook according to package directions), or grilling (either on direct heat or over indirect heat).