Mall Pretzels. You smell them as soon as you enter the mall. You don't really plan on buying one, I mean you just ate lunch. But the aroma! It gets stronger and stronger as you casually window shop. All you can think of is getting your hands on one of those freshly baked pretzels…Imagine if you could have that same aroma at home. I made these pretzels for some friends from Jersey. They say that one of things they miss most about living in the states is Mall Pretzels. So I made these for a road trip to Morelia. They are vegan and turned out delicious. It was hard to share them!
Delicious Rating: This recipe is a yeast dough recipe, so if it isn't your first time making a yeast dough I am sure you will be fine! The dough is gorgeous when you knead it, feels fantastic. The pretzels turn out so soft and 'buttery'. My DH seriously thought I put butter in this easy delicious recipe because they taste of butter. Nope, I am not sure what it is but these vegan bad boys are better than any Mall Pretzel I have ever had.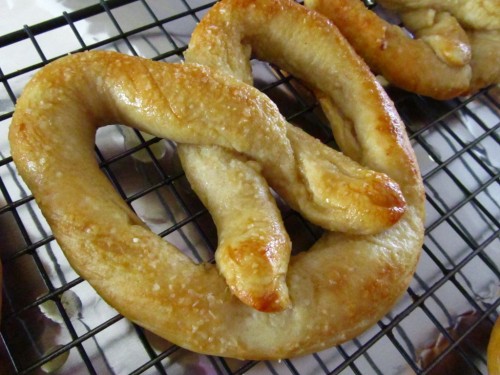 Buttery Soft Mall Pretzels
There's nothing quite like a warm, buttery pretzel from the mall. The dough is soft and fluffy, and the butter makes it melt in your mouth. The pretzels are also huge, so you can really satisfy your craving. Plus, they're always fresh out of the oven, so you know they're going to be delicious.
Ingredients
6

tsp

yeast

2

tsp

white sugar

1¼

cups

warm water

4

cups

all-purpose flour

½

cup

white sugar

2

tsp

salt

1

tbsp

vegetable oil

1

cup

baking soda

4

cups

hot water

Kosher Salt for topping
Instructions
In a small bowl combine yeast, 2 tsp white sugar, and warm water.

Let stand for 10 minutes.

In a large bowl, combine 3½ cups flour, ½ cup sugar, and 2 tsp salt.

Add in oil and yeast mixture.
I've created a yeast monster!
Mix to form a dough ball and knead in ½ cup of flour.
This was such a pretty dough to knead by hand. It was smooth and elastic. But if you don't want to do that, you can do the first 6 steps in a mixer using a dough hook.
Knead until dough is elastic and smooth, 8 minutes.

Lightly oil a large bowl and place dough ball inside and cover and let rise in a warm place for 1 hour.

Preheat oven to 400 degrees F.

Bring water to a light boil.

Dissolve baking soda in hot water and remove from heat.

Divide dough into 12 pieces.

Roll out each piece into a rope and twist into pretzel shape.
I couldn't remember how pretzels are shaped…I give you three options, but pretzel sticks, bits, twists are just as good too!
Dip each pretzel into baking soda water and place on a greased baking sheet.
Don't leave out the baking soda bath, it is essential for the browning of the pretzel and the hard exterior and soft interior.
Sprinkle with salt.

Bake for 9 minutes.

Cool on a wire rack.
Notes
This is a Vegan Recipe! Serve with mustard.
Nutrition
Serving:
1
sẻ·
Calories:
216
kcal
Carbohydrates:
43
g
Protein:
7
g
Fat:
2
g
Saturated Fat:
0.3
g
Polyunsaturated Fat:
1
g
Monounsaturated Fat:
1
g
Trans Fat:
0.01
g
Sodium:
3128
mg
Potassium:
102
mg
Fiber:
3
g
Sugar:
9
g
Vitamin C:
0.02
mg
Calcium:
8
mg
Iron:
2
mg
How to make mall pretzels the right way, including tips for shaping and baking them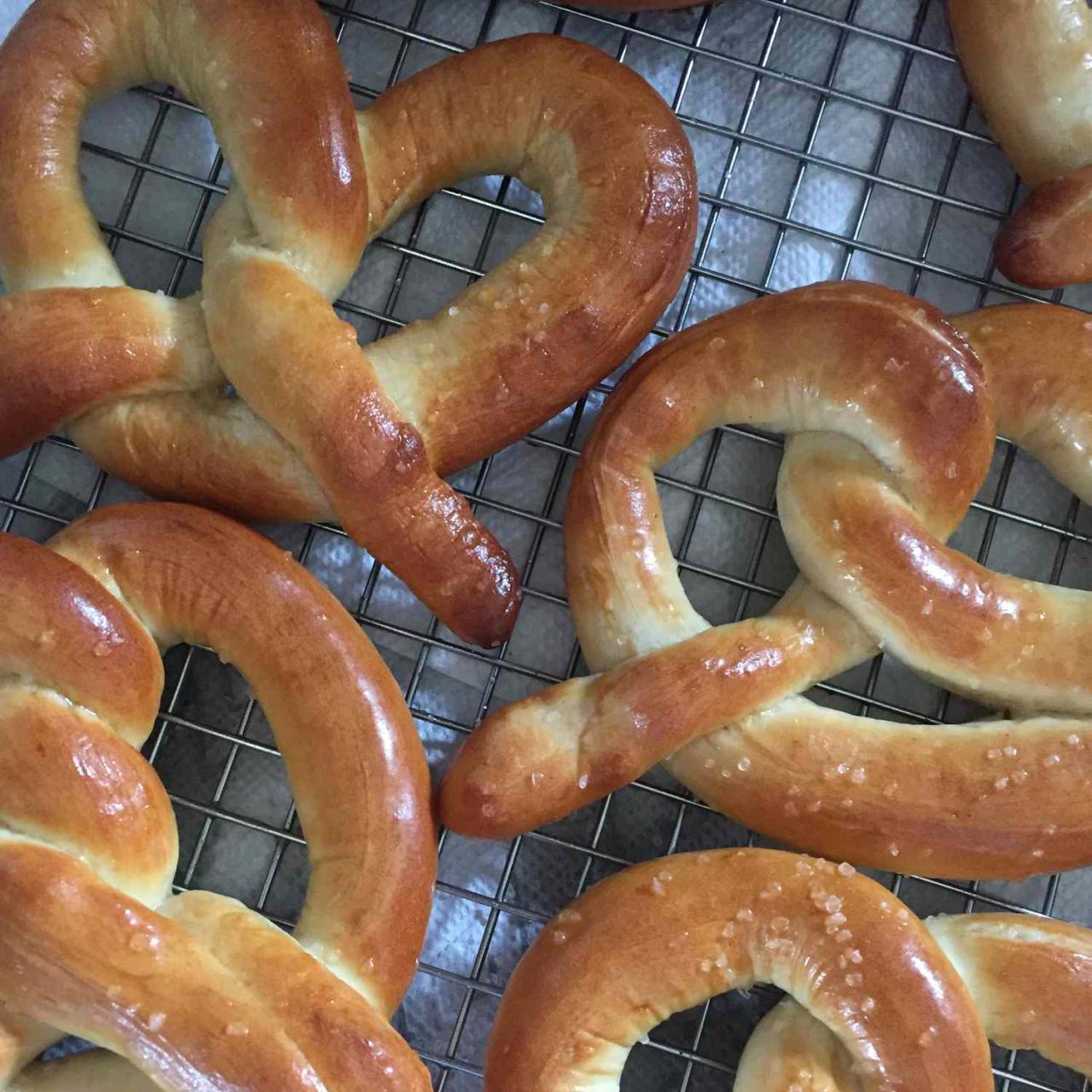 Pretzels are a classic snack food that can be enjoyed any time of day. Making your ownpretzels at home is easy and fun, and with a few simple tips, you can make perfectpretzels every time.
To start, you'll need:
-1 1/2 cups warm water
-1 tablespoon sugar
-2 teaspoons active dry yeast
-5 cups all-purpose flour
-2 tablespoons baking soda
-1 tablespoon salt
In a large bowl, combine the water, sugar, and yeast. Let the mixture sit for about 5 minutes, or until the yeast is foamy. Add the flour, baking soda, and salt, and stir until the dough comes together.
Turn the dough out onto a floured surface and knead for about 10 minutes. Then, shape the dough into pretzels. To do this, first divide the dough into 12 pieces. Roll each piece into a long, thin rope. Make a U-shape with the rope, then cross the ends over to form a pretzel shape.
Place the pretzels on a baking sheet lined with parchment paper. Let them rise for about 20 minutes. Then, preheat the oven to 400 degrees Fahrenheit and bake the pretzels for 10-12 minutes, or until golden brown.
Enjoy your homemade pretzels with a delicious dipping sauce.
How to store and serve mall pretzels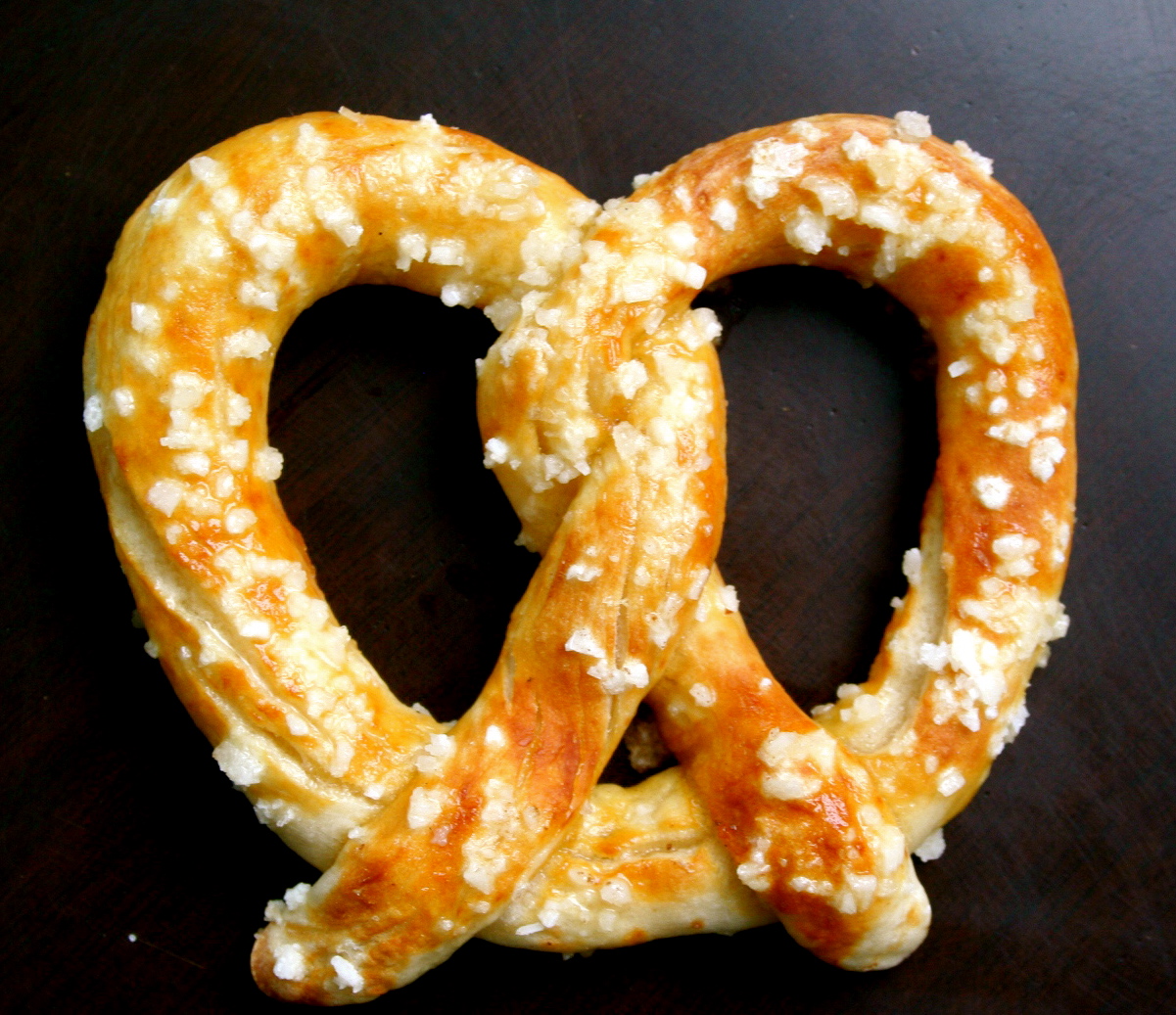 Pretzels are a type of bread that originated in Europe and are now enjoyed all over the world. They are made from a simple dough of flour, water, yeast, and salt and are usually twisted into a knot or spiral shape.
Pretzels are best served fresh and warm, but if you need to store them, they can be kept in an airtight container at room temperature for up to a week. To reheat, simply place them in a preheated oven for 5-10 minutes.
When serving, pretzels can be enjoyed plain or with a variety of dipping sauces. Common dipping sauces include mustard, cheese, and chocolate.