If you're looking for the perfect dessert to impress your guests, look no further than the French Lemon Cream Tart. This tart is a classic favorite that is sure to impress. In this blog post, we're going to teach you how to make a French Lemon Cream Tart, and why it's the best dessert around
Does France really have the best desserts? I don't know but this is literally the best thing I have ever eaten in my life. Like Seriously, For Reals. Absolutely Delicious. I can't get over it! Not only is it a pretty easy delicious recipe to follow but it is so fancy!  Of course, I am a total lemon lover and I could eat pastry crust by itself. So imagine combining the both…no words, no words.
I am submitting this delicious dessert to this month's event "D for Desserts". It is being hosted by Suvidha's Kitchen. I am always ready to cook up anything sweet so this challenge was fun and turned out delicious! I can't wait to see what everyone else will come up with. I always welcome new Lemon Recipes! I definitely plan on baking this up again.
Delicious Rating: All I can say is that if you don't cook this Lemon Cream Tart your life may never be complete. That is all I can say.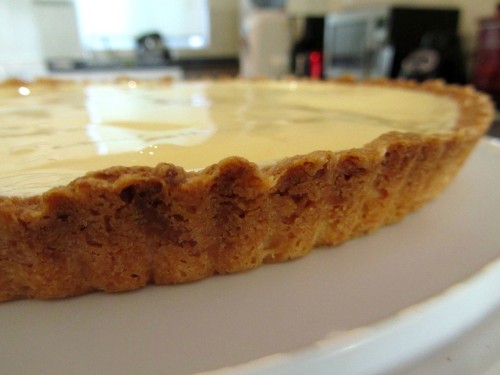 French Lemon Cream Tart
Looking for a delicious and unique dessert? Make a French Lemon Cream Tart today! This blog post will teach you everything you need to know to make this classic favorite.
Ingredients
Lemon Cream:
1

cup

sugar

Zest of 3 lemons

4

large eggs

1

cup

fresh lemon juice

3

sticks unsalted butter

room temp and cut into tbsp size pieces
Tart:
1½

cups

all-purpose flour

1

cup

powdered sugar

1

tsp

salt

1

stick butter

cold and cut into tbsp size pieces

1

large egg yolk
Instructions
First cook the Tart: Combine flour, powdered sugar, and salt in a large bowl.
I made this tart in a large tart pan. Next time I will definitely use smaller ones so that each piece has crust.
With a pastry blender, cut in butter and combine in well.

Stir in yolk.

Lightly knead to combine in all ingredients.

Butter a 9-inch tart pan and press dough along bottom and sides.

Freeze for 1 hour.

Preheat oven to 375 degrees F.

Bake tart for 25 minutes.

Take out and press down with a spoon any puffy parts.

Bake for an additional 10 minutes or until golden brown.

Let cool on wire rack.

Second cook the Lemon Cream: In a double boiler add sugar and lemon zest together and warm over medium heat.

Whisk in eggs and lemon juice.

Whisk constantly until the cream reaches 180 degrees F.

This may take up to 10 minutes!

Once the cream has reached the right temperature, pour through a strainer into a blender.

Throw out zest and allow mixture to cool for 10 minutes.

Blend on high and while blending add in butter.
The cream really comes together once the butter is added. Isn't that the way all recipes work?
Blend for at least 3 minutes to get a light and airy cream.

Pour cream into a bowl and press saran wrap against surface of cream.
Once I whisked the cream it wasn't as firm and slid down the sides of the crust when I cut it. But when I re-refrigerated it, it was firm and was perfect!
Refrigerate for 4 hours or more.

Whisk cream and pour into tart shell.

Serve immediately or refrigerate and serve later.
Notes
So, there you have it! A delicious French lemon cream tart recipe, as well as the history and origin of this classic dessert. If you're looking for a show-stopping dessert to make for your next dinner party or celebration, look no further than the French lemon cream tart. Bon appetit!
Nutrition
Serving:
1
serving
Calories:
2253
kcal
Carbohydrates:
480
g
Protein:
42
g
Fat:
23
g
Saturated Fat:
8
g
Polyunsaturated Fat:
5
g
Monounsaturated Fat:
8
g
Trans Fat:
0.3
g
Cholesterol:
661
mg
Sodium:
2612
mg
Potassium:
703
mg
Fiber:
6
g
Sugar:
324
g
Vitamin A:
1040
IU
Vitamin C:
94
mg
Calcium:
147
mg
Iron:
12
mg
Why The French Lemon Cream Tart Is The Best Dessert
There's no question – France is a culinary powerhouse. From the classics like the French lemon cream tart to the more unusual dishes, France has something for everyone. And when it comes to desserts, there's simply no better place than in France. This tart is made with a delicate pate sucree crust and a rich, creamy lemon filling that will leave your guests begging for more. Not to mention, the taste is out of this world – you won't be able to put it down!
So why is this tart so amazing? For one thing, it's made with a classic French ingredient – pate sucree. This pastry is delicate yet delicious and is perfect for creating intricate sweet desserts like this one. The tart also has a rich creaminess that gives it depth of flavor – you won't be able to stop at just one slice! And finally, there's that sinful sprinkle of powdered sugar on top – just enough to add some sweetness without overpowering the delicate flavors of the dessert. If you're looking for an unforgettable dessert experience that will leave your guests speechless, then try out the French lemon cream tart today!
Tips for making a French lemon cream tart that is perfect every time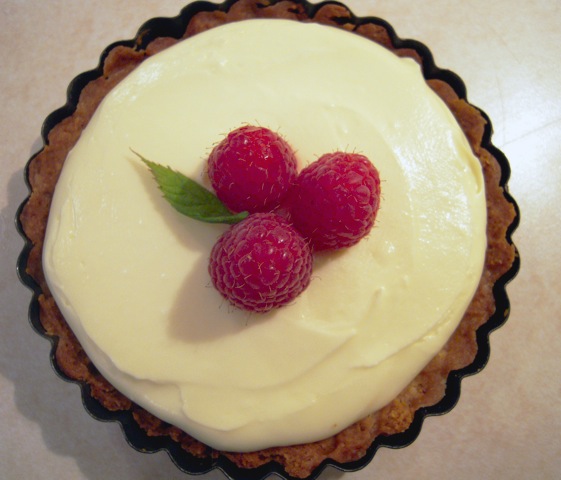 If you're looking for a delicious and impressive tart that is sure to impress, look no further than a French lemon cream tart. This classic dessert is the perfect balance of sweet and tart, and can be made with just a few simple ingredients.
Here are a few tips for making a French lemon cream tart that is perfect every time:
1. Start with a good quality puff pastry. This is the foundation of your tart, so it's important to use a quality product.
2. Pre-bake the puff pastry before adding the lemon filling. This will help to ensure that your tart is nice and crisp.
3. When making the lemon filling, be sure to cook the egg yolks until they are thick and creamy. This will give your tart a rich and decadent flavor.
4. When assembling the tart, be sure to spread the lemon filling evenly over the puff pastry. This will help to prevent the filling from oozing out when you slice into the tart.
5. Finally, don't forget the fresh whipped cream! This is the perfect finishing touch to this classic dessert.