Savory basil tarts are an all in one meal. Eggs, milk, and cheese come together in a flaky crust to create a delicious meal served warm or at room temperature.  You can customize them to be perfect for breakfast, brunch, and dinner. This Tart recipe combines two ingredients that were meant for each other: Tomatoes & Basil. What could possibly go wrong with this?
Delicious Rating: I rated this for a  master chef just because of the crust. Homemade crust takes time to perfect although it can be a simple thing for most people. The tart smells delicious while baking but the taste didn't take a stand when served. It was just Okay, not delicious. I don't think I will cook this particular not so easy recipe again. But if this seems like something you may enjoy please cook it and let me know what you thought!
This recipe is from "The Good Housekeeping Step-by-Step Cookbook", a gift from my Father. I have had this recipe bookmarked for awhile and decided to cook it up for "Bookmarked Recipes", a great event hosted by Jacqueline from Tinned Tomatoes and Ruth's Kitchen Experiments as the Challenge founder!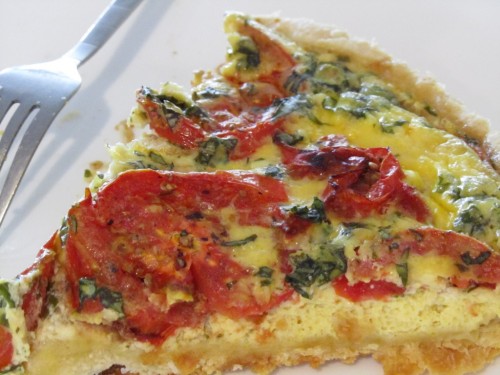 Roasted Tomato and Basil Tart
Looking for a delicious and easy tart recipe? Look no further than our roasted tomato and basil tart! This tart is perfect for any occasion and can be made in just a few minutes.
Ingredients
1.5

cups

of flour

½

tsp

salt

2

tbsp

shortening

½

cup

of cold butter

cut up

8

plum tomatoes

cut into ½ inch think slices

1

tsp

black pepper

2

tsp

salt

6

eggs

2

cups

milk

1

package of spreadable cheese

garlic & herb

1

cup

of fresh basil

chopped
Instructions
In a large bowl mix flour & salt and cut in shortening and butter until it the mixture forms coarse crumbs.

Sprinkle 4 tbsp of ice water in and mix lightly with a fork until dough is moist enough to hold together.

Shape into large ball, wrap with saran wrap, and refrigerate for 30 minutes.

Roll dough out into a 14-inch round and ease in tart pan.

Cut off over hang if you desire or keep.

Place in refrigerator.

Preheat oven to 450 degrees F.

Grease a jelly roll pan and place tomatoes on it.

Sprinkle with salt & pepper and bake for 30-minutes.

Remove and let cool and turn oven down to 375 degrees F.

In a large bowl whisk together eggs, milk, cheese, and ½ tsp of salt.

Stir in basil, leaving 1 tbsp out for topping.

Pour egg mixture into tart shell and arrange tomatoes on top.

Sprinkle with remaining basil and bake for 45-minutes or until inserted knife comes out clean.

Let cool on wire rack.

Serve hot or at room temperature.
Notes
Perfect for a brunch meal.
Nutrition
Serving:
1
serving
Calories:
311
kcal
Carbohydrates:
24
g
Protein:
9
g
Fat:
20
g
Saturated Fat:
10
g
Polyunsaturated Fat:
2
g
Monounsaturated Fat:
6
g
Trans Fat:
1
g
Cholesterol:
161
mg
Sodium:
892
mg
Potassium:
316
mg
Fiber:
1
g
Sugar:
5
g
Vitamin A:
1149
IU
Vitamin C:
8
mg
Calcium:
108
mg
Iron:
2
mg
Tips And Tricks to make Basil Tart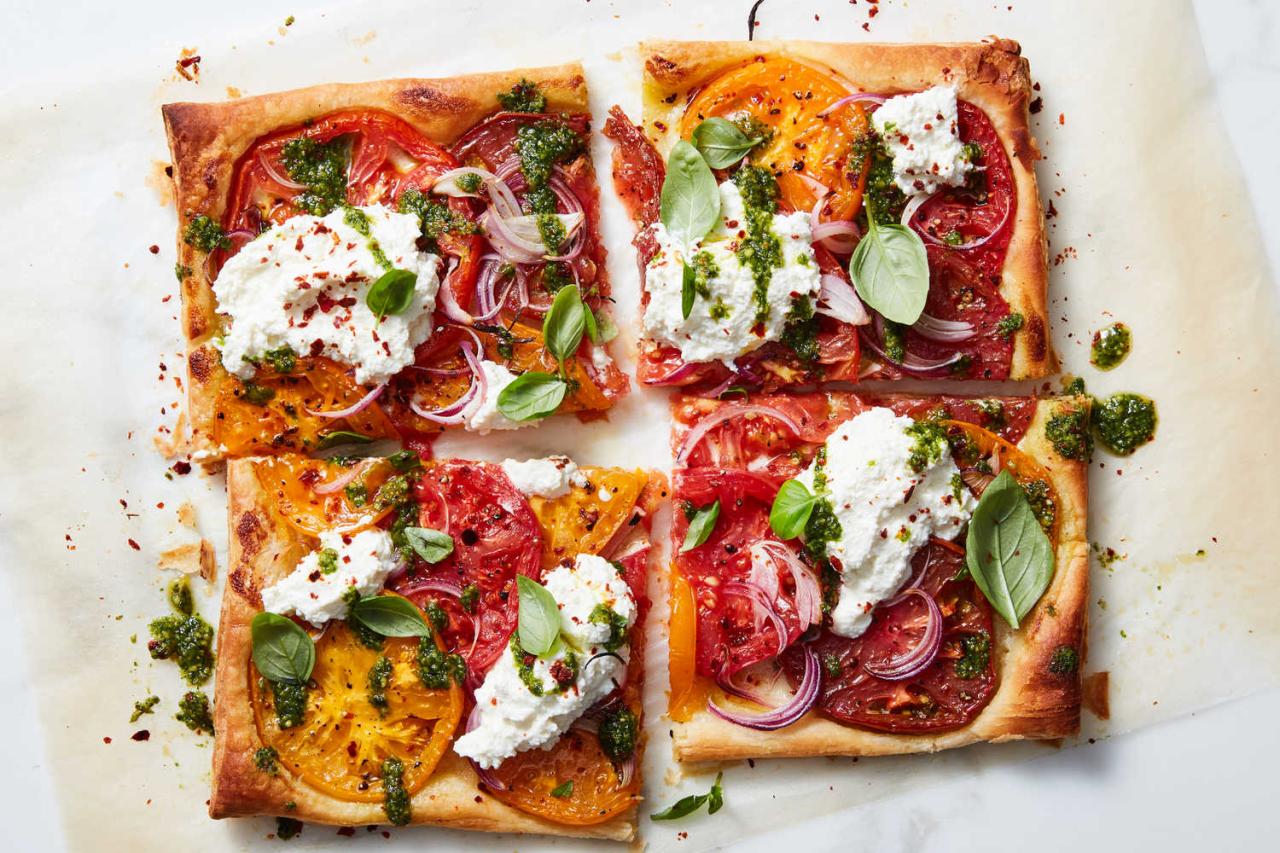 Making a roasted tomato and basil tart is a delicious and easy task that can be enjoyed by all. With our tips and tricks, you'll be able to make the perfect crust that is both crispy and flaky, get the perfect balance of sweetness and acidity in your tomatoes, choose the best herbs for this dish, and make this dish ahead of time if desired.
First, start by preparing your crust. Preheat oven to 400 degrees Fahrenheit before flouring a baking sheet. In a small bowl, combine flour, sugar, salt, baking powder, Parmesan cheese (if using), and olive oil until well combined. Stir in enough water (about 1/2 cup) to form a soft dough.
Roll out the dough on a lightly floured surface until it is about 1/8-inch thick. Use a knife or pizza cutter to slice the dough into 12-16 pieces. Place each piece on the prepared baking sheet and press down gently with your fingers so that it forms an even layer on top of the tomatoes.
Bake for 15-20 minutes or until crust is golden brown and crisp. Remove from oven to cool slightly before topping with roasted tomatoes (see below), basil leaves (if using), Parmesan cheese (if using), salt, pepper, and butter (if desired). Serve warm!