I love corn. Corn-on-the-Cob, Creamed Corn, Kernel Corn, Cornbread. You name it, I love it. I used to eat kernel corn right out of the can…
Grilled or Roasted Corn can make a person go crazy! Have you ever been to a theme park or the fair and you smell Roasted Corn-on-the-Cob? You don't know where it is coming from but you want it, right then, that minute. I have left ride lines that I had been standing in for an hour just to follow that sweet roasted corn scent…Yes, I love to eat food.
Because of my love for corn I made this Roasted Corn Chowder. My DH also loves corn and devoured this soup! Another bonus is that it is a Vegan Recipe and qualifies for my sixth food blog event. Tinned Tomatoes "No Croutons Required" theme for this month is: Grill or Roast (vegetarian soup or salad). I roasted the corn for this chowder recipe. I hope you enjoy it!
Delicious Rating: Most soups or chowders are very simple delicious easy recipes but still I have found that some beginners find it a bit complicated so I rated it for the home cook. The soup was good. The next day it was better. I would make it again for my DH seeing that he enjoyed it so much. For me there is something missing. I don't know if it is the absence of actual dairy but something just wasn't there. Don't get me wrong, it was a good corn chowder and very hearty as well. Just not what I was expecting? Let me know your thoughts and suggestions please!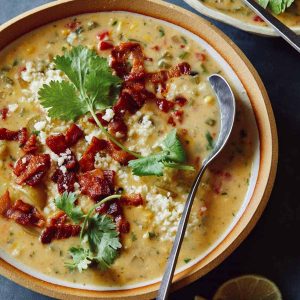 Roasted Corn Chowder
Looking for a delicious and healthy corn chowder recipe? Look no further than this vegan roasted corn chowder recipe! Featuring fresh corn, creamy broth, and a variety of spices, this recipe is perfect for any time of year. Plus, it's easy to make and perfect for a winter meal.
Ingredients
4

ears of corn

white or yellow

1

tbsp

olive oil

1

onion

chopped

10

celery stalks

chopped

1

potato

peeled and diced

4

cups

vegetable stock

1

cup

soy milk

Salt & Pepper to taste

Tomato

finely chopped for garnish
Instructions
Preheat oven to 450 degrees F.

Pull back husks on corn and remove silk.

Bring up husks to cover kernels and place on a baking and roast for 30-minutes.

In a large pot heat olive oil over medium heat.

Add onion and celery, cook for 5-minutes.

Add potato and vegetable stock and bring to boil.

Reduce heat to low and cover, cooking for 25-minutes.

When corn is roasted, allow to cool and cut kernels from off the cobs.
I roasted my corn in the oven but you sure can cook them on the grill outside for some infused grilled taste!
Add corn to pot and cook soup for an additional 15-minutes.

Turn off heat and ladle 2-cups of the soup into a blender and process until smooth.
Use an immersion blender if you have one handy. Either way blend smooth or leave a little chunky if you  prefer.
Add back to pot along with the soy milk and salt & pepper.

Serve Chowder immediately and garnish with tomatoes.
Notes
This recipe is perfect for a quick and easy weeknight meal. The chicken is cooked in a flavorful sauce, and the rice provides a filling and satisfying side. The recipe can be easily doubled or tripled to feed a larger crowd.
Nutrition
Serving:
1
bowl
Calories:
133
kcal
Carbohydrates:
23
g
Protein:
4
g
Fat:
4
g
Saturated Fat:
1
g
Polyunsaturated Fat:
1
g
Monounsaturated Fat:
2
g
Trans Fat:
0.01
g
Sodium:
664
mg
Potassium:
411
mg
Fiber:
3
g
Sugar:
7
g
Vitamin A:
631
IU
Vitamin C:
15
mg
Calcium:
67
mg
Iron:
1
mg
Variations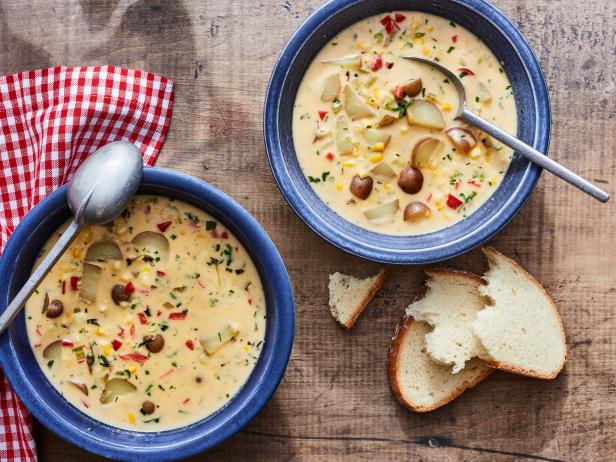 Summertime is the perfect time for a hot and hearty soup like this Vegan Roasted Corn Chowder Recipe. The roasted corn gives the soup a nice smoky flavor, while the hearty ingredients make it filling and satisfying. This recipe is versatile, so you can use any type of vegan meat in it. If you're not vegan, you can also leave out the meat entirely and enjoy this soup just as it is. The soup can be served with tortilla chips, avocado, and/or cilantro for extra flavor and texture.
This recipe is easy to follow – all you need is some vegetable broth, onion, garlic cloves, tomato sauce (or tomato paste), corn kernels (fresh or frozen), water, salt, black pepper, and vegan Worcestershire sauce. You can cook the ingredients together in a large pot on medium heat until everything is cooked through. Then you can ladle the soup into bowls and serve hot!
Vegan Roasted Corn Chowder Nutrition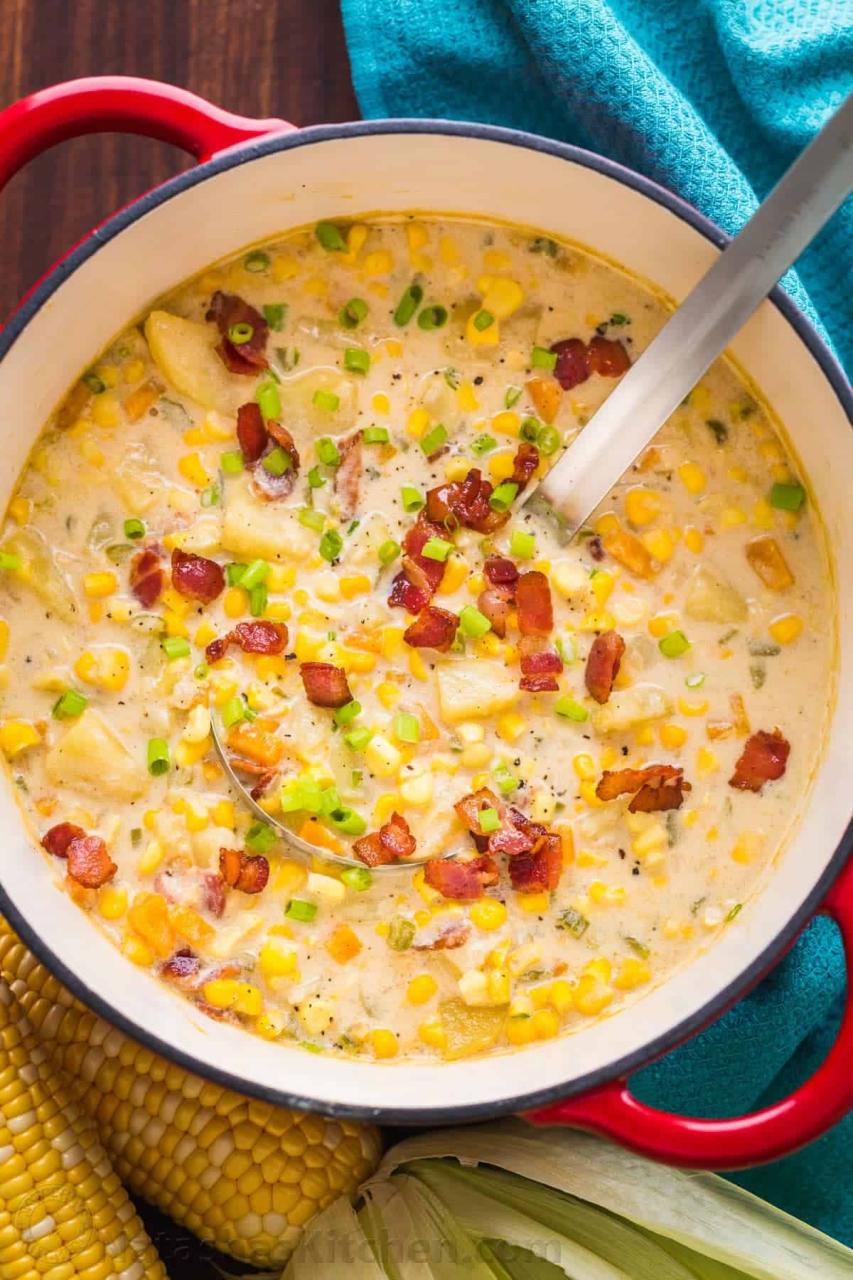 Summertime is the perfect time to enjoy a delicious and healthy corn chowder. This soup is creamy, flavorful, and perfect for any summer meal. Not only is this recipe vegan, gluten- free, and easily made in just 30 minutes, but it also has a depth of flavor that you won't get from using canned corn.
To make this chowder even more delicious, I recommend roasting the ears of corn before adding them to the soup. This step adds a sweetness and depth of flavor that you won't find in canned corn. If you're looking for an extra healthy soup option, feel free to choose unsweetened almond milk over regular milk. Either way, this corn chowder will be a hit with your taste-buds!
Recipe Notes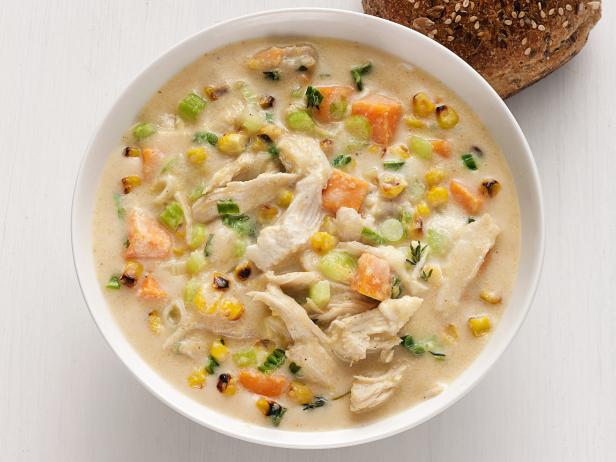 If you're looking for a delicious and easy summer meal, look no further than this Vegan Roasted Corn Chowder recipe. This soup is packed with flavor and can be made in just a few minutes. Not only is this soup delicious, but it's also healthy and hearty – perfect for a hot summer day.
To start, heat the oil in a large pot over medium-high heat. Add the onion and garlic, and cook until softened, about 5 minutes. Add the vegetable broth and corn kernels, and bring to a boil before reducing the heat to low and simmering until the corn is cooked through, about 15 minutes.
While the soup is simmering, prepare the toppings by slicing the poblano pepper into thin strips, discarding any seeds (you can save them for another use), finely chopping the red peppers, chopping the potatoes into small cubes, adding oregano, cumin, chili powder, salt, black pepper to a blender or food processor*, grinding in some fresh cilantro if desired** (or using 1 teaspoon of pre-ground cilantro), then blending until smooth.
Once everything is prepared, ladle half of the soup into bowls and top with diced tomatoes (you can also use canned diced tomatoes if you prefer), vegan sour cream (if desired), chopped fresh cilantro (if desired), then diced poblano pepper strips or red pepper strips as desired***. Serve immediately with lime wedges on-the-side for extra zing!* Note: If making this recipe gluten free*** use gluten free vegetable broth instead of regular broth ** Note: If making this recipe gluten free*** use gluten free vegetable broth instead of regular broth *** Note: If making this recipe gluten free*** use gluten free vegetable broth instead of regular broth.
*To grind ingredients in a blender or food processor: Place ingredients in blender bowl; pulse several times or process briefly using food processor on low speed.