Make a nutritious and delicious meal in no time with our Avocado Broccoli Linguine recipe and find out the amazing health benefits and pairing ideas
What color is California? I know that might seem like an odd question, but humor me, if you had to choose a color for California what would it be? I was thinking green, a creamy light green that is beautiful when the sun hits it. An avocado green perhaps. This pasta is definitely California. The greens from the spinach, broccoli, and avocado give it beautiful color when the sun hits it. This recipe is super easy, relaxed, laid back, perfect anytime of day or year. It is full of flavor, fun to eat, and yet surprising, never boring or dull. This pasta is definitely California.
Cook Eat Delicious Rating: Okay, so maybe I am bias being from California or maybe it is really that great! If you love Cali then you will definitely love this pasta. It is packed with garlic and a light olive oil sauce that is balanced with all the veggies in this vegan recipe. Broccoli and Spinach and Avocado, can someone say "Yum" please?! This is one of those easy recipes that cook up in 20-30 minutes and you are never left with leftovers. Please try this and let me know what you think!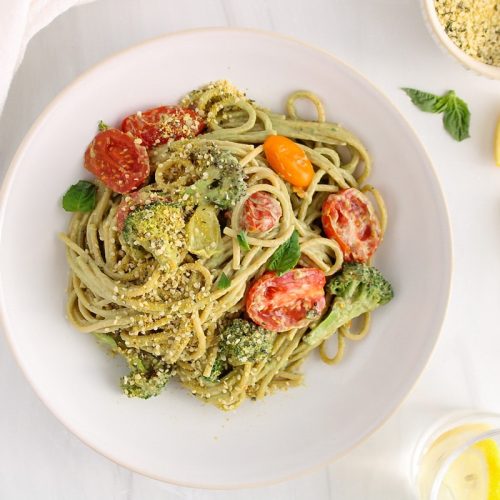 Avocado Broccoli Linguine
Are you looking for a delicious and nutritious meal that you can whip up quickly for lunch or dinner? We have the perfect recipe for you! Avocado Broccoli Linguine is a delicious and healthy dish that will satisfy your taste buds and your nutritional needs.
Ingredients
½

pound

linguine

3

cups

broccoli

cut into small florets

2

tbsp

olive oil

1

bulb of garlic

minced

1

tsp

lime zest

1

tsp

red pepper flakes

2

tbsp

white wine vinegar

2

tbsp

soy sauce

½

cup

water

Juice of 1 lime

1

tsp

salt

2

tsp

pepper

4

cups

spinach

3

avocados

cut into chunks
Instructions
Start to boil water for pasta.

Add in linguine.

In the last minute of cooking add in broccoli to pasta water.

Drain.

While the water is boiling & pasta cooking, heat pan over medium heat and add in olive oil, garlic, lime zest, and red pepper flakes.

Stir garlic mixture around for two minutes.

Pour in vinegar, soy sauce, and water and bring to a boil.

Add in lime juice, salt, and pepper.

Once sauce is boiling again, lower heat to a simmer and add in spinach and cook for an additional minute.

Add in drained linguine & broccoli and toss and coat well.

Turn off heat and gently toss in avocado chunks.

Serve immediately.
Notes
Avocado broccoli linguine is a delicious and healthy meal that can be customized to suit your dietary needs and preferences. With the help of this guide, you now have all the information you need to make a delicious plate of avocado broccoli linguine. Not only is it packed with nutrition, but it is also very tasty and easy to make! So, why not give it a try today? Experiment with different ingredients and flavors so that you can create your own unique version of this dish. Bon appétit!
Nutrition
Serving:
1
serving
Calories:
556
kcal
Carbohydrates:
63
g
Protein:
14
g
Fat:
31
g
Saturated Fat:
4
g
Polyunsaturated Fat:
4
g
Monounsaturated Fat:
20
g
Sodium:
1155
mg
Potassium:
1289
mg
Fiber:
15
g
Sugar:
4
g
Vitamin A:
3612
IU
Vitamin C:
85
mg
Calcium:
103
mg
Iron:
3
mg
Health Benefits Of Eating Avocado Broccoli Linguine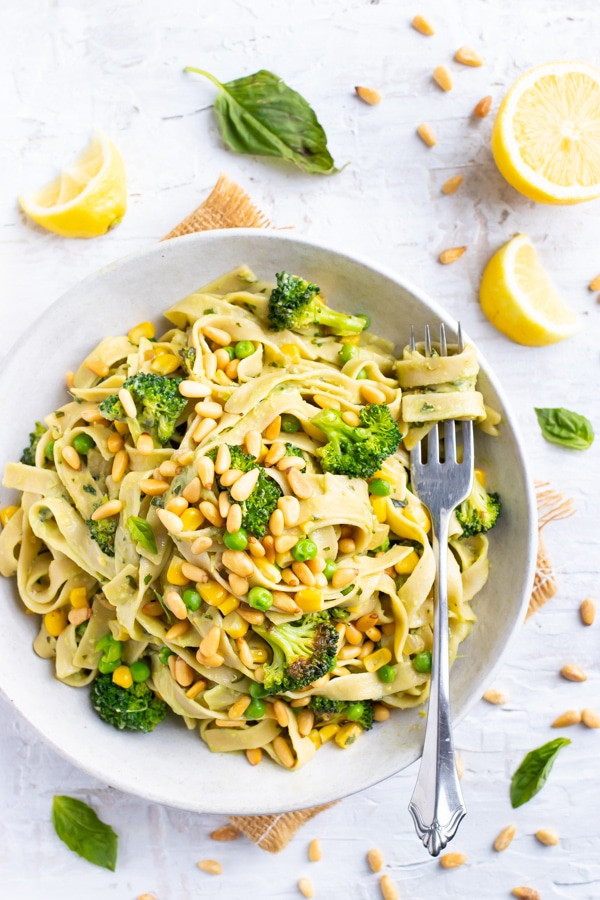 Making a nutritious meal can be challenging when you're on the go. That's why we've put together this avocado broccoli linguine recipe. It's easy to make and has a variety of health benefits that will leave you feeling satisfied and energized.
Not only is avocado broccoli linguine jam-packed with nutrients, but it's also versatile – you can add additional ingredients to create a unique flavor profile that your taste buds will love. This meal is perfect for vegetarians and people looking to increase their plant-based diet, as it contains plenty of protein and fiber. Plus, it has a rich flavor that will keep you coming back for more.
In addition, avocado broccoli linguine is low in calories but still filling, which makes it an ideal meal option for people trying to lose weight or manage their cholesterol levels. Additionally, this dish is also a good source of healthy fats and vitamins – including A, C and E – which are essential for overall health. So don't wait any longer – make avocado broccoli linguine today!
Tips For Customizing Your Meal
Why not try a nutritious and delicious meal tonight that is both easy to make and customize to your own taste? Avocado Broccoli Linguine is a dish that is packed with delicious flavor and nutrients. Below, we will outline the steps necessary for you to make this dish from scratch, with different ingredients and cooking methods.
Once you have all of your ingredients Preparing the Avocado Broccoli Linguine begins by boiling some water in a pot. Once boiling, add the pasta and cook according to package instructions. While the pasta is cooking, prepare the broccoli in a separate pan by cutting it into small florets and adding salt, pepper, garlic powder, and olive oil. Once broccoli is finished cooking, drain any excess water and add it to the pasta pot along with avocado slices. Lastly, add parmesan cheese if desired before serving up your delicious meal!
Pairing Ideas For Your Avocado Broccoli Linguine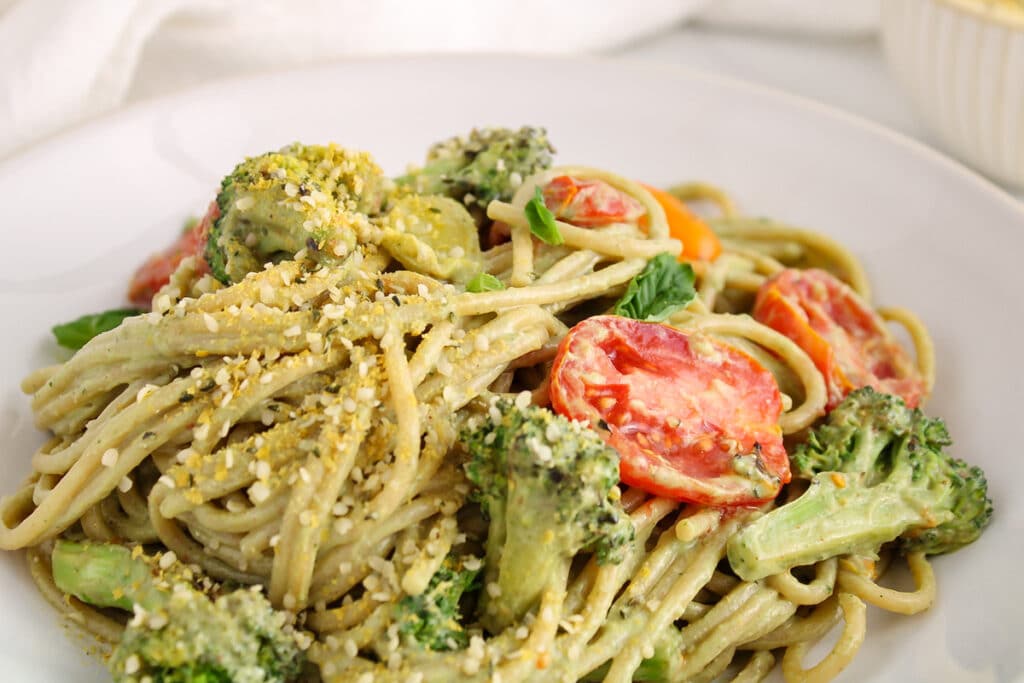 Avocados are a great source of healthy fats, vitamins, and minerals. They are also a good source of protein. Pairing avocado broccoli linguine with a variety of fresh vegetables and salad toppings makes for a nutritious and tasty meal.
To make the dish as delicious as possible, start by choosing the best ripe avocados. The skin should be smooth and the avocado should yield to gentle pressure when squeezed. Once you have chosen your avocados, it's time to get ready to cook!
Culinary techniques play an important role in perfecting any dish. For avocado broccoli linguine, use delicate angel hair pasta in order to avoid overcooking the noodles or creating tough strands. Additionally, avoid using too much cream or cheese – both of which can overpower the flavors of the dish. Instead, balance cream with cheese and spices for a well-rounded flavor profile that everyone will love.
Fresh herbs and citrus are excellent additions to this dish. For fresh herb additions, try stirring in chopped fresh parsley or basil during cooking time. Citrus is also another great choice – add diced oranges or grapefruit into the sauce for a tart citrus flavor that will pair beautifully with the creamy avocado sauce. Finally, if you want to take your meal up a notch (pun intended), adding some cooked chicken or shrimp would be delicious! As always, feel free to add your own variations – there's no wrong way to enjoy this healthy pasta dish!
FAQs about the Avocado Broccoli Linguine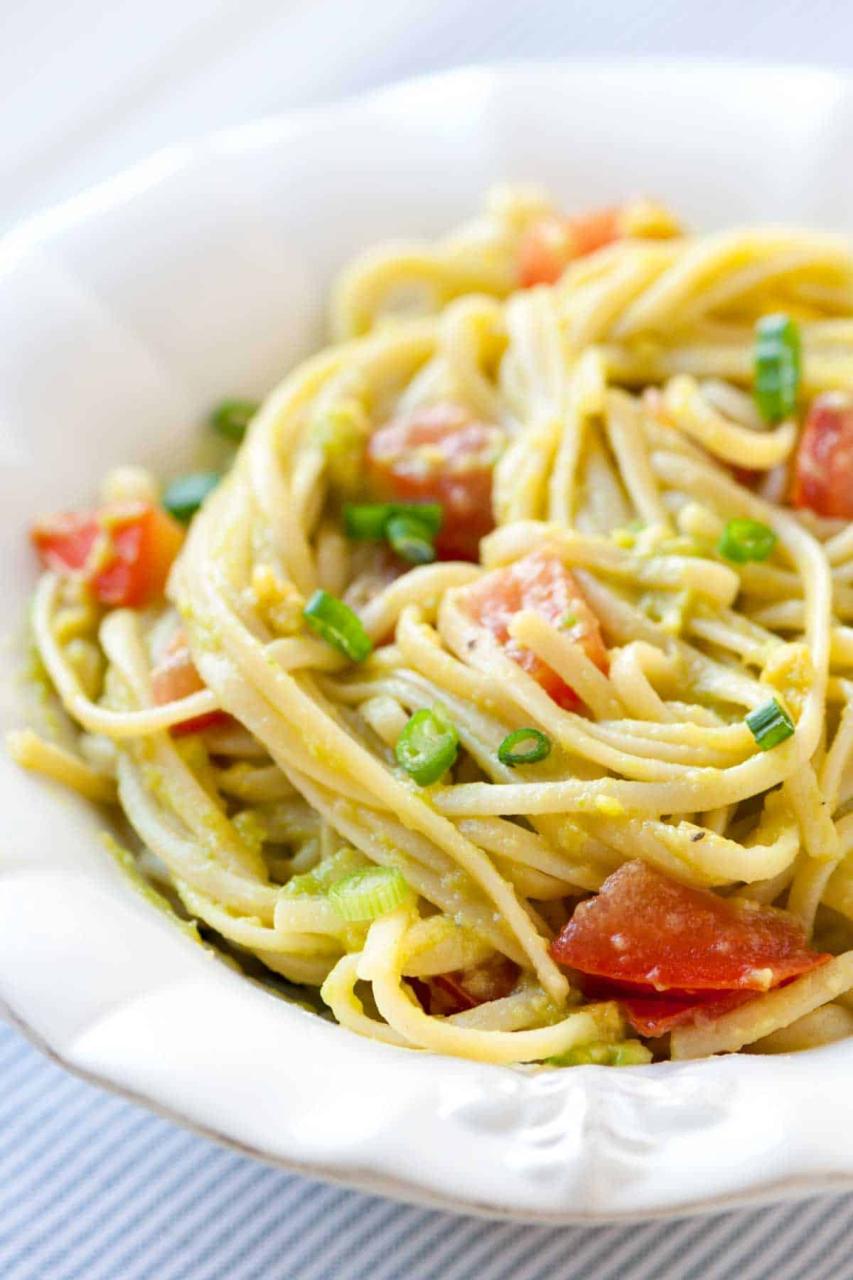 1. What is the Avocado Broccoli Linguine?
The Avocado Broccoli Linguine is a delicious and healthy pasta dish that is perfect for a quick and easy meal. This dish is made with avocado, broccoli, and linguine noodles, and is topped with a light and flavorful sauce.
2. What are the benefits of eating the Avocado Broccoli Linguine?
The Avocado Broccoli Linguine is a nutritious and filling meal that is packed with vitamins, minerals, and antioxidants. This dish is also low in calories and fat, and is a good source of fiber.
3. How do I make the Avocado Broccoli Linguine?
To make the Avocado Broccoli Linguine, simply cook the linguine noodles according to package instructions. Then, add the broccoli and avocado to the noodles and toss with the sauce. Serve immediately.
4. Can I make the Avocado Broccoli Linguine ahead of time?
Yes, the Avocado Broccoli Linguine can be made ahead of time and stored in the fridge for up to 2 days. Simply reheat the dish before serving.
5. What is the best way to store the Avocado Broccoli Linguine?
The best way to store the Avocado Broccoli Linguine is in an airtight container in the fridge.