Learn how to make vegan tacos without meat or dairy with our easy guide, and enjoy delicious plant-based proteins for a tasty meal!
Over the past couple of years I have realized that you can really "veganize" any recipe and be left with a delicious meal. When you minus the meat and dairy and eggs, vegetables really have a chance to stand on their own and they taste great. Don't get me wrong, I do still eat meat and dairy and eggs, I am just learning to appreciate food without them. Case and point: Tacos "veganized". No meat, no cheese, no sour cream. Rather sauteed veggies, thick black beans, cream avocado…yum! This easy recipe was a cinch to cook for lunch with simple ingredients that were in the fridge and pantry. I highly recommend it.
Cook Eat Delicious Rating: I used the mini corn tortillas and ended up eating four, they were addicting and full of flavor! My DH said they were great and would have been better with some sort of rice inside too. If you want a heartier taco, I recommend adding rice, but without rice I felt they are light and filling. I had onions and squash so that is what I sauteed up. Feel free to use bell peppers, asparagus, carrots, even broccoli. Keep it simple so that you can really taste each vegetable  without muddling them together and let me know how they turned out!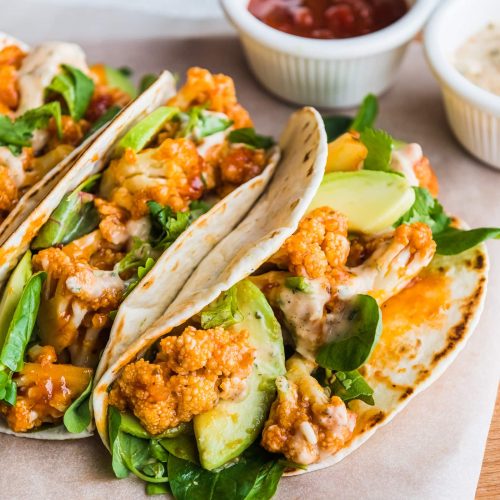 Vegan Tacos
Vegan Tacos Have Become Increasingly Popular In Recent Years, And For Good Reason. Not Only Are They Delicious, But They Are Also A Great Way To Get In Some Tasty Plant-Based Proteins.
Ingredients
1

tsp

olive oil

1

onion

1

summer squash

1

jalapeno

1

tbsp

taco seasoning

1

lime

1

can

black beans

rinsed & drained

10

small

corn tortillas

Avocado

sliced

Lettuce

Tomato

diced

Olives
Instructions
Cut onions into half moons and slice squash and jalapeno.

Heat beans in a small pot or microwave.

Heat oil in a pan over medium heat and add onions.

Cook onions for 3 minutes and add squash and seasoning.

Squeeze in juice from ½ of the lime.

Stir gently and remove from heat once squash is tender.

Meanwhile, heat tortillas in a warm pan.

Assemble tacos and slice remaining half of lime for garnish.
Notes
Vegan tacos are an incredibly versatile, flavorful, and nutritious meal that can be enjoyed by everyone. With the right ingredients and techniques, you can create delicious vegan tacos that taste just as good as traditional versions. Whether you're looking for a quick dinner option or want to impress your friends with something unexpected, vegan tacos are sure to hit the spot. So, why not give them a try today? And don't forget to experiment with different toppings and fillings - get creative!
Nutrition
Serving:
1
serving
Calories:
104
kcal
Carbohydrates:
20
g
Protein:
4
g
Fat:
1
g
Saturated Fat:
0.2
g
Polyunsaturated Fat:
0.5
g
Monounsaturated Fat:
0.5
g
Sodium:
33
mg
Potassium:
215
mg
Fiber:
4
g
Sugar:
1
g
Vitamin A:
83
IU
Vitamin C:
8
mg
Calcium:
36
mg
Iron:
1
mg
Creating Delicious Fillings For Your Tacos
The first step is to identify vegan taco fillings. You can use any of your favorite vegetables, grains, or sauces in place of the traditional meats and cheeses. For example, you could make a vegan version of ground beef by using Gardein shredded chicken instead. Or try making a plant-based version of cheese by making cashew cream cheese or tahini sauce as your filling base.
Once you've selected your filling options, it's time to prepare your vegan shells or wraps. Either option will work great – just be sure to choose a sturdy wrap or shell that can hold all of your deliciousness without bursting. Once you have your wrap or shell prepared, it's time to choose plant proteins for your tacos. You can use any variety of proteins – from tofu to lentils – so there's something for everyone on the menu!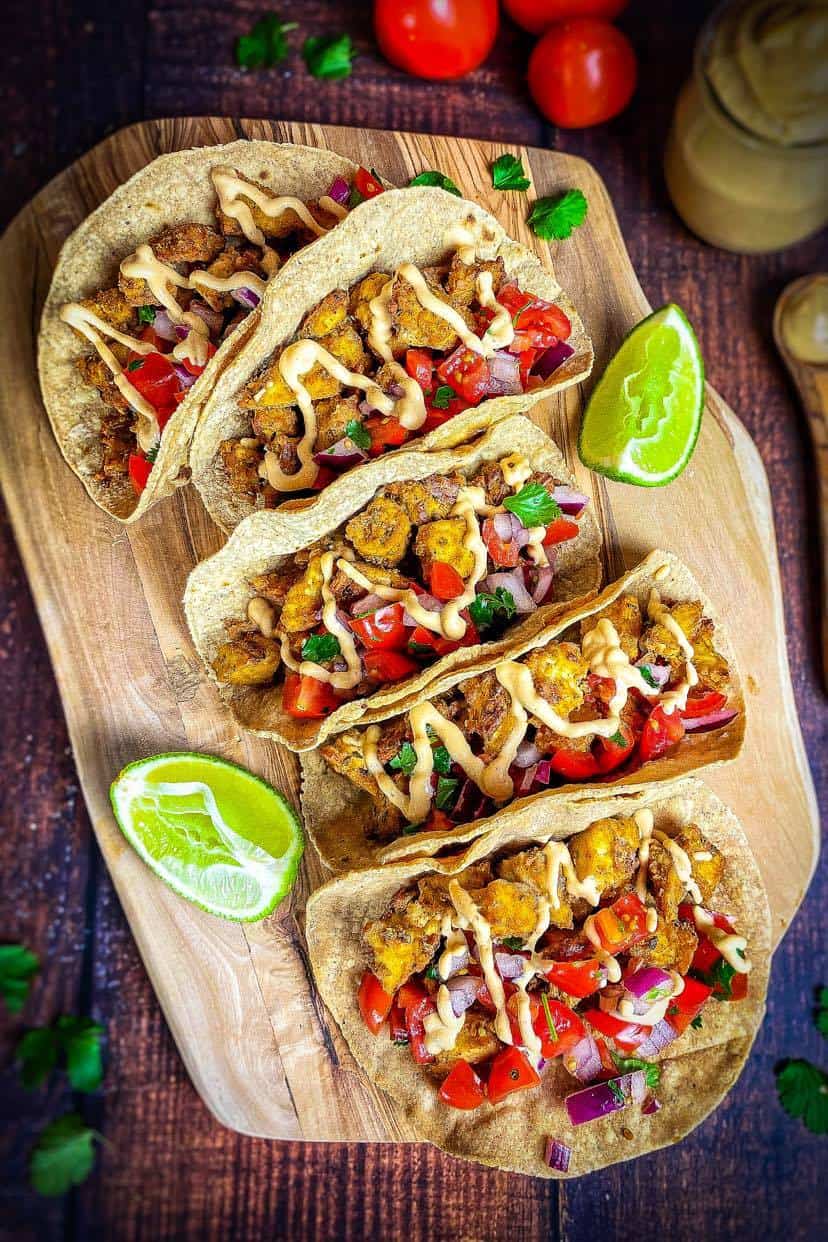 Next up is the fun part: building flavorful vegetables, grains, and sauces intoyour tacos. Assemble all of your ingredients into bowls or pots before cooking them until they are tender and cooked through. Be sure not to overcook anything – otherwise it will become dry and tasteless! Once everything is ready, it's time to finish off with some delicious Vegan toppings like avocado slices, salsa verde (green salsa), guacamole (made from avocado), or cilantro lime slaw dressing (made from cilantro). And if you're feeling extra creative, top each taco with a savory entrée like black beans or refried beans instead!
And that's all there is to it! Creating delicious vegan tacos doesn't require any major culinary skills – just follow these easy steps and you'll be good to go!
Decorating And Serving Your Vegetarian Tacos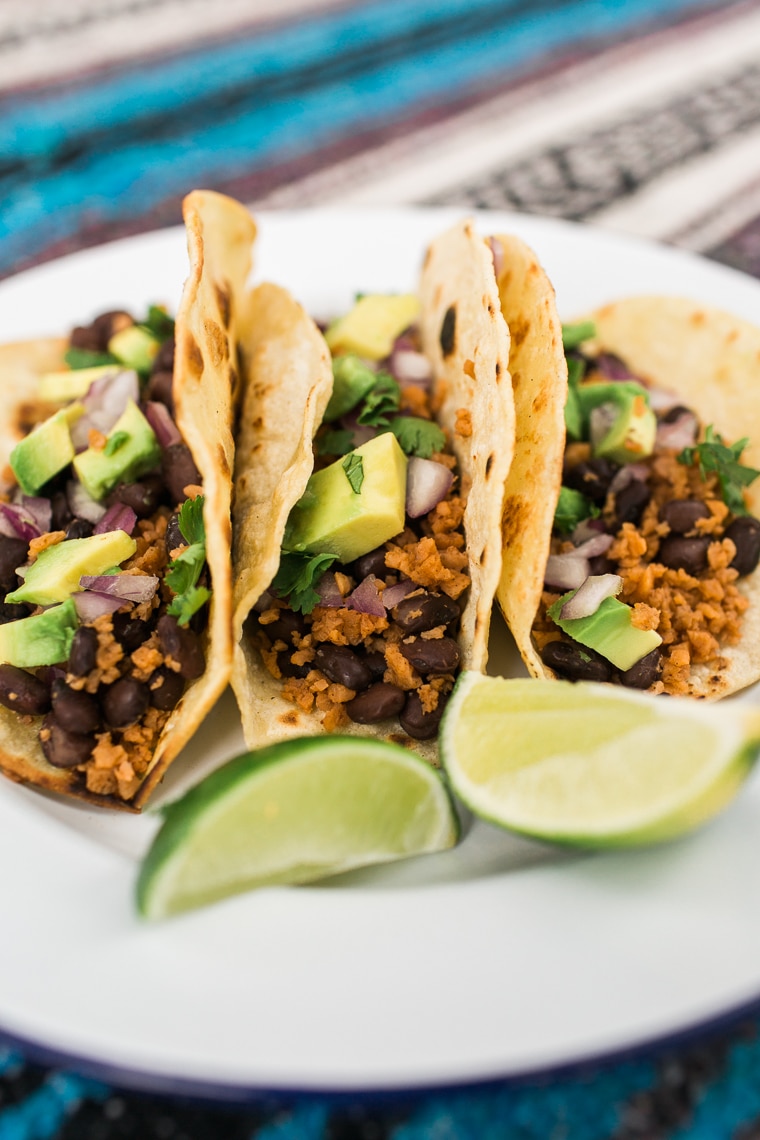 First and foremost, it's important to know how to prepare vegan taco fillings. You can either use premade ingredients or mix together your own ingredients using simple recipes. For example, you can make a vegan version of steak Tacos by mixing together ground seitan and black beans with salsa and avocado. Or try making a Veggie Taco Bowl by mixing together diced vegetables, grains, and tofu in a bowl then topping it with your favorite vegan toppings.
Once you have your taco filling ready, it's time to cook them up quickly in the oven or on the stovetop. Try cooking them in a single layer on an oven sheet or grilling them instead. Then it's time for some delicious toppings! There are endless possibilities when it comes to toppings for vegan tacos, but some popular choices include diced tomatoes, shredded lettuce or cabbage, diced avocado, salsa verde (a green sauce made from tomatillos), guacamole (made from ripe avocados), sour cream or cashew cream, and chopped fresh herbs such as cilantro or basil.
Finally, serve up your tacos presentation-style however you choose! You can serve them on soft tortillas wrapped in warm tortilla shells OR enjoy them as bowls topped with colorful vegetables and sauces of your choice. And don't forget about the special touches – add a little extra flavor by serving your vegan tacos with festive condiments such as festive salsas or crunchy toppings like chopped nuts or seeds. No matter what you choose for your special dish – these vegetarian tacos will leave everyone full and happy!
FAQs about the Vegan Tacos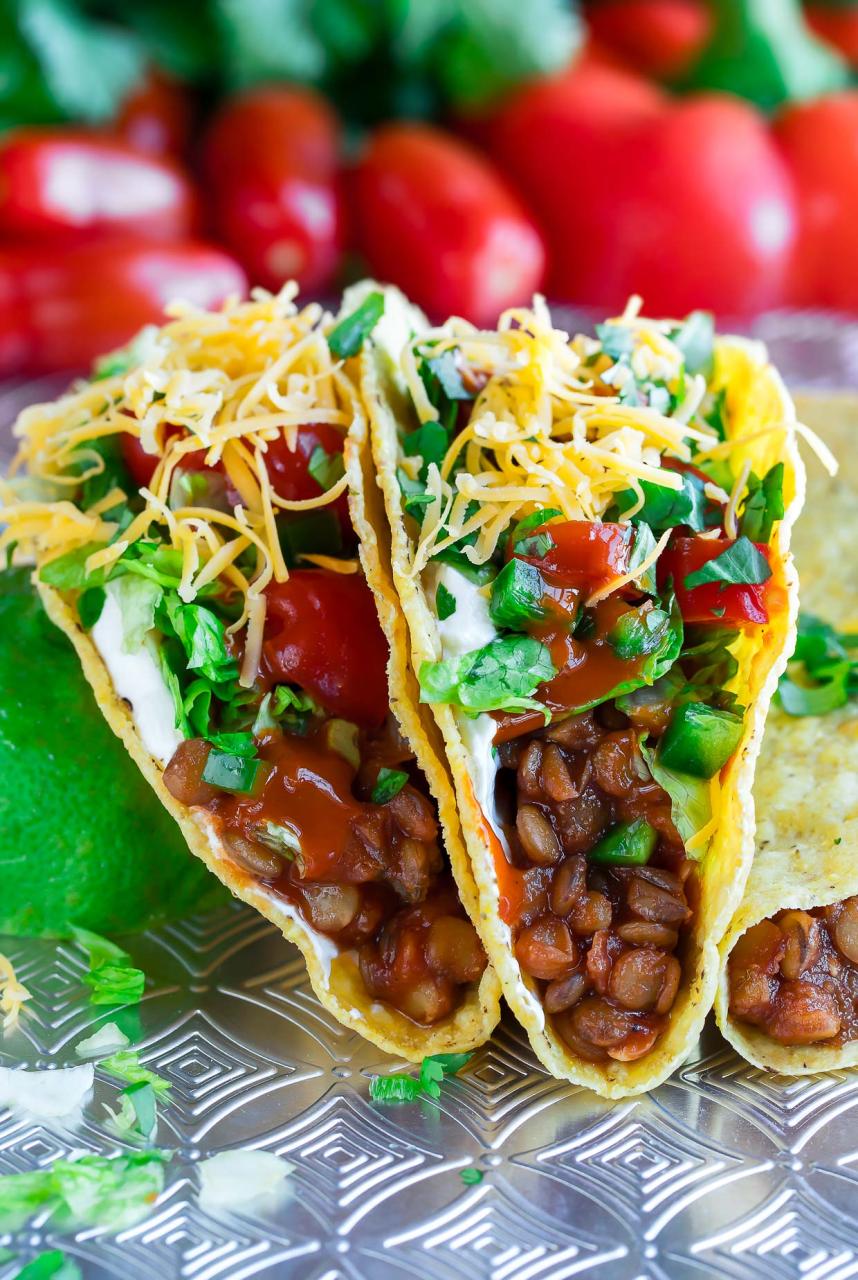 1. What are vegan tacos?
Vegan tacos are tacos that are made without any meat or animal products. This means that they are made with vegetables, beans, and other plant-based ingredients.
2. How do I make vegan tacos?
There are many different ways to make vegan tacos. You can use any vegetables or beans that you like, and there are many different sauces and seasonings that you can use to flavor them.
3. What are some good vegan taco recipes?
There are many different vegan taco recipes available online and in cookbooks. Some of our favorites include black bean tacos, lentil tacos, and tofu tacos.
4. What are some good toppings for vegan tacos?
There are many different toppings that you can use on vegan tacos. Some of our favorites include salsa, guacamole, and vegan sour cream.
5. Are vegan tacos healthy?
Yes, vegan tacos can be very healthy. They are packed with nutrients from the vegetables and beans, and they are low in saturated fat and cholesterol.