Transform your vegetables into a delicious, healthy meal with this easy-to-follow Vegetable Fritters with Basil Cream Sauce Recipe
Spring has been upon us and vegetables are in abundance. Since I have been slowly inching towards a vegan diet, I have been doing a lot of experimenting with vegetarian dishes. Pan fried vegetables sounds healthy enough, I mean it isn't actually deep fried. And of course nothing fried can ever go wrong, right? Wrong. While the idea of a crispy vegetable fritter sounds good, the execution didn't quite make it.
Cook Eat Delicious Rating: Easy recipe to make as long as you follow the very simple directions of shredding, mixing, and frying. These fritters just didn't do anything for my palate. The Basil cream dipping sauce was great but overall I wasn't satisfied with the meal. I expected something else to come out of something fried! I doubt I will make this dish again. I served it with some leftover rice and it did do a bit better when coupled with the rice but then I could have just stir-fried my vegetables instead. Also the batter began to turn soggy fast after it was fried. You might have more success with the recipe, so let me know how it turns out.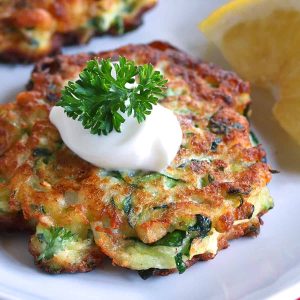 Vegetable Fritters with Basil Cream Sauce
In this blog post, we will provide you with an easy-to-follow recipe with all the ingredients you need to make these delicious fritters. Additionally, we will provide you with some tips and FAQs on how to make the best fritters. With this recipe, you will be able to make delicious and flavorful vegetable fritters in no time!
Ingredients
1

large

carrot

1

zucchini

1

yellow squash

or red bell pepper

⅓

cup

flour

⅓

cup

Parmesan cheese

freshly grated

½

tsp

salt

⅛

tsp

pepper

1

egg

½

cup

vegetable oil
Dipping Sauce:
⅔

cup

sour cream

⅔

cup

basil

fresh chopped

1

tsp

lemon juice

fresh

½

tsp

salt

½

tsp

pepper
Instructions
Start with Dipping Sauce.

Add all ingredients in blender and process until smooth.

Refrigerate while cooking the fritters.

Shred the three vegetables on coarse side of a grater.

Pat vegetables with paper towels until very dry.

Mix in with the vegetables the flour, cheese, salt & pepper, and egg.

Heat oil over medium heat in skillet.

Drop ¼ cup of batter into hot oil and flatten to make about a 3 inch round.

Fry fritters, 2-3 minutes on each side or until golden brown.

Place on paper towels and keep warm in oven until ready to serve.
Notes
Vegetable fritters are a delicious and nutritious meal option. They are easy to make and provide a great way to use up leftover vegetables. With the right ingredients, careful preparation, and flavorful sauces, you can make vegetable fritters that are sure to impress. So, why not give it a try? Get creative with your ingredients and create your own unique veggie fritter recipes - the possibilities are endless!
Nutrition
Calories:
214
kcal
Carbohydrates:
8
g
Protein:
4
g
Fat:
19
g
Saturated Fat:
5
g
Polyunsaturated Fat:
8
g
Monounsaturated Fat:
5
g
Trans Fat:
0.1
g
Cholesterol:
35
mg
Sodium:
380
mg
Potassium:
207
mg
Fiber:
1
g
Sugar:
2
g
Vitamin A:
1890
IU
Vitamin C:
10
mg
Calcium:
88
mg
Iron:
1
mg
Making The Basil Cream Sauce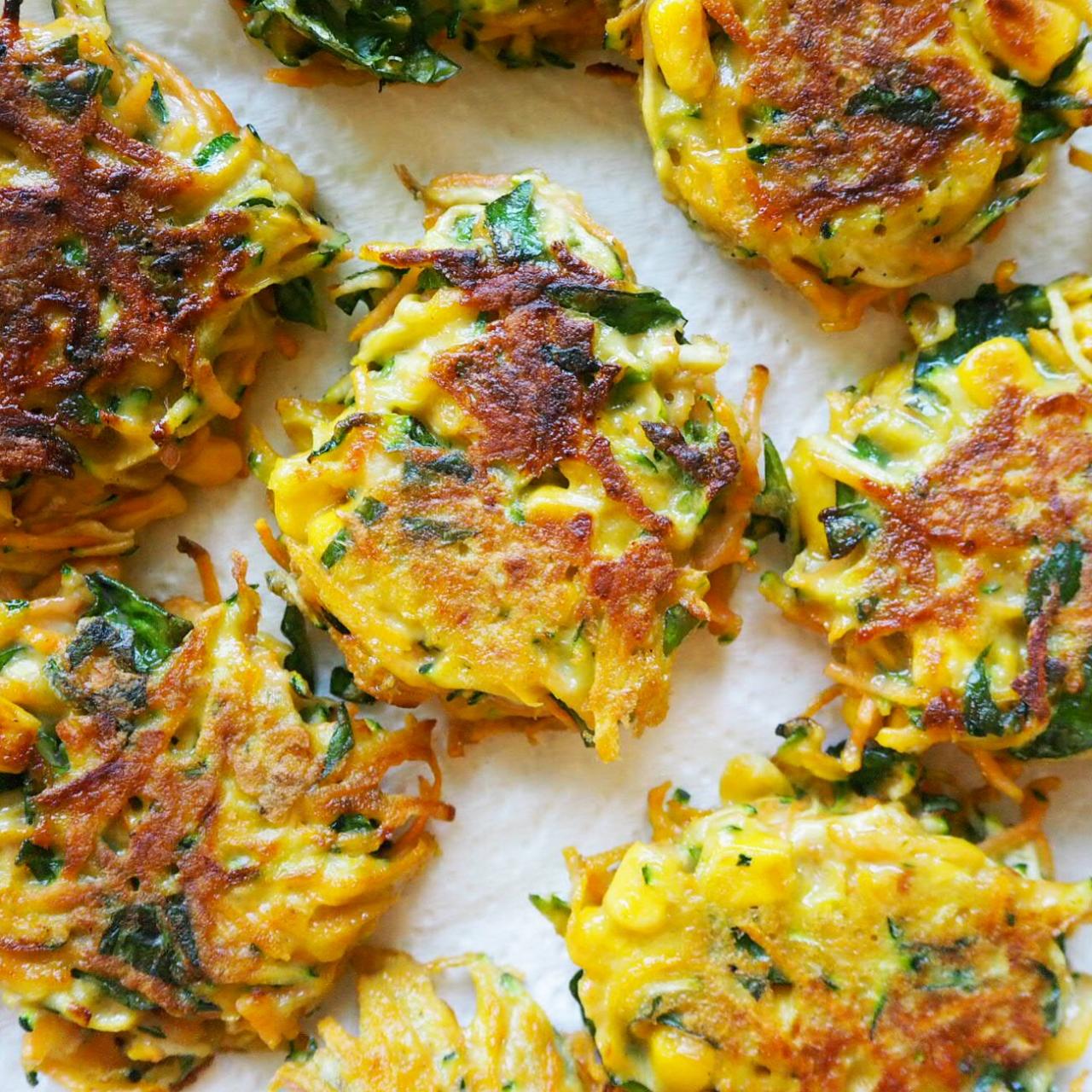 Looking for a delicious and healthy appetizer? Look no further than these Vegetable Fritters with Basil Cream Sauce. These fritters are made from simple ingredients that are cooked until they're tender and then served with a delicious Basil Cream Sauce.
To make the Basil Cream Sauce, first combine olive oil and diced onion in a small pan and heat until softened. Add garlic, basil, salt and pepper and cook for another minute or two. Turn off the heat and add cream to the pan. Stir in parmesan cheese before using an immersion blender or regular blender to puree the ingredients. Refrigerate until ready to use.
Next, it's time to prepare the fritters themselves! Heat a skillet over medium high heat with enough oil to shallow fry the fritters. Once hot, add the fritters to the pan and cook for about 2 minutes per side or until they're golden brown and crispy. Serve immediately with Basil Cream Sauce on the side for an incredibly tantalizing appetizer!
Serving Tips For Vegetable Fritters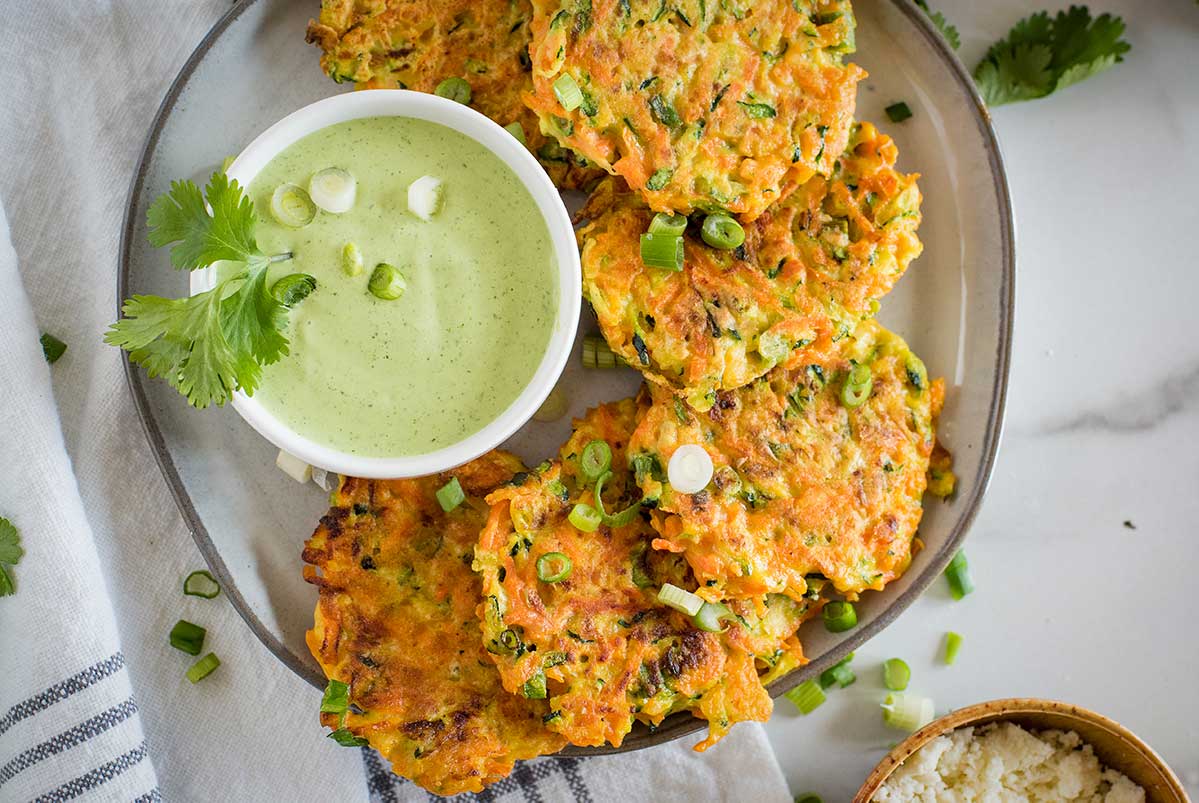 Once the fritters are cooked through, serve them up with a Basil Cream Sauce recipe as your dish of choice. This sauce is made with heavy cream (or half-and-half), fresh basil leaves (chopped), parmesan cheese (grated), salt and pepper to taste. Assemble your presentation platter by arranging some of the fritters on top of each other in an attractive way before serving. You can also try serving them alongside some roasted vegetables or fruits for added flavor and nutrition punch!
Finally don't forget to store your leftovers properly so that they stay fresh and tasty – covered in foil or stored in a refrigerator crisper drawer. Enjoy!
Frequently Asked Questions About Veggie Fritters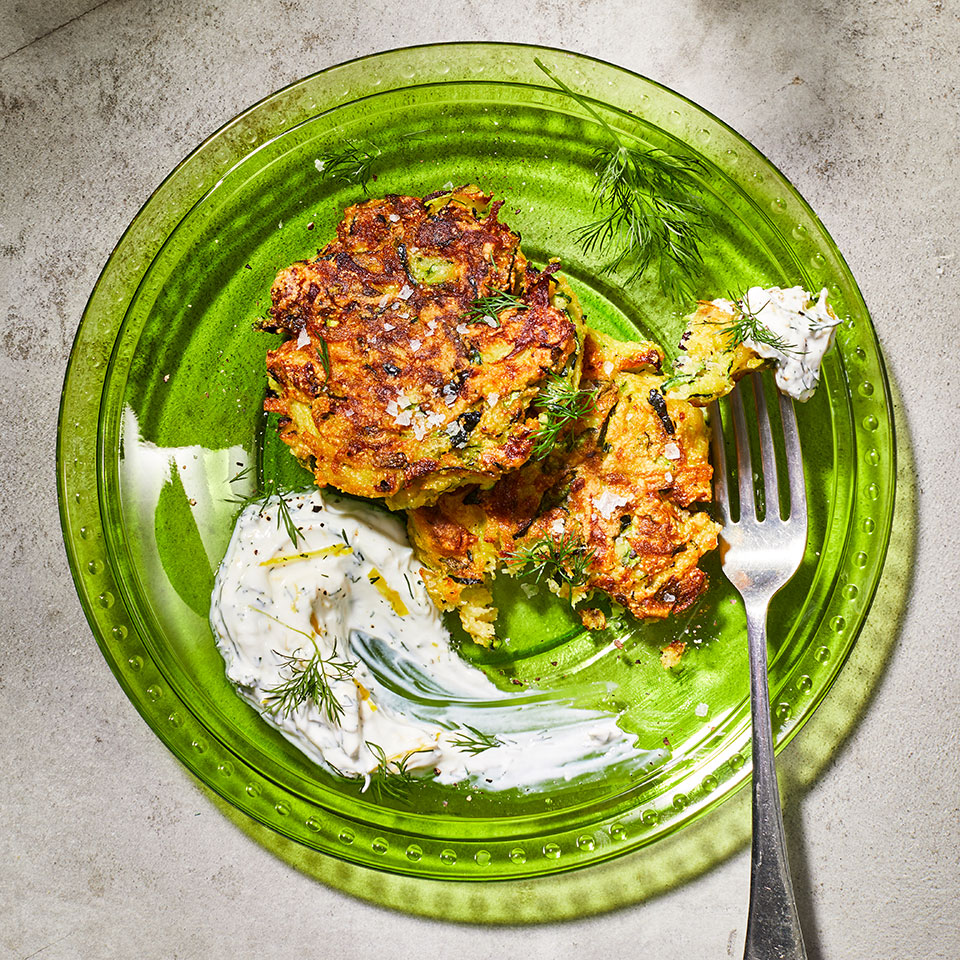 What kind of vegetables can I use for the fritters?
You can use any vegetables that you wish – as long as they are fresh and diced into small pieces. We recommend using bell peppers, potatoes, carrots, zucchini, or squash for the fritters.
How to prepare the vegetables?
You will need to dice the vegetables into small pieces and then steam them until they are soft. Once they are soft, you can make the fritters by mixing them with egg whites and bread crumbs. Finally, heat oil in a frying pan over medium-high heat and fry the fritters until they are golden brown on both sides.
How to make the basil cream sauce?
First, heat cream in a saucepan over medium heat until it just begins to simmer. Add basil leaves and simmer for an additional 2 minutes before serving. Alternatively, you can also serve the sauce with chopped tomatoes instead of basil leaves if desired.
How to store vegetable fritters?
Once you have made the vegetable fritter mixture, cool it down completely before storing it in an airtight container or freezer for later use. Alternatively, you can also prepare them ahead of time and store them in a refrigerator for up to four days. For best results though, we recommend frying them shortly after making them.