Satisfy your sweet tooth with this easy-to-follow, delicious Raisin Apple Braid Recipe
Bread filled with apple & raisin goodness?! A warm bread with a sweet fruit center is a delicious snack anytime of the day. I made this yeast bread as an alternative to my sweet sweets. It seems a bit more healthy than a cake, right? Living in a high altitude I had to do some adjusting so that the bread doesn't dry out when baking but it turned out very nice. My DH loved it.
Cook Eat Delicious Rating: 'Home Cook' for level of cooking. I might have to adjust it to 'Master Chef' though. If you have experience with yeast and bread dough than this will be very an easy recipe for you to cook up. However, if you a new and this may be your first bread recipe it may take a couple of times for the bread to turn out just right. Proofing yeast and kneading the dough to the right elasticity takes a bit of experience. When I first made cinnamon rolls years ago, I tried making them everyday. I think we feasted on rolls for at least 2 weeks before I got it right!
The bread itself is very good. The glaze adds a nice sweetness to it and the apple center really goes good with the bread. Next time I will add some cardamom to flavor the actually bread as it was missing a little something for me. Please try this recipe. It is a great coffee bread. I will definitely bake it again and serve for friends with tea or coffee.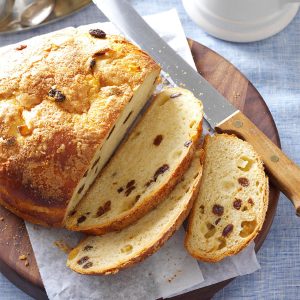 Raisin Apple Braid
Sweet, buttery, and full of flavor, the raisin apple braid is the perfect treat for any occasion. Whether you're looking for a dessert to bring to a party or a snack to share with friends, this delicious braid is sure to be a hit. In this blog post, we'll provide you with a step-by-step guide to making the braid, tips and tricks for a perfect result, answers to frequently asked questions, and serving suggestions. Read on to learn how to make the perfect raisin apple braid every time!
Ingredients
5

tbsps

butter

2

green apples

peeled, cored, and diced

1/2

cup

raisins

1/2

cup

chopped pecans

1/4

tsp

cinnamon

1/4

tsp

all spice

1/2

cup

granulated sugar

1

package of quick-rise yeast

1/4

tsp

salt

2 1/2

cups

flour

1/3

cup

milk

1

egg

4

tsp

milk

3/4

cup

powdered sugar
Instructions
In large skillet, melt 2 tbsps of butter over medium heat.

Add apples, raisins, pecans, cinnamon, all spice, and 1/4 cup of sugar.

Cook 10 minutes or so until apples are tender and set aside.

In large bowl, combine yeast, salt, 1/2 cup of flour, and the rest of the granulated sugar (1/4 cup).

In a small saucepan heat 1/3 cup of milk and the last 3 tbsps of butter and 2 tbsps of water until very warm.

With mixer on low speed, gradually add milk mixture to flour mix. Increase speed to medium and mix for 2 minutes.

Beat in egg and another 1/2 cup of flour and mix for another 2 minutes.

With wooden spoon, stir in 1 1/2 cups of flour to make a soft dough.

Turn out dough on a floured surface and with floured hands knead about 10 minutes until smooth and elastic.

Shape into a ball and let rest for 10 minutes.

On a greased cookie sheet (17″ by 14″) roll dough out into a 14″ by 10″ rectangle.

Place apple mixture in a 3-inch wide strip lengthwise down the center.

On both sides of the filling cut dough into 1-inch wide strips.

Place strips at an angle across filling, alternating sides.

Pinch last strip to bottom of braid to seal.

Cover and let rise in a warm place for 40 minutes or until doubled in size.

Bake in a preheated oven at 350 degrees F. for 30 minutes or until nice and golden.

Cool on a wire rack.

Make glaze by whisking milk and powdered sugar together and drizzle over braid.
Notes
Making the perfect Raisin Apple Braid is easier than you think! With a few simple ingredients, you can make this delicious sweet treat in no time. The step-by-step guide, tips and tricks, serving suggestions, and frequently asked questions provide all the information you need to get started. Now it's time to roll up your sleeves and get baking! With a little bit of effort and patience, you'll be able to create a delectable Raisin Apple Braid that will surely impress your friends and family. So what are you waiting for? Give it a try today!
Nutrition
Serving:
1
braid
Calories:
306
kcal
Carbohydrates:
34
g
Protein:
7
g
Fat:
18
g
Saturated Fat:
9
g
Polyunsaturated Fat:
2
g
Monounsaturated Fat:
5
g
Trans Fat:
0.5
g
Cholesterol:
195
mg
Sodium:
739
mg
Potassium:
307
mg
Fiber:
5
g
Sugar:
23
g
Vitamin A:
702
IU
Vitamin C:
9
mg
Calcium:
58
mg
Iron:
1
mg
Tips And Tricks For A Perfect Result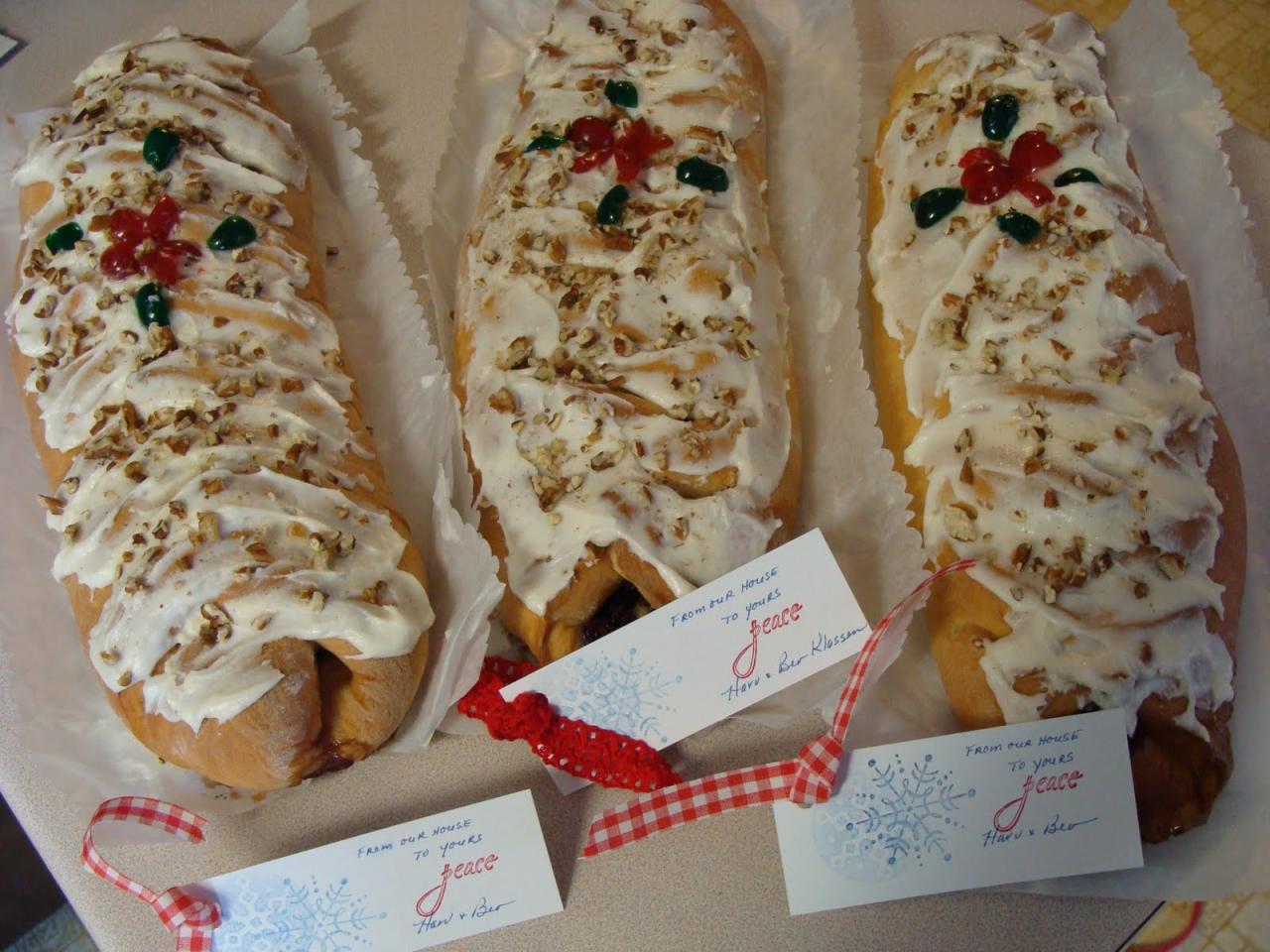 If you're looking for a delicious and easy recipe to make, then you need to check out this raisin apple braid recipe. This dish is perfect for any time of year, and it's sure to please your taste buds. In this section, we'll walk you through the steps needed to prepare this dish and ensure that it turns out perfect every time.
First, let's start with the dough. This recipe calls for a sweetened apple sauce as the filling, so make sure that you have plenty of that on hand before beginning. Once you have the dough prepared, it's time to roll it out and begin braiding the braid. Be sure to follow our tips and tricks for a perfect result in order to achieve an aesthetically pleasing braid.
Once the braid is rolled out and braided, it's time to bake it in a preheated oven until golden brown and crispy on top. Once done baking, let cool slightly before assembling your apples and raisins filling. Be sure to use fresh or frozen apples whenever possible so that they don't turn too mushy during baking or cooking. Finally, make sure that you finish up by applying our delicious glaze before serving!
We hope that you enjoy this delicious raisin apple braid recipe as much as we do! For storage tips and more delicious recipes like this one, be sure to check out our website regularly.
Frequently Asked Questions About Raisin Apple Braids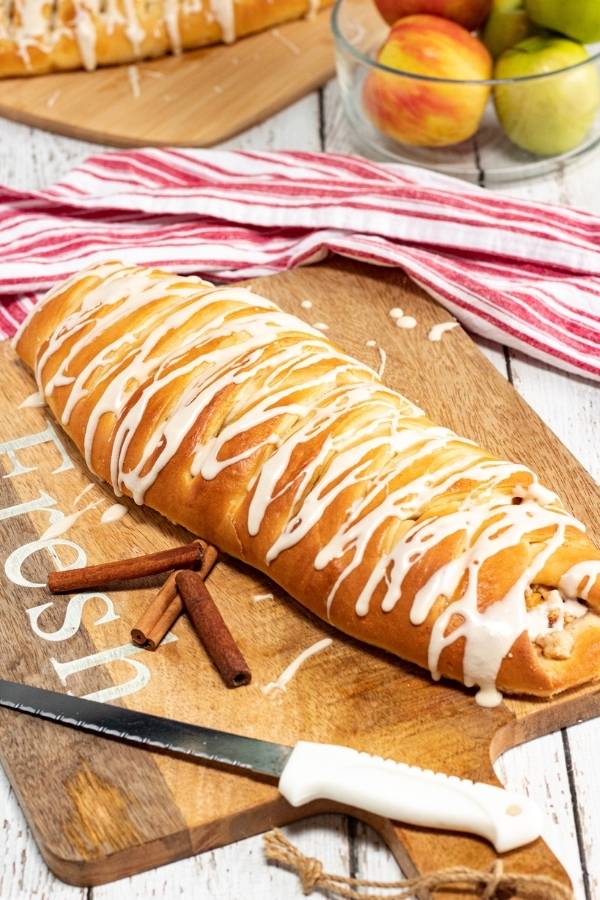 1. What is a raisin apple braid?
A raisin apple braid is a type of pastry that is made with raisins, apples, and dough. The dough is braided and then baked.
2. How do you make a raisin apple braid?
To make a raisin apple braid, you will need raisins, apples, dough, and a baking dish. First, preheat your oven to 350 degrees. Then, mix the raisins, apples, and dough together. Once mixed, braid the dough and place it in the baking dish. Bake for 30 minutes or until golden brown.
3. What are some raisin apple braid toppings?
There are many raisin apple braid toppings that you can choose from. Some popular toppings include cinnamon, sugar, and frosting.
4. How do you store a raisin apple braid?
You can store a raisin apple braid in a sealed container or bag. It is best to eat within a few days for freshness.
Serving Suggestions For The Raisin Apple Braids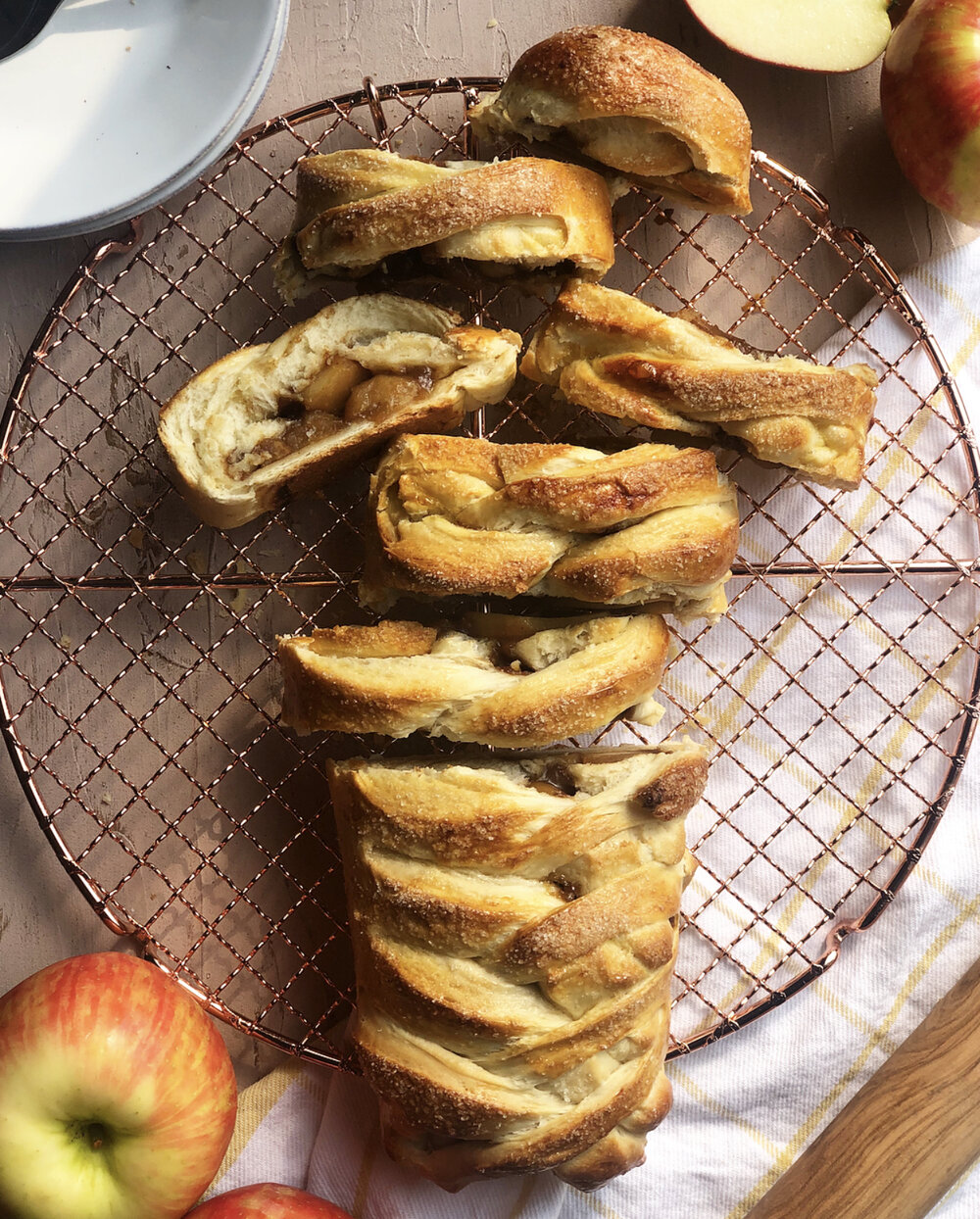 Apple raisin bread is a delicious and healthy option for breakfast or a snack. It is easy to make and can be served with a variety of toppings.
For a healthy option, spread some almond butter on your apple raisin bread. This will give you a filling and satisfying meal. You can also add a sliced banana or some chopped nuts for an extra boost of energy.
For a sweeter option, try spreading some honey or jelly on your apple raisin bread. This is a great option for a quick snack or a light dessert. You can also add some whipped cream or ice cream for a more decadent treat.