Get the perfect barbecue baked bean recipe for your next cookout, plus tips and FAQs to make the perfect BBQ beans without fussing
You cannot have a barbecue without baked beans. I love to place my baked beans right next to my side of potato salad. The thick sweet sauce of the beans runs into the creaminess of the potato salad…Yum! What a combination!
Although I am not against a good can of Bush's Baked Beans, I do occasionally make my own. Since we have been down here in Mexico it is my only choice since canned baked beans are not available!
Cook Eat Delicious Rating: The beans turned out delicious. This easy recipe cooks up a thick sauce that is sweet and tangy. The pieces of bacon add the right amount of smoked saltiness. The recipe is easy and can be adjusted according to your taste. I will definitely cook these again.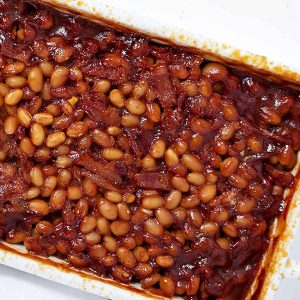 Barbecue Baked Bean
Looking for the perfect way to enjoy your next barbecue? Look no further than our comprehensive Barbecue Baked Bean recipe. This dish is perfect for any outdoor cookout, and it can be enjoyed with a variety of serving suggestions.
Ingredients
2

Cans

pinto beans

cooked

1/4

cup

molasses

1/4

cup

onion

chopped

4

tbsps

brown sugar

2

tbsps

ketchup

1

tbsp

prepared mustard

6

slices

bacon
Instructions
Preheat oven to 350 degrees F.

Mix first 6 ingredients together in a bowl and pour into a greased baking dish.

Top with bacon.

Cover with foil and bake for 1-2 hours or until thick.
Notes
We hope this guide has been helpful in showing you how to make the perfect barbecue baked beans! With just a few ingredients and following the simple steps outlined above, you can whip up a delicious batch of BBQ beans to enjoy and share with friends and family. Be sure to experiment with different variations to find your favorite way of making this classic dish. And don't forget to serve it with all the trimmings for a truly memorable meal! Why not give it a try today?
Nutrition
Serving:
4
side dishes
Calories:
135
kcal
Carbohydrates:
31
g
Protein:
0.4
g
Fat:
2
g
Saturated Fat:
1
g
Polyunsaturated Fat:
0.2
g
Monounsaturated Fat:
1
g
Cholesterol:
1
mg
Sodium:
123
mg
Potassium:
367
mg
Fiber:
0.4
g
Sugar:
29
g
Vitamin A:
41
IU
Vitamin C:
1
mg
Calcium:
59
mg
Iron:
1
mg
Tips & FAQs About Making Barbecue Baked Beans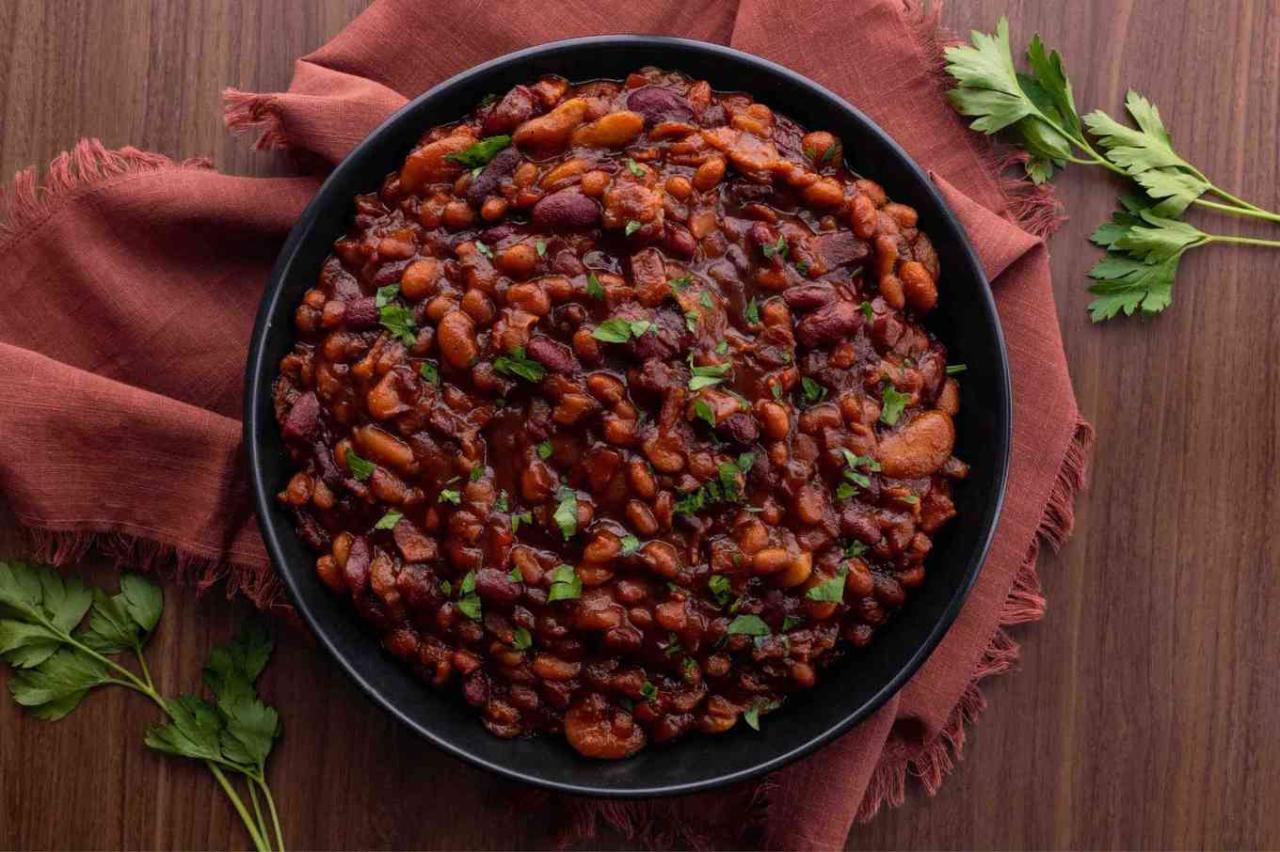 Making barbecue baked beans is a simple process, but there are a few things to keep in mind to ensure that your beans turn out perfectly. Here are a few tips and FAQs to help you make the best barbecue baked beans:
-What type of beans should I use?
There are many different types of beans that can be used for barbecue baked beans, but the most popular choices are pinto beans and navy beans. You can use either type of bean, or a combination of both.
-Should I soak my beans before cooking them?
Soaking your beans before cooking them is not required, but it can help to soften them and reduce cooking time. If you choose to soak your beans, simply place them in a bowl of water and let them sit for at least 8 hours, or overnight.
-How long should I cook my beans?
Cooking time will vary depending on the type of bean you use, as well as whether or not you soaked them beforehand. Pinto beans typically take about 1-2 hours to cook, while navy beans can take up to 3 hours.
-What other ingredients should I add to my beans?
In addition to beans, the most common ingredients in barbecue baked beans are onion, garlic, and a sweetener such as molasses or honey. You can also add other spices and herbs to taste.
-Can I make ahead?
Barbecue baked beans can be made ahead of time and reheated when ready to serve. They can be stored in the refrigerator for up to 3 days, or in the freezer for up to 2 months.
Serving Suggestions To Enjoy With Barbecue Baked Beans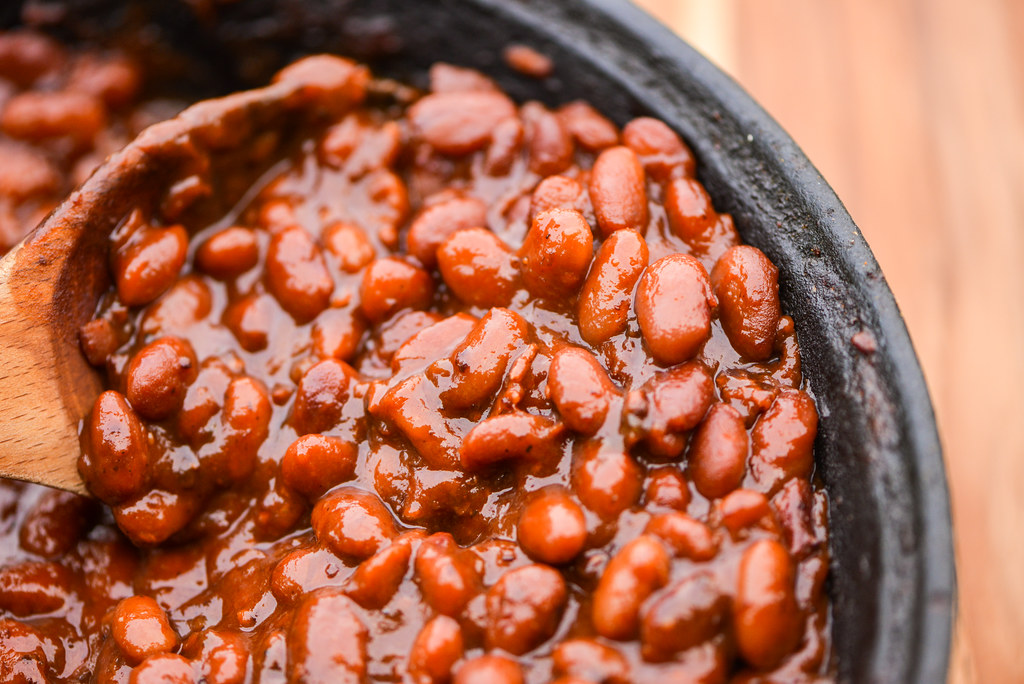 To make the perfect Barbecue Banned Bean recipe, you will need the following ingredients: white beans, brown sugar, smoked paprika, garlic powder, onion powder, salt, black pepper. It is important to note that this recipe is not strictly speaking a bean dish – it also includes spices such as smoked paprika and garlic powder that give it a distinct flavor profile. As such, it is recommended that you use either black or red beans in place of the white beans for a more authentic experience.
Once you have all of your ingredients assembled, it's time to get cooking! To achieve optimal results, we recommend using an oven or grill instead of stovetop cooking. Preheat your oven or grill to 350 degrees Fahrenheit before adding your beans and spices. Be sure to bake or grill them until they are well-cooked – this should take around 30 minutes on an oven or 45 minutes on a grill.
Once your beans are cooked to perfection, it's time to prepare your toppings and sides. Consider serving our BBQ Baked Bean recipe with our favorite serving suggestions below:
– diced onions
– diced green bell peppers
– shredded cheese
– chopped fresh parsley
– sliced dill pickles (optional) – sour cream (optional)
These are just some of the many options that you can enjoy when dining on our delicious Barbecue Baked Bean recipe! For extra flavor and complexity, consider adding different types of toppings and side dishes into the mix. For example: try serving our Beans alongside grilled chicken breast marinated in our secret BBQ sauce recipe, shredded lettuce tossed in ranch dressing, collard greens fried up with bacon, buttery corn on the cob, or even some simpleHomemade Graham Crackers. The possibilities are endless! And don't forget about those delicious leftovers – they make great additions to salads days later!
Different Variations Of The BBQ Bean Dish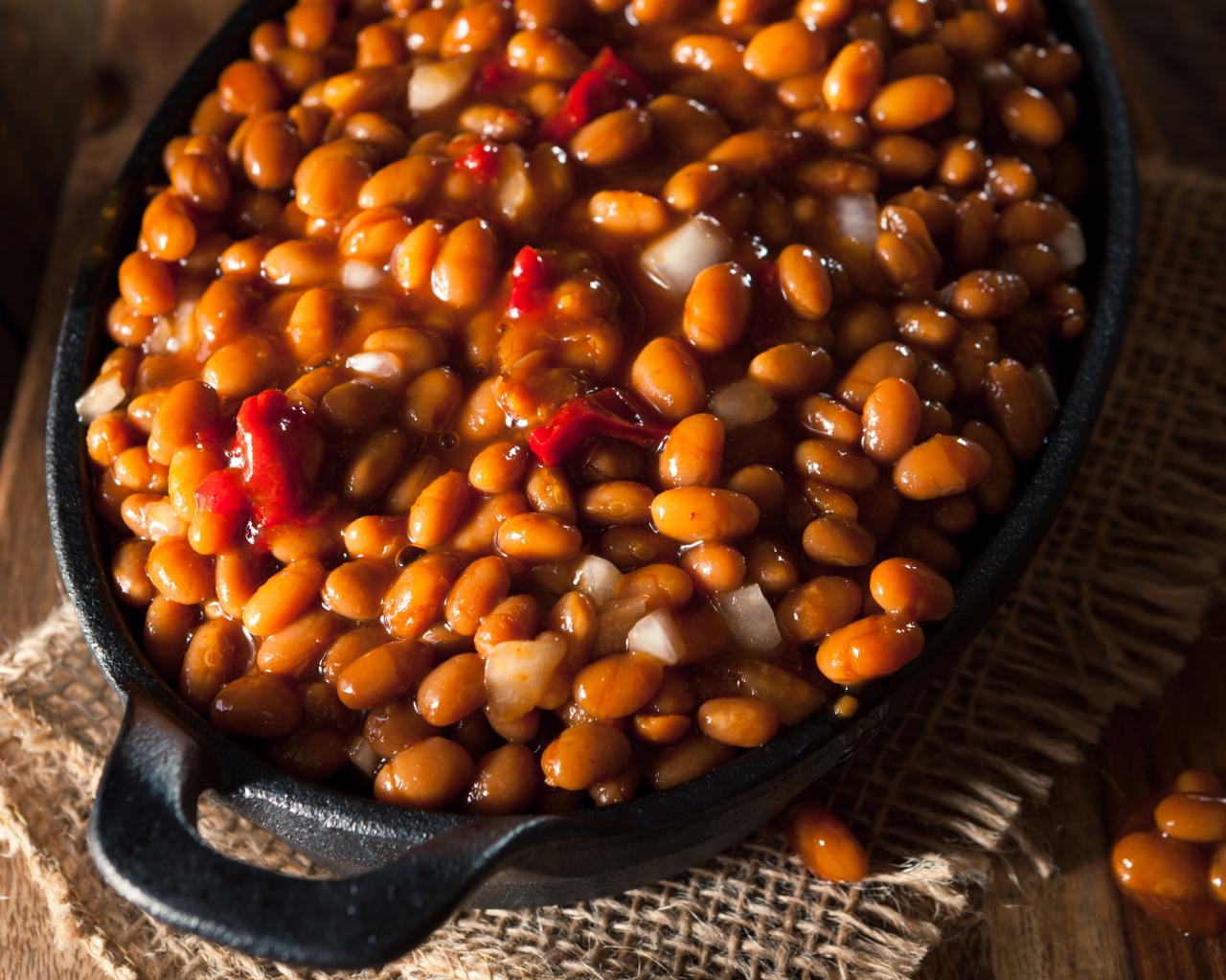 When it comes to barbecue, there are few dishes that can compare to the deliciousness of baked beans. Whether you're hosting a backyard cookout or just want to enjoy a dish at home, these beans are the perfect choice. Not only are they easy to make, but they also vary in flavor depending on the ingredients that you choose. In this section, we'll outline the different variations of BBQ baked beans and suggest methods of preparation for each.
Whether you're using canned beans or cooking them from scratch, there is always a perfect balance between sweet and savory flavors that will be satisfying to your taste buds. You can also create a variety of different flavors by adding different seasonings like garlic powder, onion powder, or cumin. If you'd like to add some extra protein into your dish, try adding bacon, sausage, ground beef or pulled pork. Finally, if you'd like to take your BBQ baked beans up a notch, consider incorporating fresh vegetables and herbs into the mix for added nutrition and flavor. Whether you're using slow cookers, stovetops or ovens – there's a method for preparing these amazing beans that will satisfy your craving!
How To Make The Perfect BBQ Baked Bean Without Fussing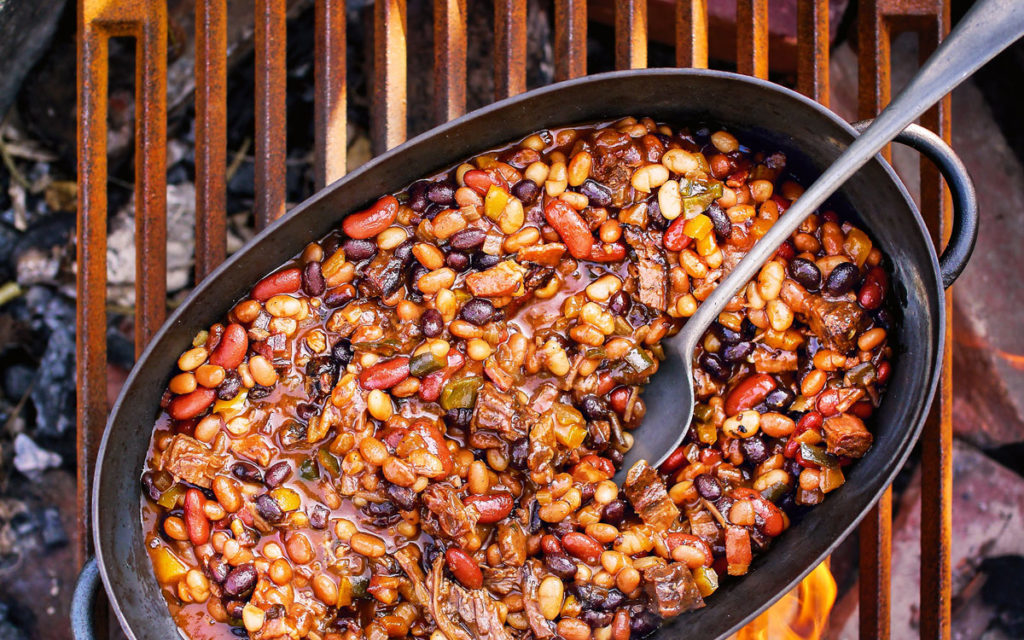 There's nothing quite like a good barbecue baked bean recipe, and this simple dish is sure to be a hit at your next cookout. Whether you're serving them as an appetizer or as part of a main course, these beans are sure to please. To make the perfect BBQ baked bean recipe, follow these simple steps:.
1) Choose the right type of beans for the recipe – There are many different types of beans available on the market today, so it's important to choose the right one for your needs. If you're looking for something hearty and filling, choose a bean like black beans or kidney beans. If you're looking for something more delicate and flavorful, try white beans or chickpeas.
2) Preparing the beans – Once you have chosen the type of bean that you want to use, it's time to prepare them properly. Beans should be cooked until they are soft and pliable, but not too mushy. For best results, soak them overnight in water with some salt added before cooking them in boiling water for about 20 minutes.
3) Selecting flavors and ingredients – Next, it's time to decide on flavors and ingredients that will compliment your beans. You can add spices like garlic powder or chili pepper flakes to give your BBQ baked bean a bit of extra flavor, or you can opt for trendy ingredients like avocado or pineapple slices. As long as everything is combined tastefully and doesn't overpower the flavor of the beans themselves, there's no wrong way to go!
4) Incorporating barbecue seasoning, spices and trendy ingredients – For an extra layer of deliciousness, consider incorporating some barbecue seasoning into your recipe. This can include things like chili powder or cumin powder (both of which are great additions). Likewise, adding spices such as garlic powder or onion powder will give your BBQ baked bean that signature flavor profile that everyone loves!
5) Knowing how long to cook the beans – Finally it's time to calculate cooking times and temperatures based on what kind of oven you have (stovetop vs oven-top), how many people are eating them (uncooked vs cooked), and what kind of toppings/garnishes you would like to use (such as chopped onions or shredded cheese). Once all these factors have been taken into account, simply pop your preparedbeans in the oven and wait until they reach their desired temperature!
Once everything is ready – including your perfect BBQ Baked Bean Recipe – there's nothing left but enjoy!