Danish pastries are a popular type of pastry enjoyed all over the world. In this blog post, we'll explore what Danish pastries are, their history, and how to make them. We'll also cover the different types of Danish pastries, as well as the different fillings that are common to them. Finally, we'll provide you with a list of Danish pastry recipes that you can use to make your own Danish pastries. By the end of this post, you'll have a comprehensive understanding of what Danish pastries are and how to make them. Enjoy!
When I hear the word "Danish" my mind drifts back to the Cow Palace…when you could choose between a delicious danish or a bagel w/cream cheese. I think I would take both because I was (ahem) am greedy. So when the opportunity arose to learn how to make danishes, well naturally I jumped at it. Who wouldn't want to eat a warm danish at home, on the couch, while watching TV?! I joined my brother in a culinary class in SF and learned a lot about the whole process of Danish making. Follow the Cooking Guide to start yourself into the process!
Delicious Rating: A lot of work and baking skills go into this. This isn't one of my easy delicious recipes but it is good! Overworking the dough, temperatures not right, or too much flour can alter the end result for the worse. While they did turn out good, I wouldn't bother baking them again. The cooking process called for hours of prep and a lot of clean-up only to yield 9 pastries that…sorry to admit…don't nearly rival any store bought danish. It just wasn't worth time and effort put into it. Fun experience though and glad I did cook them!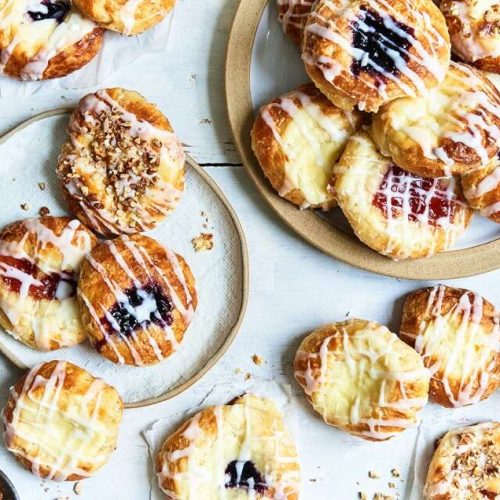 Danish Pastries
Learn everything there is to know about delicious Danish pastries, including how to make them at home with one of our easy-to-follow recipes.
Ingredients
2

tsp

active dry yeast

1½

cups

all purpose flour

1½

tsp

kosher salt

2

tbsp

sugar

½

tsp

cardamom

⅓

cup

whole milk

1

large egg

6

oz

unsalted butter

cold, but slightly softened

1

tbsp

flour
Clear Glaze:
⅓

cup

granulated sugar

¼

cup

water

⅓

cup

corn syrup

Danish Icing:

1½

cup

powdered sugar

2

tbsp

water

more if needed

1

tsp

corn syrup
Instructions
Mix flour, salt, sugar, yeast, and cardamom in mixing bowl.

Mix egg and milk into the dry ingredients with a fork or pastry scraper.

Turn dough out onto counter and knead for 5 minutes, only adding small amounts of flour, if necessary.

Wrap the ball of dough in saran wrap and refrigerate for one hour.

Work the tablespoon of flour into the butter by hand or mix on the lowest speed of an electric mixer for 30 seconds. Do not aerate.

Transfer to parchment paper and using the paper as a tool, shape the butter into a 5-inch square.

Wrap and chill for 10-30 minutes. Butter should be cool but quite pliable.

Take dough out and on a lightly floured surface roll it out into a 9-inch square.

Place the chilled butter square diagonally on the dough and bring up the corners of the dough so they meet in the middle.

Pinch the dough firmly along the seams to seal in the butter completely.

Using your rolling pin, start tapping the dough down, starting at the center and working your way toward the left and then the right to lengthen the square and soften the butter.

Start rolling gently until you make an 11-inch square, checking often to make sure the dough is not sticking to the counter and adding more flour if necessary.

Next fold the dough into thirds like a letter.

Then fold into thirds again forming a square shape. This is your first double turn.

Tap it down gently in-between folds with your hands.

Wrap it in saran wrap and refrigerate 30 minutes or up to 2 hours.

Repeat the last steps and re-roll dough out into an 11-inch square.

Fold into thirds like a letter and then again into a square. This is your second double turn. You now have 36 layers of butter!

Wrap the dough up again in saran wrap and refrigerate for at least 2 hours or overnight.

Roll dough to a 13-inch square.

Chill 20 minutes to relax dough.

Using a pizza wheel or knife, trim to an even 12 inch square then cut into 9 4-inch squares.

Cut a 1-inch slit at each corner or each square.

Then fold up each corner to the middle to form a pinwheel, pressing down firmly in the center.

Transfer danish pastries to parchment-lined pan and cover loosely with saran wrap.

Proof/let stay out for one hour.

Preheat oven to 400 degrees.

Spoon a small amount of jam into the center of each pinwheel.

Brush with milk.

Bake for 15 minutes or until a rich golden color covers the entire pastry.

While Baking prepare the Clear Glaze by combing all ingredients in a small saucepan.

Bring to a boil then cool.

Brush over warm, not hot, Danish pastries.

While the Danishes are cooling prepare the Danish Icing by combining all ingredients in a bowl and mix until smooth.

Add more water by teaspoons to form an icing that can be drizzled over the pastries.

When cool drizzle with Danish icing and serve.
Notes
Serve with tea or coffee for breakfast or snack
Nutrition
Serving:
1
serving
Calories:
384
kcal
Carbohydrates:
59
g
Protein:
4
g
Fat:
16
g
Saturated Fat:
10
g
Polyunsaturated Fat:
1
g
Monounsaturated Fat:
4
g
Trans Fat:
1
g
Cholesterol:
42
mg
Sodium:
404
mg
Potassium:
69
mg
Fiber:
1
g
Sugar:
41
g
Vitamin A:
487
IU
Vitamin C:
0.03
mg
Calcium:
23
mg
Iron:
1
mg
Types Of Danish Pastries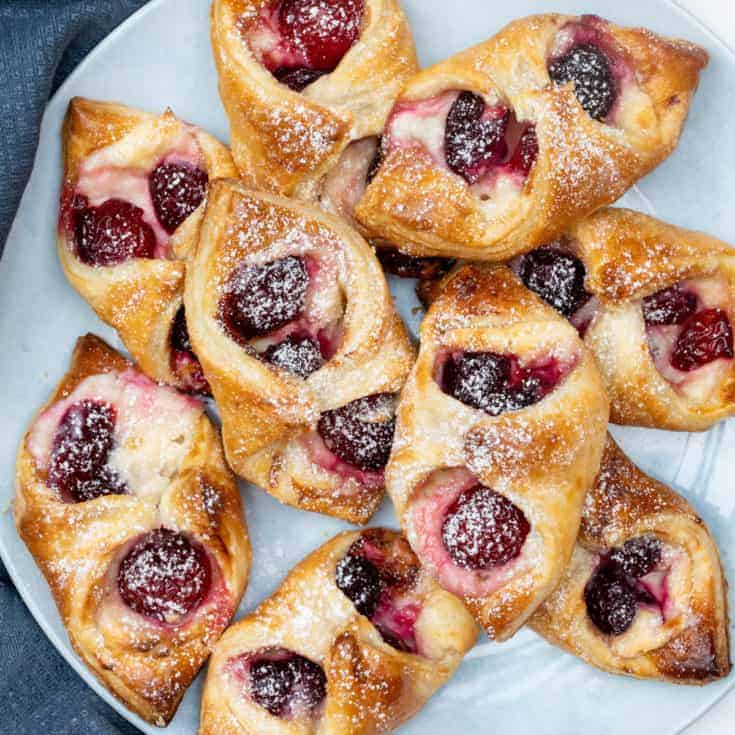 If you're a fan of Danish pastries, then you'll love learning about the different types of dough that are used to make them. Danish pastry dough is a type of yeast-leavened dough, and it's used to make a variety of pastries, including Danish, croissants, strudel, and cannoli. Below, we'll outline the steps that you need to take in order to make these delicious pastries.
First and foremost, you will need some Danish pastry dough. This dough can be purchased pre-made or made at home using recipe instructions found online or in a cookbook. Once you have the dough ball ready, it's time to start filling it with your favorite fruit fillings. You can use fresh fruit or canned fruit in this recipe – either works great!
Next up is the chocolate filling! Chocolate chips or chocolate shavings are perfect for this task because they add flavor without being too heavy. Assemble your chocolate filling by mixing together the chocolate chips and shavings until well combined.
Finally, it's time for the doughnuts! These fried pastries are made using just two simple ingredients: Danish pastry dough and hot oil. To fry them up perfectly every time, follow these simple guidelines: heat your oil until hot before adding the Doughnut batter; drop the Doughnuts into the hot oil one at a time; cook for about two minutes per side until golden brown and crispy. Enjoy your delicious Danish pastry creations!
Common Fillings For Danish Pastries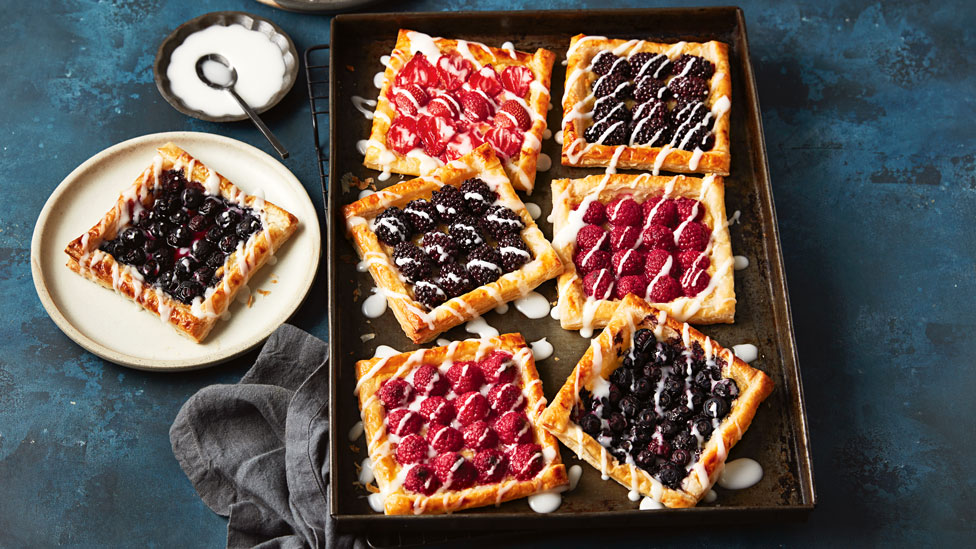 If you're looking for a delicious and unique pastry, Danish pastries are a must-try. These pastries are typically filled with either jelly, cheese, fruit, chocolate, nuts, cream, custard, spices, or seeds. Here are some of the most common Danish pastry fillings:.
1. Jelly is a classic filling for Danish pastries and can be made from fruit or sweetened condensed milk.
2. Cheese is another popular filling and can be made from any type of cheese including cheddar, blue cheese, brie cheese or even gouda.
3. Fruit is common in Danish pastries and can be made from anything from strawberries to bananas to sliced apples.
4. Chocolate is often used in Denmark as it's a popular flavor there. You can make chocolate Danish pastries by using either dark or milk chocolate chips as your filling ingredients.
5. Nuts are also a popular filling for Danish pastries and can be made from any type of nut such as almonds, hazelnuts or even pistachios. 6 Cream is another common ingredient in Danish pastries and can be made from heavy cream or whole milk cream. Custard is also a popular filling for these pastries and can take many different forms such as vanilla custard or apple custard. Spices such as cinnamon sugar, cardamom, ginger, etc., are also commonly used in Denmark to flavor their pastry doughs. Herbs like rosemary, thyme, lavender etc., are also added to many Danish pastry doughs to give them that unique flavor profile. Seeds like poppy seeds, sunflower seeds etc., are also commonly used in Denmark due to their health benefits.
Danish Pastry Recipes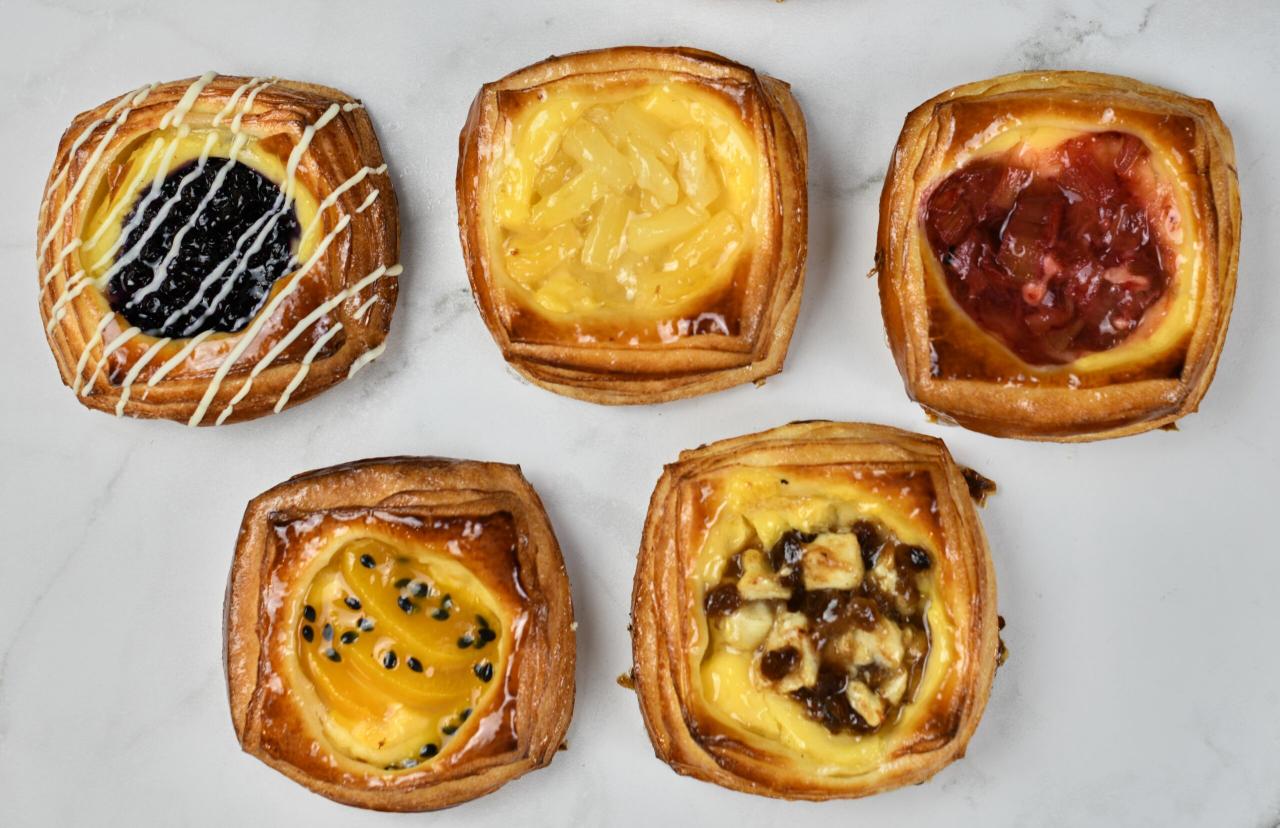 If you're a fan of Danish pastry recipes, you'll love our selection here at Diner Delights. Danish pastry recipes are some of the most popular in the world, and for good reason. They're delicious, and they're easy to make. Below, we've outlined some of our favorite Danish pastry recipes – each with its own unique flavor and taste. Try them out today!
First up is Apple Strudel. This recipe is perfect for anyone who loves apple pie – it's got the same flavors and spices, but in a different form. It's easy to make and requires just a few simple ingredients, so you'll be able to have it on your table in no time at all.
Next up is Cherry Cheese Danish. This recipe is sweet but not too sweet, with a rich flavor that will tantalize your taste buds. It's perfect for people who love cheese as much as they love cherry pie – it's sure to be a hit with everyone who tries it!
Cinnamon Rolls are another classic Danish pastry recipe that everyone will love. These rolls are soft and fluffy, and they come filled with cinnamon sugar goodness that will have your mouth watering before you even take a bite. Easy enough for beginners but complex enough for experts, Cinnamon Rolls are definitely worth trying out!
Blueberry Coffee Cake is another delicious recipe that features blueberries throughout the batter – making it extra special and flavorful. Combined with coffee flavoring throughout the dough, this cake is sure to wake you up in the morning on a foggy day or when you need an energy boost late at night!
Raspberry Danish also features fresh raspberries inside of its dough – making it sweet but not too sweet like many other raspberry-based cakes tend to be. It's also fluffy and soft like most other Danish pastries, making it ideal for those times when you want something comforting yet delicious all at once..
Vanilla Scones are one of our personal favorites here at Diner Delights – not only do they look great on display in all of our restaurants (especially during morning rush hour!), but they're also incredibly soft and buttery on the inside with just enough sweetness to satisfy even the most ardent dessert lover..