Bibingka Malagkit (also known as Bibingka Cake, Bibingka Pudding, or Bibingka Pie) is a type of dessert originating from the Philippines. It is made from sweetened rice flour, sugar, egg, and milk, and is often decorated with nuts, fruits, or whipped cream. In this blog post, we're going to show you how to make bibingka malagkit. We'll outline the ingredients and instructions, and then provide a variety of bibingka malagkit recipes for you to try. So whether you're looking for a sweet treat for your next party or want to learn how to make bibingka malagkit yourself, be sure to check out this blog post.
So simple and yet so delicious to satisfy that sweet tooth craving. Bibingka, or as I like to call it "Balokbakba", is a Filipino sweet cake. The varieties are endless using so many types of ingredients. Add Malagkit, sweet sticky rice, to the equation and you now have a sweet rice cake-Bibingka Malagkit.
Usually my craving for something sweet hits head on around 7pm but I never feel like waiting for the rice to cook or/and having to bake it so I save it for another day. This time however, I wised up and made it for lunch, that way it would be ready for the evening attack. There are many different ways to make this Filipino dessert, so I accredit this great recipe to my sister!
Delicious Rating: Easy recipe to make & bake & clean-up is a breeze. It is Delicious through and through. Seriously, I wish one of the tiers on my wedding was Babingka! It is that good. Simply Delicious…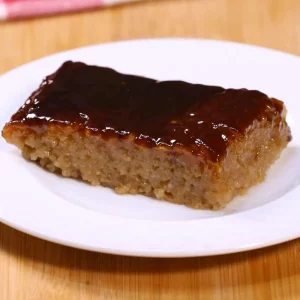 Bibingka Malagkit
Get the delicious recipe for Bibingka Malagkit, a type of dessert originating from the Philippines made from sweetened rice flour, sugar, egg, and milk.)
Ingredients
2

cups

of Malagikit

sweet sticky rice

1

can of Coconut Milk

¾

cups

of Brown Sugar

Vanilla to taste
Instructions
Preheat oven to 350.

Start the rice in your rice cooker or on the stove.

Add the one can of coconut milk, sugar, and vanilla in a saucepan. Continually stir over low heat while the rice is cooking.

Once the rice is finished, put it into any baking dish. I used a glass 8×6 which was the perfect size for the amount.

Reserve ½ cup of rice.

Reserve about ½ of the sauce and pour the rest onto the rice.

Mix it up and flatten the top.

Pour ¾ of the reserved sauce onto the rice.

Bake that bad boy in the oven for a good 30-45 minutes.

Take the reserved rice in a bowl and pour the rest of the sauce along with it. Eat and enjoy while the rice cake bakes. Allow to cool just enough so that it is still nice and warm when eaten.
Notes
Bibingka malagkit is a delicious Filipino rice cake that is perfect for any occasion. It is made with glutinous rice, coconut milk, and brown sugar, and is traditionally cooked in a clay pot lined with banana leaves. Bibingka malagkit can be served plain or with toppings such as grated coconut, cheese, or chocolate.
Nutrition
Serving:
4
slices
Calories:
499
kcal
Carbohydrates:
116
g
Protein:
6
g
Fat:
1
g
Saturated Fat:
0.1
g
Polyunsaturated Fat:
0.2
g
Monounsaturated Fat:
0.2
g
Sodium:
18
mg
Potassium:
127
mg
Fiber:
3
g
Sugar:
40
g
Vitamin C:
0.003
mg
Calcium:
44
mg
Iron:
2
mg
Bibingka Malagkit FAQ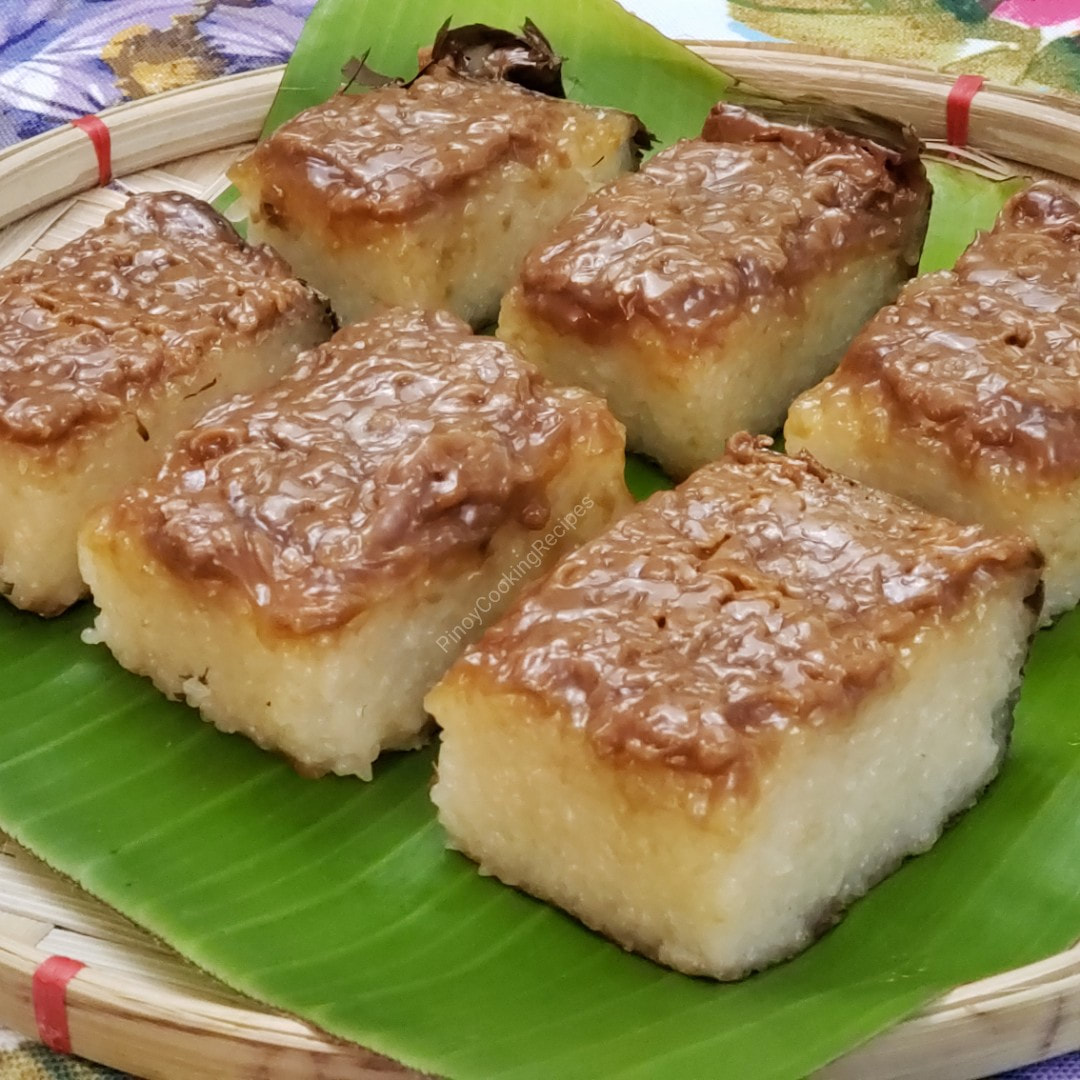 Bibingka is a type of Filipino rice cake that is made from glutinous rice flour, sugar, and egg. It is often eaten as part of an afternoon snack or dessert, and can be filled with either sweet or savory ingredients. In this recipe, we will be making the traditional bibingka malagkit – a sticky and delicious dessert that features bibingka as the main ingredient.
To make the bibingka malagkit, you will first need to combine glutinous rice flour, sugar, and egg in a bowl. Once these ingredients are combined, stir in enough water to form a soft dough. Knead the dough until it is smooth and then let it rest for about 30 minutes.
Once the dough has rested, roll out the dough into a thin sheet using a rolling pin. Cut out desired shapes using a biscuit cutter or sharp knife and place them on an ungreased baking sheet. Bake at 350 degrees Fahrenheit for about 20- 25 minutes or until they are golden brown in color.
While the bibingka malagkit are baking, prepare the sauce by combining coconut cream (or heavy cream), evaporated milk (or milk substitute), pandan leaves (or green pandanus leaves), cinnamon sticks (or cassia bark), ginger slices (or peeled fresh ginger), cloves garlic slivers (or garlic cloves) in a saucepan over medium heat until simmering. Simmer for about 5 minutes or until thickened before serving hot with the bibingka malagkit on top! Enjoy!