Get your taste buds ready for a cheesy, spicy adventure with this delicious Jalapeno Bacon Macaroni and Cheese recipe – let's get cooking!
I am married with no kids. It is just us two, no parents, siblings, or crazed family members with nowhere to go. Just us. But yet I always, like no fail, always make a 9×13 baking dish of macaroni and cheese. I mean, way too much for two people. I am trying to figure out why I can't use a smaller baking dish. I think it is my love for pasta. I always think I will need more. Then there is cheese…you can't have enough of cheese, I mean come on! Butter needs no explanation and as for anything spicy or made with bacon, well, now I see why I can't cut how much I bake nor eat!
In all seriousness though, I love macaroni and cheese. I get all excited about melty cheese. And this recipe has that melty cheese plus bacon with a kick of heat. YUM!
Cook Eat Delicious Rating: Once you go Jalapeno Bacon Macaroni and Cheese you never go back.  Each bite in this easy recipe leaves you wanting more. My DH and I loved it and nearly finished half the pan that night! You can control the spice with the amount of peppers you use and go crazy with the bacon if you want!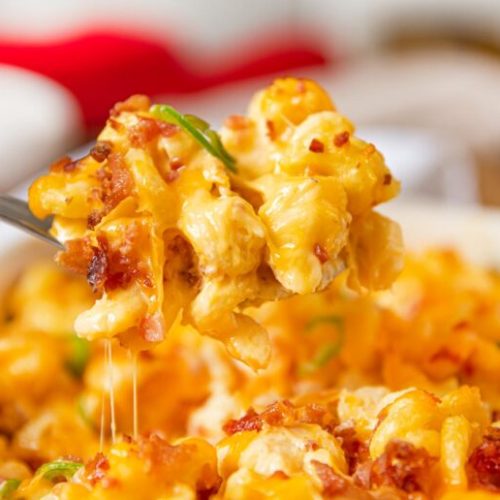 Jalapeno Bacon Macaroni and Cheese
Are you looking for a flavorful, spicy mac and cheese recipe? Look no further! This recipe for Jalapeno Bacon Macaroni and Cheese is sure to hit the spot with its cheesy, spicy goodness.
Ingredients
1

pound

elbow macaroni

4

cups

hot milk

1

stick of butter

½

cup

flour

4

cups

Gruyere

grated

2

cups

sharp Cheddar

grated

2

tsp

salt

2

tsp

black pepper

½

tsp

nutmeg

1

jalapeno

diced

12

slices

of bacon

cooked and crumbled

Bread Crumbs
Instructions
Boil pasta and drain well.

Preaheat oven to 400 degrees F.

Melt butter in a large pot over low heat and whisk in flour for 2 minutes.

Stir constantly.

Whisk in hot milk.

Bring heat to high and boil mixture, whisking until thick and smooth.

Remove from heat.

Add in cheeses, salt, pepper, and numtmeg.

Combine in the jalapeno and bacon and then add pasta.

Pour into a 9×13 baking dish and top with bread crumbs.

Bake for 45 minutes.
Notes
Jalapeno Bacon Macaroni and Cheese is one of the most delicious comfort foods out there. It is spicy, cheesy, and full of flavor. Whether you want to enjoy it as a side dish or as the main course, it is sure to be a hit with everyone. With just a few ingredients and some simple steps, you can make this amazing dish in no time at all! So why not give it a try today? Gather your ingredients and get cooking - you won't regret it! Call to action: Try making Jalapeno Bacon Macaroni and Cheese today!
Nutrition
Serving:
1
serving
Calories:
673
kcal
Carbohydrates:
45
g
Protein:
34
g
Fat:
39
g
Saturated Fat:
20
g
Polyunsaturated Fat:
3
g
Monounsaturated Fat:
12
g
Trans Fat:
0.04
g
Cholesterol:
110
mg
Sodium:
1205
mg
Potassium:
376
mg
Fiber:
2
g
Sugar:
6
g
Vitamin A:
915
IU
Vitamin C:
2
mg
Calcium:
827
mg
Iron:
1
mg
Tips And Tricks To Help You Get The Perfect Bowl Of Spicy, Cheesy Comfort Food Everytime!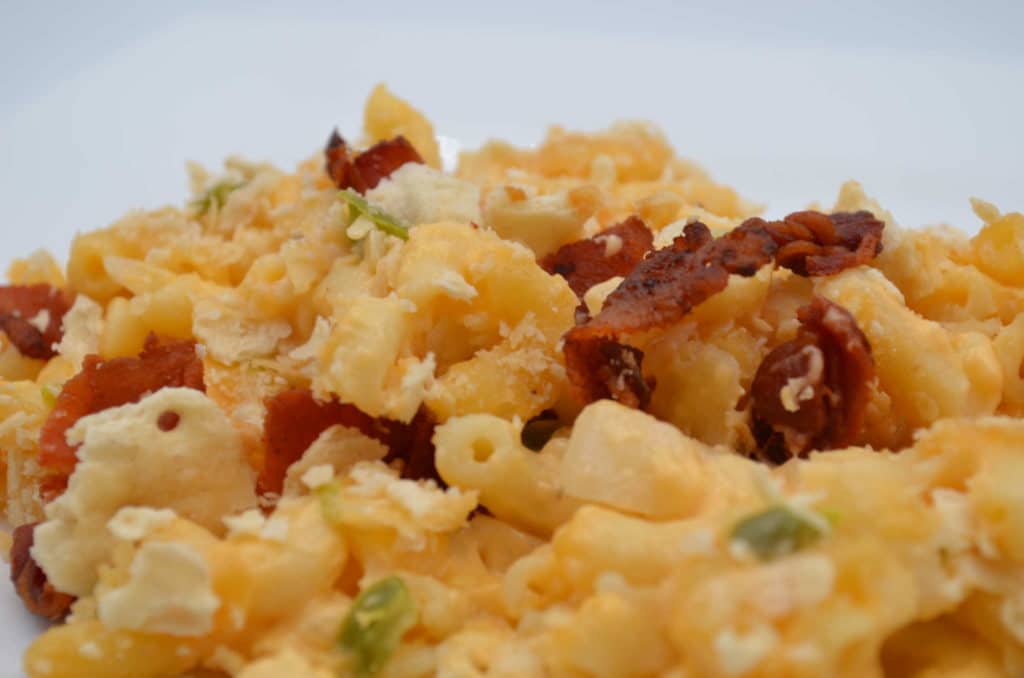 First And Foremost, Let's Talk About Temperature And Timing. When Cooking Bacon, It Is Important To Make Sure That The Temperature Is Correct In Order To Achieve The Best Results. Too Low Of A Temperature Will Result In Dry Bacon While Too High Of A Temperature Will Cause It To Burn. To Cook Bacon Correctly, Heat A Large Skillet Over Medium-High Heat And Add About Two Slices Of Bacon Per Person. Cook For About Four Minutes Per Side Or Until Crispy; Be Sure Not To Overcook Or Your Bacon Will Become Greasy And Dry.
Once Your Bacon Has Been Cooked To Your Desired Level Of Crispiness, Remove From The Skillet And Set Aside On Paper Towels To Cool Slightly Before Assembling Your Mac N' Cheese Dish. In Order To Achieve An Intense Cheesy Flavor And Texture In Your Mac N' Cheese, You'll Need To Select A Cheese That Has Both Flavor And Texture Characteristics. A Good Option For This Recipe Would Be Cheddar Cheese – It Has A Strong Flavor That Pairs Well With The Jalapeno Peppers Used In The Sauce, While Also Providing Enough Moisture So That The Pasta Doesn't Become Dry Or Tough During Cooking.
Finally, When Preparing Your Jalapeno Peppers For Use In Your Recipe, Be Sure To Select Ones That Are Fresh And Have Plenty Of Crunchy Skin Remaining On Them. This Will Ensure That They Give Your Dish An Unmistakable Kick Of Heat Without Becoming Overwhelming Or Unpleasant Tasting. When Measuring Out Pasta For This Recipe – Which Should Be Al Dente According To Taste – Try Not To Overcrowding The Pot Or Else The Pasta Will Become Mushy During Cooking Instead Of Al Dente. And Lastly – Don't Forget About Finishing Touches Like Salt (Optional), Butter (For Richness), Or Grated Cheese (For Even More Deliciousness). By Following These Tips Along With Some Simple Kitchen Skills You'll Be Able To Create An Amazing Bowl Of Spiced Up Creamy Comfort Food Any Time!
Options For Enjoying The Best Ever Jalapeno Bacon Macaroni And Cheese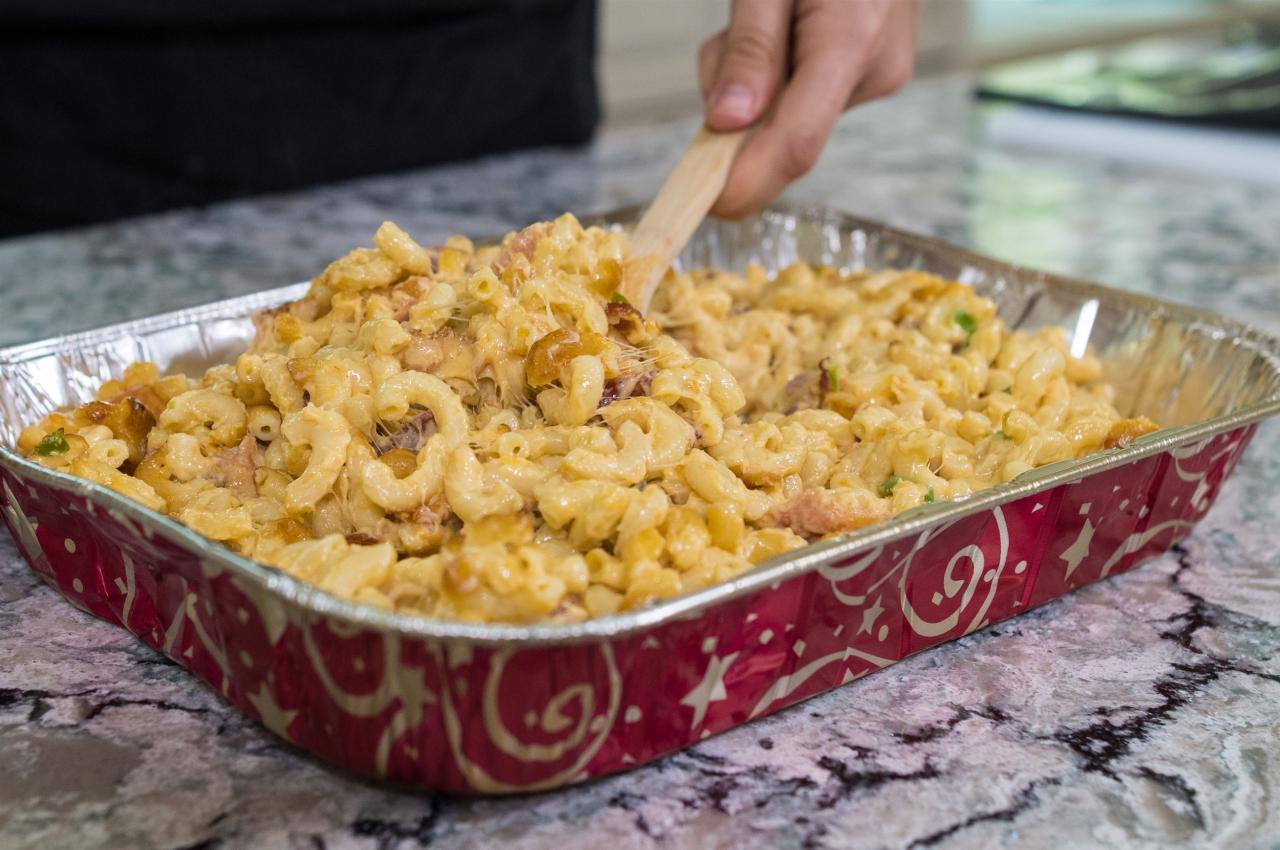 If you're looking for a low calorie option, try using cauliflower instead of macaroni in the recipe. This will help to reduce the overall amount of calories in the dish while still providing all of the same flavors and textures. Another option is to omit the bacon altogether – this will still be delicious but without any additional fat or protein. Finally, if you have gluten sensitivities or dietary restrictions, feel free to choose some high quality dairy free cheese options like goat cheese or vegan cheese instead.
When it comes to flavor, you have a lot of options when making jalapeno bacon macaroni and cheese. You can play around with different spices and seasoning until you find something that suits your taste buds perfectly. Some popular combinations include black pepper, cayenne pepper, garlic powder, onion powder, salt, red pepper flakes, thyme leaves or oregano leaves. You can also cook the macaroni in a variety of ways based on what you have available – boiled or baked pasta works well in this recipe because they both absorb flavors well. And finally – because everyone has their own preferences – there are no wrong answers when it comes to topping your dish with extra ingredients like shredded cheese (or even vegetables).
By following these simple tips for making jalapeno bacon macaroni and cheese at home you'll be able to enjoy an amazing dish that fits any dietary need or liking!
Other Delicious Ideas To Improve Upon This Recipe For Jalapeno Bacon Macaroni And Cheese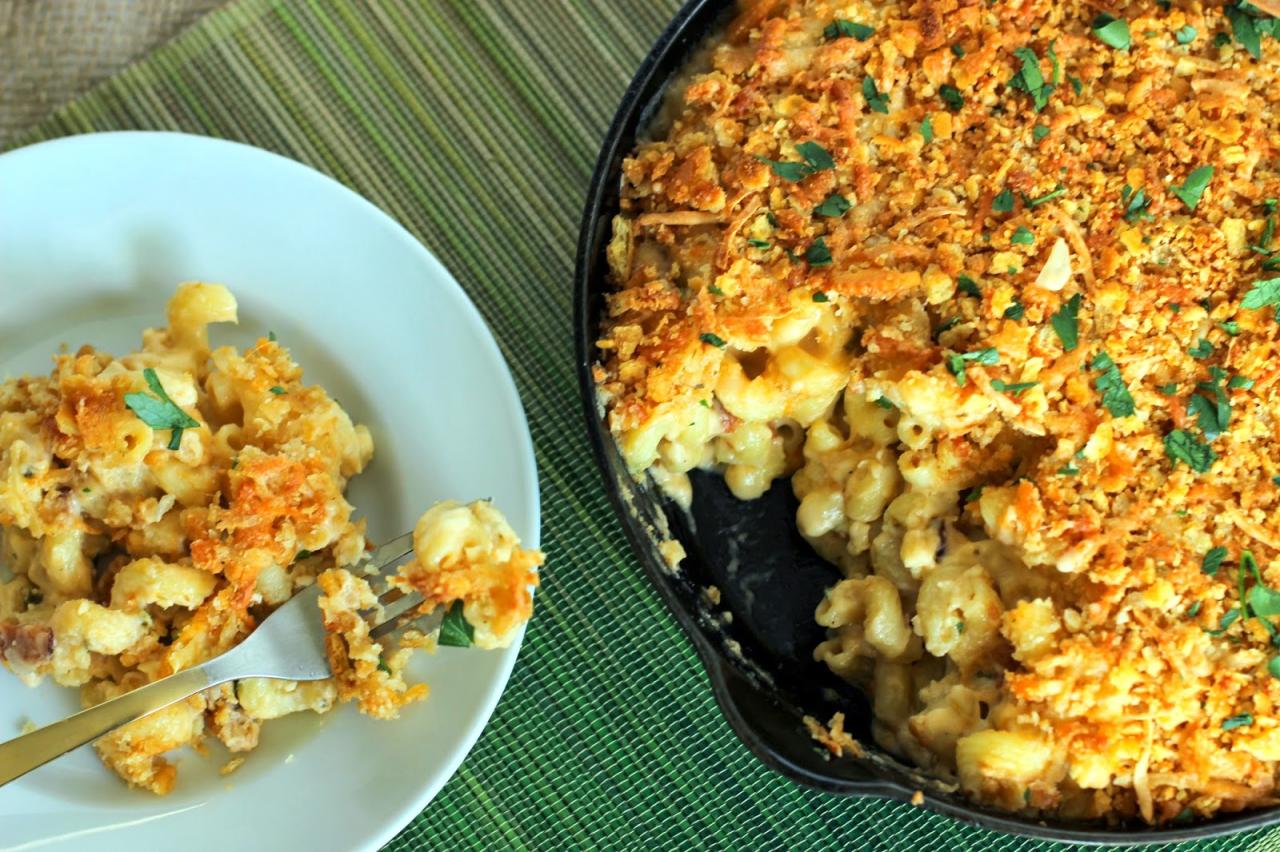 If you're looking for something with a little more spice, try substituting Monterey Jack cheese for the bacon. This cheese is packed with flavor and will add a lot of richness to the overall dish. You could also try using sharp cheddar or even gouda in place of the bacon. Both cheeses are flavorful and will make for a tasty macaroni and cheese dish.
For an extra crunchy texture, try using panko instead of regular breadcrumbs in your recipe. Panko is lighter than regular breadcrumbs, which means it will give your pasta more texture without being heavy or greasy. You could also add chopped bell peppers or onions for added flavor while keeping the dish healthy by avoiding high-fat ingredients like bacon or sausage. For an extra bite of heat, throw in some diced jalapenos before serving.
Finally, top your macaroni and cheese with some crumbled potato chips for an added crunchiness and smoky flavor. If you'd like to make this dish even healthier, try substituting whole wheat pasta for white pasta on occasion. Whole wheat pasta is low in calories and has plenty of fiber to satisfy your hunger without adding too many unwanted pounds to your waistline!