Thai Drunken Noodles are a popular dish in Thailand and around the world. They are made from rice noodles, eggs, and Thai spices. They are typically served with chicken or shrimp broth and a variety of toppings. In this blog post, I'm going to provide you with a recipe for Thai Drunken Noodles.
No, you will not get drunk from eating these delicious noodles. However, you may have to drink a lot to get the hot spiciness out of your mouth! If you love Thai food and Thai spice than this Thai Noodle Recipe is for you.
It combines the fried tofu, veggies, a spicy sauce with the very versatile rice noodle. The dish comes together so well you will want to make it every week for dinner. The next the spice seemed to have settle down while the flavor was more enriched. Give this delicious easy recipe a try for something new in your home!
Delicious Rating: If you own a wok, it will definitely come in handy. If not, no problem a large fry pan will do. Break your dried rice noodle to length you prefer before cooking, otherwise you will end up with some very long noodles! My DH and I devoured this for lunch one day. It is a healthy dish full of veggies and protein from the tofu. Let me know how it compares to your favorite Thai Drunken Noodles!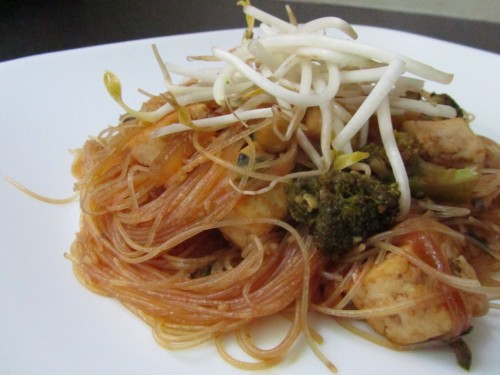 Thai Drunken Noodles
Make your own delicious Thai Drunken Noodles with this easy to follow recipe, complete with a recipe for the broth and various toppings.
Ingredients
1

cup

Thai basil

chopped

3

tablespoons

olive oil

2

packs 12 ounces

rice noodles

dry rice noodles, width is up to you

½

cup

soy sauce

5

tbsp

oyster sauce

3

tsp

white sugar

2

cups

broccoli florets

2

cups

extra-firm tofu

cubed

1

onion

cut into thin half-moons

3

garlic cloves

minced

3

Thai chilies

minced

Bean sprouts for garnish
Instructions
In a large bowl add 1 tbsp of oil and the basil.

In a large pot of boiling water add noodles for 2-minutes.
Cut your noodles in parts before cooking them. Otherwise, the will be way to long and hard to eat or separate.
Drain and place in the large bowl with oil & basil.

Toss and set aside.

Combine soy sauce, oyster sauce, and sugar together in a small bowl.

Blanch broccoli florets in boiling water for 1-2 minutes and drain.
Only blanch the broccoli , don't over cook or it will turn out way to mushy.
In a wok or large skillet, heat up remaining oil over medium heat.

Add tofu and stir-fry until golden brown.

Remove and set aside.

Add in onion, garlic, and chilies to wok and stir-fry for 3-minutes.
Can you smell it? I do and it smells delicious.  I cooked it all up in a wok but if you don't have one a large pan or dutch oven will do the trick.
Add sauce, broccoli, tofu, and noodles and cook until all is combined and heated through.

Serve hot with bean sprouts as a garnish.
Notes
Ramen is a delicious, hearty dish that is perfect for a winter meal. It is easy to make and can be tailored to your own taste. I hope you enjoy making and eating this dish as much as I do!
Nutrition
Serving:
1
bowl
Calories:
156
kcal
Carbohydrates:
11
g
Protein:
10
g
Fat:
9
g
Saturated Fat:
1
g
Polyunsaturated Fat:
2
g
Monounsaturated Fat:
5
g
Sodium:
1553
mg
Potassium:
317
mg
Fiber:
1
g
Sugar:
4
g
Vitamin A:
400
IU
Vitamin C:
30
mg
Calcium:
63
mg
Iron:
2
mg
Assembling The Thai Drunken Noodles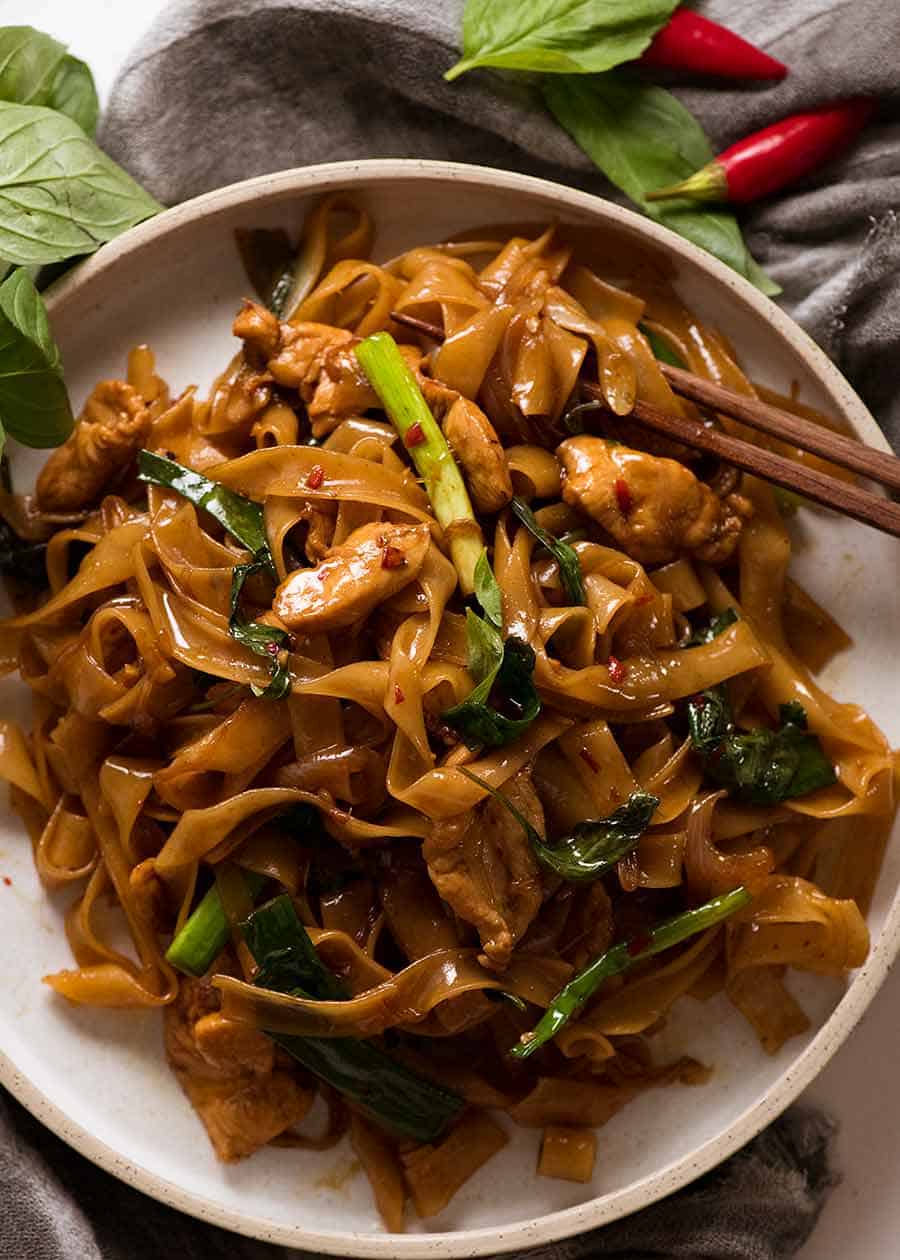 Thai Drunken Noodles Recipe is a popular dish in Thailand. It's easy to make and can be enjoyed by anyone, regardless of their cooking skills. This dish is made up of a few simple ingredients that are cooked together until they're hot and bubbly. Below, we'll walk you through the steps necessary to assemble this delicious dish.
First, soak the noodles in warm water for 20 minutes. This will help to soften them and make them more pliable.
Next, heat the oil in a wok or large frying- pan over medium-high heat. Add the garlic, chilies, and shallots and stir- fry for 1 to 2 minutes until they're fragrant.
Add the pork (or chicken) and continue to stir- fry for 4 to 5 minutes until it's cooked through. Be sure to cook the meat through – if it's not cooked through then it will be tough when you add the noodles and other ingredients later on.
Raise the heat to high and add the noodles along with fish sauce, soy sauce, sugar, and lime juice. Toss everything together until well mixed and heated through. Serve with Thai basil leaves (cilantro), cucumber slices, and lime wedges as desired!
What are the health benefits of Thai Drunken Noodles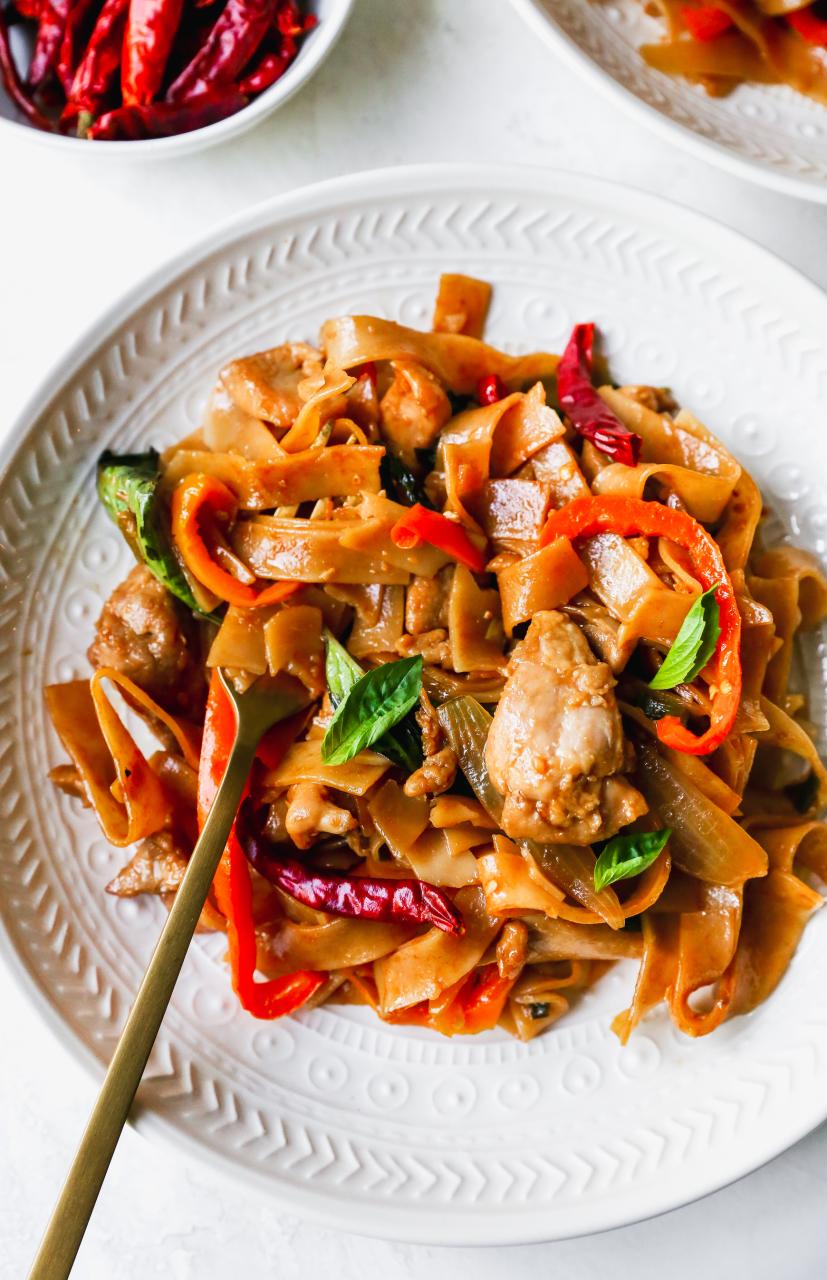 The health benefits of Thai Drunken Noodles are numerous.
For one, they are a great source of protein and fiber, both of which are essential for a healthy diet.
Additionally, they are low in calories and fat, making them an ideal choice for those watching their weight.
Thai Drunken Noodles are also a good source of vitamins and minerals, including iron, calcium, and magnesium.
Furthermore, they have been shown to boost energy levels and improve mental clarity.
FAQs about Thai Drunken Noodles answered by experts in the field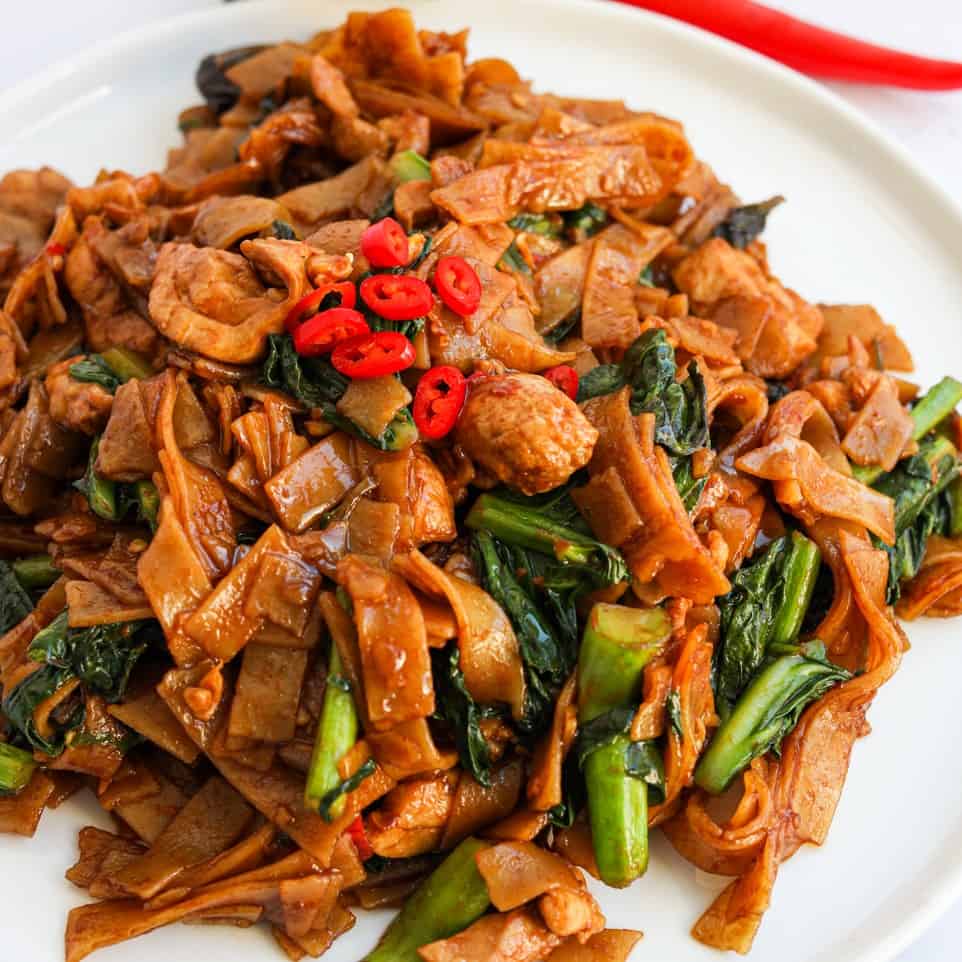 1. What are Thai Drunken Noodles?
Thai Drunken Noodles, also known as pad kee mao, are a popular dish in Thailand made with rice noodles, vegetables, and protein. The dish is typically stir-fried with a spicy sauce and can be made with chicken, shrimp, or tofu.
2. Where do Thai Drunken Noodles come from?
Thai Drunken Noodles are believed to have originated in the city of Chiang Mai in northern Thailand. The dish is often served as a street food or at casual restaurants in Thailand.
3. What makes Thai Drunken Noodles so special?
There are a few things that make Thai Drunken Noodles unique. First, the noodles are typically soaked in alcohol before they are stir-fried. This gives the noodles a slightly different flavor and texture. Second, the dish is often made with a variety of fresh vegetables. And finally, the dish is typically served with a spicy sauce that can range from mild to very hot.
4. How can I make Thai Drunken Noodles at home?
If you want to try making Thai Drunken Noodles at home, there are a few things you'll need. First, you'll need to find a good recipe. Second, you'll need to find the right noodles. Thai rice noodles are the best option, but you can also use regular rice noodles or even spaghetti. Third, you'll need to find a good stir-fry sauce. And finally, you'll need to gather all the fresh vegetables and protein you'll need for the dish.