Get the most delicious Burrito Mojado every time with Richmond's Portumex recipe
Crunchy tacos, flautas, tortas, enchiladas, quesadillas, burritos, y mucho mas! Yes, it is very deep on 23rd Street in Richmond and you may see men riding horses down the street and a lot of cop cars but the food is well worth it. I always opt for the Crunchy Steak Tacos w/guacamole. Yum! The food is always hot, spiced & seasoned just right. I don't mind eating there if it isn't super packed. While you wait you can enjoy their chips and hot salsa.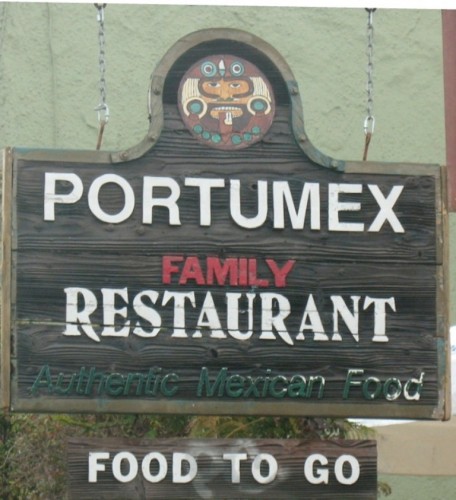 Although I live in Mexico I crave Portumex. Here in Cuernavaca the food is completely different from Mexican food in the States. So whenever we are back in the Bay, Portumex is one of our first stops. My DH loves the Burrito Mojado (wet burrito).
The whole burrito is the size of a small new born baby! The flour tortilla is packed full of rice, beans, sauteed veggies, lettuce, sour cream, cheese, and your choice of chicken or beef. It is covered with hot enchilada sauce and more cheese. I am getting hungry just thinking about it. It is truly one of the stars at Portumex. Since we can't find a burrito place anywhere in town here, DH has taken it upon himself to create a truly great masterpiece at home. His Burrito Mojado is a quick, simple, and easy recipe that you won't be able to get enough of. Try it and comment on what you thought of it.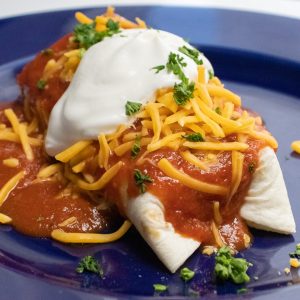 Richmond's Portumex – Burrito Mojado
Everyone loves Burrito Mojado, a Mexican dish that is both delicious and nutritious. But if you're looking for a special twist on the classic Burrito Mojado, look no further than Richmond's Portumex recipe!
Ingredients
1

Large

flour tortillas

1

Sliced

onion

1

Sliced

bell peppers

red, yellow, and green

Mexican

rice

1

can

beans

refried

Shredded cheese

of choice

Lettuce

Sour Cream

Chicken

or Beef fajita meat or go meatless for a vegetarian option

Enchilada sauce
Instructions
As you cook the fajita meat in a large skillet, saute the vegetables in another pan.

Season the veggies with salt & pepper, a bit of white sugar, garlic powder, and chili powder.

In two pots cook the Mexican rice and heat up the refried beans.

You can heat up the enchilada sauce in the microwave when about to assemble the burrito.

When meat & veggies are done, warm up one tortilla at a time in a pan and and place on plate.

Not in the middle but on the side of the tortilla, place the desired (but not too large) amount of beans, rice, meat, veggies, sour cream, cheese, and lettuce on top of one another and wrap the burrito.

Pour hot enchilada sauce over the top and sprinkle with more cheese.

Using a knife & fork, enjoy your Burrito Mojado!
Notes
Burrito Mojado is a flavorful, delicious, and nutritious meal that can be enjoyed by everyone. With the right preparation and ingredients, you can make a Burrito Mojado just like the one served at Portumex. The combination of Mexican sauces, fresh vegetables, and beans makes this dish truly unique. Just follow these simple tips to create an unforgettable meal that will satisfy your craving for Mexican cuisine. With Richmond's Portumex Special Burrito Mojado Recipe, you can enjoy a healthy version of this traditional dish with all the flavor you desire. So, go ahead and try it today! Call to Action: Try Richmond's Portumex Special Burrito Mojado Recipe today for an unforgettable experience!
Nutrition
Serving:
1
burrito
Calories:
143
kcal
Carbohydrates:
29
g
Protein:
4
g
Fat:
1
g
Saturated Fat:
1
g
Polyunsaturated Fat:
0.3
g
Monounsaturated Fat:
0.4
g
Cholesterol:
2
mg
Sodium:
77
mg
Potassium:
166
mg
Fiber:
2
g
Sugar:
3
g
Vitamin A:
863
IU
Vitamin C:
32
mg
Calcium:
43
mg
Iron:
1
mg
Important Tips For Serving A Burrito Mojado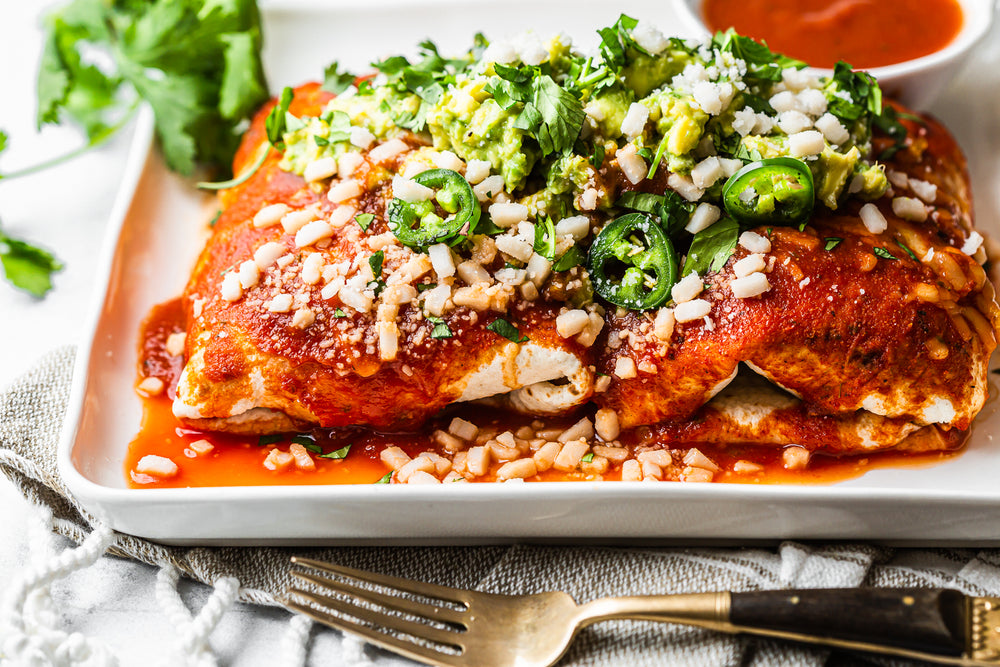 A burrito mojado is a delicious and unique Mexican dish that combines the flavors of a tortilla soup with the textures of a burrito. It's a perfect meal for cold weather, and it's easy to prepare using Portumex's recipe. Here are some important tips that will help you serve a delicious burrito mojado:.
First, make sure that you have all of your ingredients ready before beginning. You'll need tortillas, mojo sauce, fillings, and toppings. To make the tortillas, heat up about two cups of water in a pot on the stovetop and then add one tablespoon of olive oil. Once the water has heated up, add about four or five tortillas to the pot and toss them around until they are soft. Let them cool before serving.
Next, prepare the mojo sauce by combining about one cup of chicken broth with one teaspoon of garlic powder, onion powder, cumin powder, salt, and pepper. Bring everything to a boil before simmering for about ten minutes. Once it has simmered for ten minutes, remove it from heat and let it cool down before using it in your burrito mojado recipe.
Now is also a good time to mix together all of your fillings and toppings into bowls or containers. Some common options include refried beans (prepared using Portumex's recipe), shredded chicken or beef (either cooked or raw), avocado slices, jalapeño peppers (seeded if desired), sour cream (prepared using Portumex's recipe), salsa verde (a green salsa made from tomatillos), cilantro leaves (or chopped onions), lime wedges (for squeezing over the burrito during serving).
Finally, it's time to fry up your burritos! Heat up about three inches of oil in a skillet over medium-high heat before adding enough tortillas to cover the bottom of the pan in an even layer. Fry them until they are golden brown on both sides – this should take about two minutes per side. Remove them from the oil once they are golden brown and set them aside on paper towels to cool down slightly before assembling your burrito mujado dish!
Common FAQs Regarding Burrito Mojado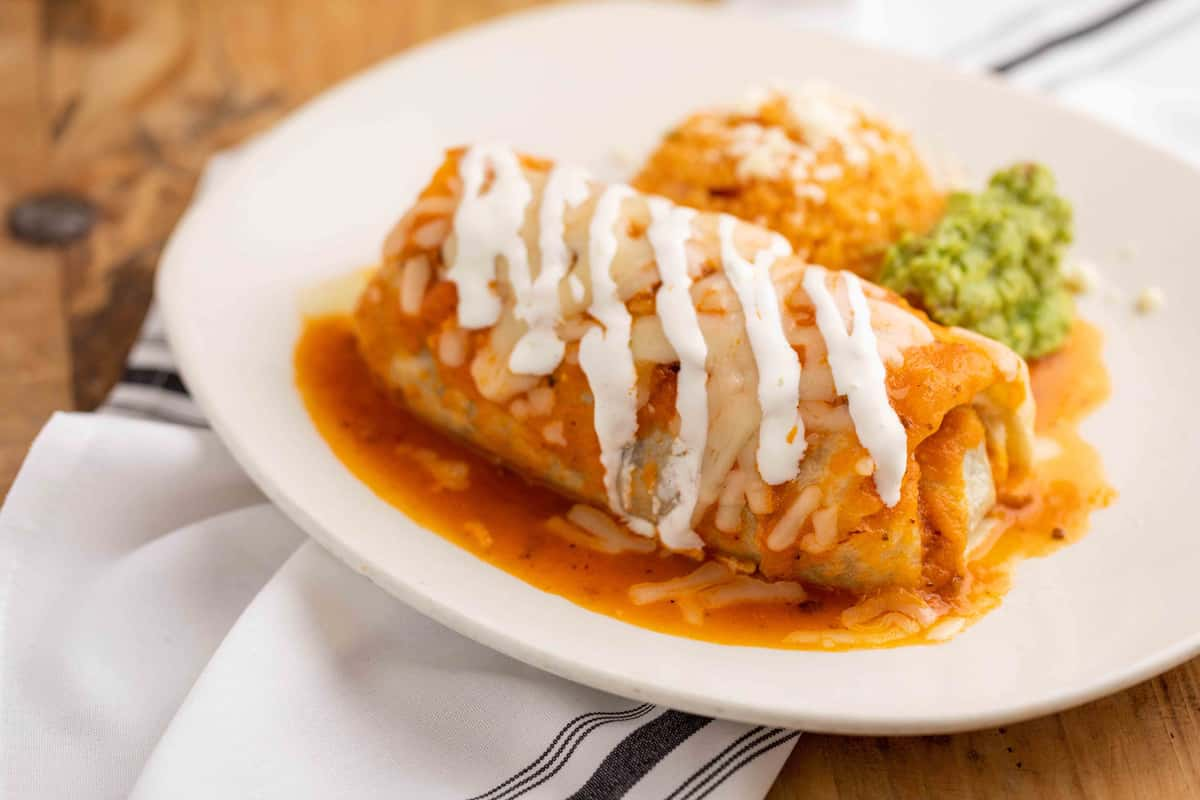 Looking for a delicious and unique way to enjoy your lunch break? Check out Portumex's Burrito Mojado recipe. This dish is made with tortillas, refried beans, cheese, and sour cream – all of which are cooked in a special sauce that gives it its distinctive flavor and texture.
What makes Portumex's Burrito Mojado recipe so special?
Well, for one thing, the sauce is made with tomatoes, chilies, onions, garlic, cumin, and salt. This mixture gives the sauce its characteristic richness and heat. Additionally, the tortillas are pre-cooked in this same sauce before being added to the dish. This ensures that the tortillas are soft and pliable when you bite into them – perfect for making burrito-style tacos or wraps.
How to make a Burrito Mojado using the Portumex Recipe?
Simply follow these simple steps: heating your tortillas on an oiled griddle or frying pan; adding refried beans (either canned or homemade), cheese slices or shredded cheese (cheddar or monterey jack), sour cream (or guacamole), chopped fresh onion(s), diced fresh chili peppers (optional), garlic powder (or garlic salt), and salt; folding the tortilla in half; pouring Portumex's signature sauce over the top of each burrito; serving immediately.
What type of ingredients can be used in a Burrito Mojado?
Almost anything! The simple ingredients used in this recipe make it versatile enough that you can customize it to your own personal taste. Additions such as pork carnitas or shrimp would be great additions to this dish. In addition to traditional spices such as cumin and chili powder, you could also add flavorings like citrus juice or lime juice for extra zing.
Richmond's Portumex Special Burrito Mojado Recipe With Health Benefits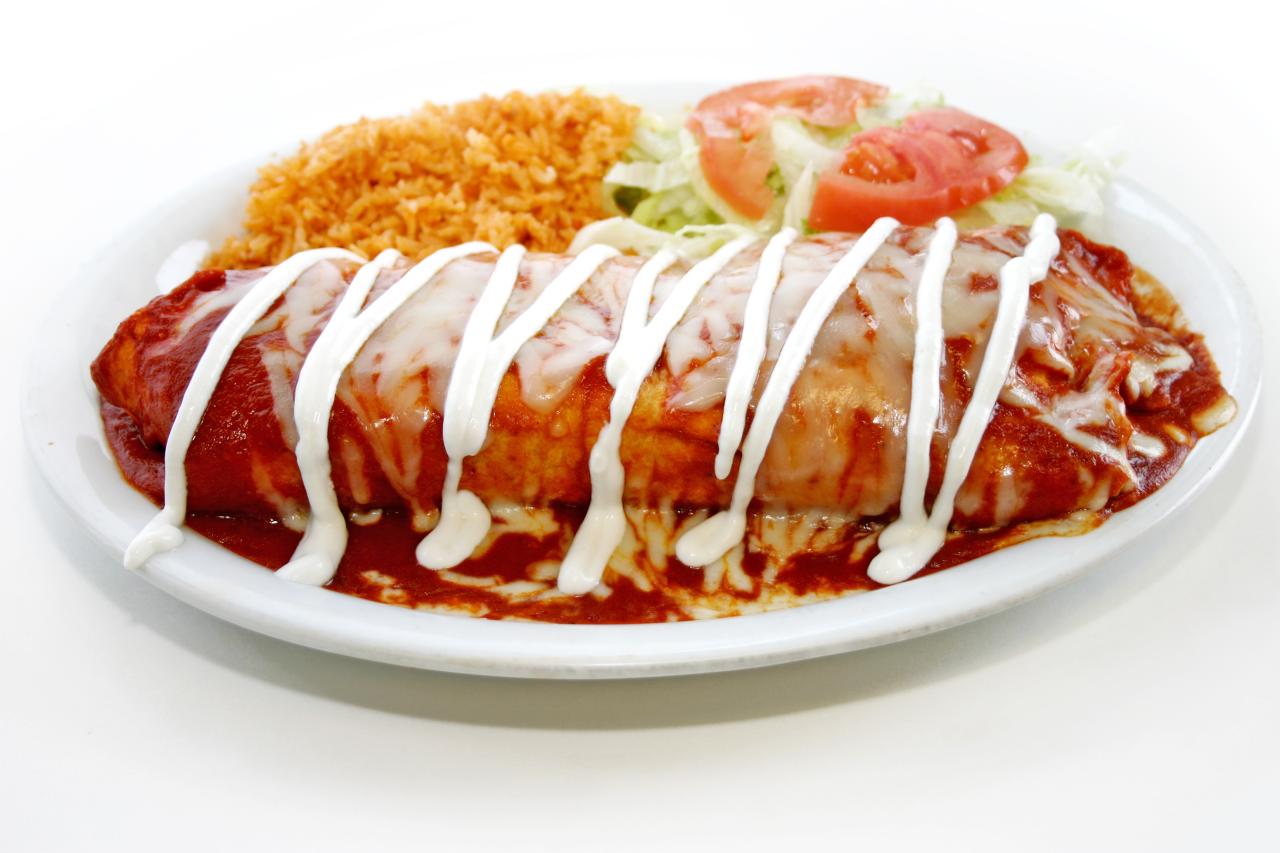 What's better than a delicious, hearty burrito? A delicious burrito mojado! In this section, we'll explain the Portumex recipe for the burrito mojado, a popular process of slathering red enchilada sauce over the full burrito before serving. Not only is this dish delicious, but it also has many health benefits.
First and foremost, the burrito mojado is high in fiber content. This means that it will help to keep you feeling fuller for longer periods of time – perfect when you're looking to cut down on calories. Additionally, the complex carbohydrates present in the recipe will help to keep your blood sugar levels stable and your energy levels up throughout the day. Finally, the rich source of plant based protein found in the burrito will give you all the amino acids that your body needs to function optimally.
To make sure that you enjoy every bite of your Burrito Mojado using Portumex's recipe, be sure to follow these simple instructions: first heat up some beans inside a skillet or saucepan; then add cabbage or other vegetables; next add water or soup until everything is covered; finally top with shredded cheese and serve with sour cream or guacamole as desired. As you can see, there are plenty of ways to customize this classic Mexican dish to fit your own dietary needs and preferences. So go ahead – enjoy a delicious Portumex Special Burrito Mojado today!