Learn the secret to creating the perfect Double Double Animal Style Burger with our easy-to-follow recipe and tips
What is it about biting into a juicy, cheesy burger that gets me all warm and tingly inside? I don't know but I get the same feeling every time we go home and drive by In-N-Out. Man, I love me a double double animal style no pickles with a strawberry shake. Unfortunately, I live about 3,500 miles away from home so I don't have the option to pick up a quick lunch from In-N-Out. The next best thing, of course, is to cook a double double animal style no pickles at home. So that is just what I did!
Cook Eat Delicious Rating: Let me start off by saying that any burger home cooked has and will always be my preference. I just don't cook meat that often at home let alone ground beef. But this burger, this "trying to make an animal style double double at home" cheeseburger is amazing. Like seriously, easy recipe and delicious eats. It isn't a perfect copycat of In-N-Out though. The bun is not the same and my patties were thicker than In-N-Out's. Other than that though I wouldn't change a thing.  The spread is dead on and the cheese is so ooey gooey…this is what love is: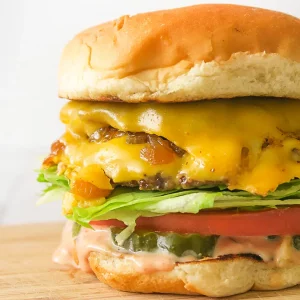 Double Double Animal Style
The perfect Double Double Animal Style is a mysterious and elusive burger. But don't worry, we are here to unlock the secrets of the perfect sandwich.
Ingredients
3

tbsp

mayonaise

2

tbsp

ketchup

1

tbsp

relish

1

tsp

sugar

1

tbsp

butter

2

hamburger buns

½

lb

good quality beef

Salt & Pepper

Mustard

Onion

thinly sliced

4

slices

of Cheddar Cheese

2

slices

of Tomato

2

leafs of lettuce
Instructions
Combine mayo, ketchup, relish, and sugar in a small bowl.

Melt butter in a skillet over medium heat.

Once melted, toast both sides of buns and remove.

Season beef with salt and pepper and shape into 4 round patties.

Place in skillet and squirt mustard on top and fry for 4 minutes.

Flip patties.

After 3-4 minutes of frying, slide onion slices underneath patties.

Cover each patty with a slice of cheese and allow to melt.

Assemble burgers by adding spread, tomato, and lettuce to bottom bun and spread to the top bun.

Place one patty & onion on top of another and stack onto the lettuce on the bottom bun.

Top and eat.
Notes
Creating the perfect Double Double Animal Style burger can be a daunting task, but with the right ingredients, a step-by-step guide, tips and tricks, and FAQs about the recipe, you can make an amazing burger that your friends and family will love. Don't be afraid to get creative by experimenting with different toppings or condiments to take your burger to the next level. So, what are you waiting for? Put on your chef's hat and start creating!
Nutrition
Serving:
2
Cheese Burgers
Calories:
644
kcal
Carbohydrates:
31
g
Protein:
25
g
Fat:
47
g
Saturated Fat:
16
g
Polyunsaturated Fat:
11
g
Monounsaturated Fat:
15
g
Trans Fat:
2
g
Cholesterol:
106
mg
Sodium:
699
mg
Potassium:
478
mg
Fiber:
1
g
Sugar:
9
g
Vitamin A:
523
IU
Vitamin C:
5
mg
Calcium:
105
mg
Iron:
4
mg
Tips And Tricks For Making A Juicy Burger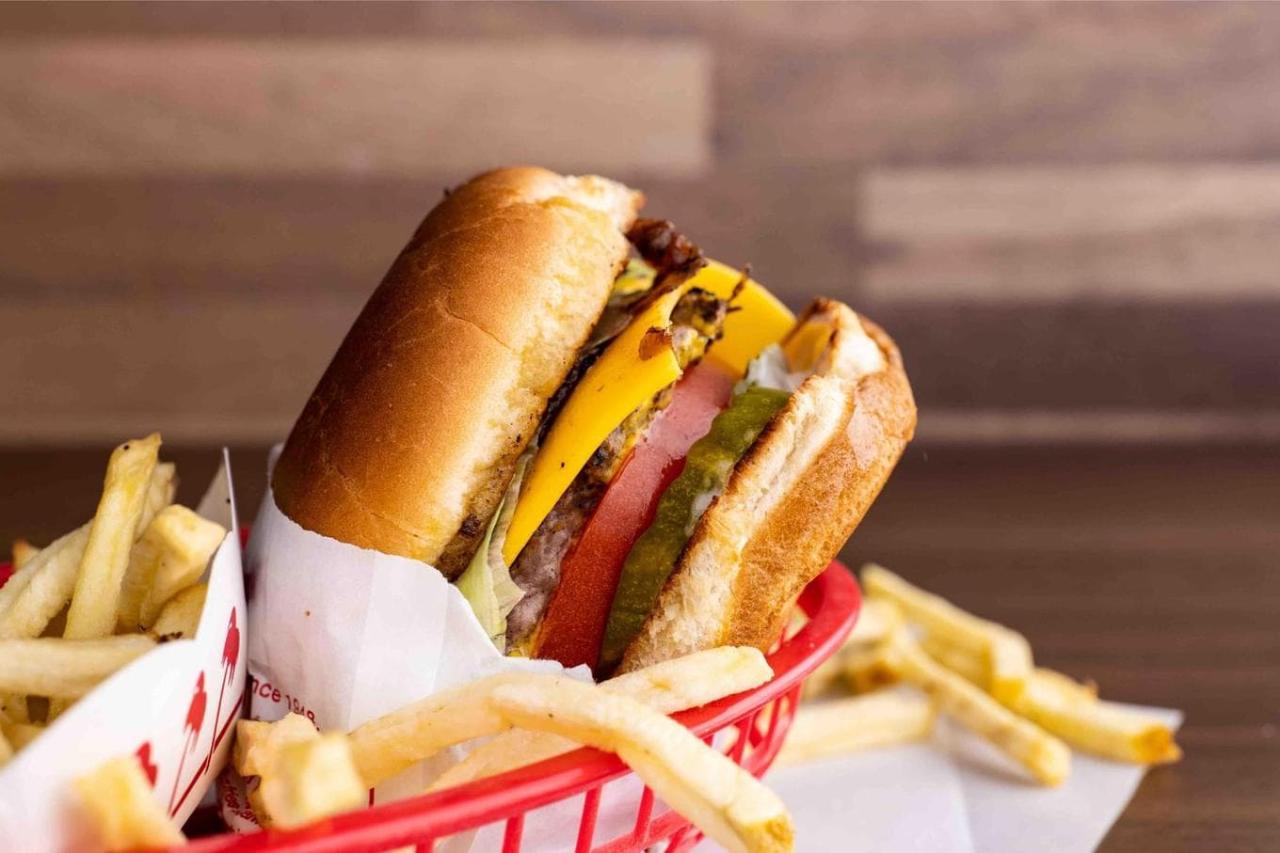 There's nothing quite like a juicy, delicious burger – and the classic double double animal style is the perfect way to enjoy one. With this recipe, you'll learn all about how to make the perfect burger, from understanding the basic components to cooking them perfectly and building the perfect layers of flavor.
First, let's take a look at what makes a good burger. A good burger should consist of two buns, two patties (each made from ground beef), cheese, lettuce, tomato and onion. To make sure that your burgers are juicy and flavorful, be sure to follow these tips:.
– Make sure that you grind your meat properly – it should be well-seasoned and slightly coarse in texture.
– Be sure to combine the ingredients properly – don't overmix or else you'll end up with a dry burger.
– Don't cook your patties too much – they need to be cooked through but still maintain their shape.
– Don't overload your burgers with toppings – try to include just enough for flavor without being too overpowering.
Now that you know how to make a great burger, it's time to learn how to cook them correctly:.
– Preheat your grill or stovetop grill over medium heat before adding your patties. Cook for 3-4 minutes per side for medium burgers or 5 minutes per side for well done burgers. If you prefer thinner patties, cook them for 1 minute per side instead of 3-4 minutes per side.
– For extra texture and juiciness in your burgers, be sure to add some condiments before cooking: ketchup, mustard or mayonnaise can help add moisture while Worcestershire sauce provides depth of flavor and savory umami notes. Try adding these spices directly into the ground beef before forming the patty; this will result in more intense flavors in each bite! Finally top off each burger with some shredded cheese before serving on fresh buns!
FAQs About The Perfect Double Double Animal Style Recipe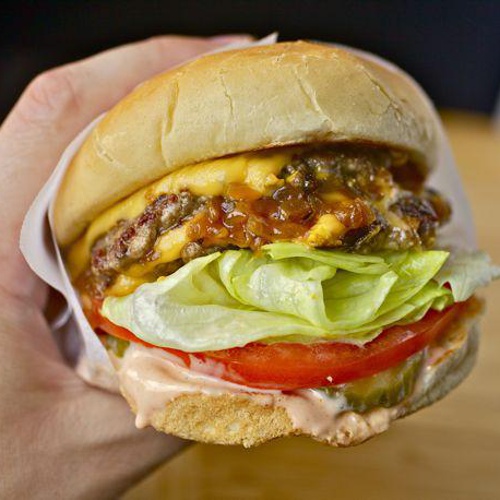 1. What is the perfect double double animal style recipe?
The perfect double double animal style recipe is a burger that has been cooked in a special way so that it is extra juicy and flavorful. It is made with two beef patties, American cheese, pickles, onions, and a secret sauce.
2. How do you make a double double animal style burger?
To make a double double animal style burger, you will need to cook the beef patties in a special way so that they are extra juicy and flavorful. You will also need to add American cheese, pickles, onions, and a secret sauce to the burger.
3. What is the secret sauce for a double double animal style burger?
The secret sauce for a double double animal style burger is a special sauce that is used to make the burger extra juicy and flavorful. This sauce is made with a combination of ketchup, mustard, and mayonnaise.
4. How do you order a double double animal style burger?
To order a double double animal style burger, you will need to ask for two beef patties, American cheese, pickles, onions, and the secret sauce.
Serving Ideas To Take Your Burger Up A Notch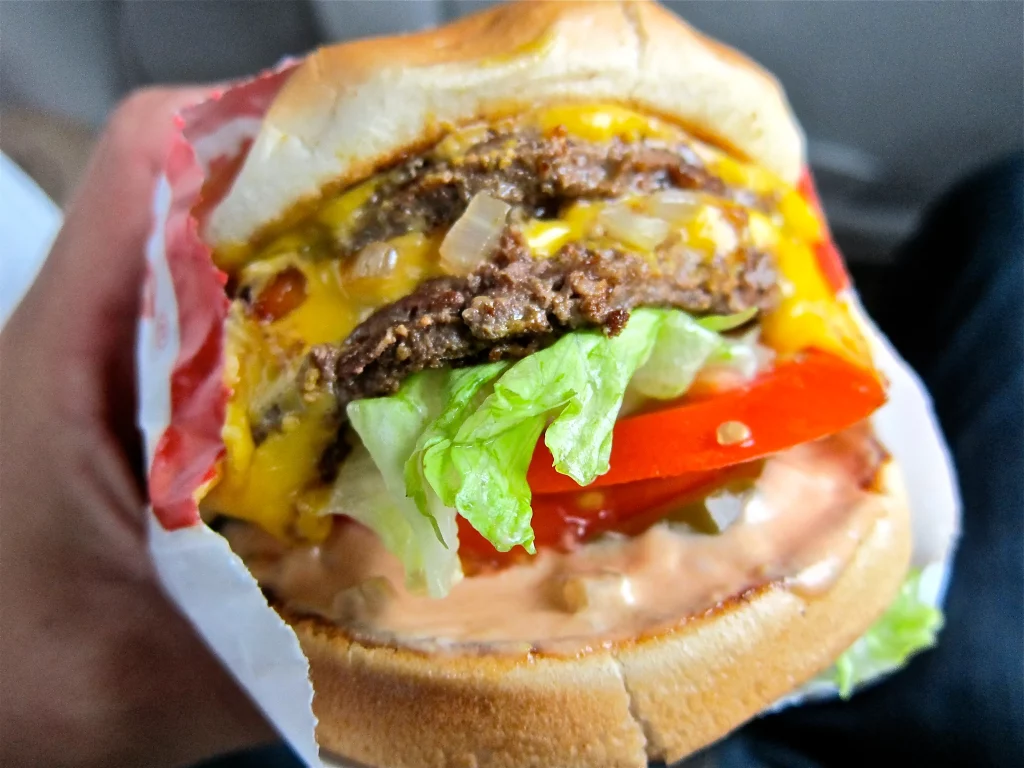 As Mentioned, The Double Double Animal Style Burger Is Made Up Of Two Patties – One Beef And One Cheese – Which Are Then Cooked Together In A Special Way. Rather Than Being Grilled Or Fried, The Patties Are Cooked In A Pan Over Medium Heat Until They're Both Nice And Juicy. This Unique Cooking Method Gives The Burger Its Distinctive Flavor Profile, Which Is Intensified By The Addition Of Bacon.
In Terms Of Toppings, You Can't Go Wrong With Anything! Add Any Type Of Cheese That You Like To Your Burgers, As Well As Any Toppings That You Would Typically Add To A Regular Double Double Animal Style Such As Avocado, Chili, Or Guacamole. There Are Also Plenty Of Ideas For Condiments To Pair With Your Burger – Try Using Sriracha Mayo Or Caramelized Onions For An Extra Delicious Flavor Punch!
Finally, Let's Talk About Serving Your Double Double Animal Style Burgers. Whether You're Eating Them At Home Or Grabbing Them On The Go, There Are Plenty Of Fantastic Ways To Serve Them Up. Try Serving Them Inside Soft Buns With Lettuce And Tomato Slices On Top, Or Serve Them In Rolls With Melted Cheese And Your Favorite Toppings Inside. If You're Feeling Really Creative (And Hungry!), Try Making Your Own Version Of This Popular Burger Using Ingredients That You Have At Home. Who Knows – You Might Just Create A New Favorite Dish!