With this delicious and easy-to-make garlic crab linguine recipe, you'll be able to wow your family with a flavorful seafood dinner in under 30 minutes – just check out this blog post for all the tips and tricks!
I am all for easy recipes. And if I can make a delicious pasta dinner in under 15 minutes, then I am sold! This crab recipe does just that. In the time it takes to boil the pasta, you are done cooking the sauce. I use lump crab in this recipe and it is just a matter of heating the crab meat in the sauce and tossing in the pasta.
Cook Eat Delicious Rating: Butter…Garlic…Crab…Pasta…really?! Are you seriously wondering if you should cook up this recipe?! GO! Buy the ingredients and make this up for dinner tonight!!!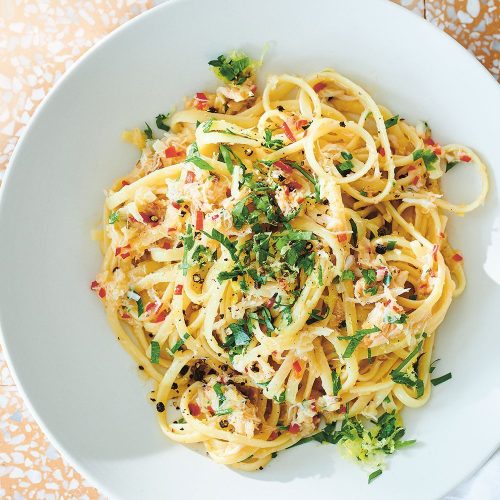 Garlic Crab Linguine
Have you been looking for a delicious, seafood dinner recipe that is sure to please the whole family? Look no further than garlic crab linguine! This easy-to-make dish is packed with flavor, and it can be ready in under 30 minutes.
Ingredients
1

pack

Linguine

1

tsp

Olive Oil

1

stick

Butter

3

tbsp

Galic

crushed

1

tsp

black pepper

1

tbsp

Oyster Sauce

8

ounces

Lump Crab
Instructions
Start by boiling Linguine as instructed on package.

Over medium heat, add olive oil, butter, and garlic to pan.

Once butter is thourougly melted and heated, stir in pepper and oyster sauce.

Gently fold in crab.

Drain noodles and toss into crab mixture.

Serve immediately
Notes
Garlic crab linguine is a delicious and easy dish to make, requiring only a few simple ingredients and preparation tips. It is an ideal meal for busy weeknights, as it can be ready in under thirty minutes. From the FAQs on garlic crab linguine to the different serving ideas, there are many ways to customize this meal to suit your tastes. Add extra herbs or spices for an even more flavorful dish. Try making garlic crab linguine today and enjoy a delicious and nutritious meal!
Nutrition
Serving:
1
serving
Calories:
680
kcal
Carbohydrates:
85
g
Protein:
25
g
Fat:
26
g
Saturated Fat:
15
g
Polyunsaturated Fat:
2
g
Monounsaturated Fat:
7
g
Trans Fat:
1
g
Cholesterol:
85
mg
Sodium:
785
mg
Potassium:
382
mg
Fiber:
4
g
Sugar:
3
g
Vitamin A:
722
IU
Vitamin C:
4
mg
Calcium:
60
mg
Iron:
2
mg
Ingredients And Preparation Tips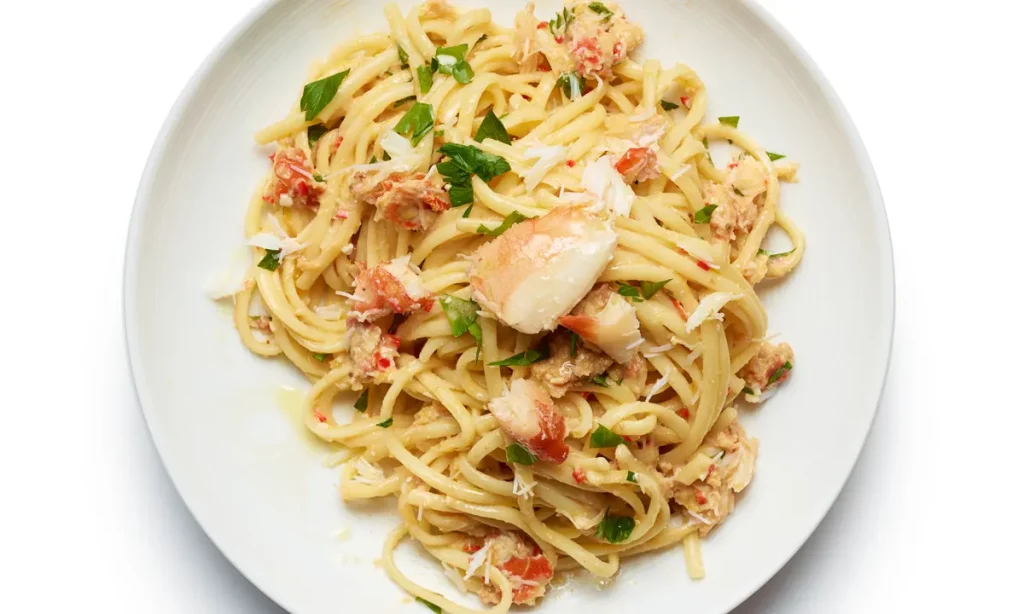 If you're looking for a delicious seafood dinner recipe that's sure to impress, then you need to try garlic crab linguine. Made with linguine noodles, creamy garlic sauce, and succulent crab meat, this dish is packed full of flavor. In addition to being delicious, garlic crab linguine is also healthy – thanks in part to the ingredients. Here are a few key details about this amazing pasta dish:.
What makes garlic crab linguine so good? Key ingredients include creamy garlic sauce and succulent crab meat. Both of these ingredients add flavor and complexity to the pasta dish, making it irresistible. Plus, they're both healthy – so you can eat without guilt.
How do I make garlic crab linguine? Follow these simple steps: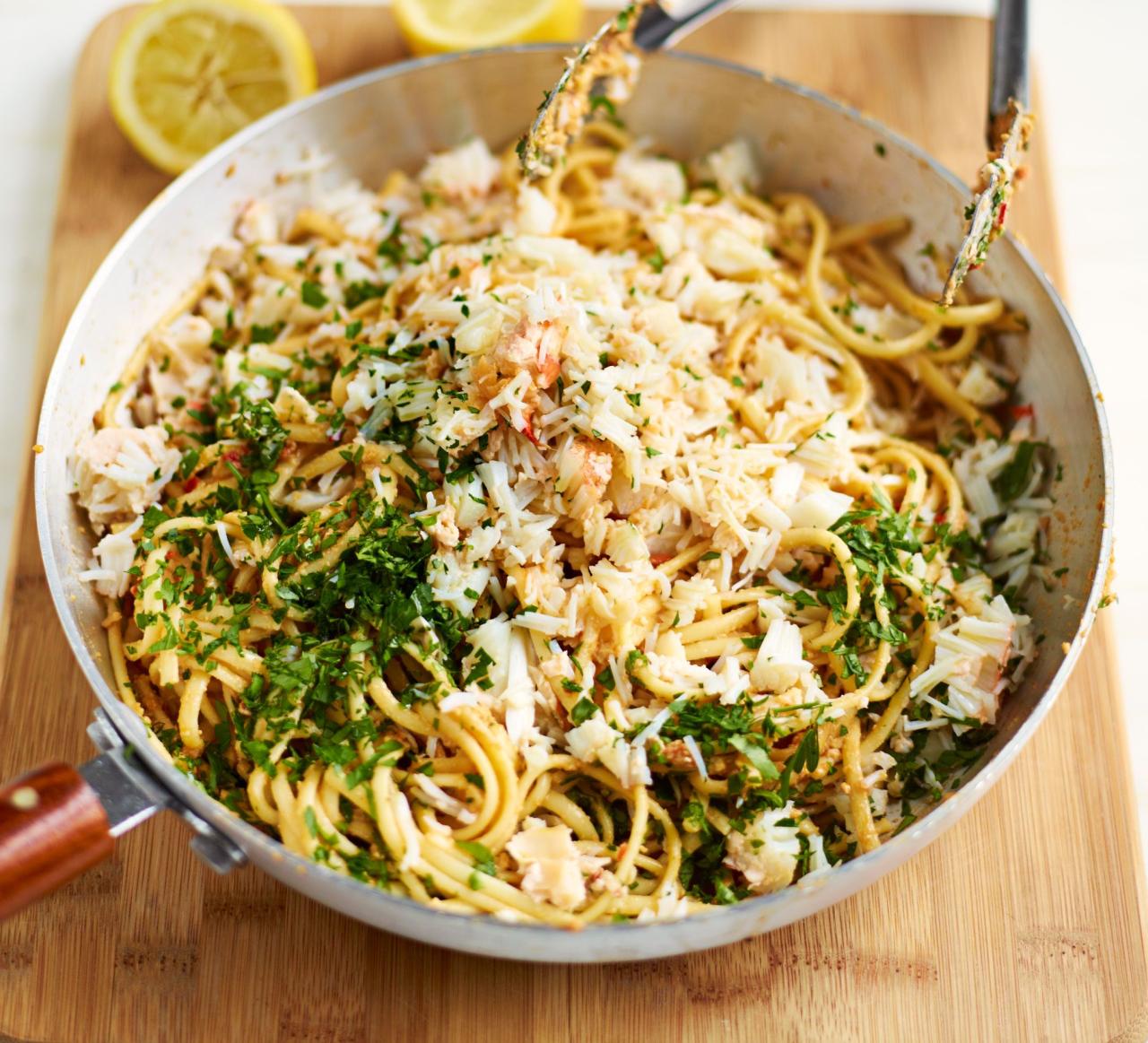 1) Start by boiling the noodles according to package instructions.
2) While the noodles are boiling, prepare the creamy garlic sauce by blending together butter, flour, milk, and cream until smooth. Add salt and pepper as desired.
3) Once the noodles are cooked through, drain them and stir in the creamy garlic sauce. Add in chopped fresh parsley or basil if desired before serving.
4) Finally, prepare your crabs by seasoning them with salt and pepper before cooking in a hot oiled skillet over medium-high heat for about 5 minutes per side or until golden brown and cooked through. Serve garnished with fresh parsley or basil if desired. Enjoy!
FAQs On Garlic Crab Linguine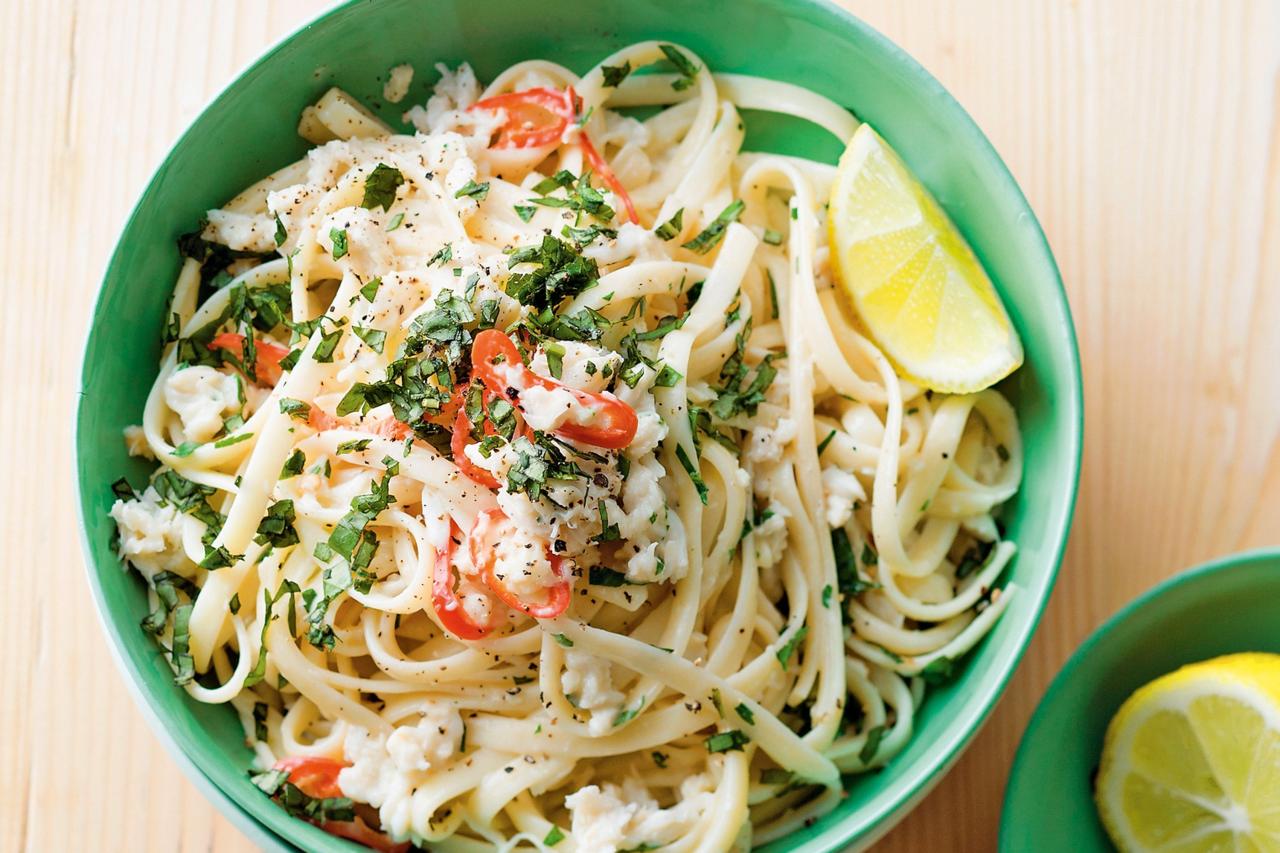 How much garlic should I use in my crab linguine?
This is a difficult question to answer, as it depends on your personal preferences. If you are a fan of garlic, then you may want to use more than the average person. However, if you are not as fond of garlic, then you may want to use less. Ultimately, it is up to you to decide how much garlic to use in your crab linguine.
What kind of crab should I use in my linguine?
There are many different types of crab that you could use for your linguine. Some of the most popular options include Dungeness crab, king crab, and snow crab. However, you could also use other types of crab, such as blue crab or stone crab. Ultimately, it is up to you to decide which type of crab you would like to use.
How do I cook the crab for my linguine?
There are many different ways that you could cook crab for your linguine. Some people prefer to boil the crab, while others prefer to steam it. You could also bake or grill the crab. Ultimately, it is up to you to decide how you would like to cook the crab for your linguine.