Treat your loved ones to a delectable Red Velvet Cake with our easy-to-follow recipe, complete with tips, FAQs, serving suggestions, and more
Who can refuse a moist, chocolatey (I know it isn't a word but you know what I mean) slice of cake, smothered in a cream cheese frosting? I know I can"t. But for the life of me I don't know why I always passed up red velvet cake at dinner parties. I really just didn't know that it was chocolate cake colored red. Why color it red? Who knows, but once I was finally coaxed into eating it, I loved it.
So for cake's sake and mine, I had to make a red velvet cake at home and make sure the recipe was easy enough to want to make it again and again. The secret to this perfectly moist cake is the white vinegar and buttermilk. The crumb is perfect, soft, melt in your mouth yummy…you won't want another recipe for red velvet cake ever again. Don't want a red cake? Leave out the food coloring for a just as delicious chocolate cake.
Cook Eat Delicious Rating: I have made this recipe a few times now and love it more and more each time. It is the perfect layer cake and works wonderfully as cupcakes as well. Each time this is served it is gone, none left over what so ever. I used just a basic cream cheese frosting, you can use your favorite recipe or if you prefer the cake alone, it would be perfect with ice cream too. There is 1/2 cup of hot coffee in the recipe that really enhances the chocolate and you mustn't leave it out! If you give this a bake let me know how you enjoyed it.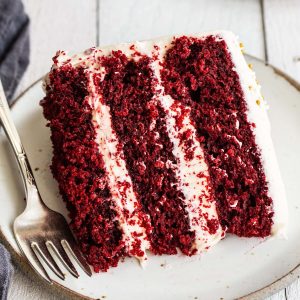 Red Velvet Cake
Are you looking for the perfect way to surprise your loved ones? A delicious Red Velvet Cake is the perfect way to show them how much you care. In this blog post, we will give you a detailed red velvet cake recipe that is sure to please.
Ingredients
2

cups

all purpose flour

1

tsp

baking soda

1

tsp

baking powder

1

tsp

salt

3

tbsp

cocoa powder

2

cups

sugar

1

cup

vegetable oil

2

eggs

1

cup

buttermilk

2

tsp

vanilla extract

2.5

ounces

red food coloring

1

tsp

vinegar

teaspoon of white distilled vinegar

½

cup

hot coffee
Instructions
Preheat oven to 325 degrees F.

Line two round nine-inch cake pans with parchment paper and lightly grease sides.

Whisk flour, baking soda, baking powder, salt, and cocoa powder together in a medium bowl.

In a large bowl whip sugar and vegetable oil.

Mix in eggs to sugar mixture one at a time.

Mix in buttermilk, vanilla, and food coloring until well combined.

Add in coffee and vinegar.

Slowly mix in flour mixture to wet ingredients until just combined.

Pour batter evenly into both cake pans.

Bake for 35 minutes or until toothpick comes out clean.

Let cool on a wire rack for 10 minutes then invert them onto rack.

Frost with your favorite cream cheese frosting once cool.
Notes
Red velvet cake is a classic and delicious dessert that can be enjoyed by everyone. Whether you are a novice baker or an experienced professional, making the perfect red velvet cake does not have to be difficult. With the right ingredients and some helpful tips, you can easily create the perfect red velvet cake of your dreams. Why not give it a try today and see what wonderful creations you can make? Let us know what you think in the comments below!
Nutrition
Serving:
1
serving
Calories:
471
kcal
Carbohydrates:
61
g
Protein:
5
g
Fat:
24
g
Saturated Fat:
4
g
Polyunsaturated Fat:
13
g
Monounsaturated Fat:
6
g
Trans Fat:
0.2
g
Cholesterol:
35
mg
Sodium:
423
mg
Potassium:
96
mg
Fiber:
1
g
Sugar:
41
g
Vitamin A:
87
IU
Calcium:
62
mg
Iron:
2
mg
Tips & Tricks For Making A Perfect Red Velvet Cake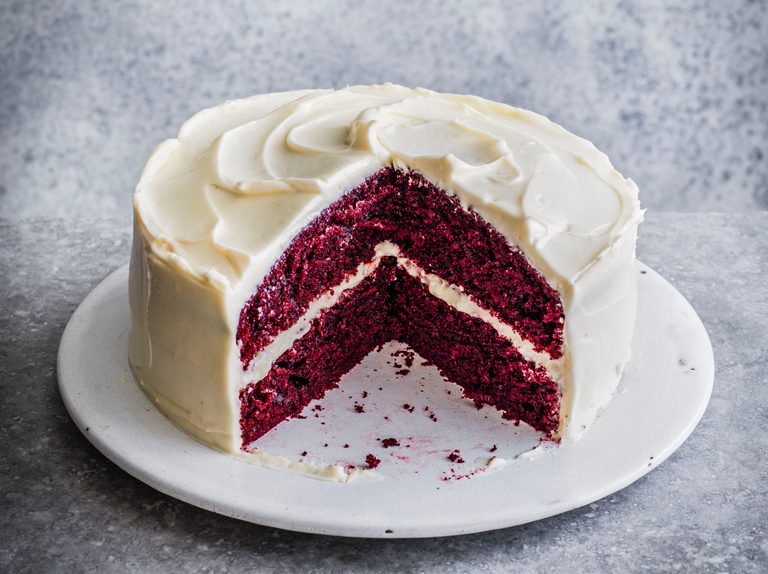 Are you looking for a delicious, yet simple birthday cake that your loved ones will love? Look no further than the classic red velvet cake! This delicious treat is made with just a few key ingredients and requires minimal preparation. Below, we'll outline the steps that you need to take in order to make this delicious cake.
First, you'll need some sugar, eggs, butter, and vanilla extract. In addition, you'll need all-purpose flour, baking powder, and salt. Finally, you'll need cocoa powder to make the cake rich and chocolatey.
Once you have all of your ingredients ready, it's time to begin cooking the cake! Preheat your oven to 350 degrees Fahrenheit before mixing together the wet ingredients: sugar and eggs. Next, add in butter and vanilla extract until smooth. Add in about one cup of all-purpose flour until everything is well combined. Stir in baking powder and salt until everything is fully mixed in. Finally add in enough cocoa powder so that the batter has a nice chocolate flavor.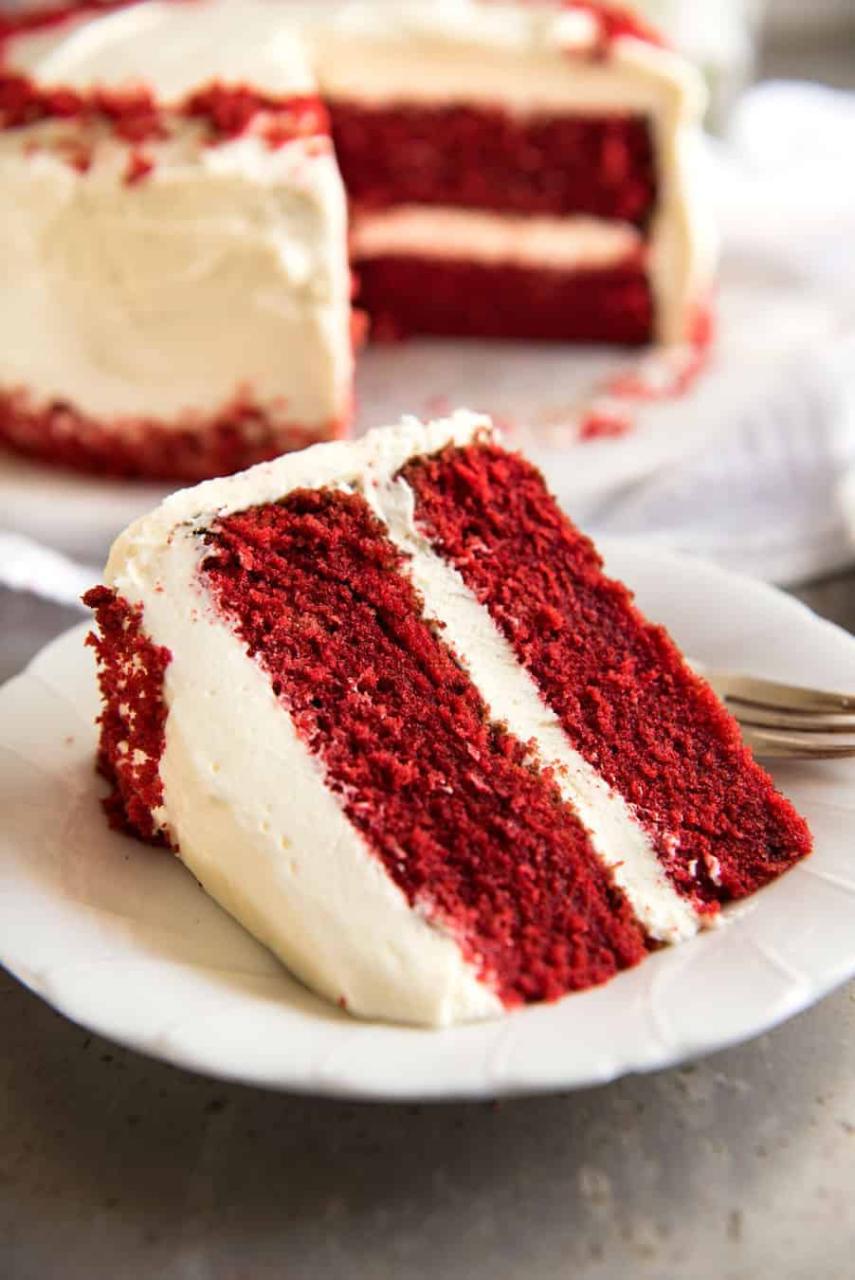 Bake the cake for about 35 minutes or until a toothpick comes out clean when inserted into the center of the cake. Allow the cake to cool completely before frosting it with cream cheese frosting! Cream cheese frosting is a classic favorite – it adds richness and creaminess to cakes while also providing hints of sweetness thanks to sugar beet juice concentrate and natural flavors. You can either make your own cream cheese frosting or buy it premade online or at local stores. Either way, making this recipe is simple but delicious!
When it comes time to cut and serve your red velvet Cake, keep these tips in mind: First cut off two-thirds of the way from one end of thecake so that everyone can slice evenly without having too much leftover batter on their knife; secondly use a sharp knife dipped into hot water before each cut so that there are no crumbs sticking up; finally let everyone enjoy their slice by letting them top off their serving with any remaining frosting on top (or even better – indulge by eating half of it first!). Enjoy your perfect red Velvet Cake today!
Let's try japanese pancake
FAQs About Red Velvet Cake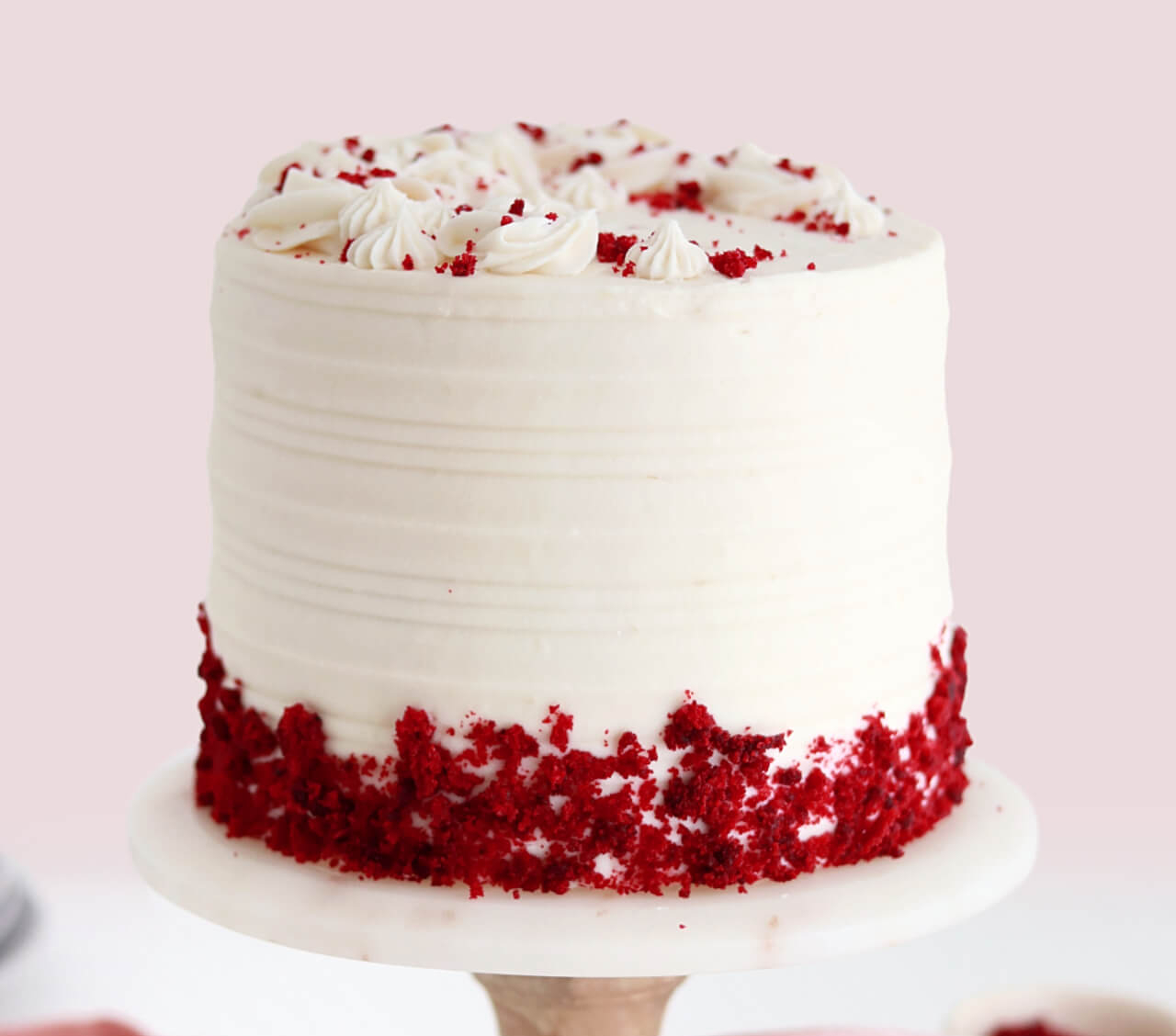 1. What is red velvet cake?
Red velvet cake is a cake that is traditionally made with a red food coloring. It is often made with a chocolate flavor, but can also be made with vanilla or other flavors.
2. Where did red velvet cake come from?
Red velvet cake is believed to have originated in the United States, though its exact origins are unknown. It is thought to have gained popularity in the early 1900s.
3. How do you make red velvet cake?
There are many recipes for red velvet cake, but most include red food coloring, cocoa powder, and buttermilk. Some recipes also include a vinegar or baking soda to react with the food coloring and create a deeper red color.
4. What do you serve with red velvet cake?
Red velvet cake is typically served with a cream cheese frosting, but can also be served with other frostings or simply dusted with powdered sugar.
5. Is red velvet cake gluten-free?
No, most red velvet cake recipes contain wheat flour and are not suitable for those on a gluten-free diet. However, there are some gluten-free red velvet cake recipes available.
Serving Suggestions For A Red Velvet Cake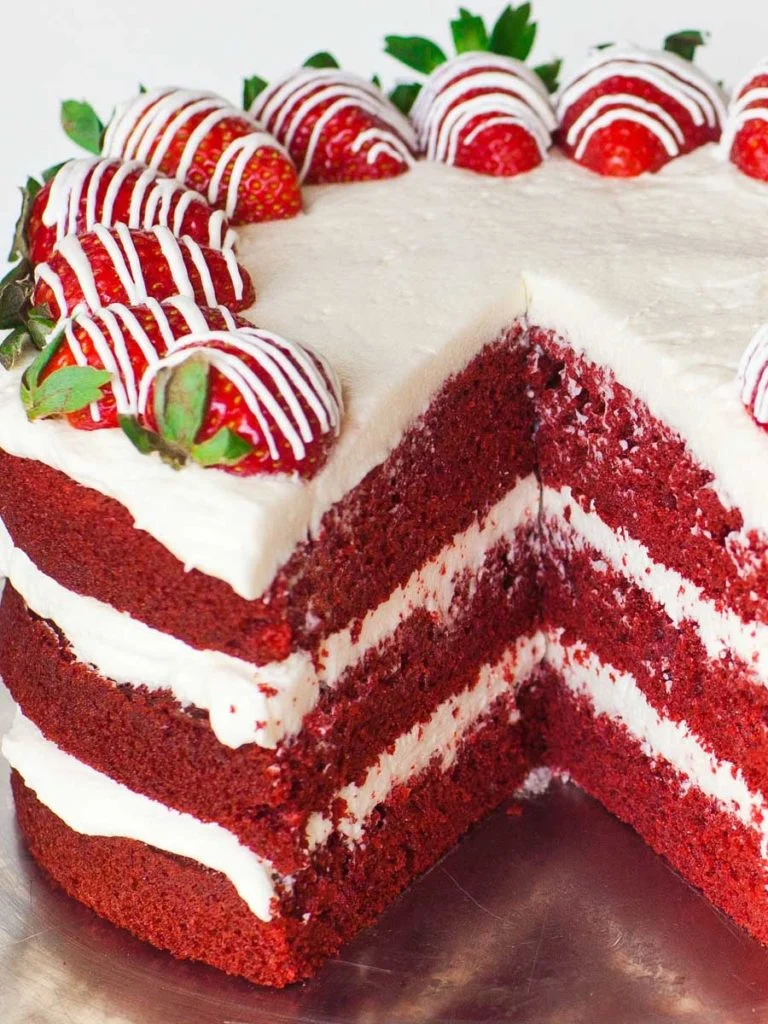 There's nothing like a delicious, homemade cake, and this red velvet cake recipe is sure to please. Not only is it delicious, but it's also simple to make. All you need are a few ingredients and some proper measurements. Below, we'll outline the steps that you need to take in order to make the perfect red velvet cake.
First, start by properly measuring your ingredients. Make sure that you're using the right amount of butter and sugar – too much of either can spoil the cake. Next, sift your dry ingredients together so that they are evenly combined. This will help to create a lighter texture in the final cake.
Next, line the bottoms of three 8-inch round cake tins with parchment paper and generously grease each one with butter or vegetable shortening. In a medium bowl or stand mixer fitted with a paddle attachment (or using an electric mixer), beat together the butter and sugar on medium speed until light and fluffy (~2 minutes). Add in 1 or 2 drops of red food colouring (depending on your desired degree of redness) and mix until well combined (~30 seconds). Add in 3/4 cup all-purpose flour mixture (sifted twice), mixing until just combined (~1 minute). Mix in 1/2 teaspoon baking powder followed by 1/4 teaspoon baking soda; set aside for later use (this is optional).
In another bowl or pan, whisk together 2 eggs whites at room temperature (~7 minutes) until stiff peaks form (~1 cup). Gradually add about 1/2 cup sugar while continuing to whip egg whites at high speed (~10 minutes), making sure not to overmix ~you want soft peaks!). Gently fold one-third of whipped egg whites into batter two times (<3 cups total batter); set remaining whipped egg white aside for later use (should total about 4 cups after folding in thirds). Pour batter into prepared pans; bake at 350 degrees Fahrenheit for 30–35 minutes or until toothpick inserted into center comes out clean; remove from oven to wire rack to cool completely before frosting & decorating ASAP!
Best Decorating Ideas For Your Red Velvet Cake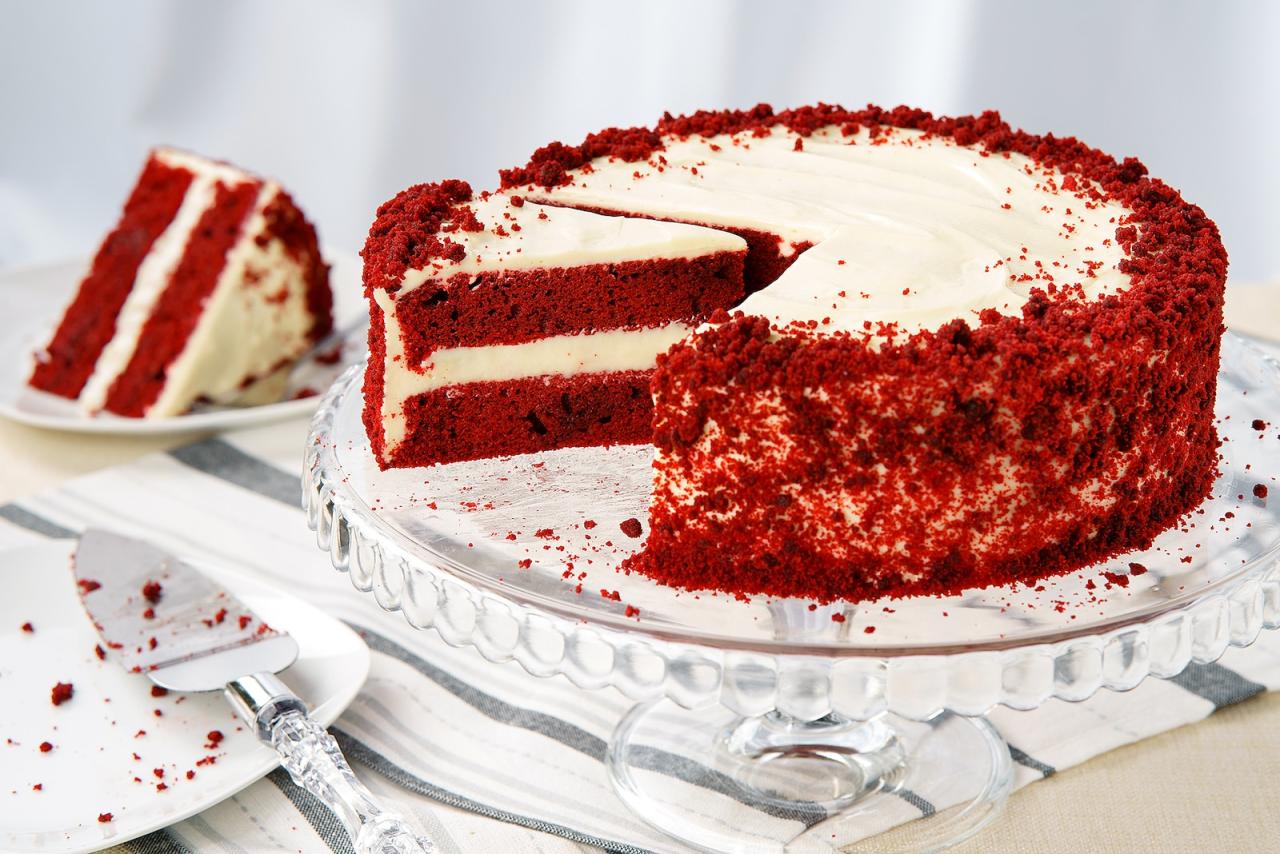 When it comes to cakes, there are few things as delicious and popular as red velvet cake. This rich, velvety cake is usually decorated with cream cheese frosting and lots of chocolate. But that's only the beginning – there are a lot of ways to make your red velvet cake stand out. In this section, we'll outline some best decorating ideas for your red velvet cake.
First, it's important to know the basics of making a red velvet cake. This classic chocolate-lover's dream is made from cocoa powder, sugar, eggs, and butter – all mixed together until light and fluffy. Once you have the basic recipe down pat, you can start experimenting with different flavors and ingredients. For example, you could add extracts or flavorings like vanilla or coffee to create unique variations on the classic red velvet flavor profile.
Another great way to make your cake stand out is through creative presentation techniques. You could go for something more dramatic like a 3D effect with edible flowers or glittery stars on top of your cake. Or you could go for something more subtle like delicate swirls of frosting around the sides and top of your cake. The possibilities are endless!
Finally, it's important to invest in quality tools when decorating cakes like red velvet ones. A good set of Cake Decorating Tools will allow you to achieve professional results quickly and easily without any hassle or messes (believe us – we've tried them all!). We recommend checking out brands like Wilton or Betty Crocker before making a purchase – they both have great selections at reasonable prices! And don't forget about other flavors that can be incorporated into red Velvet cakes such as white chocolate raspberry cheesecake or pumpkin spice carrot cake! Happy baking!
reference from https://foodandmeal.com