Make delicious, easy-to-make beer battered fish tacos with our tips and tricks. Enjoy perfect fish every time with our delicious, spicy cilantro cream sauce.
With the exception of Restaurant Month last month I have been a little MIA. Not just from this blog but from the kitchen too. Once I stopped putting up recipes regularly it became a lot more difficult to even do so once in a while. I was in a funk and I am thinking I may be out of it…maybe. We just moved into a little cute apartment, closer to the water and closer to town. When I say 'little cute' I actually mean 'super small, help! I can't move around in the kitchen' apartment. Alas! Life goes on and I gotta start cooking again sometime. Fish Tacos was the way to go and get up out of my dry cooking spell. I love fish tacos and when we lived in Mexico DH and I really got addicted to fish tacos at a little joint in our town. The fish was fresh and served in warm flour tortillas. We used to go there for lunch at least twice a week but since we moved to Costa Rica we haven't had fish tacos at all. I think this recipe may become a regular weekly thing for us now.
Cook Eat Delicious Rating: Fish Tacos have never tasted so good! The beer batter is not that super thick kind that tastes mushy half way through biting it but rather it really coats the fish and fries up nicely and stays crispy too. I used Tilapia fillets and loved their flavor but you can use any firm white fish you prefer. The cream sauce…OMGoodness. Like seriously, it is pretty the bomb. I kept eating it by itself. It is spicy and has a great cilantro flavor and complements the fish very well. I used corn tortillas and they were great but next time I think I will stick to flour. Just personal preference.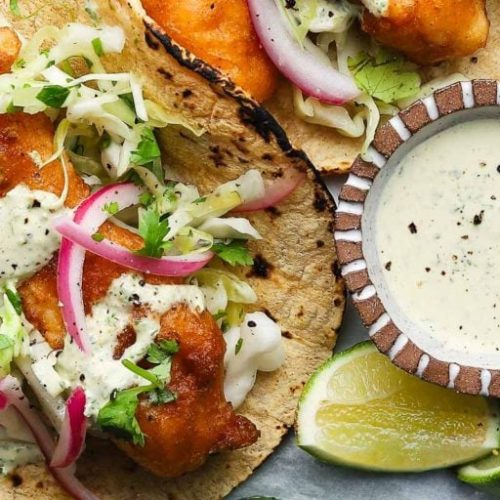 Beer Battered Fish Tacos With A Spicy Cilantro Cream Sauce
Beer-battered fish tacos are a delicious and easy-to-make meal that is sure to be a hit with family and friends. In this blog post, we will walk you through all the steps for making the perfect beer-battered fish tacos.
Ingredients
Fish
1

lb

firm white fish

1½

cups

flour

1

tsp

paprika

1

tsp

chili powder

1

tsp

cumin

1

tsp

salt

3

cups

beer

Oil for frying

Corn Tortillas

Lime wedges

Sliced

Avocado

½

head

Red Cabbage
Spicy Cilantro Cream Sauce
½

cup

sour cream

½

cup

mayonnaise

½

tsp

oregano

½

tsp

chile powder

½

tsp

cumin

½

tsp

garlic powder

½

tsp

onion powder

¼

tsp

salt

¼

tsp

all spice

1

minced

jalepeno

1

lime squeezed

½

cup

cilantro

chopped fresh
Instructions
Cut fish fillets into strips and marinate in two cups of beer in the refrigerator for at least 30 minutes.

Combine all ingredients for the Cream Sauce

In a bowl, whisk together 1 cup of flour, the paprika, chili powder, cumin, and salt.

Stir in remaining 1 cup of beer and let mixture sit at room temperature for 30 minutes.

Slice cabbage.

Heat oil with a depth of 2 inches to 375 degrees F.

Pat dry fish and season with salt and pepper.

Toss with the remaining ½ cup of flour.

When the oil is hot, coat 6 piece in the beer batter and shake off excess batter.

Fry for 4-5 minutes, moving pieces around once or twice to avoid sticking to the bottom of frying pan.

Remove fish and place on a wire rack and serve with warm tortillas, cabbage, avocado, and Spicy Cilantro Cream Sauce.
Notes
Making the perfect beer-battered fish tacos is a fun and delicious way to enjoy seafood. With these tips, you can easily whip up a batch of flavorful fish tacos that will please both kids and adults alike. Don't forget the spicy cilantro cream sauce for added zing! Give it a try tonight, and be sure to share your favorite taco recipes with your friends and family. Bon appétit!
Nutrition
Serving:
1
tacos
Calories:
129
kcal
Carbohydrates:
11
g
Protein:
6
g
Fat:
6
g
Saturated Fat:
1
g
Polyunsaturated Fat:
3
g
Monounsaturated Fat:
1
g
Trans Fat:
0.01
g
Cholesterol:
17
mg
Sodium:
205
mg
Potassium:
160
mg
Fiber:
1
g
Sugar:
1
g
Vitamin A:
398
IU
Vitamin C:
12
mg
Calcium:
24
mg
Iron:
1
mg
Tips For Making A Perfect Fish Tacos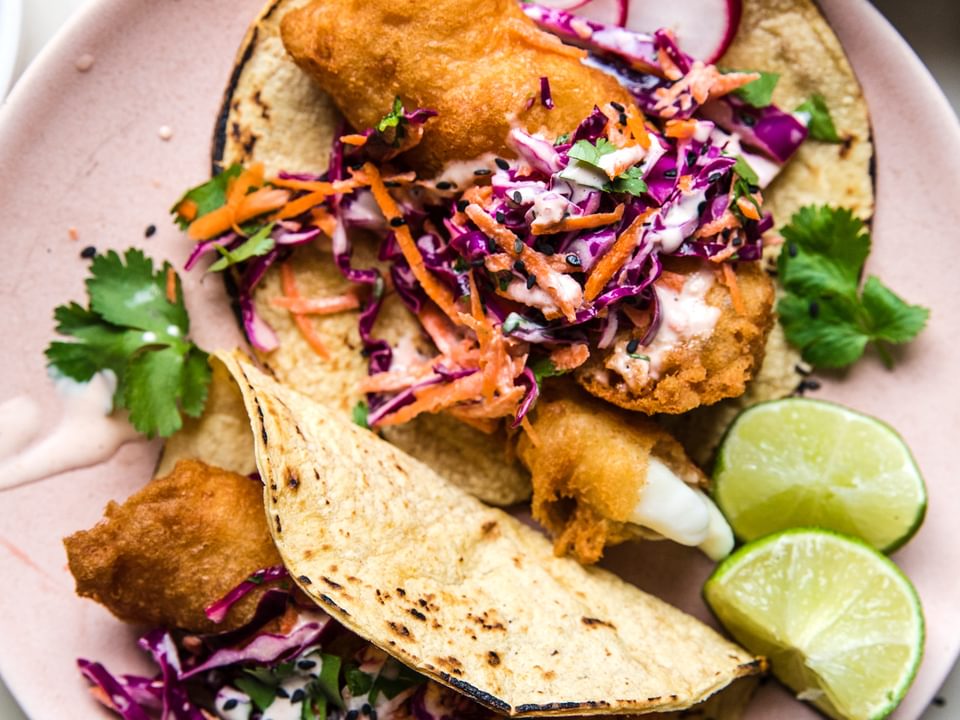 There are few things as delicious as a perfect fish taco. When done right, the delicate flavor of the fish is enhanced by the freshness of the toppings and the crunch of the tortilla. Here are a few tips for making the perfect fish taco:
– Use a fresh, mild-flavored fish. Common choices include tilapia, mahi-mahi, and snapper.
– Season the fish with a simple rub of salt, pepper, and chili powder.
– Grill, fry, or bake the fish until it is cooked through but still moist.
– Serve the fish on a soft tortilla with fresh toppings like salsa, cabbage, and lime.
With these tips in mind, you'll be able to make a perfect fish taco that will tantalize your taste buds.
FAQs About Fish Tacos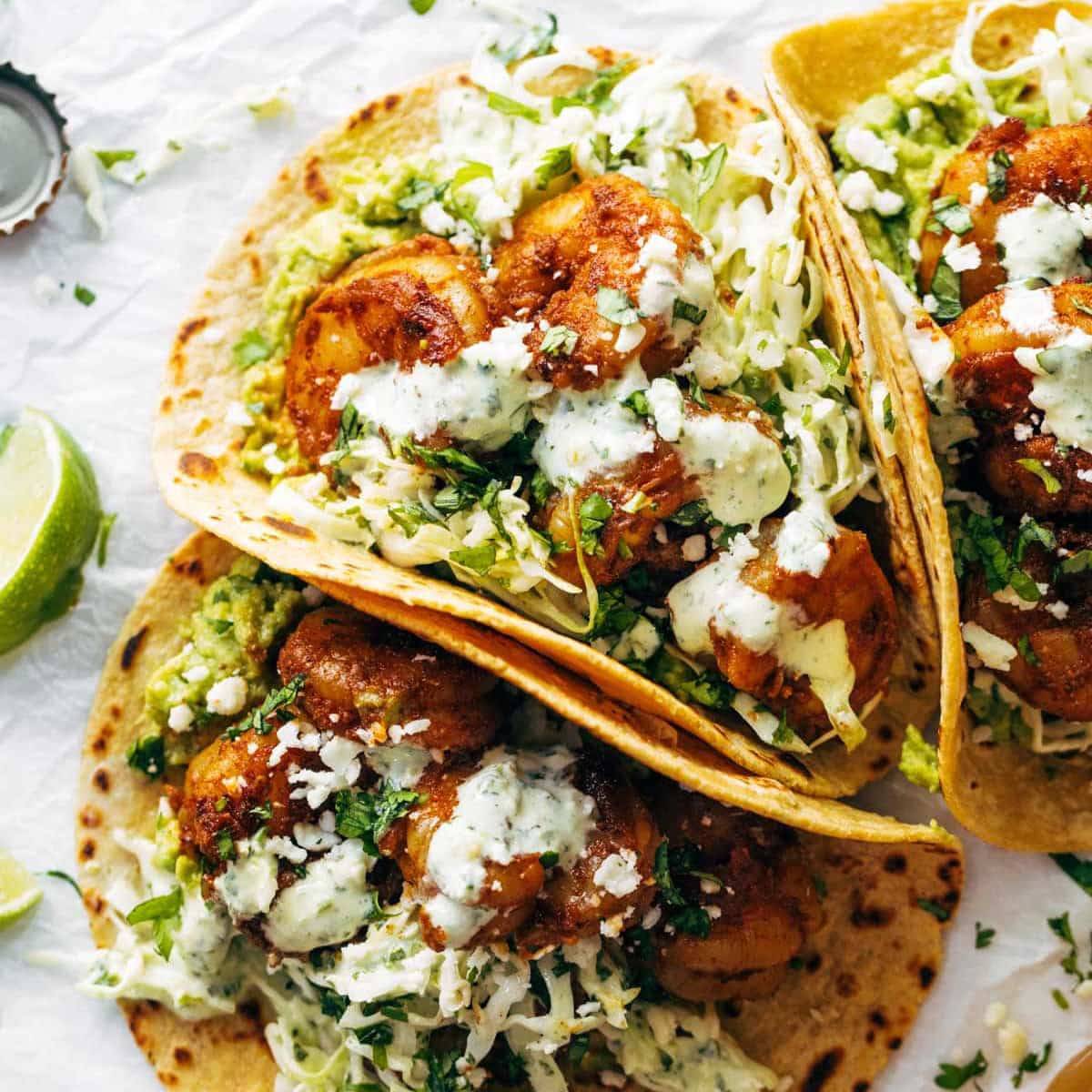 1. What is a fish taco?
A fish taco is a type of taco that typically features fish or seafood as the main ingredient. Fish tacos are popular in many areas of the world, including Mexico, the United States, and Central and South America.
2. What kind of fish is used in fish tacos?
There are many different types of fish that can be used in fish tacos, including Tilapia, Cod, and Salmon. The type of fish that is used is typically dependent on what is available in the area.
3. What are the other ingredients in fish tacos?
In addition to the fish, other common ingredients in fish tacos include cabbage, tomatoes, onions, and various sauces. The specific ingredients can vary depending on the region where the tacos are being made.
4. How are fish tacos typically served?
Fish tacos are typically served with tortillas, rice, and beans. They can also be served with a variety of sauces, such as salsa, guacamole, or sour cream.
5. Are fish tacos healthy?
Fish tacos can be a healthy option, depending on the ingredients that are used. They are typically lower in calories and fat than other types of tacos, and can be a good source of protein and nutrients.
What To Serve With Beer Battered Fish Tacos?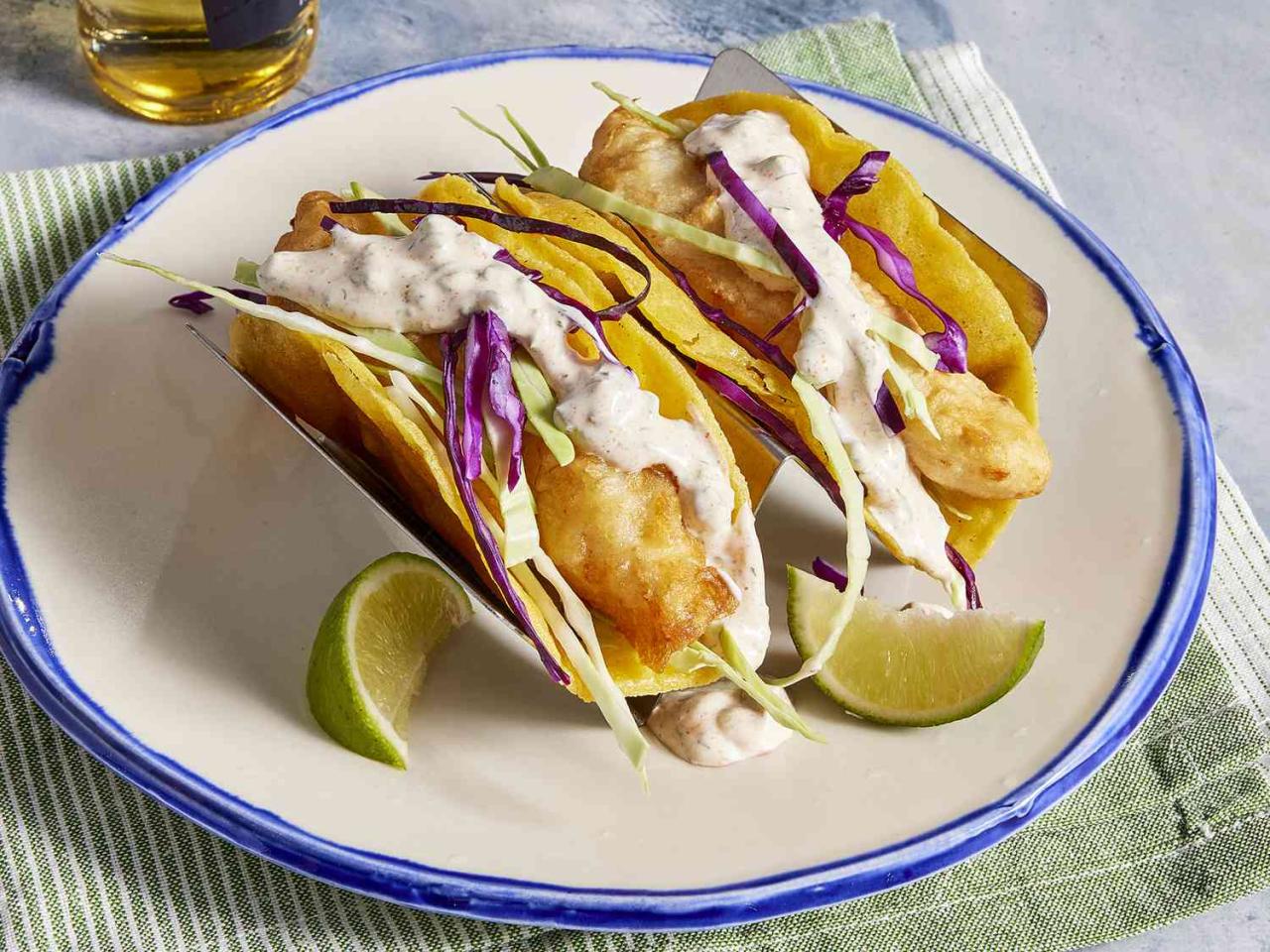 Looking for an easy, yet delicious, meal? Look no further than beer battered fish tacos! These tacos are made with a light and crispy batter that is filled with fresh fish. The batter is made with flour and baking powder, which gives it a light and fluffy texture.
To make these tacos even more special, use a medical grade deep fryer to cook the fish. This ensures that the fish is cooked perfectly every time, resulting in succulent and delicious tacos. To top the tacos off, make a spicy cilantro cream sauce that liven up each taco. This creamy sauce is perfect for adding flavor to each bite. And of course, don't forget the pico de gallo, shredded cheese, and lime wedge for an extra burst of flavor!
Pair these delicious tacos with an ice cold beer for the perfect combination of flavors. Whether you're looking for a quick and easy meal or something to enjoy over the long weekend – beer battered fish tacos are sure to hit the spot!