Get ready to cozy up with a warm bowl of vegan farmhouse vegetable soup – click here to learn how to make it and find great tips, FAQs, serving suggestions, and pairing ideas!
Soup is a regular staple in my home. I try to make one pot of soup every week or two. Cooking soup is an easy way to finish up any loose veggies you have that may go bad soon. It can be super healthy and tasty at the same time by incorporating the right herbs and spices to bring out the best flavor. I love this Vegan Farmhouse Vegetable Soup Recipe. It is so colorful and chock full of protein and fiber with the additional beans.
Cook Eat Delicious Rating: A Home Cook can masterfully cook up this soup. Nothing to it. Adjust the seasonings to your liking and it would even be delicious with some Cayenne to add a Spice factor! If you don't have all the veggies or have others I am sure that any vegetable can substitute or be added in, no problem at all. Make this easy recipe on a cold night to fill the house with warm deliciousness!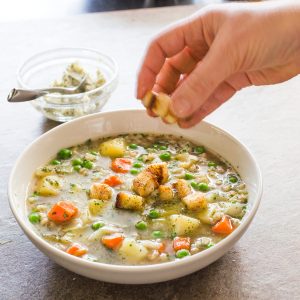 Vegan Farmhouse Vegetable Soup
Soup is a great way to warm up on chilly days. But why settle for the same old canned soup? In this blog post, we're going to show you how to make a delicious vegan farmhouse vegetable soup that is sure to become a family favorite! We'll provide you with a list of ingredients, easy tips, FAQs, serving suggestions, and pairing ideas to enhance your experience. So grab your apron and let's get cooking!
Ingredients
2

tbsp

olive oil

1

onion

chopped

1

carrot

julienned

5

stalks

celery

chopped

3

different colored

bell peppers

diced

3

cups

green beans

fresh, cut into 1-inch pieces

1

zucchini

sliced

2

garlic cloves

minced

8

cups

vegetable stock

4

cups

flor de mayo beans

or another firm bean

Salt & pepper to taste

parsley

Chopped fresh
Instructions
In large pot heat olive oil over medium heat.

Add onion, carrot, and celery; cook for 5-minutes or until softened.

Add bell peppers, green beans, zucchini, and garlic; cook for another 5-minutes.

Add vegetable stock and bring soup to a boil.

Reduce heat to low and cover, cooking for 30 minutes.

Add beans, salt & pepper to taste and cook for another 20 minutes.

Sprinkle in parsley and serve immediately.
Notes
Making a delicious and hearty soup doesn't have to be difficult. With the right ingredients, easy steps, and helpful tips, you can make an amazing pot of Farmhouse Vegetable Soup that is sure to please even the pickiest of eaters. Don't forget to pair it with the perfect accompaniments for an even better experience. Serve it up in style with some tasty and creative serving suggestions. Now that you are equipped with all this information, what are you waiting for? Give this amazing recipe a try today!
Nutrition
Serving:
1
bowl
Calories:
195
kcal
Carbohydrates:
26
g
Protein:
4
g
Fat:
10
g
Saturated Fat:
1
g
Polyunsaturated Fat:
1
g
Monounsaturated Fat:
7
g
Sodium:
2588
mg
Potassium:
705
mg
Fiber:
6
g
Sugar:
14
g
Vitamin A:
5953
IU
Vitamin C:
33
mg
Calcium:
97
mg
Iron:
2
mg
Easy Tips To Make Farmhouse Vegetable Soup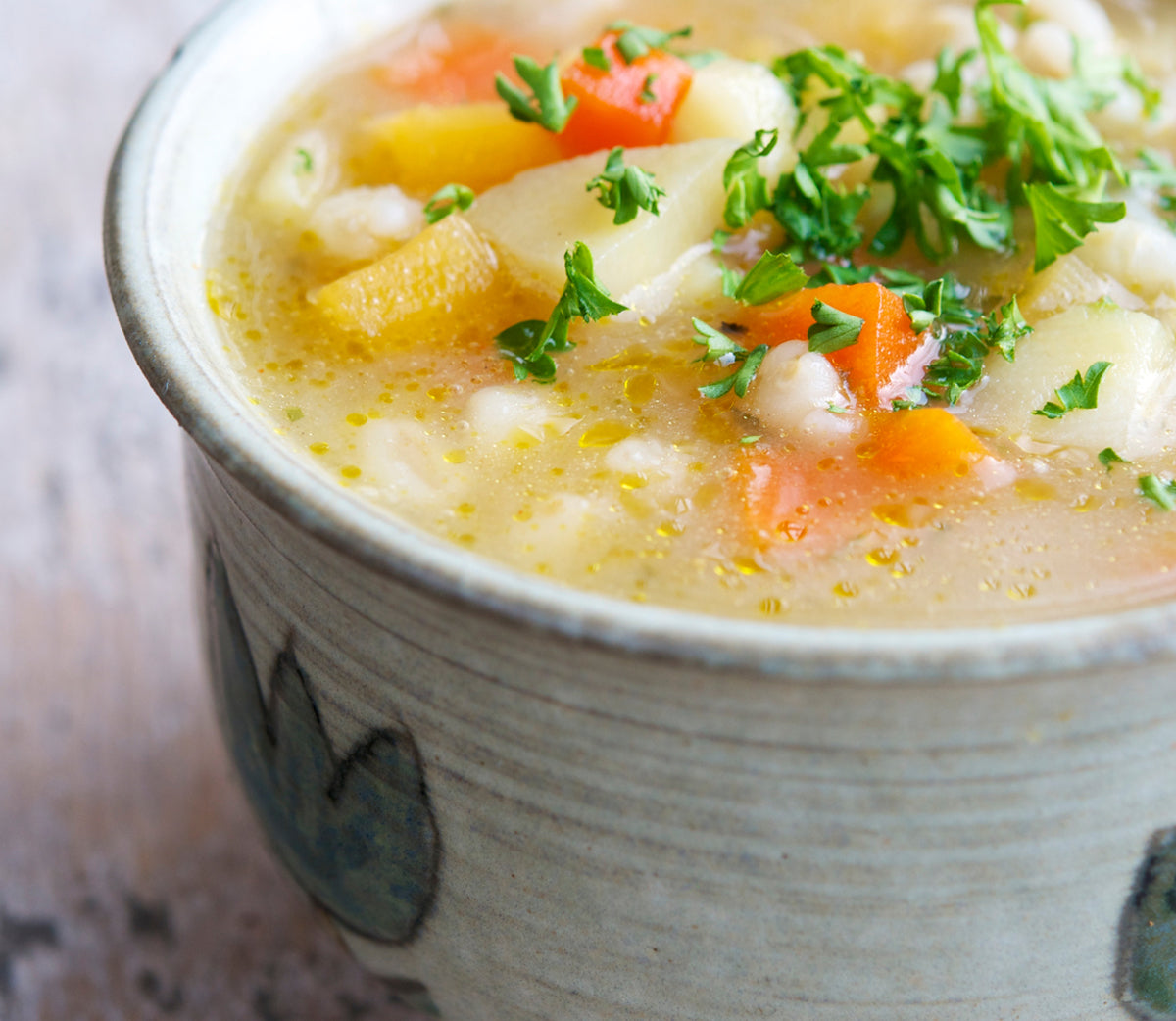 Summer is here, which means it's time for bowls of delicious vegan farmhouse vegetable soup. This easy and comforting soup is jam-packed with fresh vegetables and a rich flavor. By following these simple tips, you'll be able to create a delicious bowl of soup in no time.
When preparing your vegetables, choose ones that are fresh and vibrant in color. This will help to bring out the flavor of the vegetables in the soup. Sautéing your vegetables will also add depth of flavor and a bit of sweetness. Be sure to cook them until they're soft but still firm.
Adding vegan broth to your soup is key for creating a flavorful and hearty bowl of soup. You don't need any meat or dairy products to make this soup taste great, which makes it vegan friendly! For an extra kick of flavor, add spices such as salt, pepper, or garlic powder to the pot before adding the vegetables. Finally, simmer your soup for about 30 minutes until it's cooked through and has a richer flavor.
If you'd like an easy way to add noodles into your soup without having to boil them first, try using no cook noodles such as udon or ramen noodles. They'll stay fresh in the fridge for up to two days so you can easily enjoy a bowlful on hot days! And if you want your Soup Supreme even more creamy texture wise blend some silken tofu or cashew cream before serving!
FAQs About The Recipe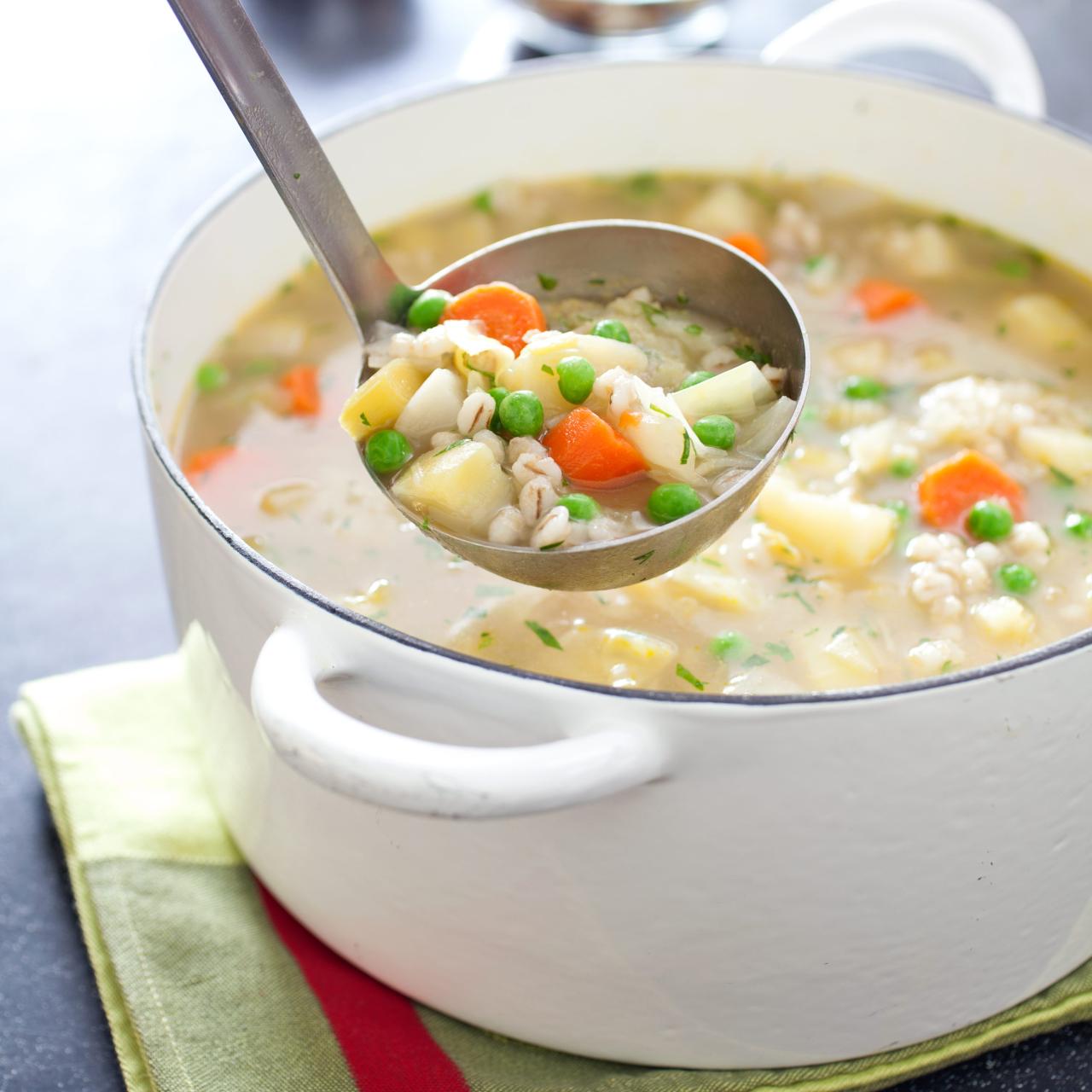 Are you looking for a delicious and hearty soup to warm up on a cold day? Look no further than our vegan farmhouse vegetable soup recipe. This dish is packed full of goodness, including vegetables, herbs, and stock. Plus, it's dairy free and vegan friendly. So whether you're in the mood for a hearty meal or just want to enjoy some delicious soup, this recipe is perfect for you!
Below, we'll answer some common questions about the recipe. However, if you have any other questions or concerns about preparing or cooking the soup, please don't hesitate to ask us in the comments section below or on our Facebook page. We would love to help!
Q: What type of vegetables are used in the soup?
A: The vegetable stock used in this soup is made mostly of chopped onions and celery. However, other vegetables such as carrots can also be used depending on what's available at your local grocery store.
Q: Is the recipe dairy free and vegan friendly?
A: Yes! This recipe is dairy free and vegan friendly – meaning that you can omit the cheese if desired. Additionally, many people also enjoy adding extra herbs and spices to their soups for added flavor (e.g., fresh parsley). So feel free to add whatever herbs or spices would be desirable to you.
Q: What type of herbs can be added to the soup for flavor?
A: Many people like to add fresh parsley or other chopped herbs (e.g., thyme) when making this soup because they enjoy the flavors that they add. However, it's up to you what kind of herb(s) you'd like to include in your bowl! Some other possibilities include rosemary or basil seeds instead of fresh parsley/herbs respectively; those are just two examples off the top of my head 🙂 If it's wintertime and you're craving some warming spices but don't want anything greasy sitting atop your bowl of food while eating – try using pumpkin puree as your vegetable stock instead! Just make sure that it has been processed through a blender so that there are no chunks left (i.e., pureed). You could even try different combinations such as adding ginger along with pumpkin puree if you're feeling adventurous 🙂. Again – there are endless possibilities when it comes down to making vegetarian/vegan farmhouse vegetable soups!:-)
Notes: – To make this recipe dairy-free substitute Earth Balance.
Pairing Ideas To Enhance Your Experience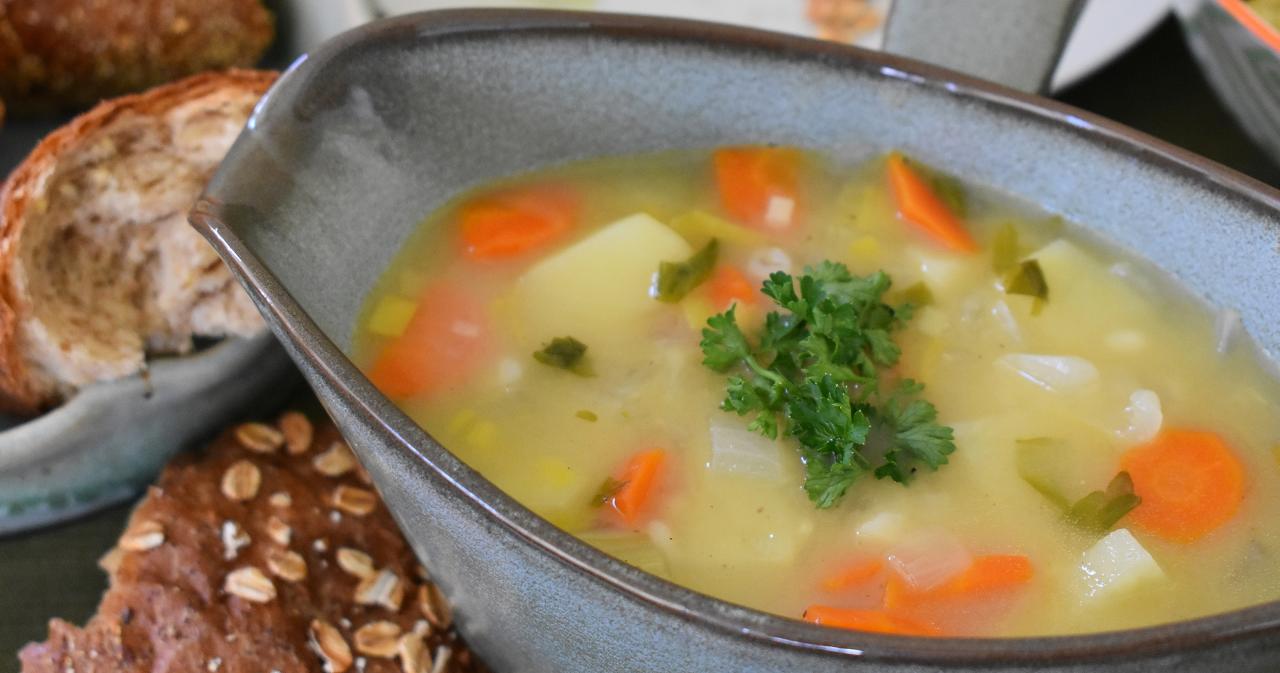 To start, you'll need to choose the right ingredients for your soup. Some of the key ingredients include potatoes, carrots, celery, onions, garlic, beans, and lentils. You can also add in fresh herbs like parsley or rosemary to enhance the flavor profile. In addition to these core ingredients, consider adding in other secondary ingredients like nutritional yeast or tofu for extra richness and flavor.
Once you have your basic ingredients assembled, it's time to cook up some soup! There are a variety of cooking techniques that you can use to bring out the flavors of the vegetables. For example, you can simmer them in water or broth until they're tender and then season them with salt and pepper as desired. You can also use a pressure cooker to speed up the process – just be sure to follow the instructions carefully so that your soup doesn't come out overcooked or bland.
Finally, it's time to serve up your delicious vegan farmhouse vegetable soup! You can serve it warm as is or cold with breads, crackers, or rice varieties as toppings. For extra presentation value, consider serving your soup in individual bowls instead of a single large serving bowl. And don't forget about some delicious garnishes – this soup is great paired with fresh herbs and spices like parsley or basil!
Serving Suggestions That'll Impress Dinners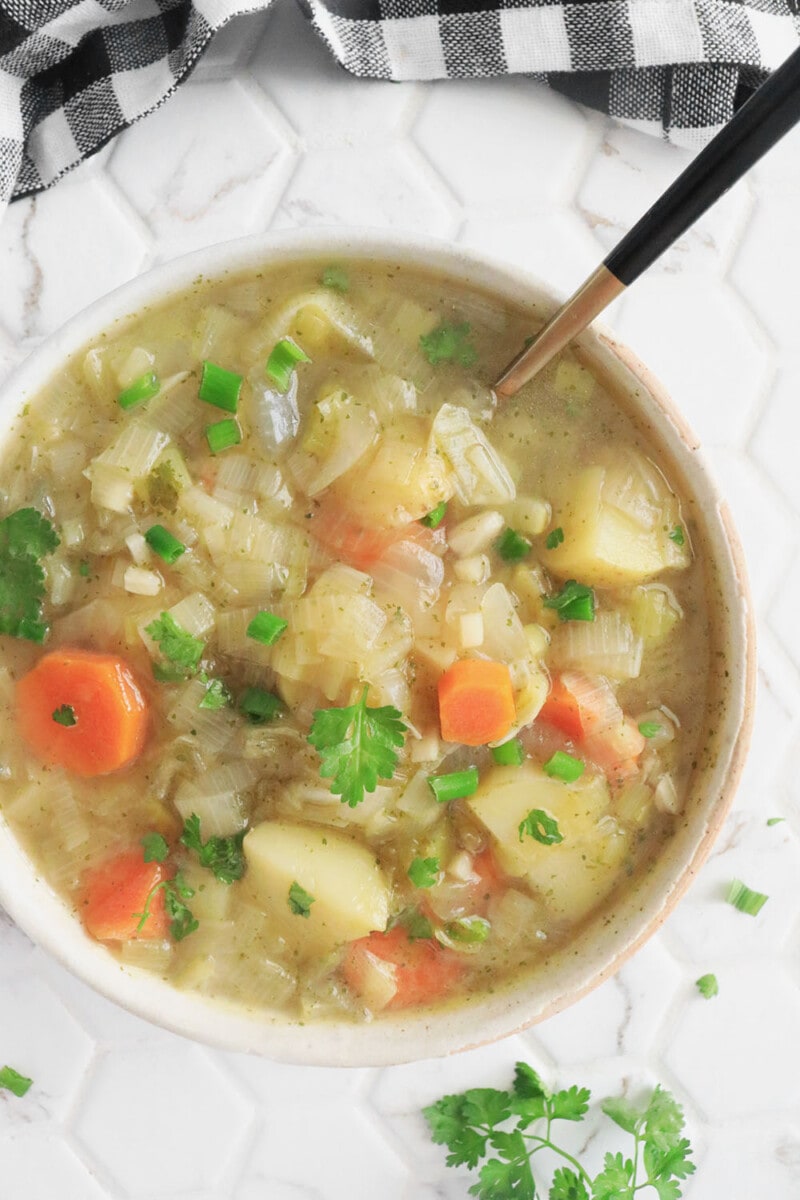 To Give The Soup Its Full Body, Use A Variety Of Vegetables In Your Recipe. This Will Give The Soup Texture And Depth That Is Unique And Unmatched By Any Other Vegan Soup On The Market. In Addition To Adding Complexity And Depth Of Flavor, Vegetables Add Vitamins, Minerals, And Antioxidants That Are Essential For Overall Health.
For An Easy-To-Make Broth Base, Choose One Of Our Many Broth Bases Options. Our Bases Include Vegetable Broth, Chicken Broth, Or Beef Broth – So There's Definitely Something For Everyone Here. If You're Looking To Add Some Protein To Your Bowl Of Soup, Try Our Vegan Chorizo Or Tofu Options. These Proteins Provide Additional Richness And Chewiness That Will Make Your Taste Buds Happy (And Won't Put Any Extra Strain On Your Budget).
To Top Off Your Delicious Bowl Of Soup, We've Provided Some Serving Suggestions That'll Keep Dinner Interesting Without Ever Having To Leave The Comfort Of Your Own Home. Try Serving Up Our Lentil Shepherd's Pie Topping As An Ideal Complement To This Hearty Vegan Farmhouse Vegetable Soup. Or Go Crazy With Our Imaginative Ideas For Garnishes Like Roasted Cauliflower Florets Or Crispy Brussels Sprouts Leaves! And Finally – Don't Be Afraid To Experiment With Unique Flavors – Adding Fresh Herbs Or Spices Can Really Take Your Dish Up A Notch!