I love hot-fresh-out-of-the-oven cookies. I love them so much that I usually burn my tongue trying to eat one, literally right out of the oven. The other night DH (Dear Hubby) and I were wanting something sweet to eat and quick. What's better than fresh baked cookies to get you over your sugar craving? I decided on Peanut Butter Cookies with Chocolate Chips. Perfect combination, great with milk, what could go wrong?
Delicious Rating: An easy recipe to cook, as most cookies are. As for the cookie, I didn't really care for them. It was not peanut buttery nor chocolate chippy. I even doubled the amount of peanut butter so that it would stand out but to no avail. The combination did not mesh, it felt forced almost. They turned out thin and chewy, which is how I like my cookies…just not these. Overall these won't be made by me again. DH did enjoy them but did say they lacked the peanut butter flavor. Give it a bake and share how they turned out.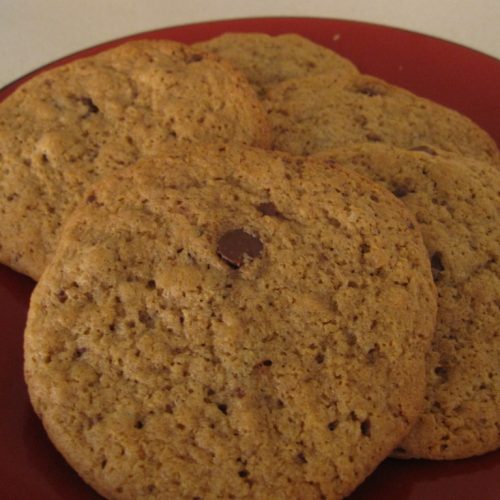 Peanut Butter Chocolate Chip Cookie
The best part about these Peanut Butter Chocolate Chip Cookies is the peanut butter and chocolate chips in every bite. The peanut butter gives the cookies a delicious, nutty flavor and the chocolate chips add a touch of sweetness. These cookies are perfect for a quick snack or a dessert.
Ingredients
½

cup

butter

softened

1

cup

peanut butter

1

cup

packed brown sugar

½

cup

white sugar

2

eggs

2

tablespoons

light corn syrup

2

tablespoons

water

2

teaspoons

vanilla extract

2½

cups

all-purpose flour

1

teaspoon

baking soda

½

teaspoon

salt

2

cups

chocolate chips
Instructions
Preheat oven to 375 degrees F.

In a large bowl cream together the butter, peanut butter, brown sugar, and white sugar until smooth.

Beat in the eggs one at a time, then stir in the corn syrup, water, and vanilla.

Combine the flour, baking soda, and salt; stir into the peanut butter mixture.

Fold in chocolate chips.

Make a large spoonful into ball and criss-cut with a fork onto ungreased baking sheets.

Bake for 12 to 14 minutes in the preheated oven, or until edges are golden.

Allow cookies to cool for 1 minute on the cookie sheet before removing to wire racks to cool completely.
Nutrition
Serving:
1
serving
Calories:
283
kcal
Carbohydrates:
37
g
Protein:
4
g
Fat:
14
g
Saturated Fat:
6
g
Polyunsaturated Fat:
2
g
Monounsaturated Fat:
4
g
Trans Fat:
0.2
g
Cholesterol:
24
mg
Sodium:
180
mg
Potassium:
136
mg
Fiber:
1
g
Sugar:
24
g
Vitamin A:
138
IU
Calcium:
29
mg
Iron:
1
mg
Tips for making Peanut Butter Chocolate Chip Cookie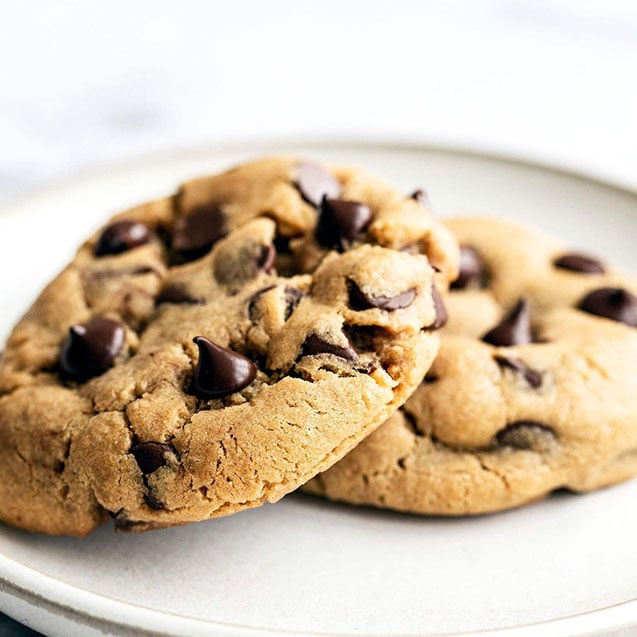 Making the perfect peanut butter chocolate chip cookie is all about getting the right ratio of ingredients. You want to use 1 part peanut butter to 2 parts chocolate chips. This will ensure that the cookies are nice and moist, with a rich chocolate flavor.
Be sure to use a good quality peanut butter, such as one that is all natural and has no added sugar.
The best way to mix the ingredients is to cream the peanut butter and sugar together until it is light and fluffy, then add the chocolate chips and mix until well combined.
Be sure to use a baking sheet that is lined with parchment paper to prevent the cookies from sticking.
Bake the cookies at a moderate temperature until they are golden brown and set. Allow them to cool on the baking sheet for a few minutes before transferring to a wire rack to cool completely.
Enjoy!
FAQs about the Peanut Butter Chocolate Chip Cookie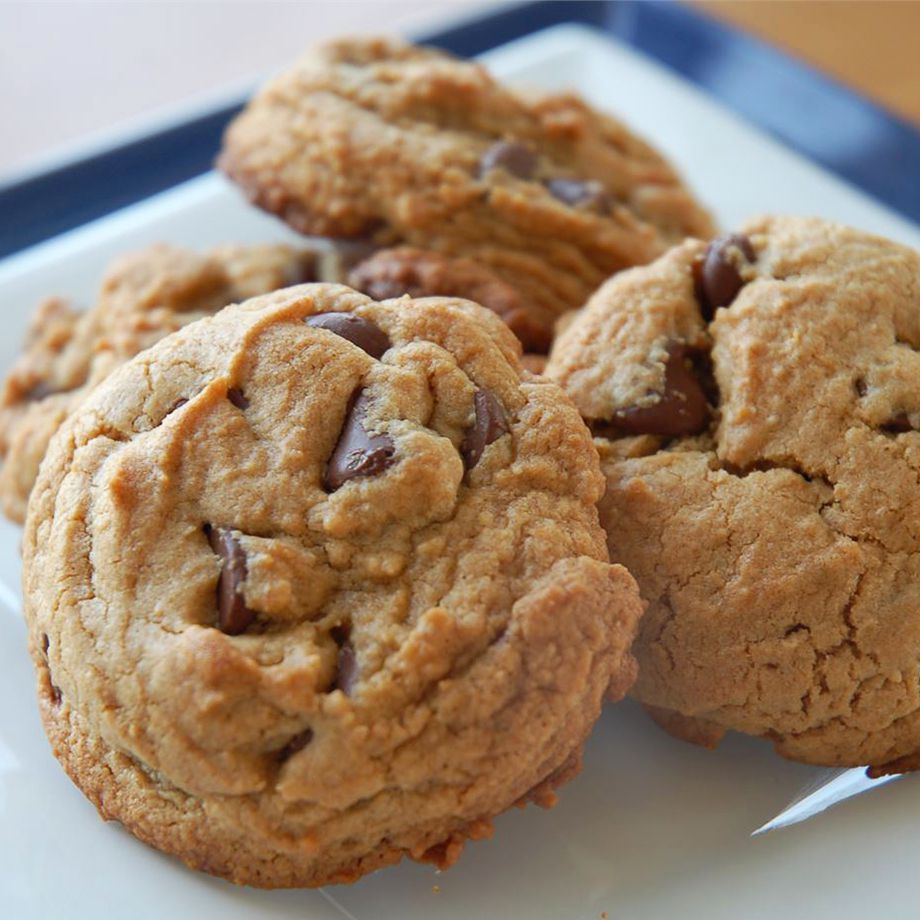 If you're a fan of peanut butter and chocolate, then you'll love our Peanut Butter Chocolate Chip Cookie! This delicious cookie is made with creamy peanut butter and chocolate chips, and it's perfect for satisfying your sweet tooth.
Here are some frequently asked questions about our Peanut Butter Chocolate Chip Cookie:
Q: How many cookies are in a package?
A: There are 12 cookies in a package.
Q: What is the shelf life of the cookie?
A: The shelf life is approximately 2 weeks.
Q: Is the cookie vegan?
A: No, the cookie contains eggs and dairy.