This is a delicious variation of the Eastern European comfort food, Haluski. For that region, it is a very economical dish, full of veggies and sometimes pasta. Cook Eat Delicious have made a couple of simple changes but kept the deliciousness of it! I didn't think that it would eat like a comfort food but man, once I had a bowl of this on my couch, nothing but comfortable! My DH loved it and finished almost the whole pot that evening.
Delicious Rating: If you like one pot meals, this is for you. Super easy recipe to cook and the flavors are great. Reminiscent of Eastern Europe and Russian dishes, the tastes are different but not bad at all. Let me know what you think. Plus it is a vegetarian dish, super healthy, and can be a perfect side dish for any meat.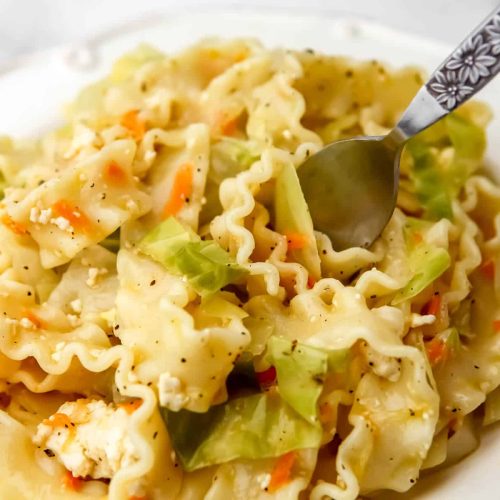 Vegetarian Haluski
Haluski is a Polish dish made from potatoes and noodles. It is a vegetarian comfort food perfect for cold weather. Haluski is easy to make and can be served with a variety of toppings. In this blog post, we share the best vegetarian haluski recipe that is perfect for any meal.
Ingredients
12

oz

Farfalle or small shaped pasta

2

tbsp

extra virgin Olive Oil

4

tbsp

Butter

1

Onion

chopped

5

cups

of Green Cabbage

shredded

1

cup

of Sun Dried Tomatoes

sliced

2

tbsp

Soy Sauce

2

tbsp

Cider Vinegar

1

tsp

Sage

1

tsp

Red Pepper flakes

1

tsp

parsley

Salt & Pepper to taste
Instructions
Heat oil and butter over medium heat in a large pan.

Add in onion and cook until softened and browned.

Stir cabbage and sun dried tomatoes.

Season with salt & pepper to taste.

Cover and cook for 15 minutes.
The cabbage tastes great at this stage seasoned with the oil from the sun dried tomatoes and butter…yum!
Boil Pasta, drain, and return to large pot.

Add remaining ingredients to pasta plus the cabbage mixture.

Combine all well and serve immediately.
Notes
Haluski is a Polish dish made of cabbage and noodles. It is usually served with a side of meat, but this vegetarian version is just as delicious and hearty. To make vegetarian haluski, simply saute some cabbage and onions, cook some egg noodles, and mix everything together. Serve with a dollop of sour cream or yogurt on top. Enjoy!
Nutrition
Serving:
1
serving
Calories:
546
kcal
Carbohydrates:
87
g
Protein:
20
g
Fat:
14
g
Saturated Fat:
8
g
Polyunsaturated Fat:
1
g
Monounsaturated Fat:
4
g
Trans Fat:
0.5
g
Cholesterol:
37
mg
Sodium:
946
mg
Potassium:
1405
mg
Fiber:
9
g
Sugar:
17
g
Vitamin A:
830
IU
Vitamin C:
45
mg
Calcium:
119
mg
Iron:
5
mg
What To Serve With Vegetarian Haluski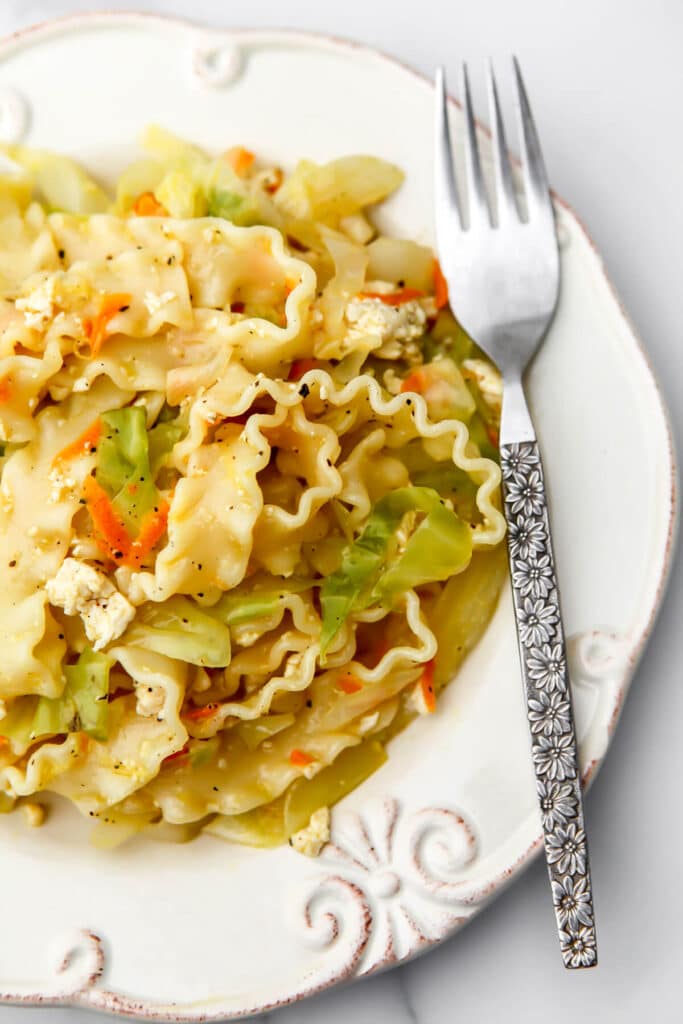 Haluski is a Polish dish that is loved by vegetarians and meat-eaters alike. It's a hearty and filling dish that can be made vegetarian with ease. This recipe is the best of the best, and it's sure to please your taste buds.
Haluski can be served as a main course or side dish, making it versatile and delicious.
This dish is perfect for winter evenings or any time you need a little comfort food in your life. Serve haluski with a simple salad or some sauteed vegetables for a complete meal.
Haluski is the perfect food to feed a crowd – it's hearty enough to satisfy everyone, but also easy to make so that everyone can enjoy it their own way.
So pull out your favorite pot and give this delicious vegetarian haluski recipe a try today!
How To Store And Reheat Vegetarian Haluski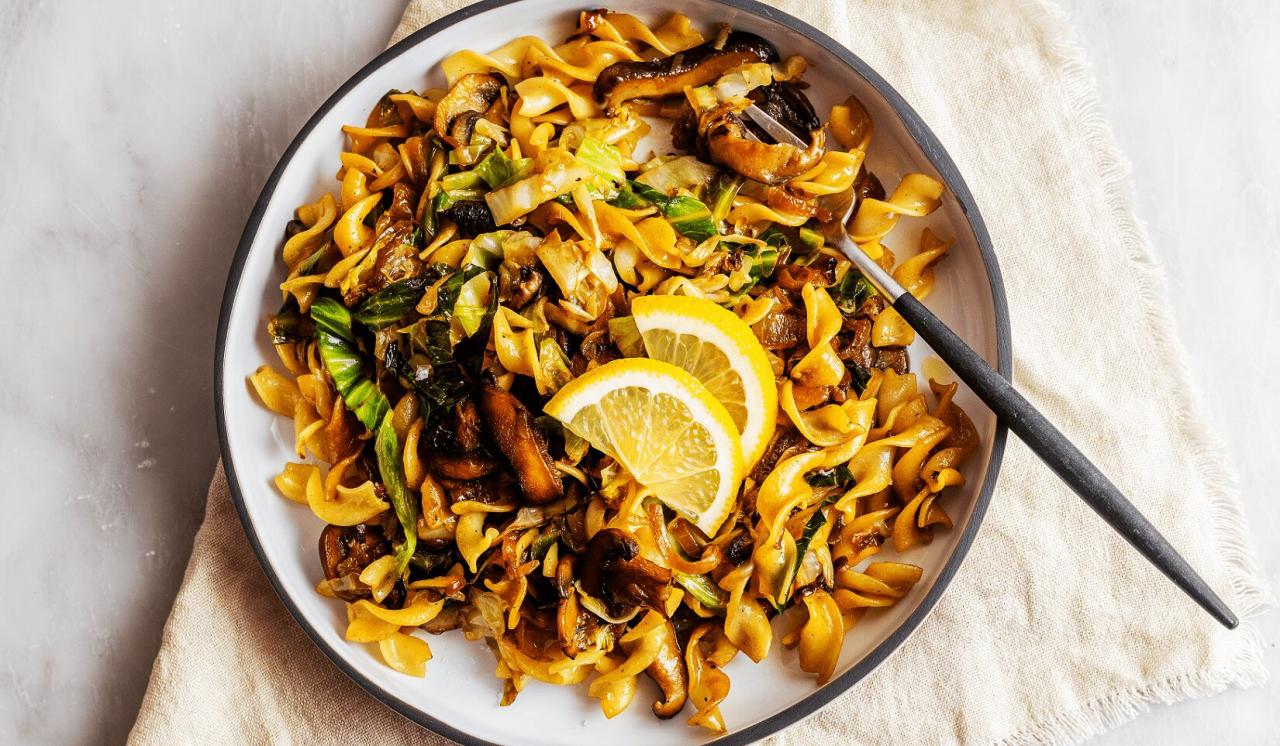 Haluski is a Polish dish that is made with cabbage and egg noodles. It's traditionally served with a gravy or sauce, but this vegetarian version can be just as delicious without any added dairy or animal products.
Haluski can be stored in the fridge for up to 3 days, and it's perfect for quick and easy weeknight meals. When you're ready to eat it, simply add a little water to the pan and reheat until heated through.
Haluski can also be frozen for up to 2 months, making it an ideal choice for busy weeknights. Whether you're looking for a hearty meal
Tips for making Vegetarian Haluski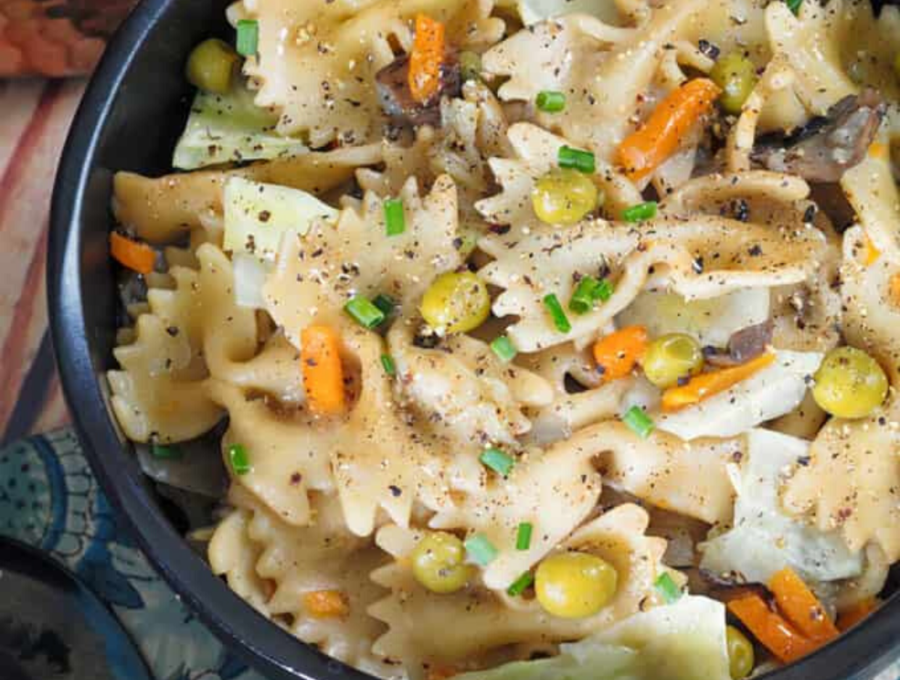 If you're looking for a delicious, hearty dish that's sure to please vegetarians and meat-eaters alike, look no further than haluski. This traditional Polish dish is made with cabbage and noodles, and can be easily adapted to be meat-free. Here are some tips for making vegetarian haluski that's sure to be a hit:
-Start by sautéing some chopped onion in a bit of oil until it's softened.
-Add in chopped cabbage and sauté until it's also softened.
-Cook up some egg noodles in boiling water until they're al dente.
-Drain the noodles and add them to the cabbage and onion mixture.
-Stir in some shredded cheese and season with salt and pepper to taste.
-Serve in individual bowls and enjoy!